Cartier pearl necklace, $281,000, Skinner, Inc.
Gavels 'n' Paddles
Recent Auction Results From Near & Far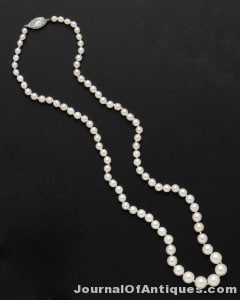 A pearl necklace with an Art Deco platinum and diamond clasp by Cartier sold for $281,000 at a Fine Jewelry Sale held Sept. 11 by Skinner, Inc., in Boston, Mass. Also, a natural pearl necklace with 77 pearls soared to $142,200; a gold pendant by Max Ernst, titled Groin, brought $23,700; a 22kt and 18kt gold long chain by Noma Copley rose to $41,475; an antique yellow sapphire and diamond pendant by Tiffany earned $31,995; and a set of gold "Alhambra" ear clips by Van Cleef & Arpels hit $9,480. Prices include an 18.5 percent buyer's premium.