Make No Little Plans: A.B. Wells, A Collector of Americana
Excerpts from osv.org on their founding collector extraordinaire
Old Sturbridge Village began as one man's hobby, but over the years has evolved into a national institution, recreating life as it was in Colonial New England, right down to the tools of the trade.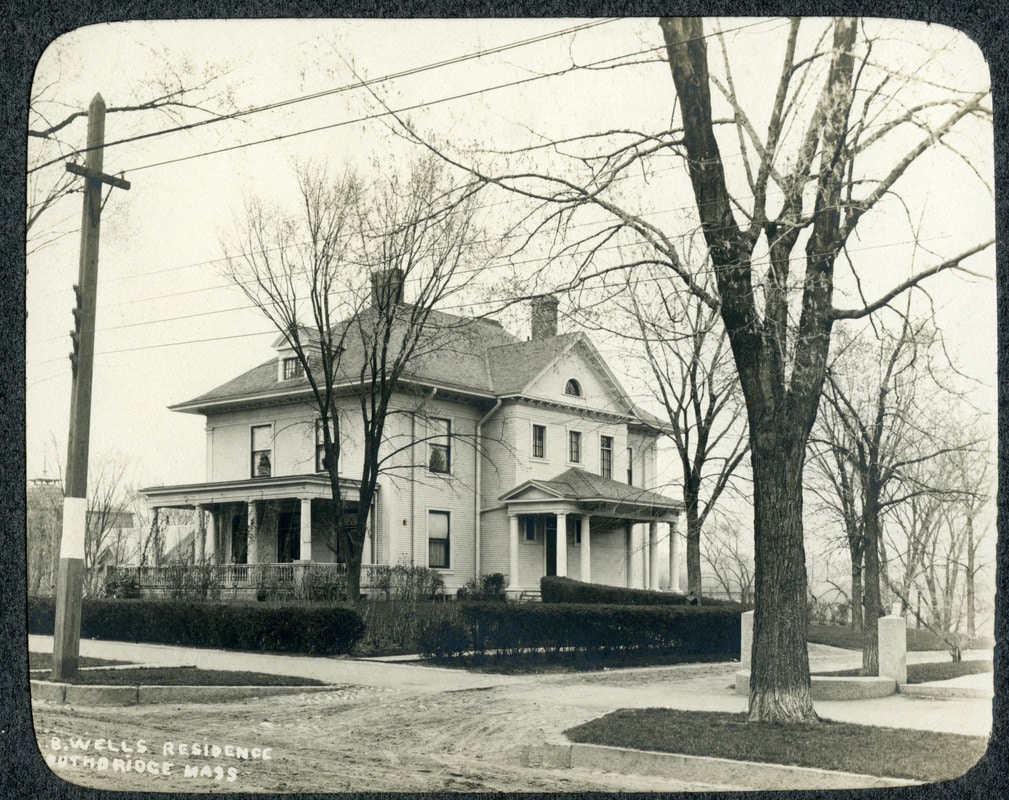 A. B. Wells home in Southbridge, Massachusetts
Industrialist Albert B. Wells of Southbridge, Massachusetts, son of American Optical Co-Founder George Wells, became interested in the beauty of hand-wrought utilitarian objects in the early 1900s on annual tours of Europe with his father-in-law, the noted Chicago Architect Daniel Hudson Burnham. Wells had great respect and admiration for Burnham, who famously advised, "Make no little plans; they have no magic to stir men's blood … Make big plans; aim high in hope and work, remembering that a noble, logical diagram once recorded will never die, but long after we
are gone be a living thing." Wells took this advice to heart and kept Burnham's words framed on his wall as a lasting source of inspiration.
A.B. Wells also thought big about his hobbies. In the mid-1920s A.B. went to Vermont with some friends for a relaxing weekend of golf. When rain prevented golfing, his friends suggested they go antiquing instead. Wells objected, asking what his friends found so appealing about "those old junk shops."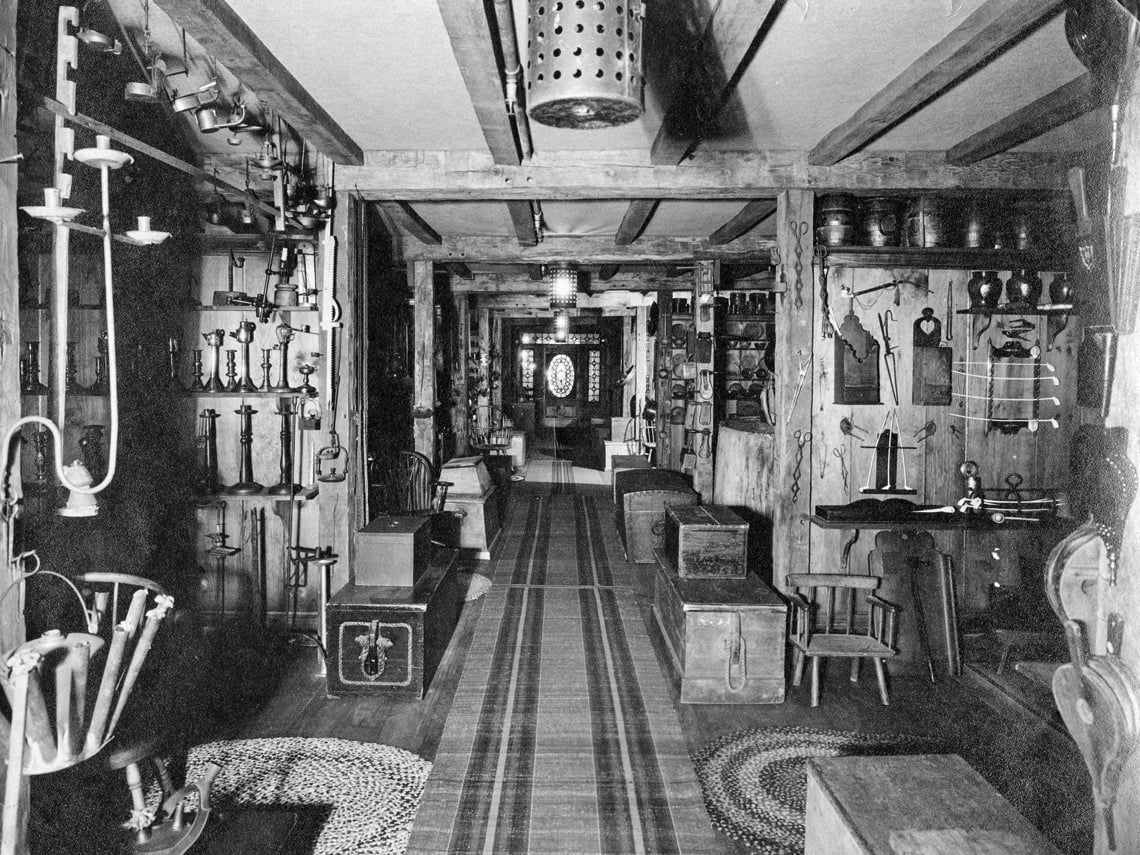 Interior of home with antiques on display
He gave in to their cajoling, and in Henniker, New Hampshire had an epiphany. A.B. Wells fell in love with what he called "primitives" and "oddities," the unique, handcrafted tools and implements of an earlier day: spinning wheels, rolling pins, baskets, butter molds, wooden bowls, apple peelers, mouse traps, wrought iron hinges, painted country furniture, and more. That weekend he bought enough "primitives" to fill two station wagons. His assistant George Watson, who was dispatched along with the chauffeur to bring it all home, recalled that Wells directed him to stash it in the garage because "he did not dare tell his wife."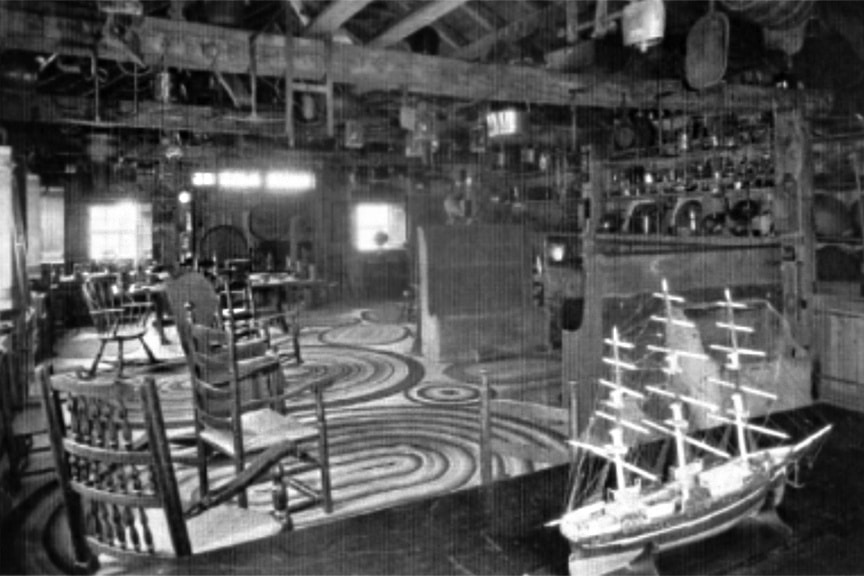 Interior photo of Wells' original museum
A.B. later wrote a friend, "When the collecting bug bit me, it bit me hard." His collecting became a consuming passion. Within a few years, he was buying truckloads of antiques scoured from the New England countryside and bringing his finds back home to Southbridge. Soon, his finds outgrew his large mansion at 176 Main Street in Southbridge (itself designed by Daniel Burnham). Two large barns were added to the house, and they too were soon filled to the rafters. A.B. and his wife were forced to move to another home.
In 1935, A.B. formed the Wells Historical Museum, a not-for-profit trust to ensure the preservation of his collection. As A.B.'s son George Burnham Wells observed, the collection was "too big and too numerous to be simply one man's hobby." For 25¢ admission, the curious were treated to a two-hour tour through 45 rooms packed with Wells' collection of antiques.
Still making big plans, in 1936 A.B. hired an architect to design a series of gallery buildings to sit on an adjacent lot and better display his treasures. Wells was excited about this scheme when he presented it to family and friends in July, but his son George, "knocked it full of holes," saying museums were dead" and that "nobody ever went into museums but old people." But, "the historical value" of his father's collections "was tremendous, provided it could be put to proper usage and used educationally…" "It would be necessary to have a village, a live village, one with different shops operating…"
Within a week A.B. and his brothers, who inherited their father's company and turned American Optical Corporation into what was once the largest and most innovative eyeglass manufacturer in the world, bought the old farm in Sturbridge, then known as the Ballard place, on which their mother had been born. The Quinebaug River ran through the rolling property, providing the requisite waterpower. Trusted assistant George Watson was sent out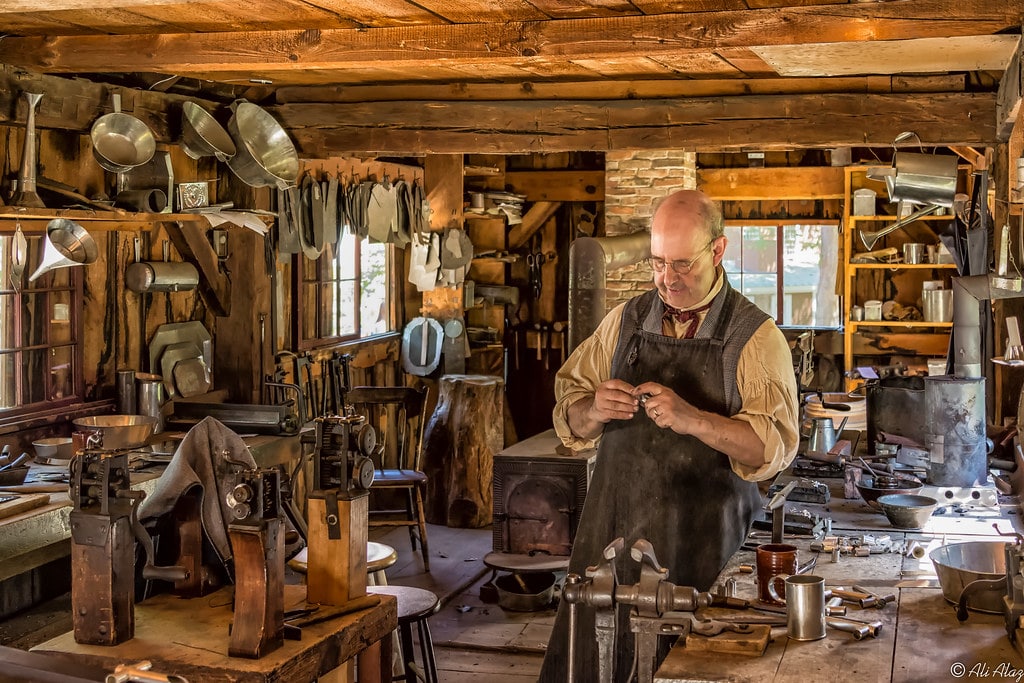 The Tinsmith in his shop at Old Sturbridge Village
to find and move old houses, barns, and mills to create the village, and help design new buildings constructed from new and reused materials to resemble early structures. These structures became the new homes for A.B.'s collection.
On June 8, 1946, 81 people paid a dollar apiece to tour the grounds of what we come to be called Old Sturbridge Village and see displays of antiques and tools arranged in the new and restored old buildings, including the Fitch House, Grist Mill, Richardson House and Gebhardt barn (now called the Parsonage and Parsonage Barn), the Miner Grant Store, Dennison Schoolhouse (now the Child's World exhibit), Firearms exhibit, Shoe Shop, a sawmill, and blacksmith shop.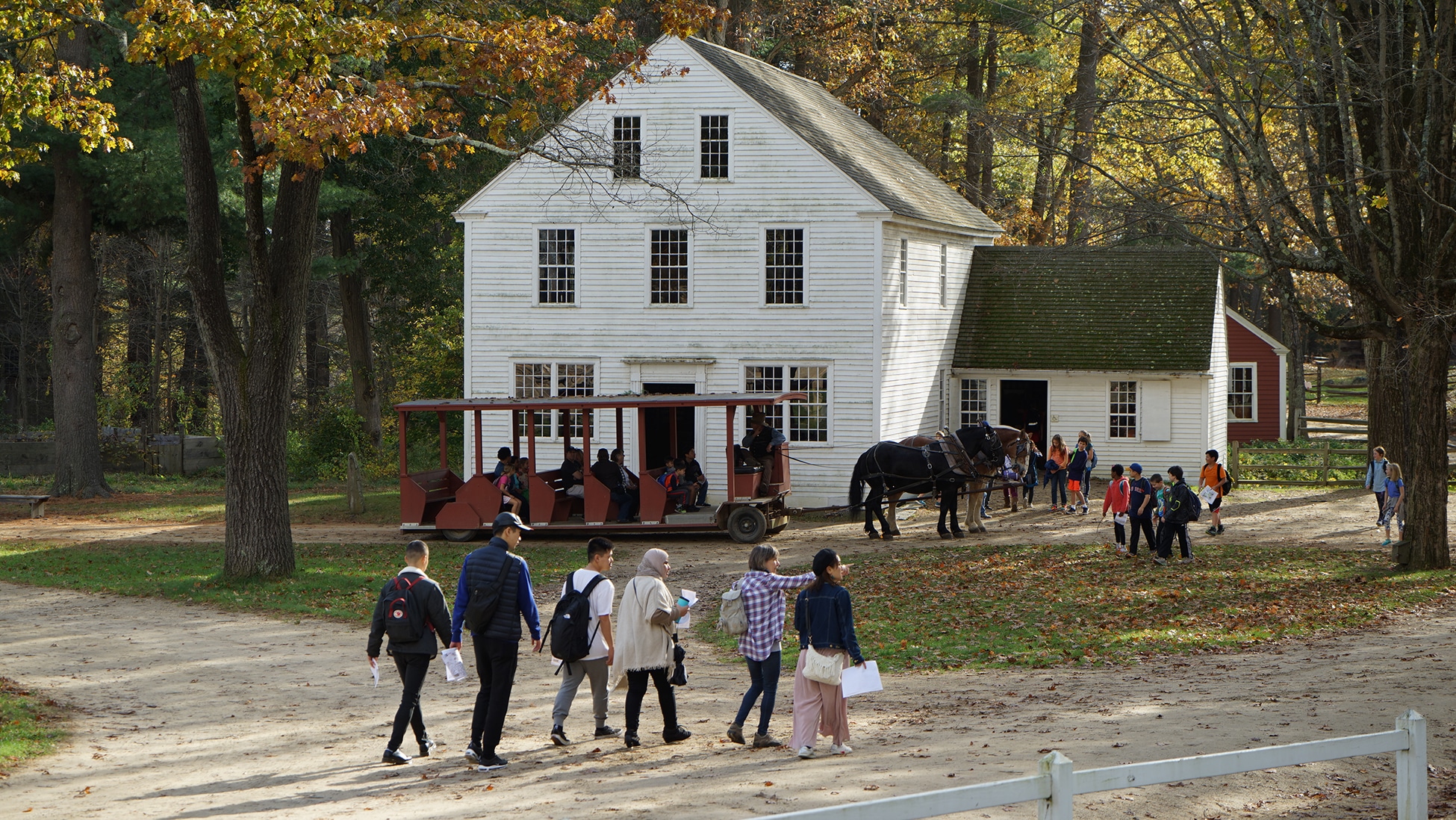 Visitors to Old Sturbridge Village
Over the last 75 years, the "living village" envisioned by the founding Wells family members has grown to include additional structures and outfitted objects and is now a nationally-recognized resource center and a leader in the fields of museum education and living history interpretation.
The Collection
Old Sturbridge Village's collection consists of more than 40,000 artifacts made or used by rural New Englanders between 1790 and 1840.
About half of the objects in the collection today were acquired by the museum's founders, brothers Albert B. Wells, Joel Cheney Wells, and Channing M. Wells, from the 1920s through the early 1950s. A.B. Wells collected a wide range of artifacts from a Hadley chest to a gear-driven lathe, with especially strong collections of early lighting devices, woodenware, and scientific instruments. Joel Cheney Wells focused his collecting activities on clocks and paperweights. From this foundation, Old Sturbridge Village has assembled one of the largest collections of materials documenting everyday life in early 19th century rural New England.
In addition to the items collected by A.B. Wells and his brothers, OSV has also assembled a research library of more than 35,000 printed documents focused on the history and material life in rural New England from the years following the American Revolution until the Civil War. The collection includes textbooks, juveniles, advice books, periodical literature, maps, broadsides, diaries, account books, letters, as well as copies of manuscript census schedules, property deeds, probate records, and town directories. Modern scholarly journals and secondary works, and selected pre-1790 and post-1840 sources dealing with aspects of rural life and American history are also available. Areas of strength include local and regional history, health and medicine, agriculture and horticulture, domestic life, education, religion, architecture, and early industrial history.
In 2017 Old Sturbridge Village received a grant from the Institute for Museum and Library Services to migrate to a new collections database and create a new online collections portal. The creation of this new portal is a key component of the Village's commitment to improving access to its collections. When the project is completed, the entire collection – including more than 40,000 historic objects as well as its expansive Research Library – will be available and searchable online.
For more information and a list of upcoming events at Old Sturbridge Village, visit www.osv.org.