by Jessica Kosinski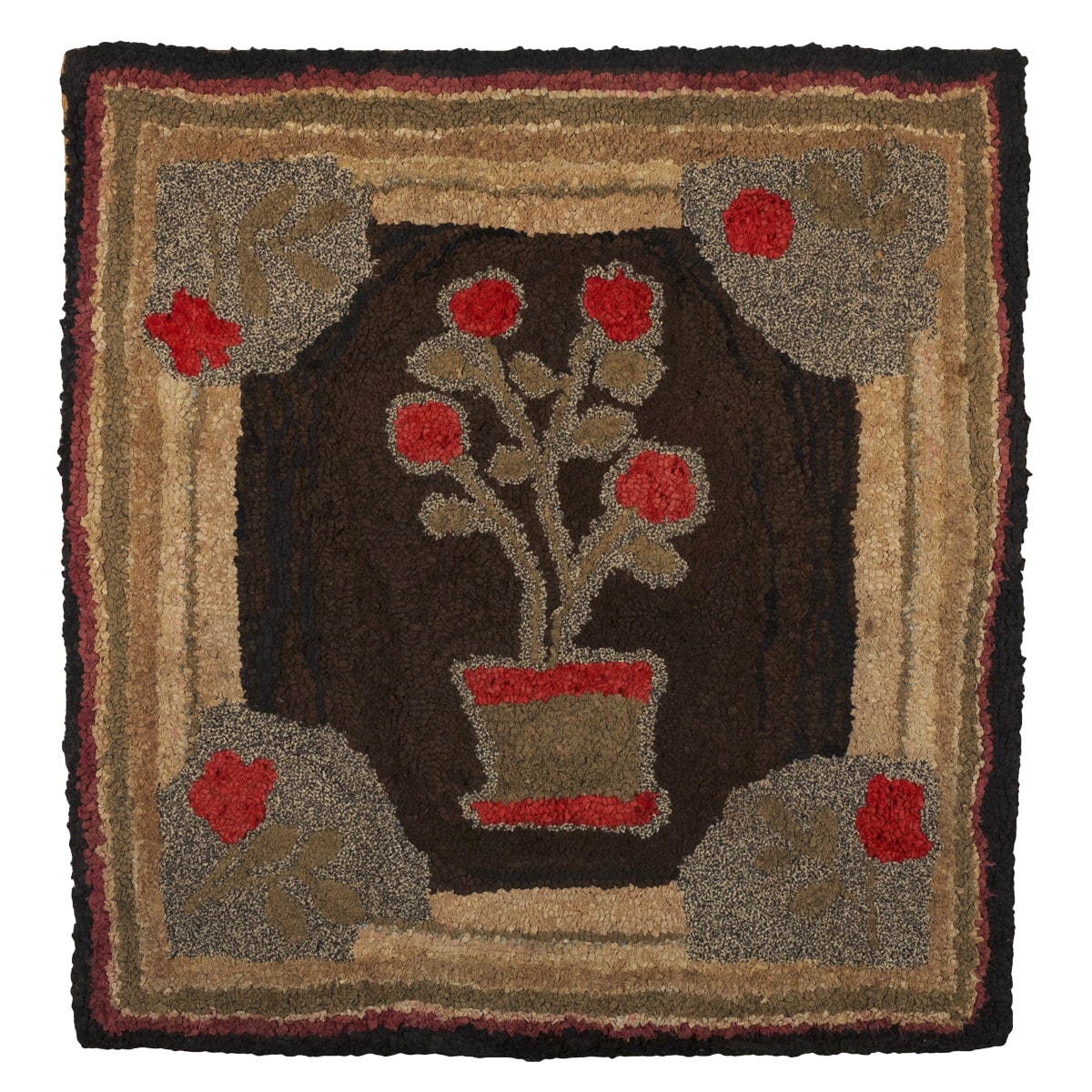 This early floral hooked rug showing a strong "folk art" style rug sold for $649 in 2012.

It is easy to go through life not paying attention to what you are walking on. After all, nobody cares about most modern carpets. However, hooked rugs are another story. They are like works of art. In fact, many are used as artistic wall hangings, rather than for their intended purposes. American hooked rugs have a long and storied history. Let's take a peek into that history as we examine how rug hooking started in North America and why hooked rugs are still enjoyed today as artistic pieces.

What Hooked Rugs Are
Hooked rugs are typically rugs made with fabric or yarn. A special hook tool somewhat similar to a crochet hook is used to pull the yarn through a stiff framework. By wrapping each individual piece of yarn or fabric around the framework, a rug is eventually created. The frameworks can be made out of many different materials today, but burlap was the preferred choice originally because it was readily available due to its everyday uses in such fields as farming and as sacks for goods in general stores.
The Latch Hook Kit Craze of the 1980s
If you are like me, when you hear the phrase "hooked rug" you might think of the latch hook kit craze of the 1980s. At that time, it seemed like rug kits were for sale in every store. They usually consisted of a rug "framework" full of uniformly-sized holes. In some cases, the holes were actually colored to match the included yarn colors to create a pattern to follow. Either way, the process was a lot like doing paint-by-numbers projects.

The Origins of Hooked Rugs in North America
There is no concrete evidence showing when rug hooking started in North America. Some conclusions have been reached based on certain identifying factors. For instance, hooked rugs made in the mid-1800s are known to exist, so the tradition goes back at least that far. Another clue is the material the yarn was hooked onto to make the rugs. Early American and Canadian hooked rugs were hooked on burlap. Burlap was not a material that was widely available before the 1850s.
It is also clear the tradition of rug hooking in North America came over from England as evidenced by records of English rug hooking practices and examining rugs over time across North America. In Canada, it was first popular in provinces along the coast. Similarly, in the United States, it took hold in the area of New England before spreading south and west into states like Pennsylvania. That suggests immigrants who traveled here by boat introduced the practice to North American shores.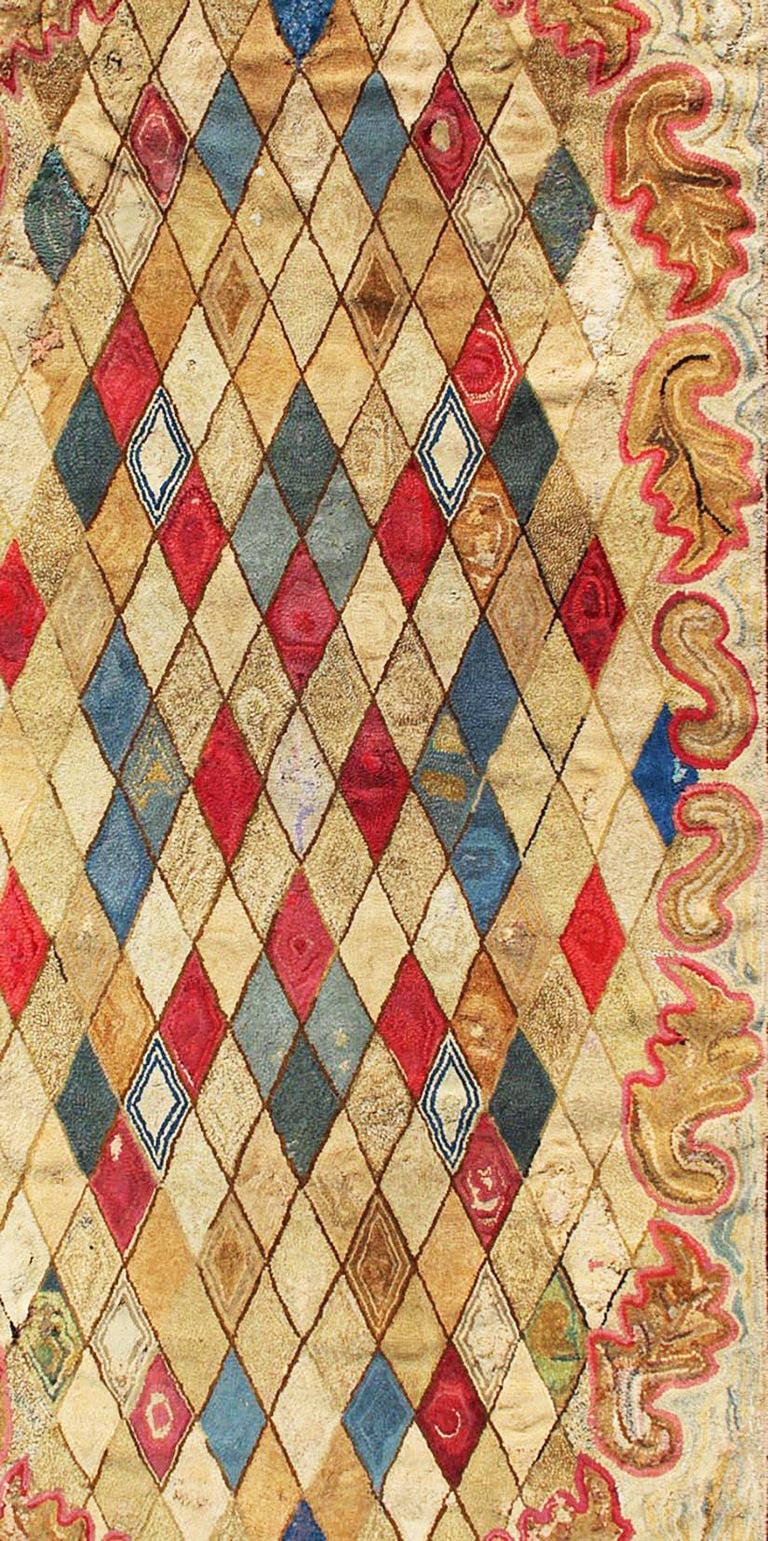 A section of an early geometric and nature pattern hooked rug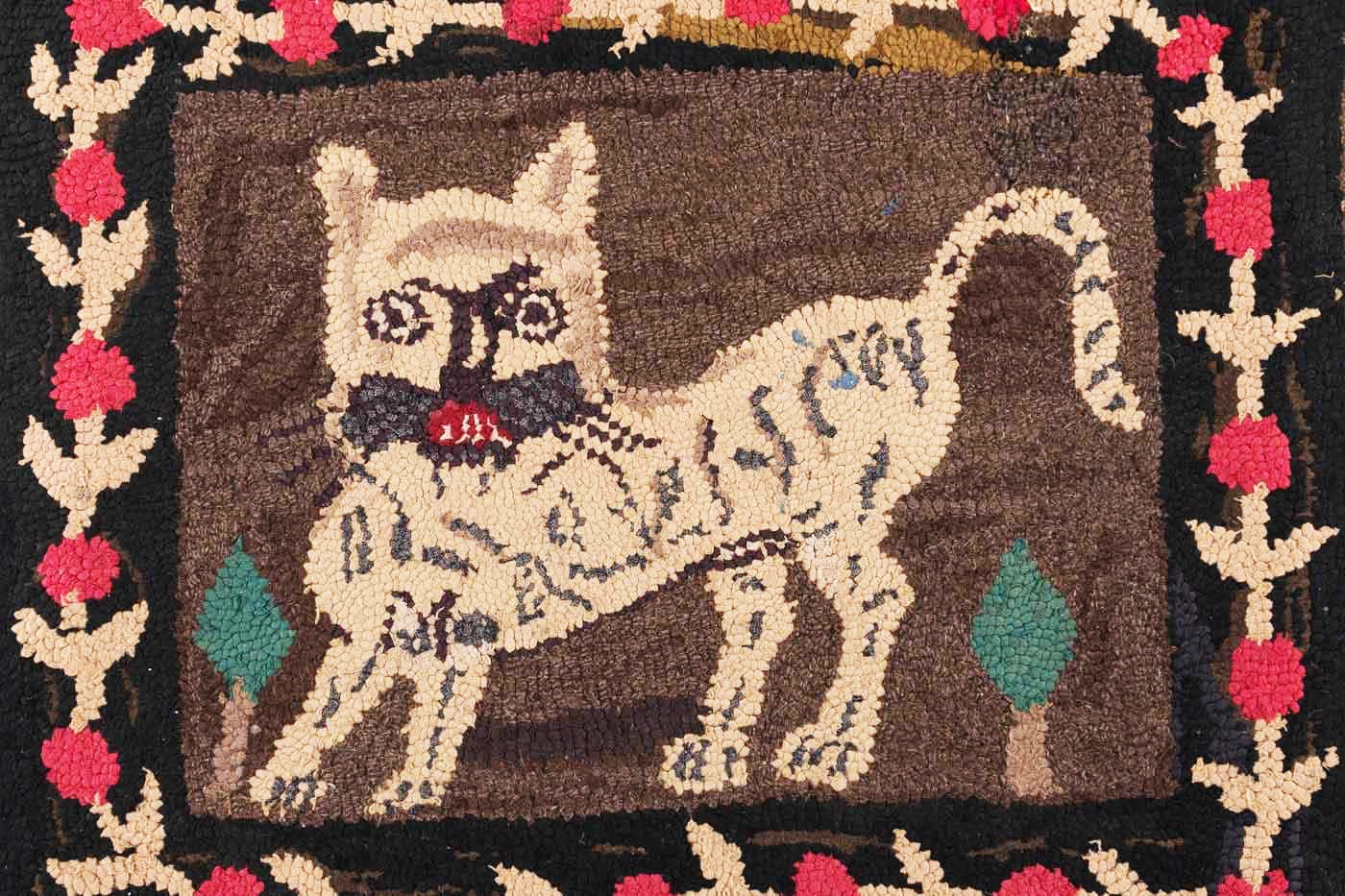 A 19th century example at Colonial Williamsburg shows the family cat

Changing Hooked Rug Materials and Designs
In the early days of North American hooked rugs, materials were not always easy to come by. Yarn was especially uncommon in many areas. Families were often poor and had to do their best with what they had, utilizing fabric scraps from clothing or bed linens to create rugs.

Hooked rugs were also somewhat identifiable in terms of where they were made in the 1800s because the rugs often utilized regional materials. The patterns chosen by the makers also often indicated the locations. For example, early hooked rugs made in North America often featured depictions of trees or plants native to the areas where the rugs were made. Animals like chickens and horses were also common subjects, and flowers were always popular. Not all hooked rugs depicted scenes. Some simply had geometric patterns like stripes or cubes and circles.
Over time, traditions changed and more material like yarn became available. Rug hooking became more of a hobby than a necessity. As those changes took place, more diversity and complexity in materials and patterns developed. Even the hooks and tools used evolved quickly.
Early Hooked Rugs for Display and Purchase
Early hooked rugs from the United States, Canada, and many other countries are routinely displayed in museums around the world. Special hooked rug exhibitions are also held regularly. For example, Sauder Village, Ohio holds a week-long rug hooking event every year. It typically includes amazing displays of early American hooked rugs, as well as classes where visitors can learn early rug hooking techniques.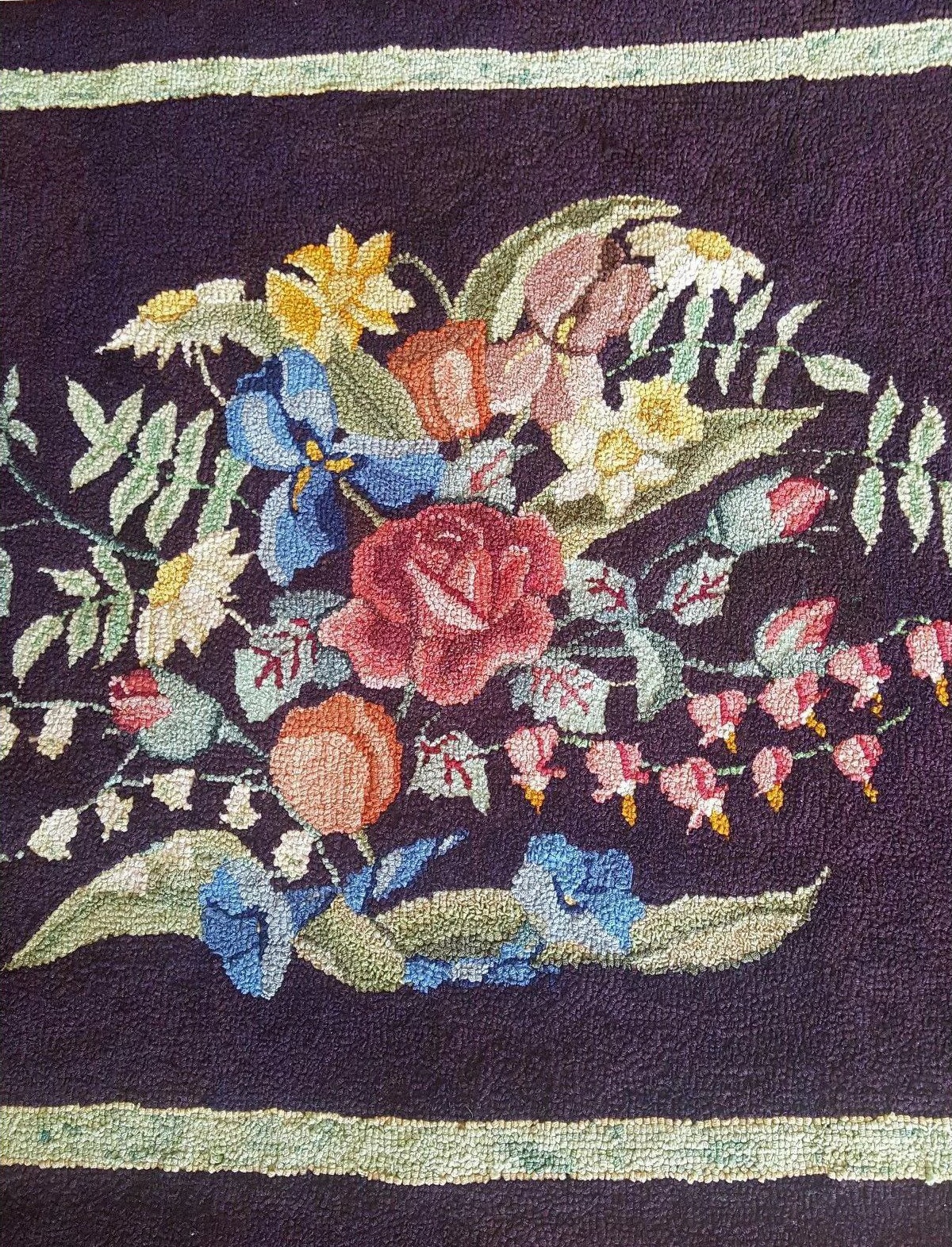 This early 20th century hooked rug features a favorite topic: flowers</i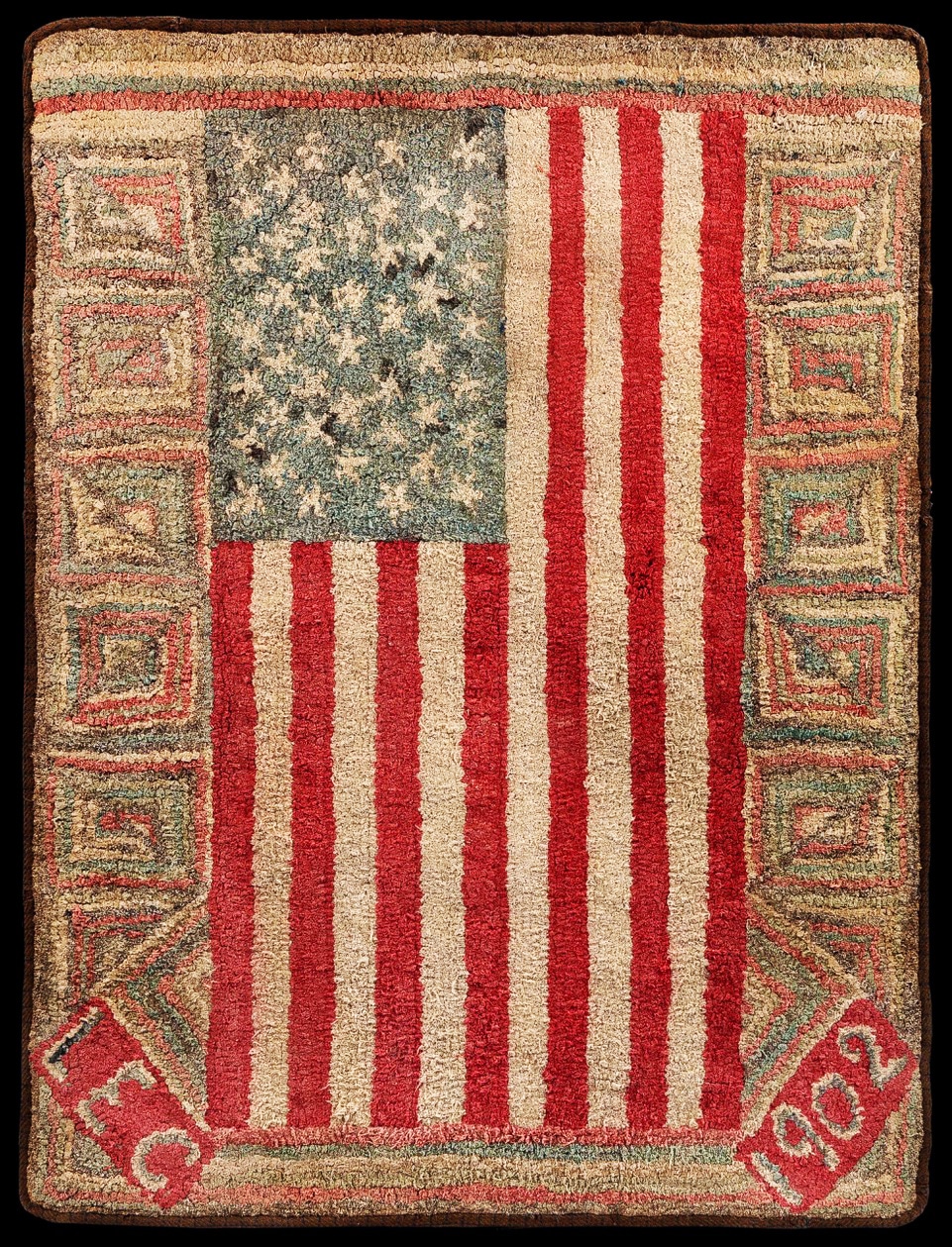 1902 hooked rug with design of the American Flag

Of course, there are also plenty of early hooked rugs available for sale. Many early American hooked rugs look like folk art. However, patterns can be copied by more modern rug makers, so shop with care. Wear can sometimes be an indicator of age because early hooked rugs were, of course, used. They were made out of necessity. It is rare for one to be in perfectly pristine condition unless it was made later specifically for show.
Price can be another indicator of age. Most early American hooked rugs in good condition fetch at least several hundred dollars to a few thousand dollars or, in certain instances, more. A lot depends on the size of the rug and the intricacy of the pattern, as well as provenance.