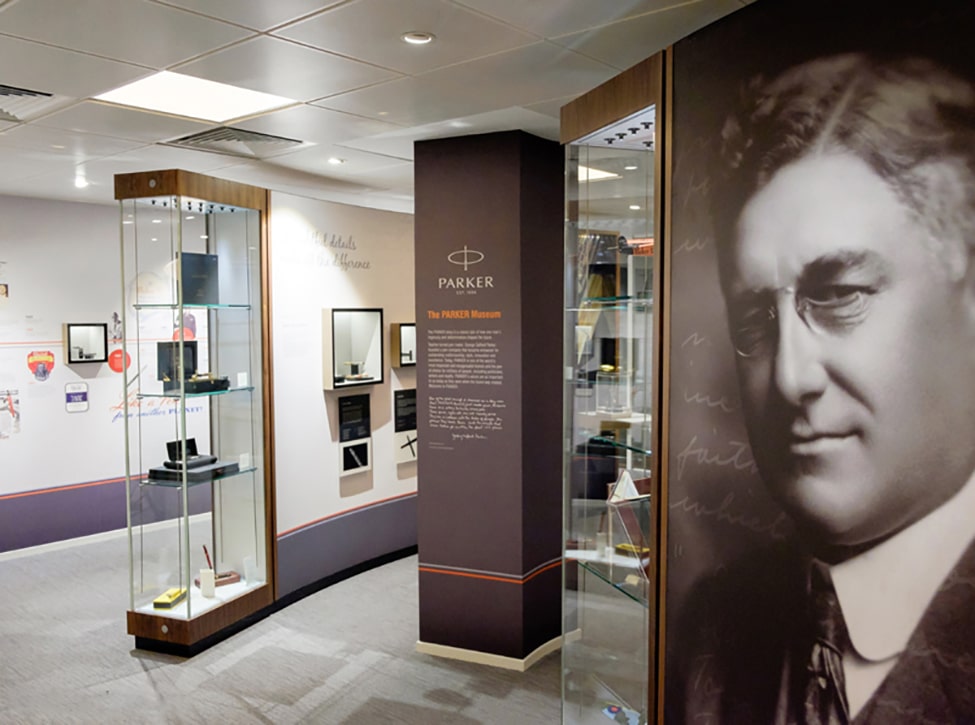 Back in 1888, George Safford Parker (1863-1937) was working part-time as a seller and repairman of fountain pens. As he worked, he found that he could not find a pen that wrote easily and did not leak. His search for such a pen resulted in the establishment of the Parker Pen Company in Janesville, Wisconsin. The following year, at the young age of 25, George Parker was awarded his first patent for a pen design. Because of Parker's drive to continually perfect the writing experience, his company created groundbreaking innovations to the art of writing, as it continues to do to this day.
Parker Pens Around the World
Once Parker had solidified his top status as a pen manufacturer in the U.S., he set sail around the world to share his inventions and sell his pens. According to his obituary, Parker made five trips selling and being the ambassador of his brand, bestowing his pens upon dignitaries and influential persons wherever he traveled. It was noted that "the king of Siam once received from Parker a costly jeweled pen. Subsequently, the king's brother was entertained at Parker's mansion in Janesville."
Parker also enjoyed exploring new lands and their peoples, and always kept a bag of black pens with him. Also, according to his obituary, "Travelers who followed him into these little-known corners of the world were amazed to come upon swarthy or yellow-skinned natives using a much-cherished fountain pen."
While Hong Kong and Shanghai traders welcomed his visitation, Japan was looking to expand their own manufacturing base and soon had their own pen factories. To service the markets on the European Continent, Parker established a second headquarters in London, which houses the Museum.
Early Innovations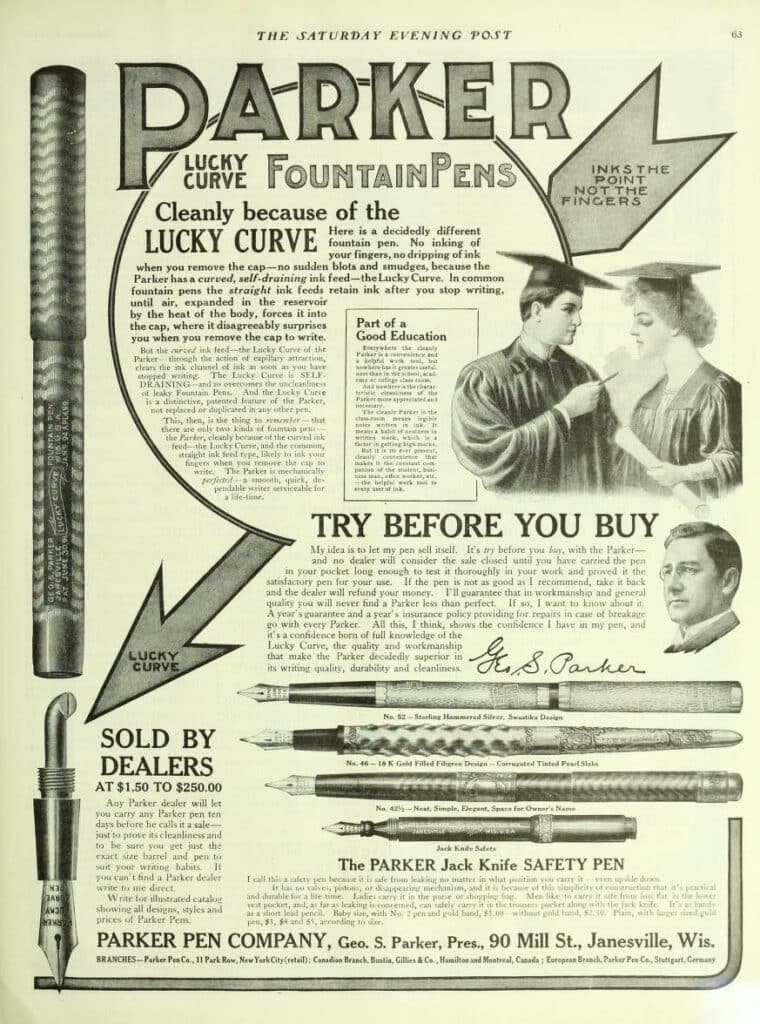 Parker went on to invent the "Lucky Curve" anti-leak system, giving him his second patent in 1894. At the turn of the 20th century, the start of the Art Nouveau movement resulted in incredible style being applied to the Parker Pen's overall design. The Parker Snake Pen was offered in 1906 with the snake covered in sterling silver or a gold-filled metal and adorned the desk of many high-powered business titans. It is highly collectible today and can be found for prices ranging from $750-$1,200, depending upon the condition.
During World War I, Parker created the Trench Pen after signing an agreement with the U.S. War Department. The pen uses dry ink tablets that are activated by adding water. During the time between the two World Wars, Parker reached the $1 million sales mark for the first time, brought forth the "Duofold" pen that later was given the nickname "Big Red" due to its bright orange color (and was highly valued because of its 25-year guarantee), made pens from "a beautiful and durable new plastic material" proven to resist cracking and put its newly designed arrow clip on its pens.At the end of World War II, the German Surrender was signed with a Parker 51 given to Dwight D. Eisenhower by Kenneth Parker. General Douglas MacArthur used his wife's Duofold pen to sign the Japanese Surrender. These stories and many others are explored and displayed in the Parker Heritage House Private Museum in London. Over the many years, Parker has introduced limited-edition designs to pay homage to its past and look to the future.On January 23, 2015, the company opened an exhibition dedicated to Parker's story, and how he used his mantra, "It will always be possible to make a better pen," to drive his desire to shape the history of fine writing. Heritage House, where the Parker Museum is housed, is not open to the general public, but enthusiastically shares information about the treasures, which includes "poignant artifacts and pens from Parker's extensive archives. Over 150 items showcase Parker's rich history, personality, passions, and interests of significant Parker family members."
According to the website, parkerpen.com/heritage-house, the collection of this multi-national corporation contains pens dating to the company's founding in 1888, along with artifacts, advertising and marketing materials, films, and the family's private archives in London, England. The 30,000 items come from the first Parker site in Janesville, Wisconsin, Newhaven, England, and Nantes, France. This preservation of the Parker legacy is maintained by a single dedicated Parker employee who is responsible for curating and archiving this vast collection.
Visit their website at parkerpen.com/heritage-house Inquiries regarding the museum may be addressed to heritage.house@parkerpen.com