By Melody Amsel-Arieli
Writing systems have existed since ancient times. Sumerians, for example, used a stylus to create meaningful wedge-like impressions in soft-clay. Highly trained Egyptian scribes penned spells and bills by dipping thick, pointed river-reeds in ink prepared and kept in natural hollows found in small "inkstones." Over time, these simple containers evolved into open terracotta pots, square wooden wells, and decorative, green-glazed ceramic vessels. 
Chinese scribes initially moistened ground gum-and-soot inksticks or cakes on decorative, carved inkstones. In time, they stored ink paste and its fluids in delicate, hand-painted porcelain pots. As time went by, prestigious scholars also commissioned sumptuous carved cinnabar and jade inkwells.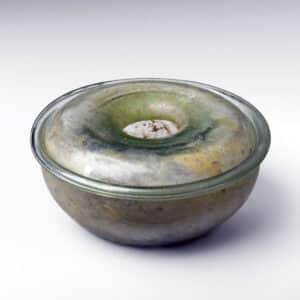 By the 1st century AD, scribes across the Roman Empire often used small, round, unadorned wells. These traditionally featured two holes on top – one to insert a writing pipe, and the other, sealed with cloth or cork, to ensure that stored ink did not dry out. As glass production spread, these were often replaced with clear, molded, bluish-green blown or molded glass models. Among the upper classes, bright cobalt blue inkwells were also fashionable.
During the Middle Ages, when writing was considered a humble task, European monastic scribes created manuscripts using ink-dipped swan, eagle, hawk, crow, turkey, or goose wing-feather quills. When finely sharpened, their flexible nibs particularly suited vellum and parchment work. Their durable, brownish iron-gall and black "India" inks, sometimes prepared from solid cakes or powders, were kept in hollow animal horns or more practical, deep, lidded stoneware pots.
Decorative, Artistic, Valuable Iterations
Today, we take literacy—the ability to read and write—for granted. During the Renaissance, however, typically male nobility and members of the elite alone were educated. Though many could read, few, however, could go beyond "marking" their names. Since writing was a source of pride, gracing a carved oak desk with a decorative inkwell reflected high educational and social status.
As books became more available and schooling spread, writing became increasingly common. From the 1600s on, merchants and bookkeepers typically stored their ink in simple, traditional inkwells. On the other hand, more affluent classes often decked their writing desks and secretaries with costlier gold, silver, brass, or blown glass wells. Some, instead, preferred impressive copper-alloy or bronze beauties featuring sculpted figures like ramping lions or contemplative scholars. Others acquired massive soapstone, onyx, or marble models.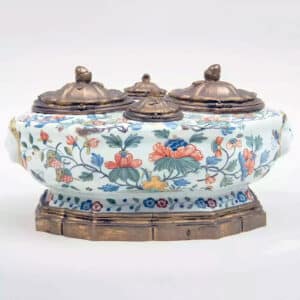 Richer writers, instead of storing ink in wells, often preferred more prestigious desk standishes – shallow, rectangular trays known today as inkstands. Though many coveted shimmering gold or silver creations, others prized porcelain, pewter, onyx, brass, or inlaid-wood models. In addition to capped inkwells incorporated into their designs, many also featured grooves for quill pens, as well as slender drawers for additional writing accessories. Some inkstands also featured decorative "pounce" pots; small, perforated shakers filled with finely ground cuttlefish-bone powder. When sprinkled, these fine particles not only smoothed overly-absorbent paper but also, like blotters, kept freshly-penned letters from smudging.
Inkwells On The Go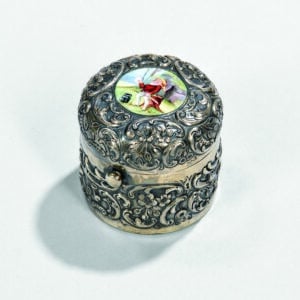 From this time as well, resourceful travelers, riding coach or on horseback, often tucked tiny, hinged, carefully constructed glass ink bottles (as well as quill pens) into their pockets. Over time, ornate creations—like the Durgin Sterling Silver and Enamel Traveler's Inkwell, featuring gold-washed repoussé scrollwork, floral sprays, and an enamel medallion—also appeared.
Others, rather than carrying assortments of writing implements on their person, stored all their clerkish necessities securely in travel-size wood or cast brass lap desks – the equivalent of today's laptop computers. In addition to inkwells, these luxurious carrying cases often held quills, quill knives, notepaper, pencils, ponce pots, envelopes, seals, sealing wax, and postage stamps.
Through the mid-1700s, Rococo French and Italian gilt-bronze and silver inkstands were all the rage. Some featured swirling, twirling scrollwork or depicted detailed mythological scenarios edged in gilt-bronze. Though affluent American Colonists evidently boasted shiny silver inkstands, simpler folk made do with smaller, easily wrought stoneware or pewter wells.
Welcome to the 1800s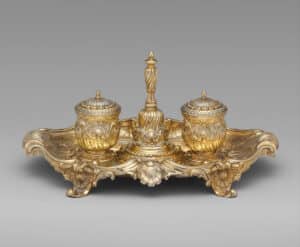 By the turn of the century, many stored liquid ink in inexpensive glass bottles. Small ones, enough for a few ounces, were often faceted, square, or rectangular. Larger ones were typically cylindrical, featuring wide, stable bottoms and sloping sides. All, whatever their size, were lidded to prevent evaporation, contamination, and accidental spillage.
By and by, old-fashioned quill pens were replaced by more convenient dip-pens. These innovative wooden, bone or metal-handled implements featured interchangeable steel nibs which infused their tiny, capillary-like channels with ink. Because they had no reservoirs, however, they needed to be dipped and re-dipped after every few words. Besides, their nibs often fell off, splotching documents or sinking into inkwells.
Well-to-do Victorians often favored classic gilt-mounted silver, crystal, or cut-glass inkwells. Others preferred stylish porcelain pieces featuring lush, hand-painted figural, floral, or scenic motifs. Silver novelties, replicating calvary helmets or celebrating soldiers, were also popular. So were outright inkwell oddities, like ram-horns mounted with silver detail or real, taxidermy horse-hooves.
With the expansion of European train and steamship travel, Victorians not only slipped small glass, metal, or gutta-percha inkwells into their hand luggage, many, en route, also purchased souvenir inkwells. Scores of examples depict notable sculpted landmarks like the Eiffel Tower or the Arc de Triomphe. Kitschy compositions, awash with actual abalone or scallop shells, commemorate carefree summers by the sea. Animal-themed inkwells, resembling anything from camels, elephants, and bears to hounds, were also fetching.
In 1884, inspired by the inconvenience of dip-pens, American inventor L. E. Waterman patented the reliable, highly functional ink-reservoir fountain pen. Rather than repeated dips between one line and the next, writers periodically filled their ample reservoirs with bottled ink.
Since fine penmanship was considered an integral part of schoolchildren's education, wooden school desks were designed with small, round holes to house simple glass inkwells. To meet demand, numerous companies, including the San Francisco & Pacific Glass Works and the Sanford Ink Company, produced these inexpensive bottles by the millions.
Through the late 1890s, noted European potteries, like Limoges and Meissen, continued to produce romantic, hand-painted, gilt, glazed ceramic fantasies depicting cherubs, birds, and
flowers. Yet other potteries, like Gouda and Wedgwood, for example, produced assortments of creative tin-glazed and Jasperware beauties. Tiffany Studios, based in New York, created impressive bronze and glass "Grape Vine" and bronze-doré "Zodiac"-patterned inkwells, as well as fine, iridescent ones fashioned from Favrile glass. Less costly wells, made of frosted glass, Vaseline glass, or milk glass, for instance, were also appealing.
The Evolution Continues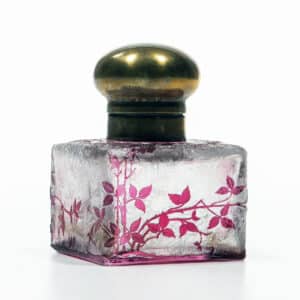 Elegant, Art Deco Era inkwells were often made of onyx, marble, or cube-cut glass. Others, featuring solid brass bodies, were capped with contrasting copper, cut glass, or bronze lids. Brown, black, and butterscotch-hued Bakelite beauties were abundant as well.
Vintage inkwell prices vary greatly, ranging from under $100 to many times more dependent on their size, material, manufacturer, rarity, theme, workmanship, condition, and when they were made. Some enthusiasts prefer pieces from a particular company or made of a particular material, like porcelain, pewter, or majolica. Some seek specific pieces from specific eras, say 18th-century inkstands, mid-19th century bottles, or 20th-century school desk wells.
Though ink no longer stains schoolchildren's fingers and old-fashioned pens are things of the past, vintage inkwells continue to charm. They not only reflect skills, styles, and social mores of days gone by. They also evoke those long-ago moments when writers put old-timey, ink-filled pens to paper.