Exploring Antique Technologies
by Kary Pardy
Peabody Essex Museum Russell W. Knight Curator of Maritime Art and History, Daniel Finamore, appears on the museums' webpage to discuss the appeal of the sea. He argues, "the concept of voyaging is, I think, pretty universally understood and desirable today. It is dangerous, but it is also alluring, to board and ship and to sail – to leave one's life behind. You would come home with stories that nobody else could tell. Most of the objects [on display] have very deep stories." Intrigued? You should be. The Peabody Essex, in the seaport town of Salem, Massachusetts, claims to hold the finest collection of maritime objects and art in the country, and this fall it opened a new maritime exhibit to showcase its crowning jewels and inspire new generations of dreamers.
For the sea, beyond its romantic and fearful appeal, is a global player, and it is the ultimate conduit for international connectivity. As Finamore says, "The sea has an impact on everybody's lives, it always has; it's a universal phenomenon across geography and across time." As such, sailors and sea-bound adventurers were some of the first to gain perspective on other cultures, to return with stories of how the world outside was both different and sometimes, powerfully relatable. For these reasons, maritime objects hold places of high esteem for collectors. They speak to deep-seated fantasies of freedom, adventure, and knowledge, and are shared and treasured on a global scale. The sailing ship, in particular, inspires collectors and artists, the later who have sought to recreate power and possibility through depictions of sleek hulls and billowing sails. Scale ship models, hull models, ships in bottles, ships in wood and bone: the possibilities for immortalizing the history of oceanic travel are as endless as the sea is wide, and the stories are out there, just waiting for brave voyagers, or collectors, to come and find them. Here are a few examples from the Peabody Essex's new exhibit to spark your imagination, and possibly, a new maritime collection.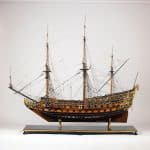 The Royal James, 1st Rate Ship of the Line, 1668–71
Sir Anthony Deane 1638–1721, United Kingdom
Fruitwood, silk, brass, and mica Kriegstein Collection
Courtesy of the Peabody Essex Museum
This depiction of the Royal James is an "Admiralty model," a model made by British naval architects in the 17th and 18th century to display their prowess and to inspire commissions, like maritime salesman's samples. The goal, therefore, was to make miniature scale models as impressive as possible to showcase the architect's skill, and the Royal James does not disappoint. It is adorned with extravagant flourishes and gilding and was so enticing that King Charles I funded the construction of a full-sized version of the ship. Deane must have delivered because he became the only English shipbuilder to be knighted for his services. The Royal James was the first Royal Navy vessel to be built with iron as a part of her frame, a revolutionary and controversial decision that wouldn't become the norm until nearly fifty years later.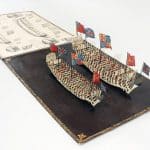 Presentation folio of the Greyhound (1719) and the Diamond (1723), 1731
Artist at the Royal Dockyards, United Kingdom
Leather, gilding, ink, watercolor, laminated parchment, and silk
Kriegstein Collection
Courtesy of the Peabody Essex Museum
Do you prefer paper models to wood ones? This highly detailed, early pop-up book showcases ships in the British Royal Navy. The striking colors and intricate cutwork make it a rare piece, but its provenance really seals the deal. The book bears the mark of Prince William, Duke of Cumberland, the youngest son of King George II and Queen Caroline. William was a physically active and courageous child and his parents hoped to groom him for the position of Lord High Admiral, but no pop-up book given at age 10 was enough to counteract a scarring experience nine years later. In 1740, the prince went to sea as a volunteer under-seasoned captain Sir John Norris. William's ship got caught in a violent storm and he suffered through extreme seasickness and the trauma of a ship-on ship collision. He disembarked, returned to London, and focused his attention on the army.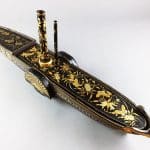 Incense burner in the form of a paddle steamer, 1850–75
Artist in Guangzhou, China
Wood, lacquer, gold, and pewter
Museum purchase made possible by an anonymous donor, 1988
Courtesy of the Peabody Essex Museum
While Western readers may immediately associate any mention of early paddle-wheeled boats with Robert Fulton's Clermont, the Chinese have been using paddleboat technology for centuries before they debuted on this side of the Atlantic. Naval paddle-wheeled ships purportedly participated in river battles as early as the 5th and 6th centuries and the Song Dynasty (960-1279) filled its standing navy with a fleet of them of varying degrees of complexity. Some-times having more than twenty wheels along their lengths, the Song Dynasty employed these "wheel ships" to defeat local pirates, whom sources say may have had their own paddle technology.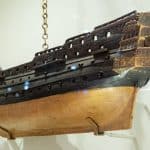 Votive ship model from a church, 1700s
Probably artist in northern Europe
Wood and paint
Museum purchase, 2001
Courtesy of the Peabody Essex Museum
Ships in churches? Absolutely! Sailors and shipbuilders gifted these "votive ships" to Christian churches across Scandinavia, though they sometimes appear in Germany, France, the United Kingdom, and Spain as Scandinavian culture spread outward through its seafarers. A tradition for hundreds of years, ship models were gifts of gratitude for safe voyages or tributes towards future safe journeys. They could also be simple gifts of faith and may have represented a nautical metaphor for the passage of life.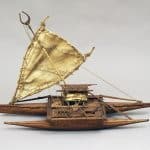 Model of a Waqa drua (double canoe), about 1850s
Fijian artist
Wood, cordage, and bamboo
Gift of Captain Thomas C. Dunn, 1858
Courtesy of the Peabody Essex Museum
Drua, or waqa "sacred" drua, are Fijian double canoes that sped across the sea in the early 19th century. As visible on the model, drua have two identical hulls that differ only in size but are identical forward and aft. Given this construction, drua do not need to tack to change direction, instead, they shunt, meaning that the stern becomes the bow and vice versa, depending on which direction the ship needs to travel. At their largest, records indicate that drua could carry more than 100 people.
In 1936, A.C Haddon and J. Hornell published Canoes of Oceania, Volume 1, which tells the tale of Fijian King Cakobau and his fleet of waqa drua. According to the king's grandson, Ratu Popi, upon Cakobau's death in 1883, his sons broke his canoes into pieces and buried them in a swamp so that they might be "preserved," but also so that they would not be used by anyone else. This event loosely marks the disappearance of the drua in Fiji, though you can sometimes find models floating around in the market.
These are just a few pieces from the Peabody Essex's exciting and historic maritime collection. The museum is located in the center of Salem's picturesque downtown and is open six days a week, with the exception of Mondays. For more information about the collection or any items discussed here, please reach out to the curatorial department at information@pem.org and reference the Journal.
The Secret Behind Ships in Bottles
Have you ever been mystified by a miniature ship resting inside a glass bottle? One secret to creating this magical effect is to craft a hull that would fit through the neck of your bottle, complete with paper sails, thin wood spars, and thread rigging. Once the ship slides in, a model maker can use control threads to stand up and position the collapsible rig.

Ships were not the first items to appear in bottles. Humans and religious figures wound up in them in the mid-18th century thanks to creative monks, and puzzle bottles were created out of irregular glass to date them and to reuse them.
The earliest known examples of the practice of bottles containing models of boats date from late 18th century Europe, but it really became popular in the mid-19th century during the age of clipper ships. If you are hoping to add one to your collection, look for examples with 19th or early 20th century materials and glass. They sell for around $200-$500 for modest examples.
The Maritime World Through Miniatures and Beyond