by Deborah Abernethy and Mike McLeod
$2,300 (27 bids): Judaica, Antique Sterling Silver Russian Inkwell
Inkwell decorated with a Russian coat of arms on the front and a Jewish Star of David on the back. Incredible crafted scorpion handles on both sides and a hinged pull top. The inkwell stands 2.5 inches in diameter, 3.5 inches high, 2 inches in depth. Hallmarked on the back, St. Petersburg, Casnkoblt maker's mark, dated 1857. Total weight 5.3 oz. Estimated value $1,000-$1,500. (Photo: eBay seller iralarrygoldbergcoinsandcollectibles.)
DBA: If not this exact inkwell, an identical one was sold at auction in New York for $1,250 on February 12, 2011. This is a nice increase in value over a few years.  I think that this shows how eBay attracts a large market of buyers. This is a special object that would be collectible in several categories, and I feel that it will hold value.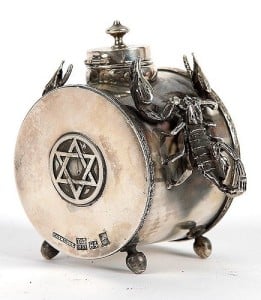 $6,350 (59 bids): Green And White Jade Hand-carved Garment Hook
I am offering a white and green jade, carved garment hook. This item was uncovered in my great aunt's belongings after she passed away. It has never been used and is in like-new condition. The hook is still attached to the original silk cloth. It measures just under 4 inches total. (Photo: eBay seller the_estate_sale_store.)
DBA:  The market for Chinese objects has changed vastly in recent years. The turmoil in China in the early 20th century caused many Chinese artifacts to be sold in vast quantities and for low amounts. Now, the Chinese have money and access to buy these through Internet sources (like eBay and other auction platforms) and are buying back their culture. It has changed the market as they are willing to pay high prices for the type of objects that they value. This has changed the market.
Not all Chinese objects are increasing in value. For example, they are not buying the ancient grave goods for which Westerners have paid large amounts of money. It has caused more work for appraisers to try to stay informed about current Chinese markets.
This appears to be a 19th century garment hook of high quality jade, and while this is a high price, others in this range can be found. This is an example of how global markets affect a local market.


$1,113 (21 bids): Wooden Wood Pipe Tobacco Cigar Shop Store Pipe Trade Sign.
It is large, measuring 5 feet wide and has a 16-inch diameter pipe bowl. The bowl is made of several sections. It is very well made and better than it shows in the photos. It has mounting hooks in place. This sign is originally from Oakland California and was in the same family for many years. Overall, a very nice, unique old sign. (Photo: eBay seller gypsiegirlz.)
DBA:
This is a wonderful "statement" piece, especially if you were operating a tobacco store. I am surprised that the price is that low. However, while there are many tobacco collectors, this is a large piece. It would not fit in the typical home.  This is not the historic trade shop sign but probably an early/mid 20th century type.  Tobacco was the first currency in early America, so no wonder that these objects are collectible. I believe that this was a good buy. I bet a man bought it, and hopefully, he has a large "man cave."
$152 (7 bids): NH Hardware Store Advertising Cloth Umbrella, Pattons Sun-Proof Paint.
Measuring 67.5 inches tall overall, this antique early 20th century, printed umbrella was once displayed outside of "C. P. Stevens Dealer in Paints, Hardware, Etc., Franklin, N.H." Half of the orange and white panels advertise for the store and the others for "Patton's Sun Proof Paint, Made in USA." The cloth part of this umbrella measures 36.5 inches long and is approximately 73 inches in diameter when fully opened. As you can see, this printed cloth umbrella has faded from years of being in the sun; there are also some old holes and small tears, but overall, it is still in very good, strong condition. (Photo: eBay seller wwolst12.)
DBA:
  This is probably a mid-century advertising umbrella as nylon replaced oiled cotton canvas in the 1950s and was easier to print. Nylon also did not mildew or rot as readily. This seems like a good price with the history of the item, and certainly an umbrella this size would cost more to make today.
The word umbrella is derived from the Latin word umbra meaning shade. That is not to imply that the Romans used them. The development of the umbrella (or parasol) is debated. Was China the first to use them in the 11th century B.C., or was this distinction properly given to Egypt or Nineveh? Whichever is correct, the device was used to shade the individual and was a symbol or rank.
I am not aware of collector groups for this type of object, but who knows what the next collectible category will be?  The printed golf umbrella was a late 1970s phenomenon.
Deborah Abernethy is a certified appraiser with the International Association of Appraisers. She can be contacted at 404-262-2131 or Deborah@expert-appraisers.com.
Her website is www.expert-appraisers.com
What's Selling on eBay: June 2015