by Mary Sue Lyon, director, Fostoria Glass Society of America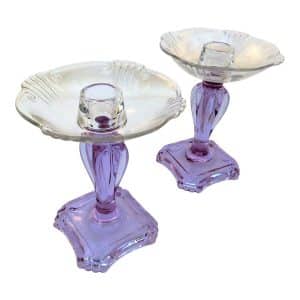 The Fostoria Glass Company began operations in Fostoria, Ohio in 1887 where natural gas was offered at low cost to attract new industries. That rate was very short-lived, and the Fostoria Glass Company moved to Moundsville, West Virginia in late 1891. Fostoria existed as an independent entity until January, 1983 when it was sold to the Lancaster Colony Co. Production which continued operations until February, 1986 when its operations closed, ending nearly 99 years of glassmaking history.
A Flexible Foundation
Fostoria glass, whether pressed or blown, was handmade and hand-finished. Each piece was formed by skilled craftsmen who blew the glass into the mold, further shaped it by hand, and "fire-polished" it in a bath of flames which brought out its sparkle and luster.
Throughout its history, the company was known for its willingness to innovate and change with the marketplace. The company's earliest products were pressed items for the table and items sent to metalworking companies who would mount silver or nickel tops or frames around glass articles.
By 1897 the Fostoria Glass Company switched its emphasis to the oil lamp trade, becoming one of the leading manufacturers in the country offering lamps from utilitarian to opal ware, "Fancy Decorated," lamps.
The 20th Century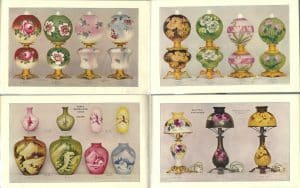 By the early 1900s, the Fostoria Glass Company added fine quality blown stemware to its line of products, mainly serving "upper crust" hotels and restaurants. As these establishments turned to machine-made glassware, the Company turned its attention to the home market for its blown stemware and pressed wares.
In 1915 the American pattern was introduced. It became such an iconic pattern for Fostoria that it and the company name are often interchanged by collectors. The American pattern is "cubist-prismatic" in form, sturdy and practical, but made of Fostoria's well-known quality, clear crystal glass. This was a huge pattern with over 300 items over its 70+ year production, and remained in production until it closed down production in 1986.
The 1920s saw an explosion of new designs, decorations, and innovations by the Fostoria Glass Company. It established a separate design department early in the decade as the popularity of fine tableware and decorative items for home use grew. By 1926 it had established what became a 50+ year relationship with the well-known industrial designer George Sakier, who designed many of the company's most popular and successful patterns.
Marketing Directly
In 1924, Fostoria was the first glass manufacturer to advertise directly to the homemaker through full-page advertisements in magazines such as Women's Home Companion and House and Garden. In addition to advertising, retail stores carrying their lines were supplied with sales training materials, display materials, and more to promote its brand.
In 1925 the Fostoria Glass Company was the first to introduce a full glass dinnerware line to the market which included plates, cups and saucers, serving pieces, stemware, and accessories such as vases and candlesticks. These were offered in a variety of colors and etching patterns. The "June" pattern is one of their most collected. This innovation proved to be the mainstay of the business throughout and well beyond both the Depression and the rationing days of WWII.
In the early 1930s, the Fostoria Glass Company's new square base stemware line with its complimentary square "Mayfair" dinnerware pattern, both designed by George Sakier, brought international decorative arts design acclaim to the company. These were the first American designs to be widely copied in Europe and by other U.S. glass manufacturers.
Moving into the Mid-Century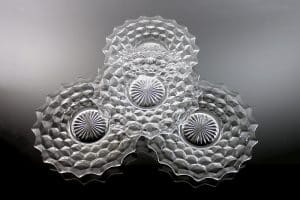 From the 1940s onward, Fostoria was the largest hand-made glass manufacturer in the country.  The company's emphasis became its blown and pressed stemware lines. There was literally a stemware pattern for everyone's taste; pressed for daytime, blown for the formal dinner.
By the late 1950s, a more casual lifestyle in combination with cheaper, blown imported stemware was taking its toll on business. As a result, the company shifted gears yet again to concentrate on decorative glassware products. It introduced the Heirloom line, each piece unique from hand finishing, and in a new palette of opaque pastel colors.
The 1960s and 1970s designs included Mid-Century Modern lines—such as Seascape and Sculpture—and historical reproductions of Early American Pattern Glass items in collaboration with the Henry Ford Museum. Lead crystal giftware was added in the 1970s and imported products became a larger part of the company's offerings. Hand-blown items were discontinued in 1982; only pressed glass items were made through the end of production in 1986.
The Market for Fostoria
The values for most Fostoria glass in today's market have fallen at least to half from a decade ago. Common items are a real bargain, being sold for a few dollars. Hand-made, etched or cut goblets can be found for as little as $3-$10 each. Scarce pieces of the American pattern still
command mid-3 to 4-figure prices.The design winning "Lotus Vase" by George Sakier still commands prices in the hundreds, as do scare items in the most popular etch patterns of Versailles, June, and Navarre. Heirloom pieces range from $25-$200 depending on the color and item, with yellow and bittersweet the most difficult to find. The 20" and 24" vases tend to be scarce as well.
To learn more about the Fostoria Glass Company, visit the Fostoria Glass Society of America, Inc. website at fostoriaglass.org