by Judy Gonyeau, managing editor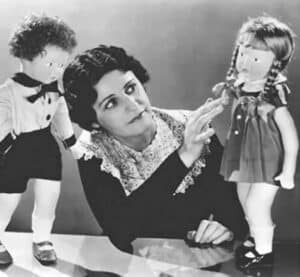 One-hundred years ago, Bertha Alexander turned the porcelain doll industry on its head when she transformed into Madame Alexander and became a maker of dolls designed for hands-on play, not a place on a shelf. Madame Alexander dolls were carefully crafted to reflect their character's era, wardrobe, and history.
Call Her Madame
The creator of the highly collectible Madame Alexander dolls was no ordinary child but one who felt she was born to achieve a higher station in life than her hardworking parents.
Born Bertha Alexander, she was the first of four girls who were children of immigrants. Although Bertha's father passed shortly after she was born, her mother Hannah then married Morris Alexander, a toy maker, and repairer trained in Germany, who emigrated from Odessa and was the father of Bertha's three half-sisters.
The family lived above her stepfather's doll hospital in Brooklyn, New York. Both parents believed in giving their children a strong education, which suited Bertha just fine. An avid reader, she was able to convince her parents to create a "secret garden" in their small backyard where Bertha would read the books that would help inspire her dolls, including Alice in Wonderland, Little Women, and books by Charles Dickens.
During her childhood, while working closely with her father, who shared her passion for dolls and doll making, Bertha constantly saw beautiful porcelain dolls in need of repair with their fine dresses and accessories from the well-to-do and think to herself, "I'm going to live like that someday."
Looking to live up to a persona she preferred to take on, Bertha changed her name to Beatrice – a name she felt more akin to. Beatrice got married to Phillip Behrman right after graduating from High School and had two children, one of whom died during the Spanish Flu epidemic. Her daughter Mildred grew up in her mother's shadow.
In 1923, at the age of 28, Beatrice was able to obtain a loan for $1,600 and established the Alexander Doll Company. Hiring her sisters as makers, she designed and sold cloth dolls which were, in a way, the antithesis of the porcelain high-end dolls that she believed were not meant for true play but for admiration from afar.
Beatrice was determined to create beautiful dolls that could be handled and cherished without worrying about breaking or damage. Lending the moniker of "Madame" to herself felt more in line with how Beatrice wished to be known as both a business leader and doll creator, and the term was added to her brand name. Beatrice was then called simply "Madame" by everyone who knew her.
A Strong Philosophy
According to www.madamealexander.com, Madame believed hands-on doll play could encourage compassion, empathy, and making meaningful relationships. She turned to lessons and stories from classic literature and stories from a variety of cultures as she created her dolls, determined to make each one more than just a pretty face.
Madame's approach to developing a new doll was based on her knowledge of the person or character she wanted to portray, and that meant in-depth investigation. The New York Public Library became her resource of choice for learning about all aspects of a doll's "life" – from era to lifestyle to clothing and accessories, these dolls needed to reflect a true vision of the subject from head to toe.
Not just for girls, Madame Alexander dolls were intended to cut across gender, bias, and age to encourage conversation, curiosity, and understanding among any gathering of doll lovers. When it came to boys who loved dolls, Madame said, "Dolls should contribute to a child's understanding of people, other times, and other places. After all, the paternal instinct in men is as important as the maternal instinct in women." Madame kept her business strong, her construction skills on point, and her mind open.
Establishing Her Company
Not long after starting her company, Madame built up her hard-working staff by hiring directly from the neighborhood. Employees were carefully trained to have the intricate skills needed to make dolls and the clothing and accessories that came with them. Thanks to her commitment to education for all, Madame nurtured her staff by always providing hands-on, skill-based training for each worker as the business advanced over time.
As a businesswoman, Madame learned early on to hold her own when it came to dealing with bankers, male shop owners, and vendors of raw materials. Thanks to her strong resolve, she held her own with larger shops, as well. FAO Schwarz was one of her earliest (and best) stores to place orders with her.
Madame also pulled her husband Phillip away from his job at a hat-making company to work for the company – threatening to divorce him if he didn't! "I meant it," she told Stephanie Finnegan and Lia Sargent who wrote the book Madame Alexander Dolls: An American Legend. "It seemed to me I can always get another man." A modern woman, indeed.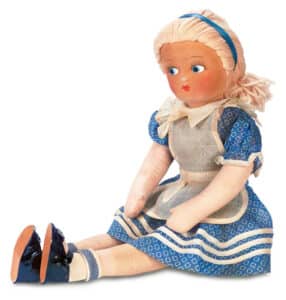 Being a "hands-on" owner of the company, Madame also knew where her strengths were, and where they were not. Phillip dealt with administrative duties including logistics, payroll, unions, and operations. Madame handled product development and monitored trends within society that could influence the next line of dolls. At times, these seemed to change on a day-to-day basis in those times of the Great Depression, World War II, post-war restoration, and the continuous advancements in manufacturing in this fast-moving, ever-growing United States.
According to an article in the Harlem World Newsletter, "The company evolved into one of Harlem's largest private employers, according to the New York State Urban Development Corporation. Doll historians said the company had up to 650 employees in the 1960s. … The company once manufactured all its dolls at the 131st Street building, with some parts made in The Bronx and White Plains. But production shifted overseas in the 1990s."
Staying On Trend
Madame had the soul of an artist, the imagination of an inventor, and the drive of a determined entrepreneur. These, combined with her skill as a craftsman, helped her to make a great many innovations in the world of dolls. She had strong ideas regarding what she felt a doll could be and could mean to the American public.
One way to keep dolls at the top of the play industry was by having them reflect what was current and trending. This idea led her to obtain a trademark for Alice in Wonderland, allowing her to create Alice dolls as early as the 1920s. She also obtained trademarks to create dolls that coincided with the release of the movie version of Little Women in 1933 and Scarlett O'Hara after reading Gone With the Wind in 1937. Oddly enough, Madame's Scarlett happened to look like Vivian Leigh a full two years before the release of the movie in 1939.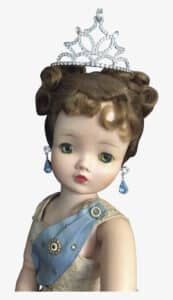 One trademark she did not attain was for the starlet Shirley Temple. This misguided decision was a thorn in her side but only made her more determined to stay on top of other characters, such as those being introduced by another 1923-founded entrepreneur, Walt Disney. Madame Alexander had a creative relationship with Disney starting in the 1930s. Leading characters from classic Disney films and stories provided inspiration for some of the most imaginative and best-loved Madame Alexander dolls including Snow White, Cinderella, and even the Seven Dwarfs.
Also in 1937, Madame caught the "Royal" bug as the young yet-to-be Queen Elizabeth II became popular on this side of the pond thanks to her efforts supporting the War effort during World War II. Madame produced a full ensemble commemorating her father King George VI in 1947. According to The Strong, the National Museum of Play, when Elizabeth was crowned in 1953, Madame created a "36-doll set included the queen, maids of honor, archbishops, choir boys, royal relatives, and honor guards dressed in great detail, right down to their undergarments, from the same mill that manufactured the real coronation wardrobe. CBS even used the dolls to recreate the coronation on television."
Innovations in Doll Traits
When Madame's dolls changed from being made from cloth to being made from composition (a composite material composed of sawdust, glue, and other materials such as cornstarch, resin, and wood flour), she took a page from the 19th century French porcelain doll company's popular "Jumeau" head and felt the use of "sleep" eyes in her dolls would prove to be more realistic for her hand-crafted dolls.
In 1942, Madame introduced the Jeannie doll, one of the very first walking dolls, but this one was only made for one year. She "walked" thanks to a unique walking mechanism with pullies and levers. Other walker dolls included Binnie and Winnie who were offered in a variety of different sizes.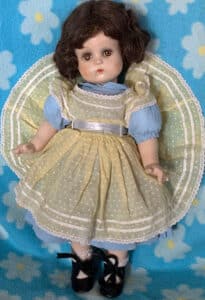 Shortly after World War II in 1947, Madame developed a durable, hard plastic doll that could be well played with and not break. Thanks to newly developed technologies that came from DuPont, Madame was able to manipulate the mold used for the face of the doll to let it show more expression. This plastic face mold fundamentally changed the doll industry.
Madame earned the Gold Medal from the Fashion Academy in 1951 and would go on to win it three more times before the decade was done.
Her attention to detail and strong work ethic was also passed on to generations of designers and factory workers. The company motto became "Love is in the Details," a phrase that continues to be printed on the doll hangtags that are used today.
America's First Fashion Doll
Perhaps one of the most successful dolls created by Madame was "Cissy." It made its debut in 1955, pre-dating Barbie by four years! The doll was 10" tall and made of hard plastic. Cissy was jointed at the neck, shoulders, hips, and knees, and had "high-heel feet." She was made until 1963 and officially called an "Alexander Cissette."
For collectors, this doll has it all. Her meticulous costumes covered a long list of trendy costume options for any character ranging from debutantes to ballerinas, queens, socialites, Gibson Girls, brides, and some that even wore pants!
But, while this more sophisticated doll set the fashion world ablaze, critics of the doll felt it was the first to emphasize looks and sexuality above communication and play.
In a blog posted by www.dolledition.com, "This era was all about silhouettes, voluminous skirts, and a tiny waist to the body-hugging sheath. Popular are tea-length dresses with petticoats for fullness, slim sheath dresses, and tailored suits. More casual are capri pants, high-waisted jeans, and twin-set cardigan sweaters. All accented with jewelry: pearls, animal brooches, sweater clips, and anything with rhinestones. Essential are matching accessories: gloves, hats, belts, and handbags. Every activity had its outfit and its hat – millinery (the word "milliner" comes from the word Milan) was a massive industry in itself. Hats were worn daily by almost all women, [so they were] a part of their completed layers of attire built off of a rigid point of view."
An interesting note also from this blog stated, "An occasion that became popular with Madame Alexander retailers and department stores in the mid-fifties was the store 'Doll Fashion Show.' Sometimes Madame Alexander herself hosted the event, and sometimes it was an Alexander Doll Company representative. In smaller locations, it was a toy buyer or department manager. It was a way to showcase the product line, especially 'Cissy.'"
Collecting Madame's Dolls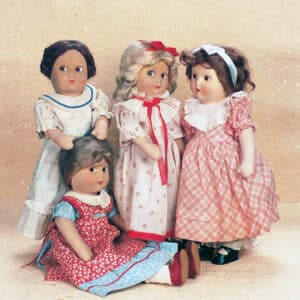 When collecting Madame Alexander Dolls, so much depends upon personal preference. Every detail—from the doll's persona to the color of its outfit—can influence even the fussiest of collectors. A good piece of advice is to determine the purpose of your collection and learn as much as you can about the full scope of dolls within that theme.
If you are a fan of Little Women, you can gather several editions of the character dolls over time. For example, Madame created the line as both cloth dolls and plastic dolls.
For Madame's iteration of the Dionne Quintuplets, sometimes the accessories are as important as having all five members of this famous family, like the pink baby pillow or the cart to pull them around, which can only add to their value.
Specialty dolls such as the Bridal Lucille Ball Doll from 1955 or the "Fashion of a Century" doll can go for many thousands of dollars. Whether you want to collect dolls from a particular era, or a certain size, or hunt down the most valuable, turn to the experts and ardent collectors of these all-American dolls. Then, decide which ones you would like to talk to, and begin.