by Maxine Carter-Lome, publisher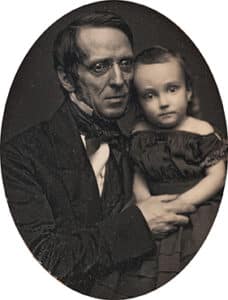 The venerable Peter Cooper, whose philanthropic life endeared him to every citizen of New York, died at 3 o'clock yesterday morning," reported the New York Times on April 5, 1883. Although the family planned for a small funeral, thousands turned out to watch the procession. "Shops closed down; traffic on Broadway stopped; flags flew at half-mast," out of respect for New York City's "first citizen," the Times later reported, Born Feb. 12, 1791, in New York City, Peter Cooper's list of accomplishments and contributions are many, touching every aspect of American life and aspiration. Amazing when you consider that he only had at most a year of any formal schooling.
In his teens, Cooper, while apprenticed to a coach-maker, invented the machine for shaping wheel hubs (still in use at the time of his death, some 80 years later). He then went on to become the first mill operator to successfully use anthracite coal to puddle iron, hold the very first American patent for the manufacture of gelatin (1845, which his wife named "Jell-O"), run as the Greenback Party's candidate in the 1876 presidential election (where his party lost to the Republicans and Rutherford B. Hayes), participate in the laying of the first transatlantic telegraph cable, and found and endow the Cooper Union for the Advancement of Science and Art in New York City. He was also known as an advocate of paid police and firemen,  public schools, and improved public sanitation. At a reception in his honor in his later years, he summed up his  philosophy: "I have endeavored to remember that the object of life is to do good."
While time fades memories with passing generations, Cooper's inventions and investments are forever tied to his name and legacy, especially when it comes to his contributions to rail transportation in America.
Tom Thumb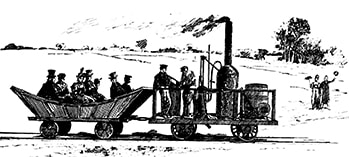 Peter Cooper and the Tom Thumb steam locomotive are important figures in the history of railroads in the United States, as well. Peter Cooper was the inventor of the first American-made coal-powered steam locomotive to be operated on a common-carrier railroad: The Tom Thumb. It was built in 1830 to convince the railroad owners of the Baltimore & Ohio Railroad (B&O) to use steam engines instead of horses to pull its passenger and freight trains along the tracks and the rougher terrain sure to be found on the line's westward expansion to the Ohio River.
For the demonstration, Cooper designed and built a four-wheel locomotive cobbled together with spare parts that included a musket barrel. It featured a small upright boiler, geared drive, and short wheelbase, and was fueled by anthracite coal. It was later given the name "Tom Thumb" because of its small size and weight of less than one ton.
On August 28, 1830, Peter Cooper's locomotive carried the B&O directors in a passenger car along a recently constructed  13-mile stretch of B&O track that ran from the Baltimore harbor, west to Ellicott's Mills. It was reported as a bright summer's day and full of promise. "Syndicate members and friends piled into the open car pulled by a diminutive steam locomotive with its inventor at the controls. Passengers thrilled at the heart-pumping sensation of traveling at the then-unheard-of speed of 18 mph." The outbound journey took less than an hour to travel the track's 13-mile stretch. This was an obvious game-changer. The following year, the B&O stopped using horses to pull their trains.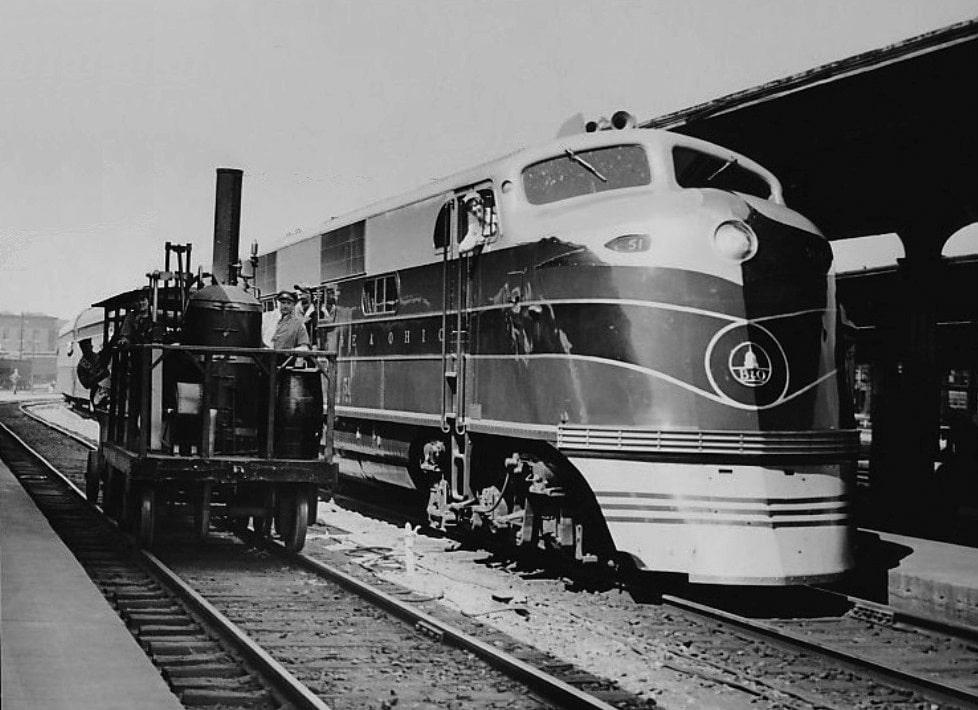 The Baltimore and the Ohio River were finally connected by rail in 1852 when the B&O was completed at Wheeling, West Virginia. By then, the Tom Thumb was a historical footnote, and the age of modern and luxury rail travel was about to explode as America looked to economically link a divided country after the Civil War and push westward with transcontinental service.
Peter Cooper was not the inventor of the steam-powered train. That honor goes to such U.K. inventors as William Murdoch (sometimes spelled "Murdock"), who in 1784 built a small-scale prototype of a steam rail locomotive; William Reynolds, who proposed a full-scale rail steam locomotive in 1787; Richard Trevithick, who built the first full-scale working railway steam locomotive in 1802; and George and his son Robert Stephenson. The Robert Stephenson Company's Locomotion No. 1, made in 1825, was the first steam locomotive to haul a passenger carrying train on a public railway.  The Company went on to become the pre-eminent builder of steam locomotives used on railways in the U.K., U.S., and much of Europe.
Cooper was also not the first steam engine maker to operate on U.S. rails. Many of the earliest locomotives for American railroads were imported from Great Britain, including the Stourbridge Lion, the first steam rail engine to operate in the United States, and later the John Bull, built by Robert Stephenson and Company.
Cooper is, however, credited with the first American-built steam locomotive to operate on a common-carrier railroad, launching a domestic locomotive manufacturing industry that gave rise to a  generation of unprecedented wealth being built in this country.
The Tom Thumb was made to demonstrate the idea's potential but was never intended for or placed into regular service. Cooper left the building of next-generation steam locomotives, made here and abroad, to others. His mission was to move progress along at a faster speed. From there he moved on to other endeavors, both financial and philanthropic.
The Tom Thumb hauled passengers until at least March 1831 and then was salvaged for parts in 1834. Peter Cooper was not recognized for his accomplishment until 1875 when he described and sketched a drawing of the locomotive.
Modeling Tom Thumb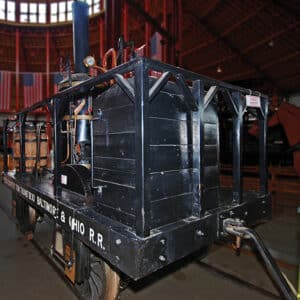 While the Tom Thumb enjoyed its 15-minutes of public fame, it remains a uniquely American and highly respected achievement among railroad history buffs, train aficionados, and collectors. It has been replicated in many ways and continues to be modeled as a tribute to Peter Cooper's vision and American industry and ingenuity.
The first replica of the Tom Thumb was built in 1893 by "Major" Joseph  G. Pangborn, a western newspaper publicist and showman who was hired by the B&O railroad as a special representative of the to create an advertising program. He stayed on and built one of the finest railroad exhibits ever assembled for the Chicago World's Fair of 1893. The exhibit included a full-size replica of the Tom Thumb. Liberties were taken since original documentation no longer existed, and this depiction went on to become the generally accepted and iconic representation of this historic locomotive.
Always cognizant of its historical prominence, the B&O built another replica of the Tom Thumb for the B&O Railroad's 1927 Fair of the Iron Horse. This operating replica follows the general description given to them by Peter Cooper but was built for performance for the fair, rather than historical accuracy. This example is currently preserved and operational at the Baltimore & Ohio Railroad Museum in Baltimore, Maryland, brought out for special anniversaries and commemorations.
Tom Thumb models on a smaller scale have also found themselves a home in museum collections. The National Museum of American History owns a 1933 model made by Bathe & Williams of Philadelphia, Pennsylvania. Greville Bathe was a machinist and steam engine hobbyist who would fashion his own parts to complete toy steam engines and models. Also in its collection is a 1960-inspired model (maker unknown).
Tom Thumb models also come up for auction from time to time. In 2014, a 12 x 161?2 x 81?2 inch live steam scale model of the Tom Thumb locomotive was sold through Heritage Auctions for $2,000. On eBay, Tom Thumb memorabilia and ephemera can be had for mostly under $50. This includes trading cards, postcards, original art train etchings, and souvenir items of a wide variety with the Tom Thumb image.
Peter Cooper's legacy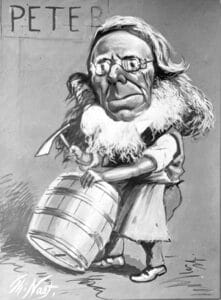 While Cooper felt the objective of a business was to make money, he believed that "the object of life is to do good." He felt it was everyone's duty to help the nation progress towards a better social condition. His inventions and business engagements had made him a wealthy man, one who could afford to follow his interests throughout his long life. He was a self-made man of his time but forever regretted his lack of formal education. In 1859, in perhaps what he would consider one of his greatest contributions, Cooper founded The Cooper Union for the Advancement of Science and Art to give the less fortunate an opportunity to educate themselves and become successful. When the School opened it offered free courses in science, engineering, and art, provided a public reading room stocked with the latest newspapers and periodicals, and operated the largest secular meeting room in New York, able to seat 900. Cooper also took the revolutionary step of opening the school to women as well as men and students of color. There was no color bar at Cooper Union. In return for this opportunity, Cooper only asked for a willingness to learn and a commitment to excellence.