by Maxine Carter-Lome, publisher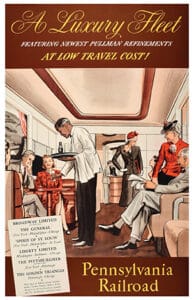 George Mortimer Pullman was born on March 3, 1831, in Brocton, New York, just four years after the "Laying of the First Stone" ceremonies that launched the construction of the first passenger and freight rail line in the nation. By the time of his birth, tracks were being laid across the country at a frenzied pace, and steam-powered locomotives were changing the speed and trajectory of rail travel.  As a young man, Pullman always regarded himself as a "businessman"—an early 19th-century word used to define a man who was neither merchant nor manufacturer but a mobilizer of capital—and was drawn to the fast pace of opportunities transpiring during the early years of the rail industry.
After spending an uncomfortable night sleeping on an overnight train trip from Buffalo to Westfield, New York when he was in his early 20s, Pullman realized that there was vast market potential for comfortable, clean, efficient passenger service. He designed an improved passenger railcar that contained comfortable sleeper berths for all its passengers and formed a partnership with former New York State Senator Benjamin C. Field in 1857, a close friend and neighbor, to build and operate sleeping cars based on his design.
Pullman Production
In 1858, Pullman & Field secured a contract with the Chicago and Alton Railroad Company to redesign and remodel two of their 44-foot-long passenger coaches based on his design. During the day, the upper berth was folded up overhead similar to the present-day airplane overhead luggage compartment. At night, the upper berth folded down for sleeping, and the two facing seats below were converted to provide a  relatively comfortable lower berth. Curtains provided passenger privacy, and there were washrooms at each end of the car for men and women.
These prototype Pullmans were a slight improvement over existing sleeper cars but were not profitable given their cost to produce. This early venture did, however, put Pullman's vision on track with the growing popularity of passenger rail service after the Civil War. While was not the first to create a sleeper railcar, he was the first to imagine it could provide added comfort, something that people would pay extra to have on longer travels.
Over the next couple of years, Pullman worked on the design challenges of providing passengers with comfortable rail accommodations and developed his first railroad sleeping car, the Pullman sleeper, or "palace car," in 1864. Pullman designed these after the packet boats that traveled the Erie Canal during his youth, and they were the country's first introduction to his brand of luxury rail travel, which he was continually refining.
The Pioneer, built in 1865, was the first, truly grand car that Pullman created. It was the ultimate in sleeping cars with red carpeting, hand-finished woodwork, and silver-trimmed coal lamps. Cast-iron wheel trucks topped with coil springs and rubber blocks provided a more comfortable ride.
Pullman At Your Service
After President Lincoln was assassinated on April 15, 1865, Pullman made his new luxury sleeper, the Pioneer, available to the Lincoln family for the funeral cortège that took Lincoln's body from Washington D.C. to Springfield, Illinois for burial. A genius for public relations and a shrewd businessman, Pullman knew the gesture would catch  America's attention as hundreds of thousands turned out along the route to see the Lonesome Train and pay their respects.
Orders for his new cars soon began to pour in and Pullman saw his opportunity: railway sleeper cars that provided "luxury for the middle class" and the "height of luxury" for the wealthy. The business was booming in the post-Civil War economy, and it was time to expand, not only his company but his vision for what rail travel could be and offer the discerning traveler.
In 1867, Pullman organized the original Pullman Palace Car Co. in Chicago, which introduced his first "hotel on wheels," the President – a sleeper car with an attached kitchen and dining car. Pullman's new luxury sleeper cars were decorated with carpeting, draperies, upholstered chairs, libraries, and card tables, and offered food that rivaled the best restaurants of the day.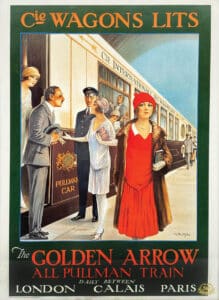 Another feature of traveling on this new Pullman was its impeccable customer service provided by an all-African American staff of "Pullman Porters" whose job it was to lug baggage, shine shoes, set up, and clean the sleeping berths and serve the needs of its white passengers. Many of these Pullman porters were former slaves. Pullman reasoned that former slaves would know best how to cater to his customers' every whim, and they would work long hours for cheap wages. He also thought that black porters (especially those with darker skin) would be more invisible to his white upper- and middle-class passengers, making it easier for them to feel comfortable during their journey.
Despite the undeniable racism behind Pullman's employment practices, he ended up giving opportunities to people who desperately needed them. In the early 1900s—a time when many other businesses would not hire African Americans—the Pullman Company became the largest single employer of black men in the country.
These more comfortable, luxurious sleeper cars and the experience of riding the rails on a Pullman were an instant hit, affording wealthier passengers the amenities they were accustomed to at home and allowing middle-class travelers to enjoy a taste of the good life.
Bruce White, Pullman and transportation lead at Hildene, the Lincoln Family Home, notes that "Over time, the company was shipping cars all over the country—and internationally. At the turn of the 20th century, Pullman was the largest manufacturing company, of any kind, in the world." At its peak, Pullman sleeper cars accommodated 26 million people riding the rails each year. In effect, Pullman operated "the largest hotel in the world," his name synonymous with the height of luxury rail travel.
His Match
In 1880, in a move to expand his production facilities to accommodate demand, Pullman purchased 4,000 acres of land near Lake Calumet, 14 miles south of Chicago on the Illinois Central Railroad, for $800,000. Trying to solve the issue of labor unrest and poverty, he looked to build a company town adjacent to the factory for his workers. Pullman believed that the country air and fine facilities, "without agitators, saloons, and city vice districts," would result in a happy, loyal workforce. He employed Architect Solon Spencer Beman and Landscape Architect Nathan Barret to design the buildings and layout of Pullman and its factories.
The town of Pullman featured row houses with such unique amenities as indoor plumbing (flush toilets), spacious, well-ventilated, and well-lit rooms, and steam heating for the executive homes, well above the standards of the day. The company town offered shopping areas, churches, theaters, parks, and a library.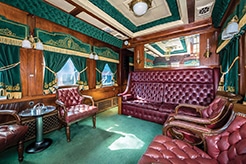 While designed and built as a model campus and community for his employees, Pullman pulled the rug out from under his workers when manufacturing demand fell off in 1894. To cut costs, Pullman cut jobs and wages and increased working hours, but did not lower rents or prices in the company town. As a result, many workers and their families faced starvation.
When a delegation of workers tried to present their grievances about low wages, poor living conditions, and 16-hour workdays directly to Pullman, he refused to meet with them and ordered them fired. The delegation then voted to strike, and Pullman workers walked off the job on May 11, 1894.
Early on as the news spread, a great deal of sympathy existed in Chicago and elsewhere for the Pullman workers, who were seen as common men and women tyrannized by an abusive employer and landlord. Soon, other rail unions joined in solidarity. The strike and subsequent boycott by the American Railway Union shut down much of the nation's freight and passenger traffic west of Detroit.
As the strike wore on, Pullman pressured President Cleveland to end it by issuing a federal injunction that sent federal troops into Chicago on July 3 to end the "reign of terror" driven by workers and to undermine the boycott by getting the trains running again. Their presence only incited more anger and violence, and on July 6 some 6,000 rioters destroyed hundreds of railcars in the South Chicago Panhandle yards. The next day, national guardsmen, after having been assaulted, fired into a mob, killing between 4 and 30 people and wounding many others.
At almost three months in, the wanton and destructive violence of the Pullman workers, and the inconvenience and financial hardship of the strike had taken their toll on the support and sympathy of the American public. When the General Managers' Association, the federation of railroads that had overseen the response to the strike, turned on its workers and began hiring non-union employees, the strike fizzled. Federal troops were recalled on July 20th, and The Pullman Company reopened on August 2, agreeing to rehire the [non-criminal] striking workers on the condition that they sign a pledge never to join a union.
The Aftermath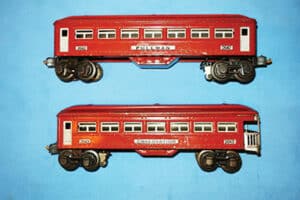 This local movement for worker rights had set off a nationwide spark that strengthened and emboldened unions across the country.  To heal the nation and conciliate the organized labor, President Grover Cleveland and Congress changed the designation of Labor Day to a federal holiday. This legislation pushed through Congress just six days after the strike ended.
Pullman's personal reputation was soiled after the Pullman Strike. Three years later, in 1897, he died of a heart attack at the age of 66, and in an interesting twist of historic fact, Robert Todd Lincoln, son of Abraham Lincoln, became the next company president.
The company closed its factory in the Pullman neighborhood of Chicago in 1955. The company ceased production after the Amtrak Superliner cars were introduced in 1982. Its remaining designs were purchased in 1987 when it was absorbed by another company.
Pullman Collectibles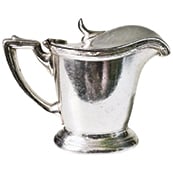 Pullman collectibles cover a lot of territories. The company branded all aspects of the passenger experience,  providing travelers with lots to take home as souvenirs of their journey aboard a Pullman. Headrest covers, blankets, individually wrapped soap bars, wooden coat hangers, hand towels, menus, tableware, and more have now found their way on to eBay, most under $100. Occasionally, Pullman items of a greater value come up for sale at Railroadiana auctions.
While branded items have more sentimental value than financial, Pullman model train cars are another story for train collectors. Model trains replicating Pullman's many-named cars can start at below $100 and go up in price into the thousands depending on their rarity, age, maker, and model type.
For the most part, however, model Pullman trains are in the affordable range for the average train collector. Fun to collect, the real value of Pullman-branded items is their association with a bygone era of rail travel in America where anyone, for the price of a ticket, could ride the rails in style.
___________________________________________________