by Maxine Carter-Lome, publisher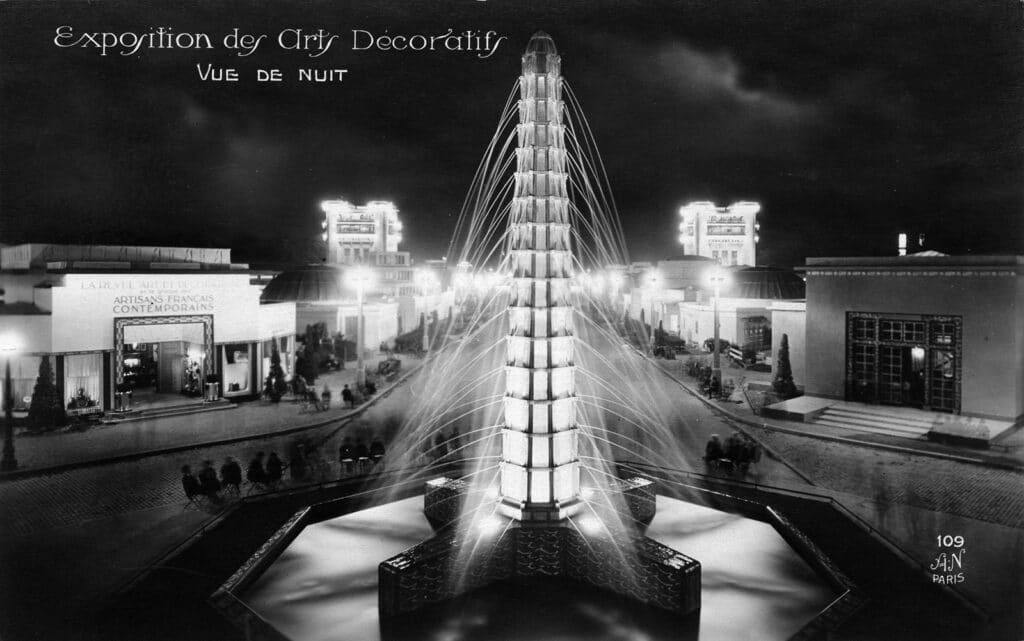 When the International Exhibition of Modern Decorative and Industrial Arts opened its gates to the public on April 28, 1925, one of the Fair's most defining and memorable features was Les sources de France (The Springs of France), a fifty-foot fountain of illuminated glass created by René Jules Lalique. Adorned with 128 glass caryatids depicting 13 different women from ancient Greek mythology, the fountain gave the Esplanade des Invalides—where it dominated as one walked through the main gate at La Porte d'Honneur—a fairytale-like appearance when illuminated. The novelist Colette described it as "marvellous" [sic.]. Lalique's glass artistry was also found in architecture and interiors throughout the fair, including two pavilions under the name R. Lalique et Compagnie where decorative glass objects designed by Lalique—from vanity table accessories to vases—could be purchased as souvenirs and brought home as gifts.
At that moment, René Lalique was the name behind, and the commercial front for, the new style moderne of architecture, interior decoration, furniture, glass, jewelry, and other decorative arts being promoted by the French government at the 1925 Exposition. Yet, this was not Lalique's first time on a world stage at the forefront of a design movement.
René Lalique, Art Nouveau Jeweler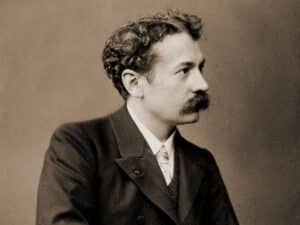 René Jules Lalique was born in 1860 in Ay, France, to Auguste Jules Lalique and Olympe Berthellemy. Although the family moved a few years later to Paris, he remained deeply attached to his birthplace throughout his life and was inspired by its natural beauty.
Following the death of his father at age 16, René took up an apprenticeship with a leading Parisian jeweler and goldsmith by the name of Louis Aucoc. He went on to study at the Ecole des Arts Décoratifs de Paris and then spent two years in England before becoming an independent designer for jewelers such as Jacta, Boucheron, Cartier, and Gariod.
In 1885, Lalique took over Jules Destapes' atelier in Paris and became a full-fledged jeweler, breaking with jewelry-making tradition by including innovative materials in his pieces in a style later to be known as "Art Nouveau."
Lalique's primary jewelry design motif was the natural world. He was influenced not just by the natural world of the French countryside, but also by Japanese natural world art motifs.
At a time when originality and creativity had been abandoned in favor of ornate and lavish styles with an abundance of precious stones, Lalique made the materials he used central to his designs. He chose them for their power, light, and color, whether they were precious or not. He combined gold and gemstones with semi-precious stones, mother-of-pearl, ivory, and horn, in addition to enamel and glass. In 1888, René Lalique registered his "RL" stamp and engraved the unique pieces created in his workshop with these letters.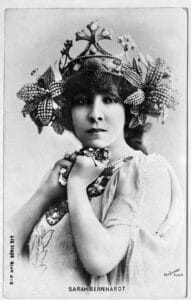 By the mid-1890s, René Lalique was a notable figure in the world of jewelry and fashion in Paris. His avant-garde pieces were commissioned by the great courts, patronized by such famous icons of the day as Sarah Bernhardt (who wore his jewelry on stage playing Marguerite in the play Theodora), found at such fashionable places as Siegfried Bing's the Maison de l'art Nouveau (Museum of New Art) in Paris and collected by the world's wealthy. In 1897, Lalique received first prize at the Salon in Paris, where he exhibited ivory and horn hair combs. This same year he was also awarded the Legion of Honor Cross for the jewelry he exhibited at the World's Fair in Brussels. His desire to "create something that had never been seen before" even earned him the accolade of "inventor of modern jewelry" by Emile Gallé, the famous French glassmaker, ceramist, and cabinetmaker.
Lalique and his work were also a sensation at the 1900 Paris Exhibition, where he exhibited not just jewelry but also objects d'art made using bronze, ivory, and glass. By the end of 1900, René Lalique was recognized not only as the premier Art Nouveau jeweler of his day but as a decorative artist of the highest order by both the public and his contemporaries.
A Fascination with Glass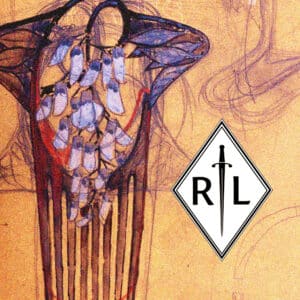 At the pinnacle of his jewelry career, Lalique began to increasingly experiment with glass in both his jewelry and unique objects, working out of his workshop at a country home in Clairefontaine, outside of Paris. In 1905, René Lalique opened a shop at 24 Place Vendôme to exhibit not only his jewelry but also the glass objects he was crafting at the Clairefontaine workshop.
His work with glass in this early period captured the attention of Perfumer François Coty. Coty was so impressed by René Lalique's designs that he asked him to put his talent to work for the perfume industry. The two launched a collaboration that not only shifted Lalique's business interests from jewelry to creating perfume bottles but changed the face of the perfume business forever by making it possible for the first time to offer perfumes in attractive
bottles at affordable prices.
Before this time, perfume bottles were just plain flasks that held expensive perfumes. But with the invention of synthetic oils that could be used to mass-produce perfume, René Lalique saw the potential to take a plain everyday object and turn it into an art object. Lalique went on to become the preeminent manufacturer of perfume bottles, designing and producing hundreds of Lalique perfume bottles for dozens of firms in addition to Coty.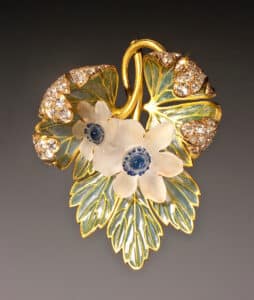 With his glass business growing in the perfume sector, Lalique bought the Combs-la-Ville Glassworks in 1913 and moved out of his country workshop. There, he could focus on techniques that allowed him to produce in larger quantities and to make his creations more affordable to a wider population with a focus on more industrial techniques of glass production. This investment confirmed his transition from a designer and manufacturer of jewelry and objects d'art to a designer and manufacturer of glass objects.
Lalique's work during this period and moving forward is defined by his signature style, characterized by iced surfaces, elaborate or partially realistic patterns in relief, and occasionally applied or inlaid color. His relief decoration was produced by blowing into molds or by pressing.
Over the next decade, Lalique became completely devoted to glassmaking, and in 1922 founded the Verrerie d'Alsace (Alsace Glassworks) at Wingen-sur-Moder in Alsace, the heart of a region with a strong and historic glassmaking tradition. There, Lalique specialized particularly in tableware, designing, and producing glass services that were exported all over the world. The factory, together with his renown as a jewelry artist and master glassmaker, positioned Rene Lalique and his company to fully embrace and capitalize on the opportunities presented by his exposure on the world stage at the 1925 Paris Exposition.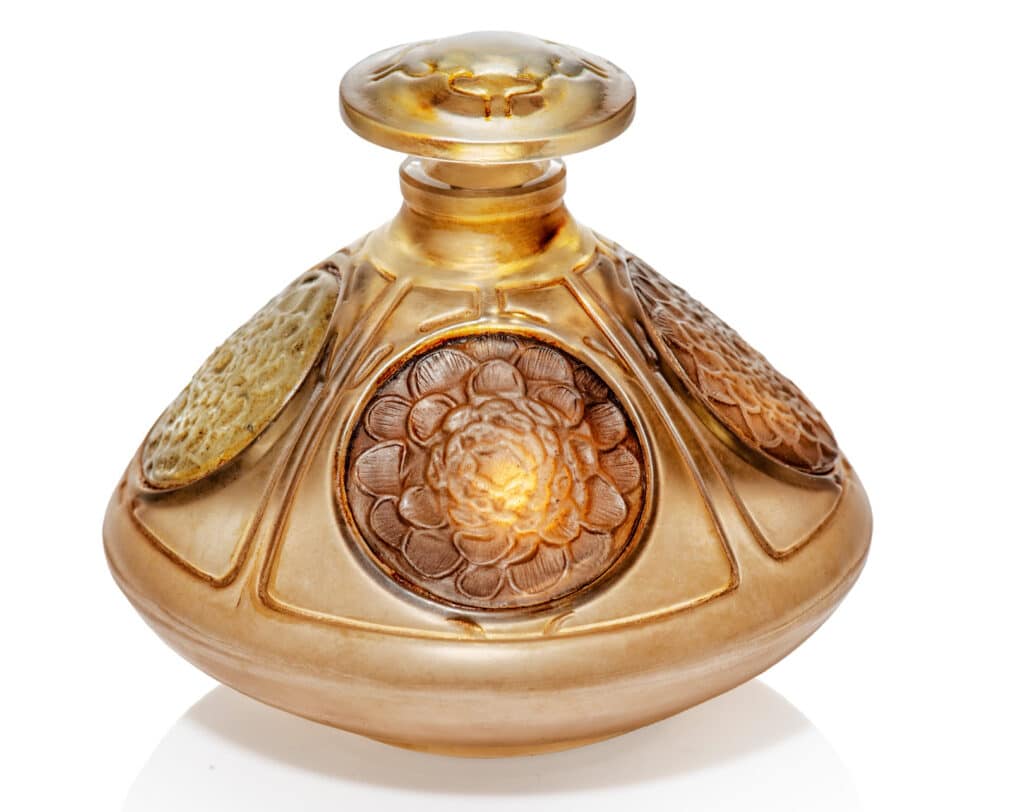 Designed in 1912, this clear, frosted, sepia-stained, and foil-backed perfume bottle holds an auction estimate of $4,000-$7,000 at Lyon & Turnbull in London
After the ExpositionThe 1925 Paris Exposition was another crowning achievement in Lalique's story, propelling his brand and glass objects d'art into the forefront of the style moderne movement, later termed "Art Deco." Lalique's bold approach to modern design and work with glass was quickly embraced throughout Europe and the United States.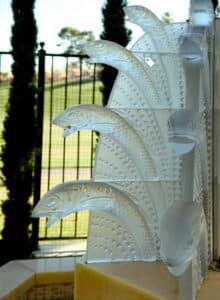 Following the Exposition, Lalique was inundated with commissions and large-scale interior design projects. His glass fountain at the Expo, Les Sources De France (The Springs of France), was such a huge success that he would go on to create many more glass fountains both for exhibitions and for everyday use, such as the fountains for the roundabouts on the Champs-Elysees, later taken down due to the high cost of maintenance.
Lalique was also chosen to undertake the decoration of the Côte d'Azur Pullman Express carriages, decorated the famous fashion designer Madeleine Vionnet's haute couture salons, designed glass doors for Prince Yasuhiko Asaka's residence in Tokyo, and designed many architectural components for the Oviatt Building in Los Angeles, shipping 30 tons of his R. Lalique glass through the Panama Canal to get it to Los Angeles. He also participated in the interior design of the vast first-class dining room of the luxury liner Normandie, designing lighting columns and chandeliers for this colossus of the seas, and was particularly renowned for the glass hood ornaments he designed and produced for cars. René Lalique's car mascot creations are legendary to this day and can often sell for well over $200,000 for the rarest of these works. They are also the most sought-after of all car mascots, not just by collectors of
"R Lalique," but also by general glass collectors and antique car collectors.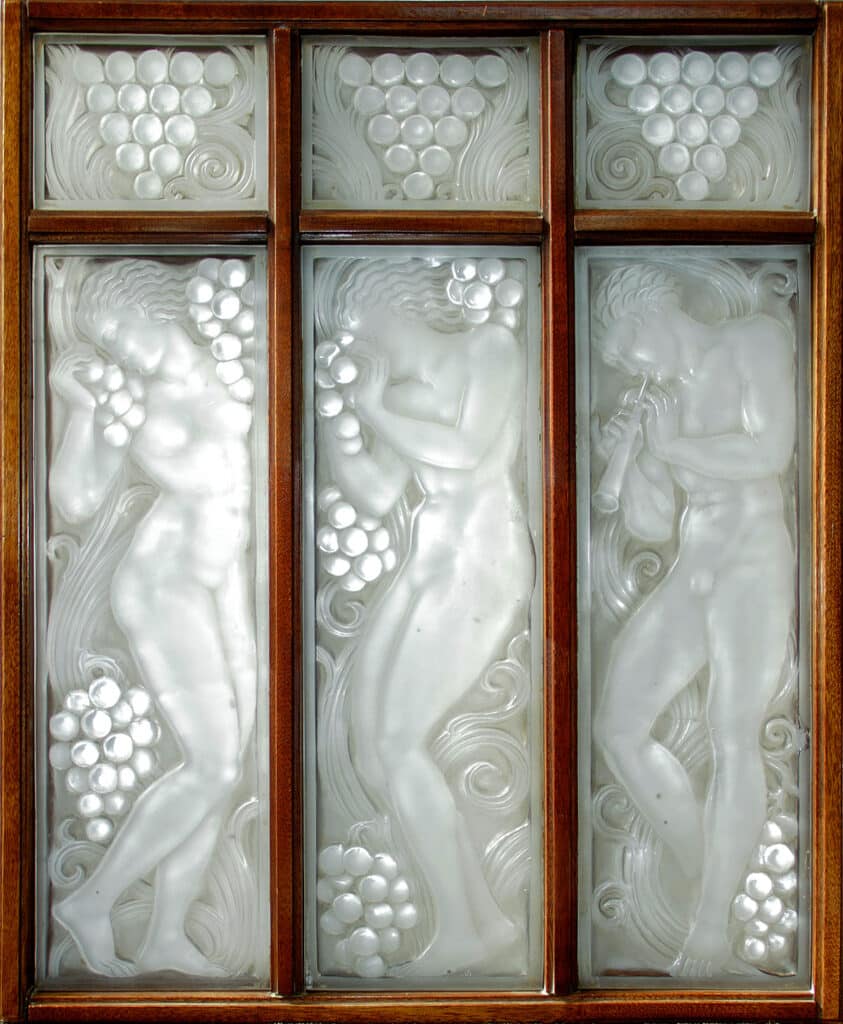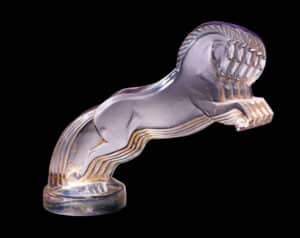 His exposure at the Exposition also allowed Lalique to expand his brand into the United States. While the name Lalique was well-known throughout Europe, the conspicuous consumption of the Roaring '20s created a demand for "R Lalique" and other European luxury brand items in the United States. Lalique was able to gain a foothold in the U.S. luxury market up until the start of the Depression, exporting everything from glass dressing table accessories––hand mirrors, trinket boxes, atomizers, perfume burners, and bottles––to cocktail glasses, decanters, swizzle sticks, ashtrays, smoking accessories, and glass vases to a post-war, consumer-hungry U.S. market.
Lalique passed away on May 1, 1945, but his brand and the business lived on, next in the hands of his son, Marc Lalique. Today, Rene's work is part of the collections of major institutions around the world, including the Calouste Gulbenkian Museum in Lisbon, the Lalique Museum and the Decorative Arts Museum in France, The Metropolitan Museum of Art and the Corning Museum in New York, and the Rijksmuseum in Amsterdam. Prices continue to reflect the continued collectability and renowned artistry of its founder and the cache of its brand.
The Legacy of Lalique Glass
Lalique is perhaps best known for the range of finishes he applied to his glass, including polishing, enameling, and frosting, which was a particularly successful way of adding depth and emphasis to his designs, similar to the way an artist would use graphite for shading. Though he was not the inventor of opalescent glass, he made the most creative use of it within his designs, which involves mixing or injecting a chemical concoction (including arsenic) into the glass, then cooling and heating the glass repeatedly until the area becomes opalescent. René Lalique's opalescent glass designs are more expensive to collect than his clear pieces, as production stopped following his death in 1945.