By Maxine Carter-Lome, publisher
Glassmaking has historically been a man's trade. This can be attributed to the ability of boys to access education, handle intricate scientific chemical demands of creating glass, working within Guilds as apprentices and then masters, along with the danger of working with incredible heat and fire. Around the 17th century, that began to shift.
It Takes a Woman
There is evidence to suggest that women have been actively engaged in glassmaking as early as the mid-17th century as bead stringers. According to Italian Historian and Professor at Stanford University Francesca Trivellato, Venetian glassmaker guild regulations permitted female relatives of glass masters to have limited involvement in the manufacture of glass beads.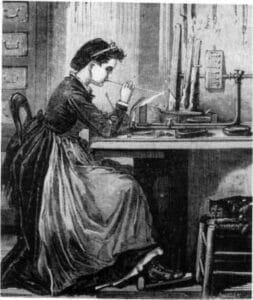 There is also, according to an article entitled "Breaking the Glass Ceiling: Women Working With Glass," published by The Corning Museum of Glass, evidence of itinerant female lampworkers (or flameworkers) performing for audiences going from town to town in the late 17th, 18th, and 19th centuries creating small items such as animals, flowers, or other ornaments. These "fancy glassblowers" were not working at a furnace, but at a table over an oil lamp with rods of glass and turning them into whimsies. One Dublin 1740 newspaper article describes the talents of a Mrs. Johnson, who made human figures, birds, swords, ships, and other glass items using a technique now referred to as making "spun glass." Traveling troupes in the United States included some noted artists including Madame J. Reith and Madame Nora Allen.
In England, well into the 19th century, glassmaking and glass cutting was seen as a generally closed profession for the "softer sex," but throughout Europe, the times were changing, and in countries such as France, Belgium, and Germany, women had become a "source of great industry," according to an 1887 English glass trade journal cited for this article. "A great quantity of the imported tumblers, wines, etc., are cut by women, and they are cut in clean, well-ventilated shops, nearly approaching comfort."
In the United States, late 19th century glass-cutting shops often employed women as waxers, washers, selectors, wrappers, roughers, and smoothers. In some shops, they were also tasked with glass design, needle etching, painting on glass, and stained-glass assembly. They were, for the most part, nameless, faceless individuals.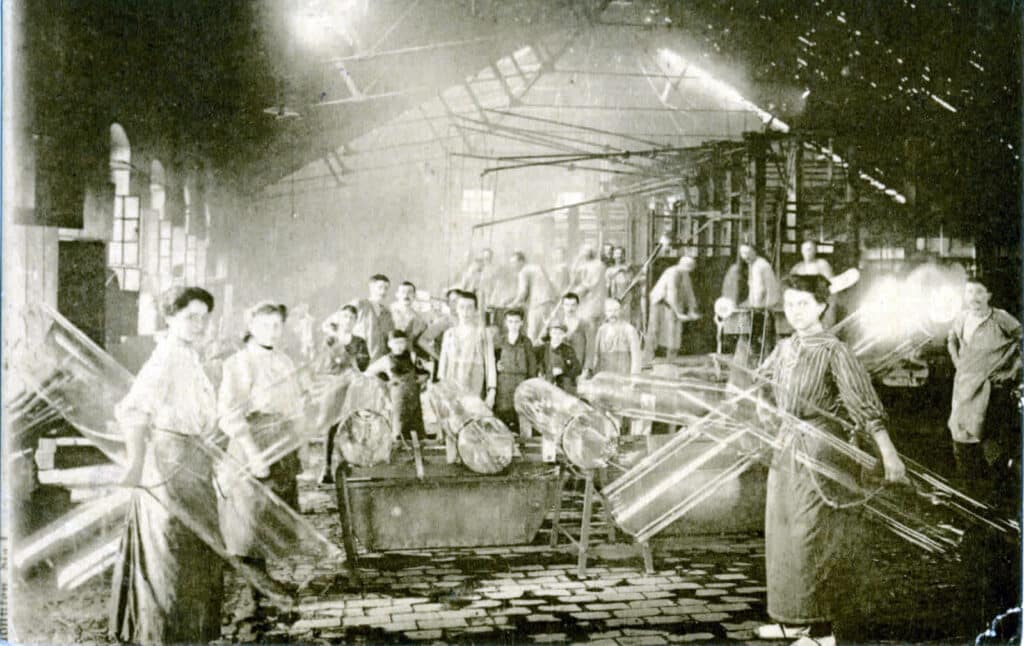 The power and potential of women in the studio glass field finally received the recognition they deserved in a 1902 Annual Report of the United States Commission of Labor. "Some manufacturers do not want female designers … Once employed, they are preferred because they are naturally of a more artistic temperament. They display more taste, are always reliable, and can do fully as good work as men. lt is the opinion that the competition and employment of women in the field of design … has tended to improve the work of men."
The report made public what many glass insiders like Louis Comfort Tiffany (1848–1933) already knew. It also made the craft suitable employment for a new generation of 20th-century women glass designers and artisans; however, their right to work did not extend to receiving credit for their contributions. Today, all that is changing as glass historians, collectors, and museum curators seek to shine light on the industry's marginalized makers, starting with the "Tiffany Girls."
The Tiffany Girls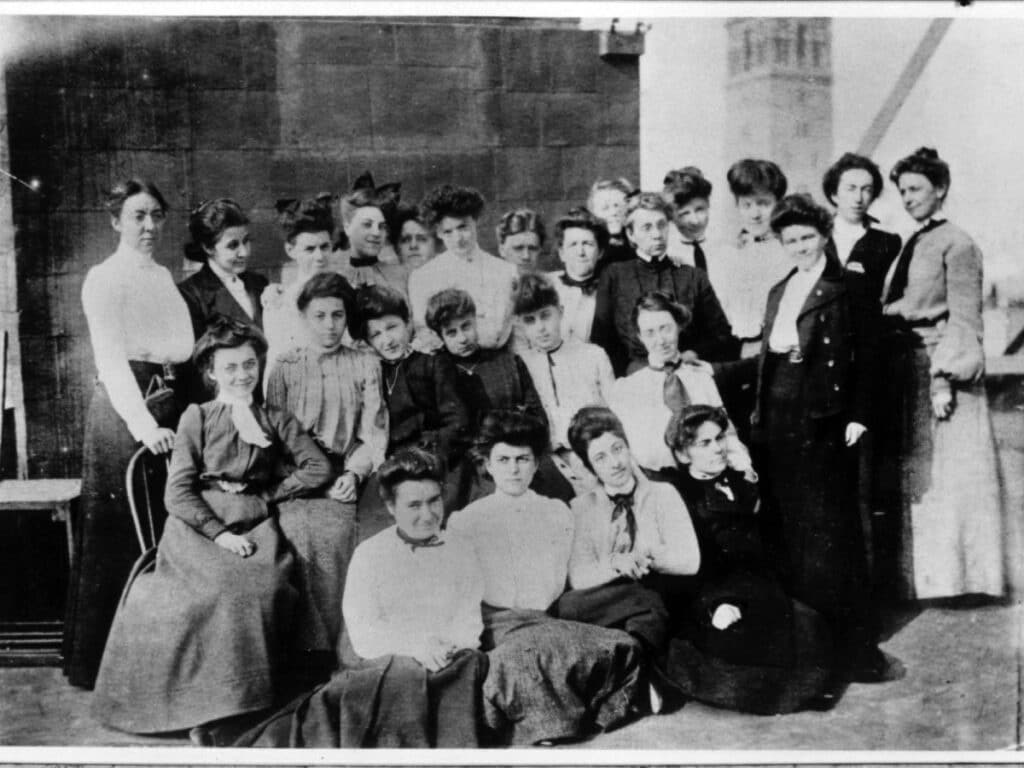 Louis Comfort Tiffany was known to employ dozens of women workers in his glassworks. Women physically cut glass and patterns, and worked on copper foiling on glass. He also had a stable of women designers, known as the "Tiffany Girls." At the time, Tiffany was lauded for his progressive efforts to employ women, and even paid them equal wages to their male counterparts, but he considered his name to be a brand so he rarely spoke publicly of the designers, whether male or female, who worked for him, and there is a limited company record of their contributions.
The names of some of the women who worked at Tiffany Studios came to light in 2005 when a trove of letters from Tiffany Glass Designer Clara Driscoll to her mother and sisters was discovered, many written during her tenure at Tiffany Studios. These letters offer historians an invaluable insider look at Tiffany during this prolific period in the company's history and have helped to identify Driscoll's contributions as well as some of the other women Driscoll worked with.
Clara Driscoll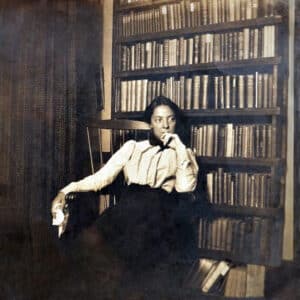 The saying, "behind every great man is a great woman" has historically been used to give women credit when society has not recognized their achievements. That saying can certainly be applied to Clara Driscoll who, only now—almost 80 years after her death in 1944—is getting the recognition she deserves for her design contributions to some of Tiffany Studios' most iconic stained glass lampwork.
A native of Tallmadge, Ohio, Clara Wolcott came to New York in 1888 to pursue an artistic career. Shortly after completing her studies at the Metropolitan Museum Art School, she landed a job at the Tiffany Glass Company (later Tiffany Studios) cutting glass for windows and mosaics. She married a year later, and according to the custom of the time, left her job to assume the duties of a proper Victorian housewife. When her husband died in 1892, Clara returned to Tiffany Studios as Clara Driscoll and assumed a managerial position directing the six-person Women's Glasscutting Department. Whether due to her leadership or the boom in the stained glass window industry, Driscoll was soon managing a thriving department of 35 young women, who referred to themselves as the "Tiffany Girls."
According to Curator of Decorative Arts at the N.Y. Historical Society Margaret K. Hofer for a 2015 special installation, "Clara began experimenting with lamps around 1898 and was probably responsible for introducing leaded shades. Tiffany seized on her idea, charging Driscoll and the women's department with the design and execution of all the leaded-glass shades with nature-inspired themes." When the Wisteria table lamp was produced in 1905-1906, it was one of the most expensive and most popular lamps sold by Tiffany Studios at the time. When the Dragonfly lampshade won a bronze prize at the 1900 world's fair, Driscoll was cited as the designer, a rare concession for Louis Tiffany.
Driscoll left Tiffany Studios for the last time in 1909 when she remarried, living another 35 years in relative obscurity. Had she not been a prolific letter writer, her true contributions to Tiffany Studios, and those of other Tiffany Girls she worked with, might have remained unknown.
Agnes Northrop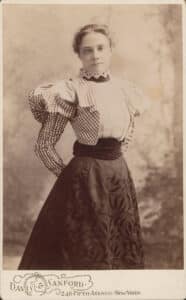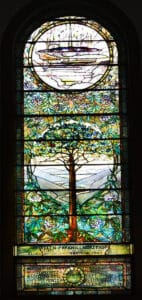 Driscoll was not alone among women lead designers at Tiffany Studios during her era. Another woman to emerge from the shadows with recent scholarship and Driscoll's letters is Agnes Fairchild Northrop (1857-1953).
Northrop was born in Flushing, Queens and went to work for Louis Comfort Tiffany in 1884 at his newly opened glass shop on Fourth Avenue (Park Avenue South) and E. 25th Street in Manhattan. Although she started out as a "Tiffany Girl," she quickly became independently acknowledged as a designer in her own right. By the 1890s and had her own studio down the hall at the company so she did not work in the cutting room with the other women or with men in the studio.
She was one of the few women to secure a patent for her designs. During her tenure there, most of the designs were done by men. Agnes collaborated and added flower details to important windows and was not always credited, but at least we know of several which can be directly attributed to her. These include a number of windows installed at the Bowne Street Community Church in Flushing, Queens.
Northrop was at the height of her power in 1917 when she designed the dazzling Hartwell window for the Art Institute of Chicago, dramatically backlit to mimic sunlight flooding through, creating a kaleidoscope of color.
Northrop worked for Tiffany Studios for over half a century, where she created some of Tiffany's most memorable stained-glass windows and was considered its "foremost landscape window artist," according to Sarah Kelly Oeler, the Field-McCormick Chair and Curator of Arts of the Americas at the Art Institute of Chicago. "She was a true virtuoso in what was referred to at the time as painting in glass." Northrop was also a female pioneer in the Arts and Crafts and Aesthetic movements and the later Art Nouveau movement in the late 19th and early 20th centuries, favoring landscapes and gardens for her subject matter.
Although Northrop worked at Tiffany Studios for five decades, and produced an impressive and lasting body of work, like Driscoll, Northrop's due recognition, until now, was overshadowed and suppressed by Tiffany himself.
Alice Gouvy and Julia Munson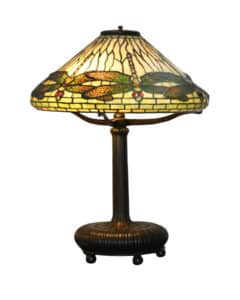 Other women to emerge from the Driscoll letters include Alice Gouvy and Julia Munson.
Born in Cleveland in 1870, Gouvy graduated from the Cleveland School of Art in 1894 and moved to New York, where she shared an apartment with Clara Driscoll. After a stint studying at the Art Students League, Gouvy was employed by Tiffany Studios in 1898. She became Driscoll's most trusted assistant and remained a close friend.
Gouvy is known to have helped Clara Driscoll and Agnes Northrop to design some of Tiffany's iconic pieces, including the Flying Fish shade, the Deep Sea base, and the Dragonfly lamp. Her sketches are also known to have inspired Tiffany blown-glass vases with petal shapes and motifs reminiscent of peonies and marigolds. Many of her works, including Dandelion Plant 95, are inspired by nature.
By 1900, Gouvy also worked in the Tiffany Studios pottery department and designed bronze objects but left Tiffany Studios in early 1907 to return to Cleveland to work as a schoolteacher while caring for her mother. Driscoll's letters shed much light on their lifelong friendship and Gouvy's design aesthetic and contributions.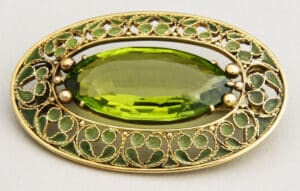 When Louis Comfort Tiffany turned to the art of jewelry, he chose, as his first collaborator, Julia Munson, a recent art school graduate training in the enamels department. He had hired her in 1898 to help him with enamels, and she was assisting him and his team, Dr. Parker McIlhenny and Patricia Gay, to "work out formulas and designs." This venture into jewelry was undertaken in "secrecy," because, according to Zapata, Louis was "more than a little intimidated" by the internationally acclaimed jewels his father and Paulding Farnham had created.
Tiffany went public with his new venture by submitting 27 pieces of his work with Munson for exhibition at the international St. Louis Exposition of 1904, where their work was hailed by critics as a triumph, exceeding Tiffany's expectations, and this brought perks for Munson. It is said she earned $10,000 per year at the peak of her career—approximately $200,000 today—a generous sum for the time, "especially for a woman." Tiffany and Munson's output, spanning the years between approximately 1902 and 1914, is among the most unusual and distinctive jewelry ever made. Judging by the work produced while she was head of the jewelry department, Julia Munson, like the men and women who brought Louis Comfort Tiffany's designs in other media to fruition, was an unsung master of her art.
In 1914, Julia Munson's career at Tiffany Studios New York abruptly ended when she married at the age of 39. Louis Comfort Tiffany's stance on married women was clear and unchanged; they could no longer work for him. Munson's successor at Tiffany Studios New York was another woman, Meta Overbeck.
Tiffany's enduring collaborations with women artists in various fields of the decorative arts—blown glass, bronze, stained glass windows, enamels, ceramics—indicate how remarkably progressive he was for his day. Not only did he seek them out as employees but he compensated them well. Yet, at the end of the day, he kept their contributions quiet and took all the credit, yet there is no doubt that their success was his success, even if he was unwilling to acknowledge it.