Top 5 Historical lots sold in 2012 by Heritage range from the dawn of the Universe to the dawn of America
The last year was an important one for history collectors at Heritage Auctions. Here's a peek at the top five Historical lots sold in 2012, which range from the dawn of Universe to the dawn of America.
No. 5 – Gardner's Photographic Sketch Book of the War by Alexander Gardner, two volumes, 1865-66, complete with 100 albumen prints.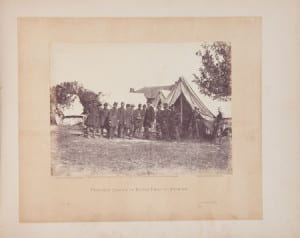 This two-volume set covers the entire conflict from Manassas in 1862 to the dedication of the monument at Bull Run in June 1865, including a rare photo of President Lincoln on the Battlefield of Antietam. When these images were first publically displayed, people waited hours for a chance to view them. Sold: $194,500 April 2012.
No. 4 – Buffalo Bill Cody's personally owned Remington revolver and trove of letters, documents and ephemera.


"It never failed me," so said William F. "Buffalo Bill" Cody in describing his trusted Civil War-issue Remington New Model Army .44 percussion revolver. This revolver never left Cody's side and he used it extensively during the Indian Wars. From 1868 to 1876 Buffalo Bill fought in 19 documented battles and skirmishes only to gain fame and fortune through his Wild West Show from 1883 to 1913. Sold: $239,000 June 2012.
No. 3 – Rare First Year of Production Colt revolver and Skeleton Shoulder Stock.


Early Colt revolvers are perennially popular with collectors, but those from the first year of production rarely appear at auction. With serial no. 122, this .45 caliber, 7 ½-inch barrel Colt pinch frame single action revolver dates to 1873. It is accompanied by a nickel-plated brass skeleton shoulder stock with threaded locking clamp and a letter attesting to its authenticity by Colt authority Ron Graham. Sold: $284,410 December 2012.
No. 2 – Fourth-largest portion of the Moon available for private acquisition.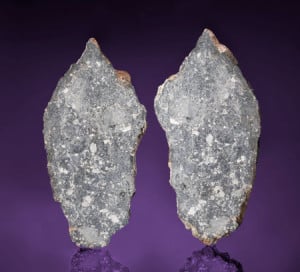 Worthy of the most important natural history museums in the world, scientists determined that this specimen, classified as DaG 1058, is lunar highland breccia from the far side of the Moon. This particular example uniquely has the single largest surface area to mass ratio of any of the largest lunar meteorites. Among the fascinating aspects of this rarity is the appearance of numerous impact melt breccias, showing how the piece was repeatedly pummeled by asteroids prior to being launched off the Moon's surface. Sold: $330,000 October 2012.
No. 1 – Stone printing of the Declaration of Independence.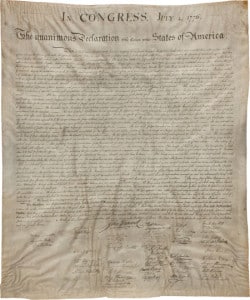 Produced in 1823, just 45 years after the founding of the nation, Secretary of State John Quincy Adams commissioned English-born engraver William J. Stone of Washington to produce an exact copy of the original Declaration of Independence onto a copperplate. Of the original 201 printed, Thomas Jefferson, John Adams, and Charles Carroll of Carrollton, the last three surviving signers of the Declaration, former President James Madison, the Marquis de Lafayette, President James Monroe, and Vice President Daniel D. Thompkins each received two copies. The President's House and the Supreme Court chamber were also given two copies. The House and Senate received twenty copies each. The Departments of State, War, Treasury, Justice, Navy, and Postmaster all received twelve copies and the governors and state and territorial legislatures were given a copy. The remaining copies were sent to various Universities and colleges. Stone kept one copy for himself.  A 1991 census revealed just 31 copies exist, with 19 in institutions and 12 in private hands. Sold: $597,500 April 2012.