by Maxine Carter-Lome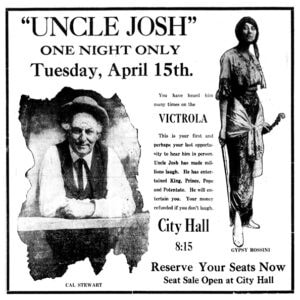 Some of the earliest albums recorded for commercial distribution were comedy albums. Various collections of humorous short stories recited by vaudeville comedian Cal Stewart were released by Edison Records as early as 1898, according to Ronald L. Smith, author of Comedy on Record: The Complete Critical Discography. Cal Stewart recorded monologues of jokes as the rustic "Uncle Josh." His banana peel jokes on the album "Uncle Josh in a Department Store," recorded in 1903, are considered some of the earliest recorded jokes of this genre.
For the most part, early commercial comedy recordings were what were called "party records," with Belle Barth, Moms Mabley, or Skillet & Leroy saying all those wonderfully naughty things that you weren't supposed to say in public. If you're of a certain age, your parents probably had a stash of these records you were never supposed to listen to hidden away somewhere in the home.
Radio and television played an instrumental role in commercializing comedy from the 1950s- 1980s, introducing mainstream and later counterculture comedians to a wider listening audience, and turning the more successful comedians into popular figures of their day.
Fans wanted more than the one routine they heard broadcasted and were looking for more from their favorite comedians. Record companies saw the production of these albums as a way to capitalize on that demand by taping routines. Comedy albums became a respectable segment of the recording industry thanks to comedians and record producers who had a head for comedy and business.
Norman Ganz, Verve Records, and Mort Saul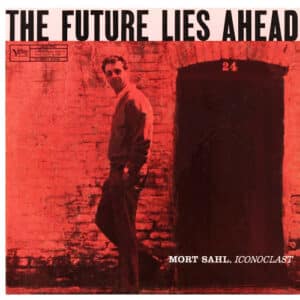 The first comedy album of the modern age was Mort Sahl's The Future Lies Ahead, released on the Verve record label in 1958. Verve Records was founded in 1956 by Norman Granz (1918-2001), an American jazz record producer and concert promoter, who represented such early noted African-American artists as Louis Armstrong, Ella Fitzgerald, Count Basie, Benny Carter, Dizzy Gillespie, Charlie Parker, Oscar Peterson, and more.
Although known primarily as a recording label for jazz musicians, Ganz signed the noted comedian to record his routines in front of a live audience. Sahl pioneered social satire that poked fun at political and current event topics using improvised monologues and satire. The Future Lies Ahead was a satirical take on the 1956 presidential campaign. Both Richard Nixon and Adlai Stevenson were targets of his observations and wit. This was, however, not actually Sahl's first comedy album. An unauthorized recording of a Sahl concert in 1955, titled Mort Sahl's At Sunset, had been illegally distributed a few years earlier, perhaps proving public demand for Sahl's brand of humor. Today, At Sunset is considered the earliest example of modern stand-up comedy on record. On its cover, Saul is shown in his trademark persona – dressed in a V-neck sweater with a newspaper as a prop. Mort Sahl's humor led Milton Berle to describe him as "one of the greatest political satirists of all time."
Sahl shared his increased success after putting out a comedy album with his colleague Shelley Berman (1925-2017), who was making a name for himself performing comic monologues at nightclubs in Chicago and on the West Coast. In the 2008 PBS documentary Make 'Em Laugh, Berman recalls how Sahl changed his career with a simple suggestion: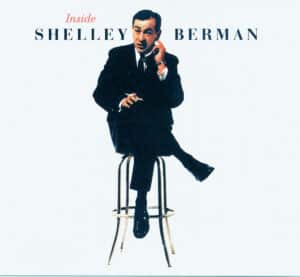 "Mort, said, "Hey I've made a record with Verve. Why don't you do the same thing?" I said, "Oh my God, put all of my material on a record? Forget about it! I'll never be able to do it. Because the surprise will be gone and everybody will know my stuff." And Mort said, "Go on, try it." So the technicians came for two nights, or something like that, at the hungry I and just went to town recording me. And one day I saw my record in a window. An LP. With a picture of me. And they picked a title, Inside Shelley Berman. I was pretty thrilled about that. And then somebody told me I was on the charts. I said, 'What the hell is that?' I didn't know a thing. And suddenly I was handed a tremendous check for my royalties. And there, now, I realized, 'My God, I'm a star.' I had no idea it would be so successful. I had no idea that it would make such a big difference in our industry."
Inside Shelley Berman is generally regarded as the first hit comedy album and was the first full album to win a Grammy in the "Spoken Word Comedy" category in 1959. It occurred to producers that they could recreate and make money on the best 45 minutes of a comedian's live set just as it occurred to the comedians that by recording their routines they could reach a much larger audience and all the fame and fortune that comes with celebrity.
The success of Shelley Berman's premier album gave a would-be comedian from Chicago, hope. His name was Bob Newhart.
Hi, Bob
Bob Newhart was an accountant who dreamed of becoming a comedian and gave himself one year to see if he could make something happen. "I always said that if I had stayed in accounting, the Enron corporation would still be in business. Because no one could figure out my books. I wasn't a great accountant, at all." He was, however, a natural comedian with a wry sense of humor that resonated with the American public.
Bob Newhart's The Button-Down Mind, recorded at a Texas nightclub and released in early 1960, was a game-changer for comedy records, proving the genre could be more than a niche segment of the record industry. It also showed that the public enjoyed laughing as much as they enjoyed listening to music. Newhart's album zoomed to the top of the charts—not the "comedy" charts, the Billboard charts for popular music!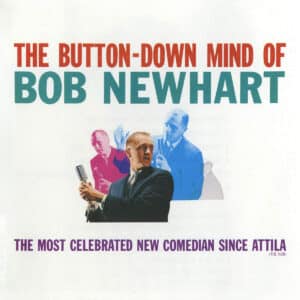 "Four months after we recorded it, a friend of mine in Chicago asked me, 'What ever happened to that comedy album you were going to do?'" Newhart said in a May 8, 2020 interview with the San-Diego Union-Tribune. "I called Warner Bros. Records and said: 'Hi, I'm Bob Newhart. I recorded a comedy album for you and I'm calling to find out what happened to it.' They said: 'It's selling great in Minneapolis!' And it was. That was the first inkling I had that something was happening.
"It just went crazy after that," Newhart recalls in his interview. "I mean, a year and a half before that I was doing a local man-on-the-street show in Chicago, and I put out this record album, hoping it would sell maybe twenty-five, thirty thousand copies, you know? I was just totally unprepared for the commotion they caused." In fact, The Button-Down Mind sold over 600,000 copies within the first year of its release, and in 1961 beat out Frank Sinatra, Harry Belafonte, Nat "King" Cole, and two classical music releases for the "Album of the Year" Grammy Award.
Later that year, Warner Bros put out a sequel, The Button-Down Mind Strikes Back! That album rose to the No. 2 spot on the Billboard charts, making Newhart the first comedian to simultaneously have the top two best-selling albums in the United States. His third album, Behind the Button-Down Mind of Bob Newhart, came out in 1961, followed by The Button-Down Mind on TV in 1962.
Newhart's brand of humor made him a sold-out performer at comedy clubs and concert arenas over the next half-century. He was additionally able to successfully cross over into television with two separate hit Bob Newhart TV sitcoms that ran a decade apart. He played a Chicago psychologist in the 1970s, then a New England innkeeper in the 1980s.
The Risky 1960s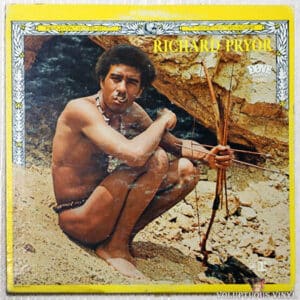 Coming off the success of Bob Newhart's debut album, the 1960s saw a comedy album explosion with the likes of Jonathan Winters, Don Rickles, Woody Allen, Allan Sherman, Redd Foxx, Carl Reiner, Mel Brooks, and the Smothers Brothers, among others, all recording albums as a way to reach a broader audience and capitalize on their fame.
The 1960s also showcased the light versus the darker, more hip side of comedy with comedians such as Lenny Bruce. Bruce was renowned for his open, free-form, critical style of comedy which contained satire, politics, religion, sex, and vulgarity, and paved the way for such other "counterculture" era comedians as George Carlin and Richard Pryor.
Bruce's approach also earned him a name with police forces across the country in the 1950s and 60s as he adopted a lifestyle and a drug addiction that led to him being called "a sick comic." Bruce's arrest in 1964 put him on trial for obscenity and a number of fans and organizations saw this as a landmark trial for freedom of speech in the United States.
Bruce released a total of four albums of original material on Fantasy Records, including the 1958 release of Interviews of our Times, with rants, comic routines, and satirical interviews on the themes that made him famous: jazz, moral philosophy, politics, patriotism, religion, law, race, abortion, drugs, the Ku Klux Klan, and Jewishness. These albums were later compiled and re-released as The Lenny Bruce Originals.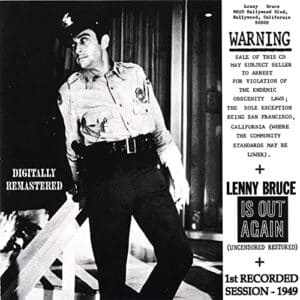 Two later records were produced and sold by Bruce himself, including a 10-inch album of the 1961 San Francisco performances that started his legal troubles. Starting in the late 1950s, other un-issued Bruce material was released by various other producers and record companies. With his legacy comes a continuing interest in his early recordings, many of which brought vulgarity, edgy topics, and obscenities into American homes in a generationally-polarizing way.
In 2017, Rolling Stone ranked Bruce third (behind disciples Richard Pryor and George Carlin) on its list of the 50 best stand-up comics of all time.
The Groundbreaking 1970s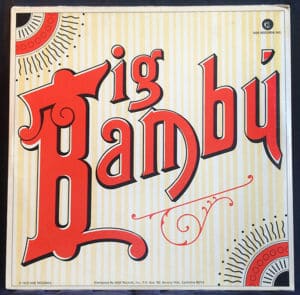 The 1970s marked a groundbreaking decade in the world of comedy. Comedians such as Richard Pryor, Steve Martin, George Carlin, Cheech & Chong, Bill Cosby, Lily Tomlin, and Martin Mull, among others, were tearing it up on comedy stages across the country. At the same time, millions of comedy records were being sold as adults bought the albums of comedians they were seeing on television and at clubs in order to replay their routines at home and turn others on to the comedians they were following.
Comedy recordings turned a major corner in 1972 with two releases each by George Carlin (FM & AM and Class Clown) and Cheech and Chong (Cheech and Chong and Big Bambu). These were albums geared primarily to college students and best listened to in an altered state. Most importantly, these albums presented routines that would never have been performed intact on network television (indeed, all of Cheech and Chong's albums were produced in the studio).
When Richard Pryor hit the scene with This Nxxx's Crazy in 1974, it firmly established the comedy album as the language of the counterculture. These records could not be listened to in 'family' company, like the popular comedy albums being released by Bob Newhart and Bill Cosby, nor were they considered fringe albums, but they were huge commercial hits, going "gold" and regularly making over $1 million in record sales.
Albums by Robert Klein, David Steinberg, Lily Tomlin, and various crews from National Lampoon deserve a nod here, as well.
The Prolific 1980s
The 1980s were even more productive, with new albums put out by comedy staples such as Rodney Dangerfield (his No Respect album won the Grammy in 1981), the rise of new talent, and the emergence of new record companies and labels devoted solely to comedy. Warner Brothers in particular was one of the biggest producers of comedy albums at that time.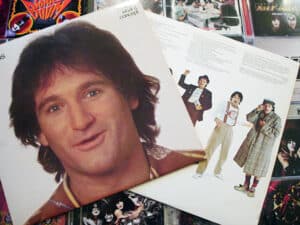 In the 1980s we were introduced to the comedic genius of Robin Williams, whose comedy album Reality … What a Concept won the Grammy in 1980 (following that up with A Night at the Met, which won in 1988), and Eddie Murphy, whose comedy album Eddie Murphy Comedian won the Grammy in 1984. Others including Sam Kinison, Whoopi Goldberg, Bobcat Goldthwait, and Dennis Miller—known from other entertainment venues—put out comedy albums to expand and extend their fame in the moment.
The Value of Vintage Comedy
The great thing about good comedy is that it is timeless. Vinyl, however, is not. Comedy albums, like all albums back in the day, were purchased to play and re-play, so only albums from serious collectors made it into the 21st century in great condition. While most are valued at the cost of a good laugh (roughly $10-$35 for the classics), the renewed popularity of vinyl records has helped to elevate the value of these vintage classics.
What's the best way to build a vintage comedy record collection? Listen to them and collect what makes you laugh.