Guess What Article for February 2007
By Bob Cahn, "The Primitive Man"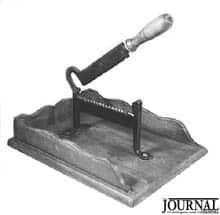 What's a half-baked scalloped, 3-sided wooden crumb tray with a manual hinged cutting arm doing in a GUESS WHAT situation?
We were wondering the same. Fifteen minutes of fame? Possibly, but since the usage is so intriguingly functional, we decided it definitely belongs.
Lest we be accused of contributing to the educational delinquency of the curious, we challenge you, as usual. With an up and down motion of the semi-blunt slicing, splitting, crunching, severing, snipping, chipping, scoring or cracking arm – against its stationary semi-jagged lower partner, it noisily went about its task. Pick the right action verb and you've got it solved.
After sizing it up: [tray: 11-1/2 inches by 15 inches; arm: 8-1/2 inches long by 6-1/2 inches high plus handle: 5 inches], see if any of the following clues help you zero in on the included answer.
Is it:
Toothpaste tube squeezer
Hard cheese grater
Walnut cracker
Celery cruncher
Manual lemon juicer
Primitive pizza pepperoni slicer
Horizontal stubborn jar lid loosener
Laundry bar soap flake shaver
Early sugar cone fragment crumbler
Raw carrot stripper/slicer.
The choice is yours; choose wisely! Till next time.*
*available for acquisition
Answer to December's Guess What?
Let's start with the colloquial name for last month's GUESS WHAT. The fact that we inadvertently carbon-dated it in the wrong time zone – should have said early 1900's – doesn't detract from this English collectible.
It's called a "Meter Beater" – referring to the coin-slot gas meters used to fuel the cooking stove. This cast iron stove trivet retained the heat longer to perpetuate the cooking process even after the stove was turned off – savings a few pence or shillings. It also protected the pot bottoms from burn-out.*
* From the devious collection of Mike Goodman, "King of Stuff," Townshend, Vt.