Ken's Korner: Kobe Bryant, mom in dispute over items
News & Views From the World of Antiques & Collectibles
By Ken Hall
Basketball star Kobe Bryant and his mother, Pamela Bryant, are in a legal battle over just who owns nearly 1,000 items from Kobe's childhood and early pro career, items that she wants to sell at auction. Ms. Bryant, who'd like to use the gross take (estimated at around $1.5 million) to buy a house in Nevada, said Kobe told her years ago, "Here, Mom, these are for you." Kobe has no recollection of that and says the memorabilia belongs to him. A planned auction in June, with Goldin Auctions in New Jersey, was put on hold.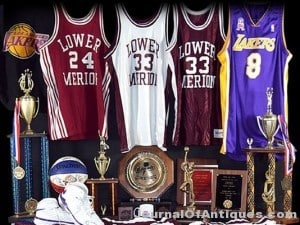 The items include shorts, jerseys, jackets and varsity letters that Bryant wore at Lower Merion High School in Ardmore, Pa., NBA All-Star and Championship rings, a 1996 Gatorade National Player award, a 1992 Sonny Hill League Future Stars championship trophy, and a team jersey from Bryant's childhood in Italy (described by Goldin as "the earliest known Kobe Bryant game-worn jersey ever offered at auction"). Bryant lived in Italy when his father, Joe, who once played for the Philadelphia 76ers, played pro ball there.