Ken's Korner: Picasso's daughter disputes Costco art – The Journal of Antiques and Collectibles – June 2006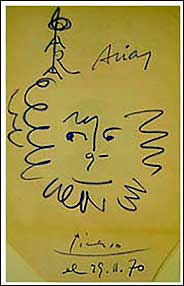 Maya Widmaier-Picasso, the 70-year-old daughter of iconic artist Pablo Picasso, has called into question three works of art either sold or being offered for sale through Costco she says are fakes. Ms. Widmaier-Picasso, who looks remarkably like her father and is a specialist in authenticating works by him, said in Paris that a $40,000 drawing (shown) bought by a California man through Costco last year was a fake. The 1970 sketch of Picasso's barber, Arias, was a copy, she said.
Another work, "Picador in a Bullfight," was listed on the Costco website, for $145,999, but quickly pulled down when Ms. Widmaier-Picasso said it, too, was a fake. A third work — a crayon-on-paper "doodle" on the blank side of a book jacket, was sold through Costco in 2004 and was being checked for authenticity. Costco, the nation's largest wholesale club, said refunds would be issued to anyone who requested one, but so far the buyers of both advertised Picassos said they were happy.