By Deborah Abernethy and Mike McLeod
In all of the items shown
in this month's column, each object sold at the highest end of the market for that type of object. While each is an unusual object individually, none seem to be outstanding from the body of similar objects that are sold on the regular auction market. I would say that eBay has reached its potential for selling to a worldwide market.
$4,550 (34 bids, 6 bidders): Authentic Antique Native American Sioux Twisted Wood Stem and Catlinite Pipe Bowl; ca. 1880. Very well preserved and in perfect antique condition, the stem alone measures approximately 33″ long by 2″ wide. The hand-carved Native American red catlinite pipe bowl is inlaid in circular and stripped pewter and hand-carved black steatite in geometric-designed patterns. The pipe bowl alone measures approximately 11″ long by 5″ high by 2″ wide. This oversized, rare, and unusual pipe bowl weights more than 2 pounds. The overall length of this piece, including the pipe stem and bowl, is a whopping 41″! There is an old worn snakeskin gasket between the pipe's bowl and the stem. Guaranteed authentic. (Photos courtesy of David Howard Tribal Art: tribalartasia.com.)
DBA: This pipe sold at the high end. While this is an object that is increasingly harder to find, the seller got a good deal, as these at auction usually sell for much less.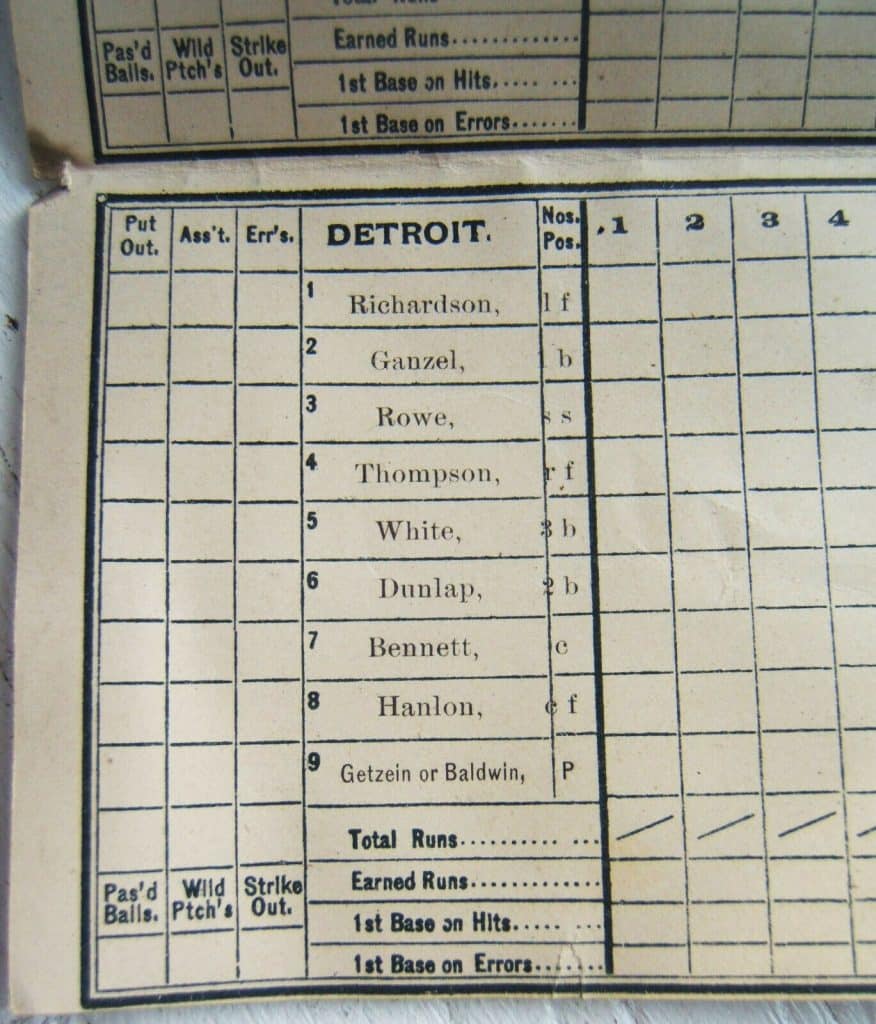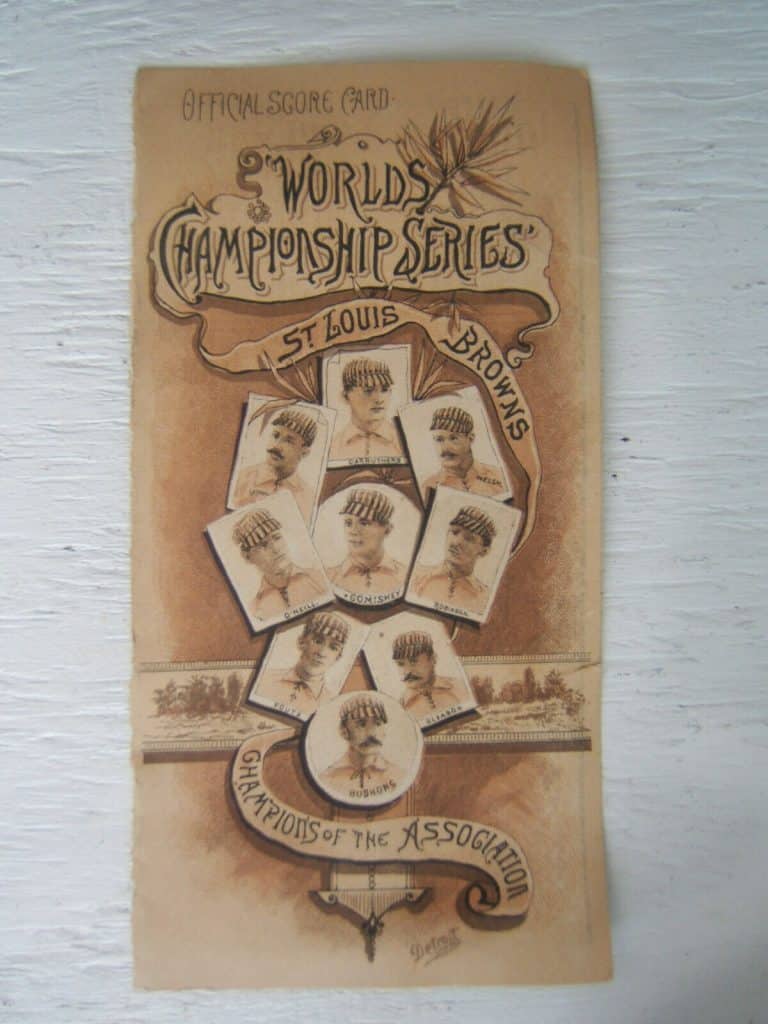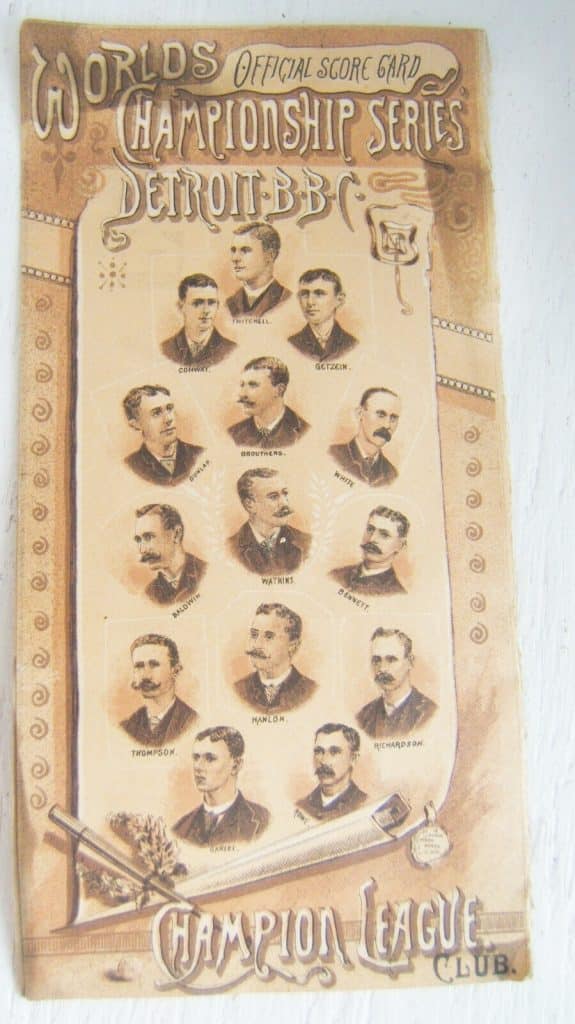 $4,202: (bids 19, bidders 10): Antique 1887 Baseball World's Championship Series Score Card, St. Louis-Detroit. What a find! I got this with some other things that I bought, and all of the letters contained in the box are dated from the 1880s. Amazingly, the whole box lot survived a fire in the house. There is some black on the back top of the card. There are also some small tears and such. Illustrations and the scoring area are good. Some great names. I believe this would be from 1887. I could be wrong. Numerous names on the scorecard. (Photos courtesy of eBay seller edisonchris83.)
DBA: This scorecard is from the 1887 World Series between the National League's Detroit Wolverines and the American Association's St. Louis Browns. Detroit won 10 games to 5, played over 17 days in various cities.
It seems that even in 1887 baseball teams bought top players, and that's how Detroit won the World Series that year. Unfortunately, the Wolverines' league, the International Association (a combination of Canadian and American teams), folded just after the start of the 1890 season.
All of this history would contribute to the price received for this memorabilia. This is a high price for such an item.
$14,877 (24 bids, 14 bidders): Antique
ca. 1900 Coin-Op 25 Cent "20th Century" Mills Upright Slot Machine, Works. These were not made in great numbers, and this one is in nice working condition. It plays reliably with every pull. It is an oak wood cabinet and is either very dark from age or was originally this dark. Original Mills and coin decals still in place. The castings are a flat silver, and it appears possible that where the big casting text, "The Mills 20th Century," is written has been re-plated as it has a shinier finish. The game wheel and glass with reverse graphics are in very good condition. The mechanism looks complete and in good condition. Has the number 2620 label in several places on the inside. Some nicks and scrapes, of course, as it looks to be an unrestored, 120-year-old slot machine but overall still a terrific antique example. It measures 64″ x 28″ x 22″. I have keys for the backdoor locks. A terrific opportunity to add a rare coin-op to your collection. (Photos courtesy of eBay seller gypsiegirlz.)
DBA: This slot machine sold for a lot of money. I feel that the seller got the deal. Laws concerning the ownership of slot machines vary state to state. Seven states prohibit the ownership of slot machines. Some states have laws regarding the slot machines being antique or vintage. Antique in this area of collecting means 25 years or older. All states have rules about operating a gambling business. Mills is a respected manufacturer of slot machines. This one is unusual in that 25 cents was a lot more money then than it is now.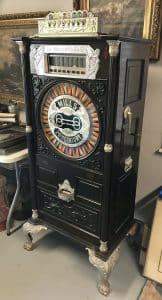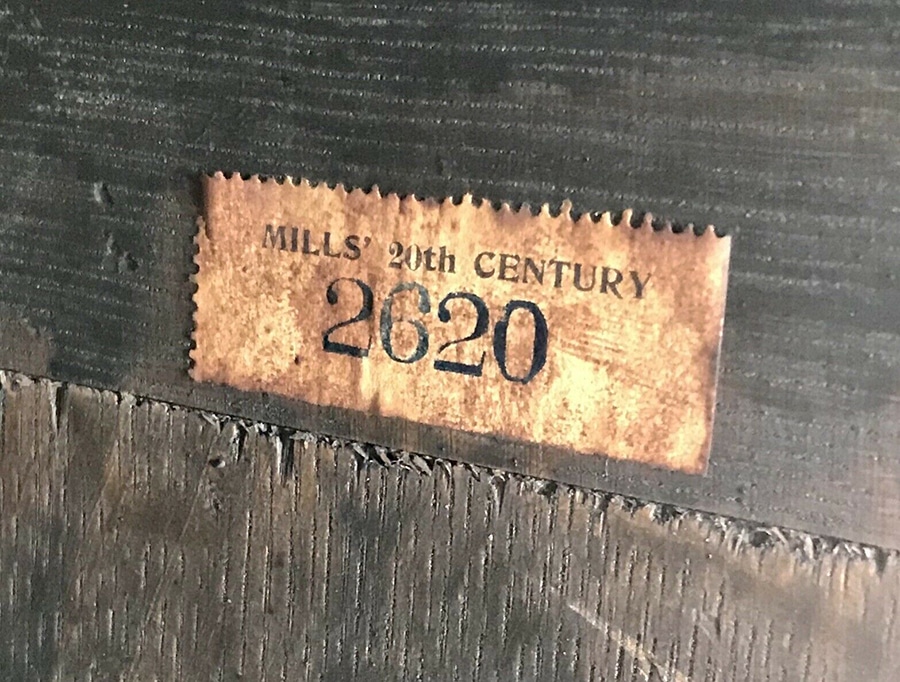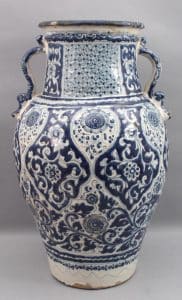 $5,777 (55 bids, 19 bidders): Large 23-inch Antique 17th Century Blue & White Faience Pottery Urn Pot Storage Jar. Measuring 22 7/8″ tall by 14″ wide at the handles, this very large storage jar is decorated with a dark, cobalt blue design. I am not expert enough to state exactly which country this 17th century faience pot is from, but it could be Dutch or French or even Italian. What do you think?
I did some searching, and it is difficult to find such large examples of early faience from any of those countries. We have listed close-up photographs so you can see each feature of this early pot and every problem as well. Over the years, there have been several repairs to the top rim, and there are some very fine glaze hairlines in several places. Remarkably, both handles are still attached. (Photos courtesy of eBay seller wwolst12.)
DBA: A few notes about pottery: the larger the vessel, the more difficult it is to fire, and the more likely that it will have defects. The blue color comes from cobalt, which was expensive to use. This is not in the French style. This is an old urn, but nothing in the photos or the description verifies that this urn is 17th century.