Norman Rockwell Museum Announces New Director of Digital Learning and Engagement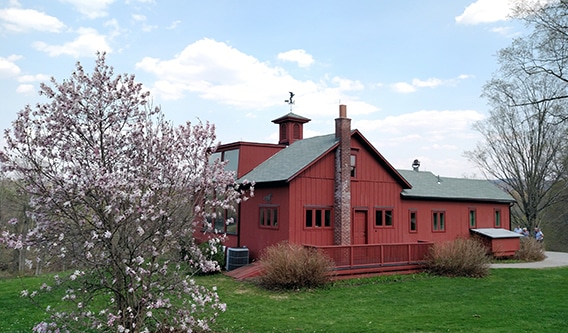 Stockbridge, MA, May 14, 2015—Norman Rockwell Museum announced today the hiring of Rich Bradway as the Museum's new Director of Digital Learning and Engagement. Funding for the position was made possible through a grant from the George Lucas Family Foundation to expand and re-imagine the Museum's educational programming with 21st century learning tools. Mr. Bradway began work at the Museum on May 11.
Bradway is the former Associate Director of E-Commerce and New Media at the Boston Symphony Orchestra, where he was responsible for building the Orchestra's digital user engagement initiatives. Highlights from his tenure at the BSO include the development of digital learning modules that were widely used by educators in the City of Boston and regional school districts curricula; creation of "HENRY," the Orchestra's Online Performance History Database; development of podcasts, live concert streaming, and multimedia exhibitions; creation and repurposing of filmed musical performances; and innovating through marketing and technology to transform audience participation with the Orchestra and its musical assets. In 2011, Bradway won an Emmy for Best Interview/Discussion Program for the web video, "The New Look of Classical Music." Prior to his employment with the BSO, Bradway owned a Boston-based interactive technologies company, Blueplate Interactive Technologies, which served a wide range of clients.
For two decades Norman Rockwell Museum has invested in digitizing its significant assets. For this latest phase, the Museum conducted an extensive national search, seeking a dedicated expert to lead, manage, and develop its digital resources and communities, and to guide its outreach to new generations and a national audience. Bradway will focus on shaping the Museum's digital curriculum for grades K-12, while overseeing the creation of immersive digital experiences in its galleries and off-site via the web, integrating the Museum's various platforms. He will work in collaboration with the Museum's education, curatorial, marketing, and technology staff members.
"I am delighted to welcome Rich to our Museum leadership team," says Laurie Norton Moffatt, Director/CEO of Norman Rockwell Museum. "He brings considerable experience in the areas of technology, digital learning initiatives, and not-for-profit leadership. We look forward to working with Rich as we continue to make our Museum more accessible in this digital age."
Norman Rockwell Museum's goal is to create universal access to its collections, scholarship, and programs; broaden its audience and introduce new generations of learners to Norman Rockwell and American illustration art; ensure that the Museum is the central hub that connects and brands the resources, assets, and thought leaders in American illustration; and expand the reach of the Museum beyond Stockbridge, bringing the power of the illustrated image to the rest of the world.
About Norman Rockwell Museum
The nation's premier organizer of exhibitions dedicated to illustration art, the Museum holds the largest and most significant collection of art and archival materials relating to the life and work of American artist Norman Rockwell. The Museum also preserves, interprets, and exhibits a growing collection of original illustration art by noted American illustrators, from historical to contemporary.
The Norman Rockwell Museum Art Collection and Norman Rockwell Archive inspire a vibrant year-round exhibition program, national traveling exhibitions, and arts and humanities programs that engage diverse audiences. The Museum's collections, which are made accessible worldwide, are a comprehensive resource relating to Norman
Rockwell and the art of illustration, the role of published imagery in society, and the American twentieth century.
Since its inception in 1969, the Norman Rockwell Museum has explored the impact of illustrated images and their role in shaping and reflecting our world through changing exhibitions, publications, and programs. Dedication to a deepened understanding of the art of illustration has led to the formation of the Rockwell Center for American Visual Studies. The first of its kind in the nation, this research institute supports sustained scholarship and establishes the Norman Rockwell Museum's leadership in the vanguard of preservation and interpretation relating to this important aspect of American visual culture.
Norman Rockwell Museum is located on 36 park-like acres in Stockbridge, Massachusetts, Rockwell's hometown for the last 25 years of his life. The Museum is open year-round; closed Thanksgiving, Christmas, and New Year's Day. From May through October, hours are 10 a.m. to 5 p.m. daily; from November through April, hours are 10 a.m. to 4 p.m. Monday through Friday, and 10 a.m. to 5 p.m. on weekends and holidays. Rockwell's studio is open May through October, 10 a.m. to 5 p.m. Museum admission is $18, $17 for seniors, $10 for students, $6 for kids and teens 6 to 18, and free for Museum members and children 5 and under. Visit the Museum online at www.nrm.org.
Norman Rockwell Museum Announces New Director of Digital Learning and Engagement