Publishers Corner: July 2017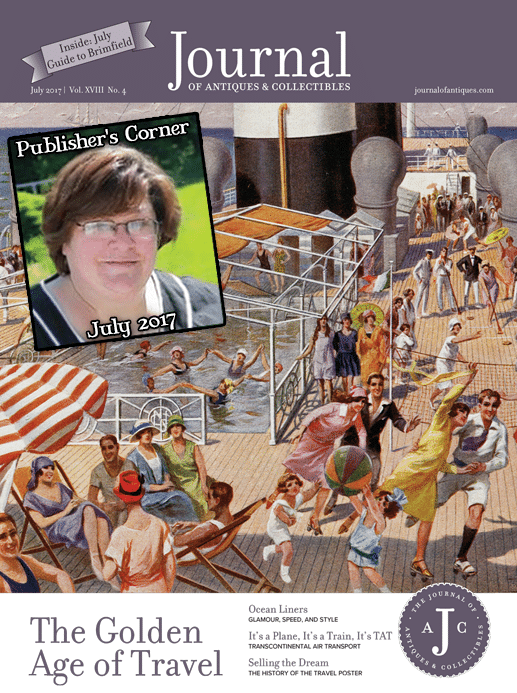 The Golden Age of Travel Memorabilia
by Maxine Carter-Lome
The Golden Age of Travel, representing the decades leading up to and into the first half of the 20th century, was a first class experience for the wealthy and a rising middle class who could afford to travel in style, whether by land, rail, sea or air.
At the turn of the 20th century steamship technology and companies such as Cunard and White Star Line were dominating the seven seas and fueling transcontinental leisure travel, especially among the elite of a Gilded Age society. These powerful shipping lines were constantly trying to outdo each other with grander, faster, more luxurious, more powerful ships. They used printed advertisements in magazines, on posters and in newspapers, boasting … the most luxurious and fastest crossings, and the most passenger amenities.
Traveling First Class aboard such luxury liners as the Titanic, Britannic, Olympic, Carpathia or Lusitania was as much a part of the travel experience as the destination. Menus from this era tell a story of excess and indulgence at sea. The last dinner aboard the Titanic on the night of April 14, 1912 was a ten-course extravaganza which started with hors d'oeuvres and oysters and ended with Waldorf Pudding, Peaches in Chartreuse Jelly, Chocolate & Vanilla Eclairs and French Ice Cream.
Although luxury ocean liners would remain the dominant form of travel between continents until after World War II, a rural America united through transcontinental rail service and the U.S Highway System gave rise to a golden age of travel within the United States by rail and automobile ("See America First") that lasted into the late 1940s when commercial air travel made intercontinental and domestic travel more expedient.
George Mortimer Pullman (Am., 1831-1897), an American engineer and industrialist, is credited with ushering in the luxury age of rail travel with the Pullman sleeper or "palace car." In 1867 Pullman introduced his first "hotel on wheels," the President, a sleeper with an attached kitchen and dining car. It was luxury personified; sleeping cars with red carpeting, hand-finished woodwork, silver-trimmed coal lamps, food that rivaled the best restaurants of the day, and impeccable service. A year later in 1868, Pullman launched the Delmonico, the world's first sleeping car devoted to fine cuisine. The Delmonico menu was prepared by chefs from New York's famed Delmonico's Restaurant. Pullman was sure that, despite the exorbitant cost to build these extravagant rail cars, the public would pay the price for the experience of traveling the country in luxury.
Pullman was a master at advertising and marketing his services and train accommodations. At the time of his death in 1897, Pullman was a household word synonymous with luxury rail travel. The company capitalized on this brand awareness through the 1950s in posters, brochures, booklets, pamphlets, and ad campaigns that ran in such magazines as National Geographic, Life, The Saturday Evening Post, and Time. Its campaigns were centered on the theme, "Pullman Makes a Vacation Fun from the Start." The Bertha Ludlam Archive at the Pullman Museum in Chicago has more than 100 original magazine ads in its collection. Most have been digitized as part of the Industrial Heritage Archives project and are now available to be viewed online.
After 1946, aircraft technology (spurred on by the Second World War) had advanced enough for a postwar America to experience a new, more expedient and novel option for both domestic and international travel. By the 1950's, travel by rail was in its twilight, replaced by air travel and the "Golden Age of Flying."
Flying during the mid-1950s through the 1960s was an experience in civility and comfort if you were in coach and the ultimate in luxury if you were in First Class. The airlines competed for business based on the services, food, and amenities they provided, everything from onboard prepared and catered multi-course gourmet meals served on china with real utensils (Pan Am was catered by Maxim's of Paris) to amenities such as pillows, blankets, eye shades, slippers, and travel comfort kits. Stewardesses promising "an experience not just a trip." "Every traveler was to be treated as an explorer," writes William Stadiem, author of Jet Set: The People, the Planes, the Glamour and the Romance in Aviation's Glory Years.
Memorabilia from these golden ages of commercial luxury travel are highly collectible and desirable for the nostalgia they evoke of a time gone by, and the history of the Golden Age of Travel they represent. Today, everything from menus and tableware to promotional ephemera, advertising, tickets and schedules, uniforms from various staff positions and eras, promotional giveaways, and branded amenities are collected. A look through these collections is to look back on an era when travel was enjoyed, not endured, and it was about the experience and not just the destination.
Publishers Corner: July 2017