GENESEO, N.Y. – Cottone Auctions will celebrate 30 years in the business with a Fine Art & Antiques Auction on Saturday, March 19th, featuring original artworks by Alexander Calder, Roy Lichtenstein, Josef Albers, Wendell Castle and others, plus Tiffany lamps, period furniture and more. The sale will be held in Cottone's gallery, located at 120 Court Street in Geneseo, starting at 11 a.m. Eastern time.
"We're extremely thankful for our history of bringing quality merchandise to auction for these past 30 years, and we look forward to doing the same for the next 30 years as well," said Matt Cottone of Cottone Auctions. "The items in our March 19th sale continue in that tradition – merchandise that has been pulled from prominent various estates and collections. Much of it is fresh to the market."
Three fresh to the market gouache and ink on paper works by Alexander Calder (Am., 1898-1976) will come up for bid. One, titled Segmented Spiral (1974), carries the highest pre-sale estimate of the group, at $60,000-$80,000. The signed work measures an impressive 29 ½ inches by 43 ¼ inches. Two other paintings – one titled Ra and the other one Looping – should fetch $20,000-$40,000 each.
Four fresh to the market artworks by the iconic pop artist Roy Lichtenstein (Am. 1923-1997) will cross the auction block, all from the estate of Molly McGreevey of Rochester, N.Y. Molly, a former actress and contemporary art collector, purchased most of her collection in the 1960s and '70s from prominent artists and dealers in Manhattan and Kansas City, where she resided most of her life. One is expected to make a strong case for top lot of the sale, with a robust estimate of $100,000-$150,000. It's a porcelain enamel on steel, titled Modern Painting in Porcelain, signed on the reverse and numbered (3 of 6). Executed in 1967, it measures 34 ½ inches by 45 inches.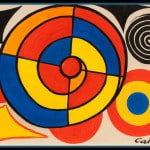 Another Lichtenstein work is an offset lithograph in red, yellow and black titled Crying Girl, signed in pencil and dated 1963. It is estimated at $15,000-$25,000. From the estate of Professor Duayne Hatchett of Buffalo, N.Y., comes a rare illuminated sculpture by the German-born American artist Josef Albers (1888-1976), made from glass and brushed aluminum, 14 ½ inches tall and artist monogrammed in glass, should garner $30,000-$50,000.
Also in the 20th century category, a fine and rare stack laminated walnut trompe l'oeil (trick of the eye) table, crafted in 1978 by Wendell Castle (Am., b. 1932) and purchased by Dr. J. Raymond Hinshaw, former Chief of Surgery at Rochester General Hospital (N.Y.), should achieve $30,000-$50,000. The handsome table, standing 40 inches tall, was signed and dated on the underside by Castle.
A fine grouping of fresh to the market Tiffany lamps will be led by a leaded glass, bronze and glass ball lamp that's expected to illuminate the room for $50,000-$70,000. The lamp, standing 29 inches tall, has a shade that's 22 inches in diameter and signed Tiffany Studios (New York). The base is signed Tiffany as well. The lamp boasts reticulated bronze work and fine glass balls.
Also up for bid will be a Tiffany Studios curtain border floor lamp that's also capable of earning $50,000-$70,000. Standing 79 inches tall and on a bronze patinated base, the lamp is signed and numbered (25819), with a 24 ½ inch shade. A Tiffany Studios daffodil lamp, with signed Tiffany Studios 20-inch shade, 25 inches tall, on a bronze patinated base, should bring $30,000-$50,000.
Turning to furniture, an 18th century Chippendale figured mahogany block front desk, made in Massachusetts and with a shell carved interior, carries a pre-sale estimate of $8,000-$12,000. The American category will feature a late 19th/early 20th century oversize leaping stag copper weathervane with zinc antlers and full body, 53 inches long by 36 inches tall. It should hit $10,000-$15,000.
Returning to artwork, two oil paintings each carries an estimate of $10,000-$15,000. One is by the Canadian artist Charles (BC) Binning (1909-1976), titled Signals at Night. The work is signed lower left, titled and dated (1952) on the reverse. The other is by American painter David Johnson (1827-1908), titled Lake George. The monogrammed work is 10 inches by 15 inches.
A watercolor painting of horses in a landscape setting by Chinese artist Ou Haonian (b. 1935), impressive at 34 inches by 80 inches, should command $8,000-$12,000. The work is signed and has a silk mat. Ou Haonian was a student of Zhao Shaoang, a famous figure in the Ling'nan style of painting. Also sold will be a watercolor by Andrew Wyeth (Am., 1917-2009), signed lower left and measuring 15 inches by 20 inches. Wyeth is one of the better-known American painters of the 20th century.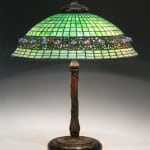 Internet bidding will be available through LiveAuctioneers.com and Invaluable.com. Phone and absentee bids will also be accepted. A full online catalog will be available at the Cottone website (www.cottoneauctions.com) around mid-February. To order a complimentary color catalog by mail, call Cottone at (585) 243-1000. Previews will be held Friday, March 18, from noon to 6 p.m., and on Saturday, March 19, from 9-11 a.m. (auction start time), or by appointment.
Cottone Auctions is always seeking quality consignments for future sales. To consign an item, an estate or a collection, call (585) 243-1000; or, you can e-mail them at info@cottoneauctions.com. Cottone Auctions' gallery, at 120 Court Street in Geneseo, N.Y. (zip code: 14454) is located just south of Rochester and east of Buffalo. For directions and all other inquiries call (585) 243-1000.
To learn more about Cottone Auctions and the upcoming March 19th Fine Art & Antiques Auction, please visit them online, at www.cottoneauctions.com. Updates are posted frequently.
Cottone Auctions to Celebrate 30 Years in the Auction Business