CRAWFORD, VA, April 4, 2016
Jeffrey S. Evans & Associates will hold a cataloged auction of fine and decorative arts on April 30 beginning at 9:30 am ET. The large auction consists of a diverse range of offerings and features Virginia, Mid-Atlantic, and New England collections and estates, including objects from the private collection of Larry and Elizabeth Goldman, Smithfield and Monterey, VA; items from the estate of David and Marion Jenkins, Harrisonburg, VA; and material from a Gordonsville, VA estate; among others. Strong categories include jewelry, watches, silver, glass, Oriental rugs, ceramics, and fine art, all fresh to the market and offered with conservative estimates, 99% without reserve.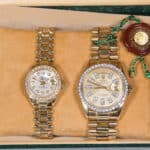 The sale features two estate collections of fine jewelry and watches, highlighted by two Rolex Oyster Perpetual President 18K gold wristwatches with diamond beadset bezels, and a group of Russian enameled objects to include figural forms as well as desk articles. Silver is also well represented in the auction and consists of a good selection of 18th-20th century English, American, and Continental sterling articles by producers such as Tiffany, Gorham, Bateman family members, and other fine makers.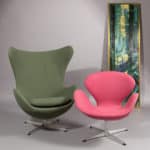 Twentieth Century design, another robust category in the auction, includes Arts and Crafts material and a good selection of Mid-Century modern furniture and accessories, including examples by noted designers such as Arne Jacobsen and Edward Wormley. Several works of 20th-century fine art will be offered as well, including examples by Pablo Picasso, Rockwell Kent, Kenzo Okada, and Gerald Leslie Brockhurst, among others.
A large assortment of fine art glass, cut glass, and studio glass by makers such as Tiffany, Lalique, Stueben, Durand, Daum Nancy, Galle, Loetz, and Hawkes will also be featured in the sale. Highlights include rare floriform vases, brilliant cut articles, and an extremely rare red Tiffany small vase.
The auction also includes English and Continental furniture and decorative accessories; a large selection of 18th-20th century English and Continental ceramics, including many fine porcelains as well as tin-glazed examples; fine antique oriental rugs and carpets; Asian ceramics and decorative objects; luxury accessories; plus more.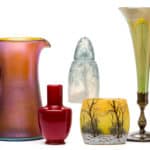 Public preview will be held April 27th, 28th, and 29th, 10:00 am to 6:00 pm daily, and the day of sale from 8 am until the last lot is sold. For further information, please go to www.jeffreysevans.com, call 540-434-3939, or email info@jeffreysevans.com.
Jeffrey S. Evans Antiques, Fine & Decorative Arts Auction April 30