The most significant NFL Championship ring ever offered at auction, Feb. 20, 2016, at Heritage Auctions in New York; part of The Jerry Kramer Collection, more than 50 pieces of NFL and Green Bay Packers history, offered by one of the most beloved players of all time
NEW YORK – The most significant NFL Championship ring ever offered at auction, Offensive Lineman Jerry Kramer's 1967 Green Bay Packers Super Bowl I Championship Ring, presented to Kramer after the historic win, will cross the auction block in New York on Feb. 20, 2016 and is expected to bring more than $100,000 when it does.
It will be offered by Heritage Auctions in its' Platinum Night Sports Auction at the Fletcher-Sinclair Mansion (2 E. 79th Street at 5th Ave.).
The ring is the centerpiece of The Jerry Kramer Collection, a grouping of more than 50 pieces of Green Bay Packers material – including five 1960s Green Bay Packers game-worn jerseys, two of which are from the 1967 Super Bowl I season, along with equipment, personal mementos and ephemera from across his entire career – from one of the greatest Offensive Linemen to ever play the game and one of the most beloved Green Bay Packers of the legendary Vince Lombardi era.
"Kramer is widely considered the greatest player lacking Hall of Fame enshrinement," said Chris Nerat, Sports Consignment Director at Heritage Auctions. "He's the sturdy foundation of the greatest era of dominance in NFL history, the epitome of the hard-nosed, take-no-prisoners Lombardi ethic."
What got Kramer reflecting on his NFL years and the mounds of Packers memorabilia that he had stowed away in his garage since the early days of his career? It wa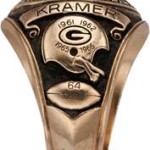 s a package he received from the NFL in 1969. In it, he found a book celebrating the first 50 years of the league and discovered his name alongside gridiron greats like Red Grange and Bronko Nagurski.
"It was nice to be a part of that company," he said. "I was the only guard selected in the first 50 years."
With help from Heritage specialists, Kramer dug through trunk after trunk of memorabilia and came up with a trove of items that haven't seen the light of day in more than 40 years.
"There was an awful lot of stuff in there that I'd forgotten about," Kramer said.
Kramer is hoping to establish a trust fund for his grandchildren with the auction proceeds.
Heritage Auctions is the largest auction house founded in the United States and the world's third largest, with annual sales of more than $850 million, and 950,000+ online bidder members. For more information about Heritage Auctions, and to join and receive access to a complete record of prices realized, with full-color, enlargeable photos of each lot, please visit HA.com.
Jerry Kramer's Green Bay Packers Super Bowl I championship ring expected to bring $100,000+ at auction