This standing room only, 1,450 lot auction featured the finest assortment of antique arcade, vending, and gambling machines to come to auction in memory.
Las Vegas, Nevada, May 31, 2016 – Everyone was a winner at Morphy's recent Premier Coin-Op and Advertising sale!  This two-day event, held on May 14th-15th, 2016, featured a phenomenal collection of antique machines, many from private collections from across the United States and Canada.  At the final spin of the wheel, 12 lots hit $25-49K; 2 lots hit $50-99K; 5 lots hit $100-299K; and one lot hit the motherlode at over $300K!  All prices reported include Morphy's 22% buyer's premium.
Bidders were clearly in a playful mood when it came to this auction's world class selection of antique arcade machines.  Lady Luck made her appearance in lot #262, an incredibly rare, two player Mermaid gun game in excellent condition.  This machine returns the coin to the first player who knocks down all of his opponent's riflemen.  This big fish reeled in $ 317,200.  Another big gun in this sale was lot #1044, an Automatic Target Machine Company "Autarm" pistol game.  There are only three known examples of this arcade machine, manufactured in 1900 by Splitdorf Laboratory. It shot up to $195,200, nearly twice its low estimate.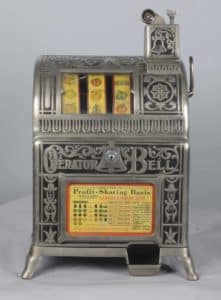 Strength testers also made a strong appearance in this sale.  Lot #964, a 1¢ Caille Samson Lifter from 1905 and lot #1045, a 1¢ Caille Apollo arcade machine from 1910, flexed their muscles to realize $28,060 and $85,400 respectively.  And lot #968, a 1¢ Caille Uncle Sam Arcade Machine from 1904 that measures the strength of a handshake, got the thumbs up at $41,480.
Countertop gaming machines were another popular category in this sale, with prices spinning to a frenzy in some cases.   Lot #805, a 1911 5¢ Fey Big Six machine, in all original finish with a side vendor, nearly doubled it high estimate to pay out $128,100. Lot #2, a 5-cent Caille Tourist cast iron slot machine from 1912 in remarkable, untouched, all-original finish traveled first class to realize $115,900.  It was twice as nice with lot #810, 5¢ Caille Silver Cup two-wheel machine from 1912, which proved its mettle at $29,280.  And collectors also answered the call of lot #903 – a 25¢ Caille cast iron Operator Bell slot machine from 1900 – which rang in at $32,940.
Floor models also stood and delivered at this sale, with an interesting one being lot #235, 5¢ Caille Twin Centaur upright double slot machine.  This rarity from 1908 turned more than a few heads when it realized $103,700.  It featured a superb quarter sawn oak case with Watts nickel castings, original back doors, cash boxes, and Yale locks.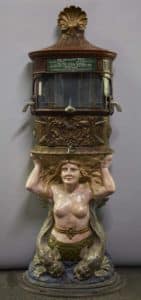 Antique advertising, vending machines, displays, automatons, gambling themed collectibles, and smoking accessories rounded out this truly memorable auction event.  One additional highlight that really lit up the crowd was lot #131, an Indian figural cigar cutter in virtually near mint, all original condition.  This model, considered the epitome of all figural cast iron cigar cutters, does practically everything but smoke the cigar for its patrons. Once the smoke cleared, this remarkable example realized $9,760.
According to Dan Morphy, President of Morphy Auctions, "This sale was incredibly exciting to attend, and the results speak for themselves. It was thrilling to watch the bidding climb higher and higher on the mermaid arcade game, eventually breaking the $300K mark!  The team went over and beyond to not only source these superior machine offerings, but to catalog, market, and present them in a way that caught the attention of buyers from all over the world.  I am extremely proud of our well deserved reputation for excellence and leadership across all the antique coin op machine categories."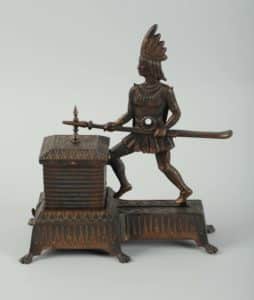 About Morphy Auctions:
Morphy Auctions, the finest auction destination for fresh to the market collectibles, is headquartered in Denver, Pennsylvania. The company also has an office in Las Vegas, Nevada.  A full service auction house, the company presents over 30 premier auctions annually, as well as monthly discovery sales. Morphy's team of specialists includes the nation's finest and most recognized experts in popular collecting categories including advertising; firearms; fine automobiles, automobilia and petroliana; coin-operated machines; antiques, fine, and decorative art; dolls, bears, toys, and trains; cast iron; coins; marbles; and jewelry.  Morphy Auctions is owned by President and Founder Dan Morphy, himself a lifelong and passionate collector of antiques, banks, and numerous other categories.  Morphy's has been in business since 2004 and has grown from two to over 65 employees in over a decade.
Morphy Auctions, Las Vegas is located at 4520 Arville Street, Las Vegas, NV 89103.   We can be reached by phone at 702-382-2466, by fax at 702-382-6513, and by email at info@morphyauctions.com.  Our Las Vegas gallery is open Monday through Friday from 9:00am-4:00pm.  For more information on Morphy's, please visit www.MorphyAuctions.com.
Morphy Auctions' Strikes Gold with Its Nearly $3.5 Million Mid-May Las Vegas Coin-Op Event!