Beverly Hills, California – (September 14, 2015) – Julien's Auctions, the world's premier entertainment auction house, is proud to announce the December 4th and 5th auction of Property from The Collection of Ringo Starr and Barbara Bach. The once-in-a-lifetime collection curated by Ringo and Barbara, features items from their London estate, Beverly Hills and Monaco residences. The couple, who met in 1980 on the movie set of Caveman, when Ringo first met the beautiful actress and former Bond girl Barbara, married in 1981 and have enjoyed an enduring love since. Comprised of musical instruments including drums and guitars, career memorabilia from the Beatles era and Ringo's solo career including his All-Starr Band, fine antiques, custom-made eclectic furnishings, fine art and personal items, this auction will be a unique and historic event.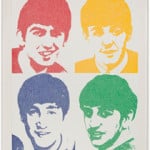 The auction of The Property From The Collection of Ringo Starr and Barbara Bach includes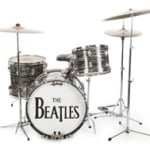 the most important drum kit to ever hit the auction block. Among the seven of Starr's personal drum kits in the auction is the iconic musician's first 1963 Ludwig Oyster Black Pearl three-piece drum kit. The kit was used by Starr in more than 200 performances between May of 1963 and February of 1964 and used to record some of The Beatles biggest hits including: "Can't Buy Me Love," "She Loves You," "All My Loving," "I Want to Hold Your Hand," "Money," and "I Wanna Be Your Man," and many others. Paul McCartney also used the Oyster Black Pearl kit on his first solo album,McCartney. This specific drum kit has not been seen in public for more than 50 years (Est. $300,000 – $500,000).
Ringo Starr's other spectacular kits offered for sale each carry unprecedented provenance of the Beatles and Ringo Starr's solo career. They include:
custom built Jumbo Silver Sparkle kit that was used in The Beatles "Hello Goodbye" promotional video filmed in November 1967 (Est. $100,000 – $200,000)
A kit commissioned for Starr by George Harrison. In 1968, Harrison traveled to Los Angles to produce an album. While there he worked with drummer Hal Blaine who used a unique "Monster Drum Set." Harrison was inspired to get one for Starr. Harrison, through Blaine, commissioned a set of the custom made Blaemire fiberglass. The set, custom made by Howey Oliver, consists of seven toms. Only five sets of these custom kits are known to exist. Upon receiving the gift Ringo sent a thank you note to Blaine that read "Thanks Hal, for the tom tom tom tom tom toms!" (Est. $10,000 – $20,000)
In 2002 Starr performed on a Ludwig four-piece kit in gold sparkle with a hammered bronze snare at the George Harrison memorial concert, Concert for George. Starr played that night with "George's Band" alongside Paul McCartney, Eric Clapton, Jeff Lynne, Tom Petty, Billy Preston, Dhani Harrison and other musicians who had performed with Harrison during his career (Est. $30,000 – $50,000)
A unique set of Ludwig clear Vistalite drums with interior lights used by Starr in his 1978 television movie Ringo(Est. $30,000 – $50,000)
The 1989 inaugural tour of Ringo Starr and his All-Starr band toured three countries in five months. Starr played a Ludwig silver sparkle while performing with Clarence Clemmons, Rick Danko, Levon Helm, Dr. John, Jim Keltner, Nils Lofgren, Billy Preston, and Joe Walsh. Starr continues to tour with a rotating line up of All-Starrs (Est. $50,000 – $70,000)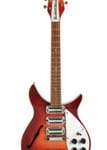 Among the hundreds of items to be offered are some of Starr's other percussion instruments – tambourines, bongos, a hand drum inscribed to Starr by Harry Nilsson, and homemade noisemakers. A limited number of Starr's own stage-used custom-made drum sticks will also be offered in the sale. Guitars gifted to Starr by fellow Beatles are also part of the rare and remarkable auction. George Harrison gave Starr a Gretsch guitar (Estimate $100,000 – $200,000) which is being offered. John Lennon owned 1964 325FG Rose-Morris model Rickenbacker with a fire-glo sunburst finish (Estimate $600,000 – $800,000) and gave it to Starr after he played it on stage during The Beatles 1964/65 Christmas shows and later in his home studio. The guitar model became known as the "Beatle-Backer" and Lennon's likeness was used in advertisements for the guitar.
Marc Bolan, friend, fellow musician and subject, along with the rest of T-Rex, of Starr's documentary/variety film Born to Boogie, gifted a Gibson Les Paul electric guitar to Starr (Estimate: $15,000 – $20,000).  The pair was influential to each other's careers. The glam rock superstar played guitar on Starr's Ringo album and Starr was inspired to write the song "Back off Boogaloo" from Bolan's frequent use of the slang word. In 1966, The Beatles Yesterday and Today "Butcher cover" created headlines and controversy. Starr's personal album sleeve is included in this ground-breaking auction.  Ringo labeled the sleeve "Ringo" on the back to identify it as his personal copy (Estimate: $8,000 – $10,000).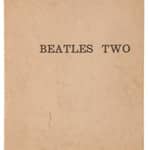 "I am not sure I can find the right words to describe how remarkable this auction is," said Darren Julien, Founder & CEO of Julien's Auctions. "To be able to say you are representing such music royalty as that of Ringo Starr and Barbara Bach is not only an honor but one of the greatest privileges of my life and professional career."
Beyond the Beatles and his solo music career, Starr also made his way into film and appeared in over 25 productions which included children's programming, comedy and dramas. Included in the auction are Starr's personal scripts from the film Help! (Titled BeatlesTwo at the time) (Estimate: $2,000 – $4,000) and a script from the made for television movie Ringo (Estimate $1,000 – $2,000).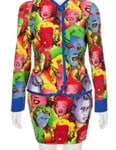 Stage worn and personal clothing from the wardrobes of both Barbara Bach and Ringo Starr are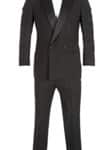 also among the many highlights and include Bach's wardrobe pieces from famed designers: Zandra Rhodes, Stella McCartney, Prada, Libertine, Issey Miyake, Elizabeth Emmanuel and a spectacular Warhol inspired Versace suit. A gown of the same Warhol-inspired print silk can be seen in the Metropolitan Museum of Art. Starr's personal and stage worn clothing by designers Richard Tyler, Dusenbery, Armani, Gucci, John Varvatos and Nigel Curtiss and tour jackets personalized for both Bach and Starr are also included. The tuxedo worn by Ringo when he was inducted into the Rock and Roll Hall of Fame as one of the Beatles is included as well as the gown that Barbara wore that same night (Estimates: Various).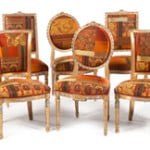 The exquisite residences of Starr and Bach featured many colorful custom-made furnishings, along with fine British antiques, European mirrors and light fixtures, and contemporary art. Among the top lots in the sale are a suite of custom painted and monogrammed bedroom furniture (Estimate: $3,000 – $5,000), an Empire style dining table and chairs (Estimate: $4,000 – $6,000), a Gothic Revival mahogany bookcase (Estimate: $8,000 – $10,000), a Lalique "Soleil" ceiling mount light fixture (Estimate: $4,000 – $6,000), a Loys-Lucha enameled light fixture (Estimate: $2,500 – $3,500), an antique Louis XV wall mirror (Estimate: $12,000 – $18,000), a pair of Art Deco wall mirrors with blue accent panels (Estimate: $3,000 – $5,000), and a copper Art Nouveau wall mirror (Estimate: $2,000 – $3,000). There is also a fine selection of Asian art featuring standing and seated Buddhas which includes a monumental gilt wood "jeweled" standing Buddha (Estimate: $6,000 – $8,000), a bronze and parcel gilt statue of Ganesh (Estimate: $3,000 – $5,000) and a pair of Tibetan Thangkas (Estimate: $2,000 – $3,000).
"You got to pay your dues if you want to sing the blues…And you know it don't come easy," Ringo Starr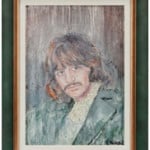 Examples of fine art to be offered in the auction include an original Nikas Safronov portrait of Ringo Starr (Estimate: $10,000 – $15,000), a Peter Blake "Love Me Do" screen print of the Beatles (Estimate: $4,000 – $6,000), a print by David Hockney (Estimate: $2,000 – $3,000), and also artwork by Ringo Starr himself (Various estimates between $1,000 – $4,000).
A 2000 Mercedes Coupe automobile with the distinction of being owned by two Beatles will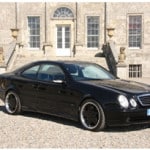 be offered in the auction. Originally owned by George Harrison who purchased the car new was later purchased by Ringo Starr (Estimate: $60,000 – $80,000). George and Ringo are the only two owners of the car.
The musical instruments, personal memorabilia, souvenirs, photographs, furniture, wardrobe and other items offered in this sale will undoubtedly be the subject of one of the most historical auctions to take place in decades.
The auction includes over 800 items which will be featured in a full color silver box set limited edition collectible catalog available for purchase at www.juliensauctions.com. There will also be 250 limited edition gold box sets of catalogs signed by Ringo and Barbara with 100% of the proceeds benefiting The Lotus Foundation.


Ringo Starr's friendship with The Who's Keith Moon is well known. Moon gifted Ringo with a circa 1970 stainless steel "Time Computer LED" digital quartz wristwatch by Omega (Estimate: $400-$600). Also included is an 18K Gold "Moonphase" automatic wristwatch by Patek Phillipe (Estimate: $80,000-$100,000). Other jewelry of note includes a "Black Ring" onyx and gold watch, a pinky ring featuring a large blue stone and a gold link ID bracelet worn by Starr and documented in many photos that show his right wrist from the 1960s…a very significant and extraordinary piece (Estimates: Various).
The massive array of items also include huge group lots of pins and buttons in which Starr is famous for wearing on his lapel, "World Music Awards" from Monaco, a group of vintage Beatles merchandising pieces and toys, the musician's All Starr Band tour memorabilia and several record awards including those from Greece, Spain, New Zealand, Taiwan, Singapore, Korea, Hong Kong, Denmark, Canada, Germany, Brazil, Belgium, Sweden, Switzerland, Norway, United Kingdom and the United States offering yet another glimpse into the extraordinary global appeal and legacy of the Beatles.
"This collection features so many remarkable items from The Beatles to Ringo Starr's solo career to those special items collected by Barbara Bach for their residences," said Martin Nolan, Executive Director of Julien's Auctions. "Every time we begin to look through the inventory of this fantastic collection we simply are stunned when we think of the history truly represented here."
Portions of the auction proceeds of the Property from the Life and Careers of Ringo Starr and Barbara Bach will benefit The Lotus Foundation U.S., a charity founded by Starr and Bach. The Lotus Foundation is an organization which assists with a wide range of worthy causes around the world, focusing primarily on family and child welfare, women's issues, addiction recovery and education. The Lotus Foundation is based in the United States and London (www.lotusfoundation.com).
About Julien's Auctions
With expertise specializing in entertainment memorabilia, Julien's Auctions has quickly established itself as the premier auction house in high profile celebrity sports and entertainment auctions. Julien's Auctions presents exciting, professionally managed and extremely successful auctions with full color high quality auction catalogues unlike any other auction company. Previous auctions include the collections of Cher, Michael Jackson, U2, Barbara Streisand, the estate of Marilyn Monroe, Bob Hope, Les Paul and many more. Official website is www.juliensauctions.com.
Property from the Collection of Ringo Starr & Barbara Bach to be Auctioned by Julien's Auctions, December 4-5