Props and costumes from famous films such as "Rocky," "Rambo" and "The Expendables" were sold to fans for a combined total of $3+ million in three public auction sessions conducted by Heritage Auctions in Los Angeles and online, Dec. 18-20, 2015; a portion of the proceeds are going to charity
LOS ANGELES – Enthusiastic fans of international superstar Sylvester Stallone placed more than $3 million in winning bids in person, by phone and online from around the world in Stallone – The Auction, Dec. 18-20, 2015, across three days on hundreds of his iconic costumes, props and personal items conducted by Heritage Auctions in Los Angeles.
Stallone attended the opening hours of the first two sessions of the auction. A portion of the proceeds from the auction will be donated by Stallone to various charities that assist military veterans and wounded servicemen and servicewomen as well as The Motion Picture and TV Country House and Hospital.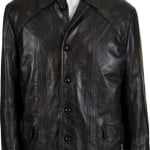 The top lot in the auction was the iconic black leather jacket that Stallone wore as Rocky Balboa in the beloved, award-winning first "Rocky" movie, which established Stallone as an international superstar. It was the subject of spirited bidding for several minutes before finishing at $149,000.
"The leather jacket Mr. Stallone personally owned and then wore as a costume in the first 'Rocky' movie was expected to sell for $75,000 but was bid to $149,000," said Greg Rohan, President of Heritage Auctions. "It's a true piece of Hollywood history, so emblematic of the character and the times. It's not surprising to see fans moved to bid like this for such an iconic costume."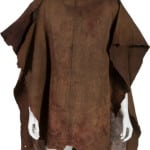 Hollywood memorabilia related to Stallone's Rambo film series and other movies also were popular, especially when it came to the items worn by Stallone in the first installment of the film series, "First Blood." The canvas poncho Mr. Stallone created as the character John Rambo, and wore in the wilderness, sold for $60,000 against a pre-sale estimate of $10,000.
Stallone briefly addressed the audience at the start of the auction, posed for photos with fans and then stayed through several hours of the first day's bidding.
"The memorabilia I have has been used and been a part of my life for, kind of hard to admit this, well over 40 years," he said. "It's been in my possession and I've fond memories attached to just about every object. There comes a point, though, when I think that I've used these objects enough and have created enough memories that I can let them go."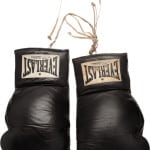 Collectors also bid on Stallone's personal mementos, gathered across his storied career. Chief among those items were a pair of 1980 Muhammad Ali training worn gloves inscribed to Stallone, "To Sly, Muhammad Ali, Sept 23-80, which quickly soared to $47,500. The gloves were presented to Stallone by the reigning Heavyweight Champion just nine days before he would surrender that title to Larry Holmes in a one-sided Caesar's Palace affair.
Further highlights included, but were certainly not limited to:
A Pair of Boxing Trunks from "Rocky IV" Metro-Goldwyn-Mayer/United Artists, 1985: Satin, red and white stripes, blue waistband and trim, added silver appliqué stars on trim, purposely distressed with faux blood throughout; worn by Stallone as "Rocky Balboa" early on in the match against "Drago" (Dolph Lundgren). Realized $57,500.
The Dolph Lundgren Costume from "Rocky IV" Metro-Goldwyn-Mayer, 1985: A red satin jacket, yellow stripes down either sleeve, hammer and sickle emblem on back; together with a pair of matching boxing shorts and red leather boxing shoes; worn by the actor as "Ivan Drago" in his iconic fight against "Rocky Balboa." Realized $45,000.
An Ayrton Senna-Owned Racing Helmet Gifted to Stallone, Circa 1994: In shades of yellow and green, with numerous sponsorship logos over entire surface. This was the helmet design that Ayrton Senna wore in 1994 when he switched to the Williams F1 team from McLaren and this helmet in particular was one of the actual ones Senna wore during testing of the car in 1994. After two races in that same year, Senna was killed in San Marino, Italy when his car hit the wall on the first turn during the race. Senna was one of the most successful racing drivers in Formula 1 and only a few of the helmets he wore during this year were made. It is believed that his family destroyed the one he was wearing during his death. Gifted by Senna to Stallone. Realized $43,750.
A Small Black Rubber Handball from "Rocky" and "Rocky II" United Artists, 1976, 1979: Side stamped with blue text reading "Official / Seamless / 555" kept by Stallone as "Rocky Balboa" in his pocket in many memorable scenes throughout both films. Realized $32,500.
A set of costume armor and a prop gun from "Judge Dredd" Buena Vista International, 1995: Various parts, all made of black plastic, rubber, and metal. Worn by Stallone as the title character in this futuristic Sci-Fi thriller. Interestingly, this costume was created by the late Italian fashion designer, Gianni Versace. Realized $30,000.
Heritage Auctions is the largest auction house founded in the United States and the world's third largest, with annual sales of approximately $900 million, and 900,000+ online bidder members. For more information about Heritage Auctions, and to join and receive access to a complete record of prices realized, with full-color, enlargeable photos of each lot, please visit HA.com.
(Photo credit: Donn Pearlman for Heritage Auctions, HA.com)

Sylvester Stallone fans make knock out "Rocky" and "Rambo" auction bids