We are pleased to announce our that Annual "AMERICAN GLASS & POTTERY SHOW" will take place Friday evening, October 23rd from 6:30pm to 10pm and it will continue on Saturday, October 24th from 10am to 4pm at the Guardian Angel Church Auditorium, located at 320 Franklin Turnpike, on the S.E. corner with Allendale Road in Allendale, New Jersey.
This is one of the longest running glass and pottery shows in North America. The show's sponsor – The North Jersey Depression Glass Club – was founded in 1974 and presented its first show in the Fall of 1975. Dealers from six Mid-Atlantic States will be displaying antique American glass and art pottery from early 20th Century to Mid-Modern Classics.
Each year we continue to expand the show to keep pace with emerging decorating trends, current to today's marketplace. You'll find wonderful examples of American made glass from companies like Cambridge, Fostoria, Heisey, Consolidated, Blenko, Pilgrim, Fenton plus many of the well-known depression glass companies.
There will be more art pottery and china from the "roaring 20's" Art Deco era up to and including modern studio art pottery. You'll find Weller, Rookwood, Roseville, McCoy, Hull well represented along with collectible studio pottery.
This is a wonderful opportunity for collectors to access the expertise and advice of knowledgeable club members and professionals. Modern designers continually use brilliant, colorful glass and classic art pottery in contemporary interiors to add interest and focus to their decorative designs. Even if you prefer contemporary minimalist design, choosing the right vintage highlight can change your home's ambiance from ordinary to extraordinary for very little money. We are pleased to offer over two-dozen distinguished glass and pottery dealers to help you decorate your home and make a unique, personal statement about what you like!
Come and join us. See, touch and feel these wonderful treasures, learn from our dealers, and bring some treasures home to enjoy. As with past years, the $7 admission includes complimentary cake and coffee during the Friday evening opening preview. Friday's preview attendees may use their ticket for FREE admission on Saturday. For further information, please call Craig at (201) 891- 5468 or Walter at (973) 838-2419.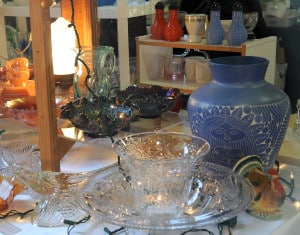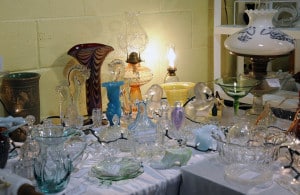 The North New Jersey American Glass & Pottery Show Celebrates its 40th Anniversary