by Jessica Kosinski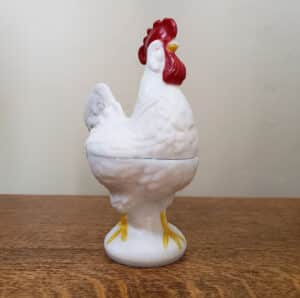 Glass is a wonderful medium because it is so versatile. It is used to make everyday items ranging from tableware to windows. For a collector, glass is a great focal point because there are so many wonderful artists who work with the medium, past and present. One of the most fun and diverse categories of glass collectibles is animal figurines. Let's take a peek at why they are so popular, the top types, and how you can start collecting them yourself.
The History of Glass Animals
There is some debate as to when the first glass animal figures were produced since several ancient cultures placed a lot of emphasis on animals and their personality, interesting traits, and mythical powers. Many of them incorporated animals into works ranging from cave drawings to glass vessels and jewelry.
Groups known for their works featuring animals include the Egyptians and the Syrians. In fact, it was the ancient Syrians who invented glassblowing. The introduction of the practice of glassblowing expanded methods for the creation of glass animal figures and other glass items. Today, glass blowing is a huge industry all over the world. Skilled artisans use glassblowing techniques to not only produce glass animals, but also other items, such as glass flowers and holiday ornaments. Larger items like vases and bottles have also historically been made frequently using glass-blowing techniques.
Popular Companies Known for Producing Glass Animals
There are many companies and geographic areas known for producing glass animals over the years. Sometimes, those animals are easily recognizable. In other instances, they can be a little harder to identify. However, there are glass collection catalogs and online resources that can help. Below are brief overviews of some of those top sources for collectible art glass animal figures.
Murano Glass Animals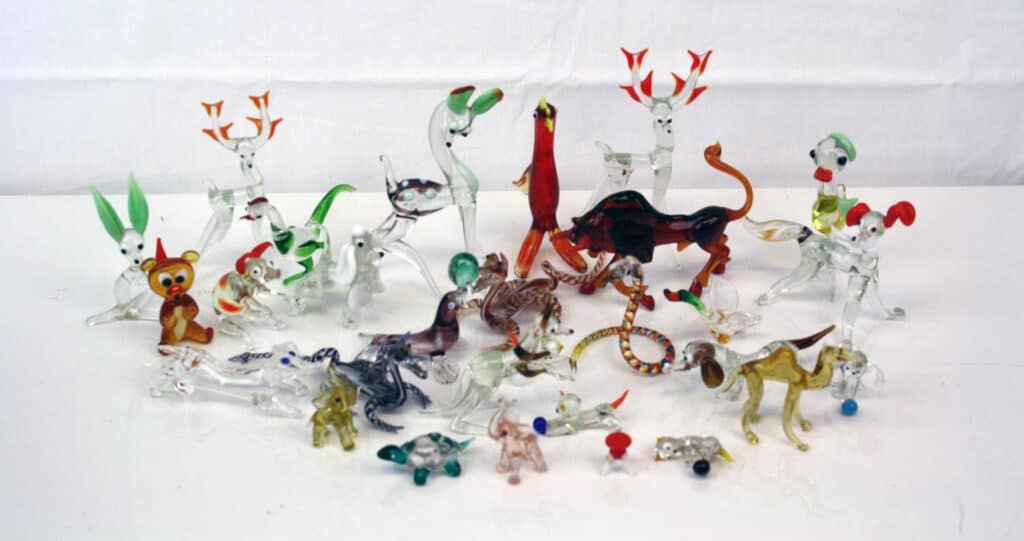 Murano is an island area in Venice, Italy. Residents of the Murano Islands began perfecting their glassworking techniques as early as the 13th century. The area has since become known as one of the leading areas for art glass production in the world – one of the only areas for such glass production until the 16th century. By that time, glassworking secrets had begun to leak out to other countries. As you might imagine, for several centuries the glass producers of the Murano Islands have churned out many works of art, including various Murano glass animals. The earliest pieces are the most prized since no two pieces were alike. Today, that is not always the case. However, even modern Murano glass animals are beautiful additions to any glass animal collection.
Fenton Glass Animals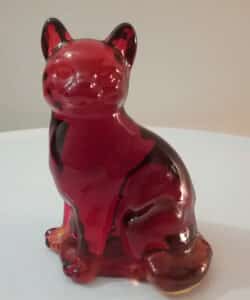 Fenton is a glass company founded in Ohio in 1905. Since then, the glass animals produced by Fenton have seemingly taken on lives of their own. They are among the most collected of all Fenton pieces. For example, glass animal pieces produced for Fenton in the 1980s by Delmer Stowasser included whales and elephants. Some of those pieces routinely sell today for around $300 each.
Westmoreland Glass Animals
The Westmoreland company was founded in Grapeville, Pennsylvania in 1889. The company stayed in business for almost 100 years, finally shutting down in 1984 after it changed ownership a few times during that period. Westmoreland was known for its production of milk glass, which is so named due to its opaque white, milk-like appearance. As a result, it is often easy to identify Westmoreland glass animals simply by their white appearance.
Many Westmoreland pieces are marked, but the company did go through a few periods when they did not mark the pieces. Most notably, Westmoreland animals and other items made from 1920 to 1950 were typically unmarked. Another feature of Westmoreland glass animals is that many of them were made into useful items, such as bowls.
Cambridge Glass Animals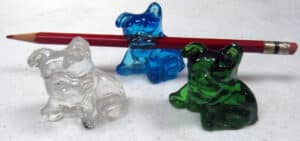 Cambridge Glass was founded in 1873 in Cambridge, Ohio, and shut down in 1958. It also had a brief period of closure in 1954. Unlike Westmoreland, Cambridge glass was known for its colorful art glass pieces. Those produced in the 1920s were especially popular. Pieces made in the later part of the decade were clear, while earlier pieces were primarily opaque. Throughout its time in business, Cambridge produced several animal figurines. Their glass swans were and still are particularly popular. Many Cambridge pieces were purely decorative, but some had additional purposes. One of the most fun pieces to collect today is the bulldog pencil holder. It was produced in different colors, including clear, blue, green, and red.
More Art Glass Animal Options
There are many companies, locations, and individuals known for art glass production that are not on the list above. That is one of the things that makes collecting art glass animals so much fun. You can find them practically anywhere. More big names in art glass animals to watch for include: New Martinsville, Paden City, Heisey, and Imperial.
It is also worth noting that certain events in history have shaped the availability and monetary values of some art glass animal figures. The occupation of Japan after World War II from 1945 to 1952 was such an event. Many collectors love items produced in Japan during that period, including glass animals. As a result, their values are sometimes quite high.
Starting an Art Glass Animal Collection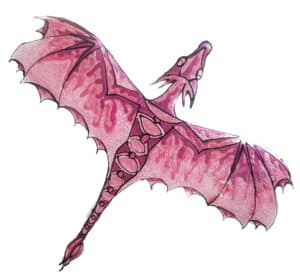 There are many ways to start an art glass animal collection. You could focus on glass pieces produced in a certain area, by a certain company, or in a certain period. Alternatively, you could opt to collect glass animal figures that are a certain color or depict a certain type of animal, such as a dog or an elephant. Or if you want to go a bit more into the world of fantasy, you can look for zoomorphic examples such as a griffin, unicorn, or two-headed beasts that can be ancient or modern.
Start by finding a piece you like and build your collection from there. There are no rules or limits. Check antiques shops, yard sales, flea markets, or look around online. You are sure to find some you like in your price range.