by Jessica Kosinski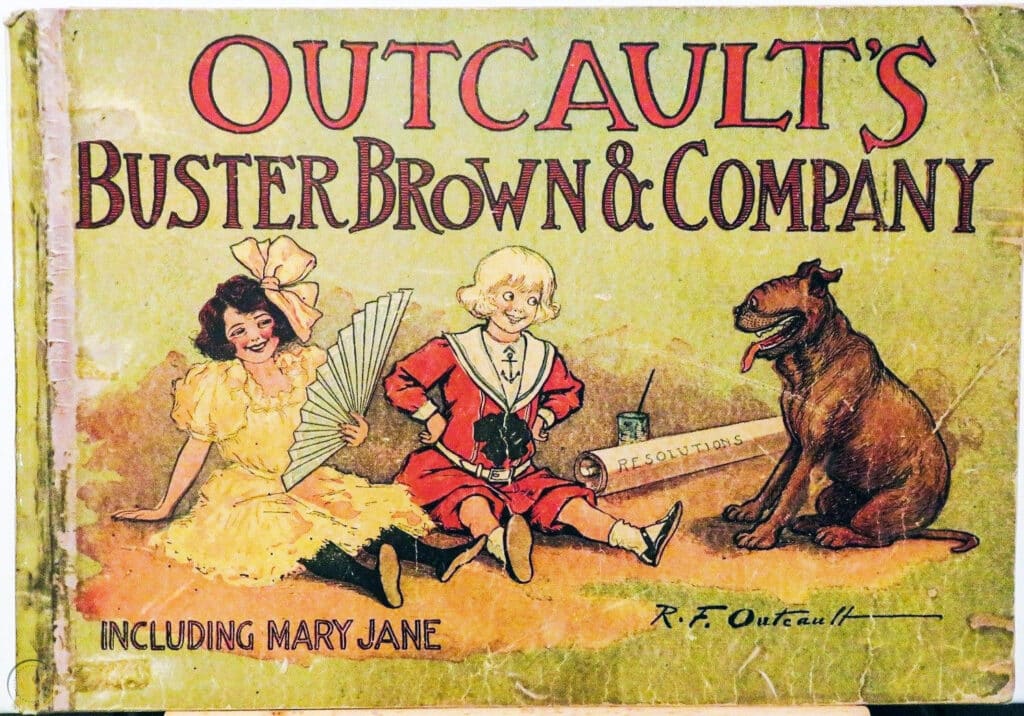 Have you ever heard of Buster Brown? If so, you are not the only one. For well over a century, Buster Brown has been part of the American culture. His significance and the uses of his likeness in marketing and in developing a line of collectible items have changed over time. Who exactly is he, and why are Buster Brown collectibles still popular today? Let's take a peek at the evolution of Buster Brown to find out.
Who is Buster Brown?
Buster Brown is a popular comic strip character first developed in 1902. Cartoonist Richard F. Outcault created him and other characters in his comic strip based on real traits of people he knew. Buster Brown soon became beloved and popular, perhaps due to the many nuances of the character. He had wealthy parents and an impeccable appearance, yet he was always pulling pranks and getting into mischief. He also often had his dog, Tige, by his side, as well as his sister, Mary Jane.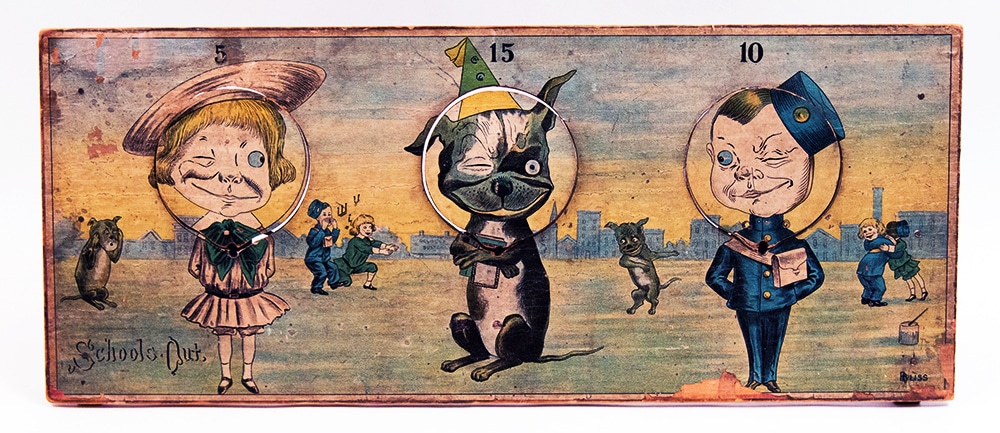 Buster Brown Gets a New Job
Buster Brown is a name ingrained in American culture now, but that might never have been the case, were it not for the events that took place in 1904. At that time, representatives for the Brown Shoe Company based in St. Louis, Missouri purchased the rights to use Buster Brown as a mascot for the company. In particular, Buster and Tige were used to help advertise the company's children's shoe lines. Over the years, Mary Jane lines were also created, leading to the generic term "Mary Jane" being used to describe shoes for girls or women with certain characteristics, like low heels and straps. Soon, the company also began producing other clothing marketed under names from the comic strip, such as Buster Brown suits for boys.
Buster Brown's Collectible Charm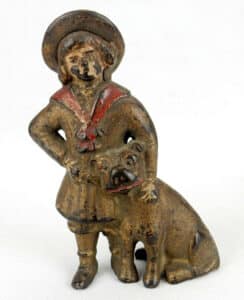 Buster Brown and his friends were such charming characters that the Brown Shoe Company saw an even greater opportunity. It soon revived a version of the Buster Brown comic strip and made it into a true household name, which it stayed through the 1920s. However, the Brown Shoe Company was not the only company with rights to use the Buster Brown characters; it was just one of the top companies increasing Buster's popularity.
The truth of the matter is Richard F. Outcault allowed approximately 200 companies to use Buster and his friends for various purposes starting in 1904 at the St. Louis World's Fair. The sheer volume of companies involved led to a boom in all sorts of Buster Brown products. In fact, companies continued using Buster Brown's likeness straight to the modern day. However, it is mostly the older Buster Brown products that collectors prize today.
Buster Brown Paper Collectibles
If you want to begin collecting Buster Brown items, a good place to start is with paper collectibles for two reasons. First, there were so many of them made. Obviously, there were comic strips produced. There were also various cards made ranging from playing and trading cards to postcards featuring Buster and his friends. Additionally, there were many paper products made that you might not think of immediately, but they can make fun collectibles. They included paper fans, paper dolls, and, of course, several books.
The second benefit of considering paper items as your first Buster Brown collectibles is many of them are still affordable today for the average collector. The volume produced means they are fairly easy to find, which makes many of them suitable for most budgets. However, paper products are prone to damage from water, heat, sunlight, etc. Therefore, finding them in mint condition can sometimes be difficult.
More Types of Buster Brown Collectibles
Paper products are far from the only Buster Brown collectibles available. Today, you can find children's dinnerware sets, drinking glasses, and other household items featuring Buster Brown, Tige, or Mary Jane. Bathroom supplies like soap and toothbrushes are also available. But you never know where you might see Buster Brown and his friends. They have also been featured on all sorts of unusual products over the years. Among them are wallets, cameras, banks, watches, and board games.
Buster Brown's Most Quirky and Coveted Collectibles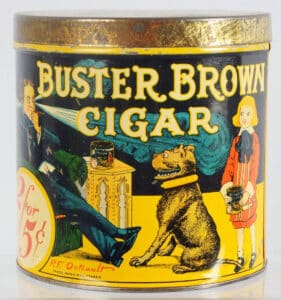 Some Buster Brown collectibles are more quirky or rarer than others. Dolls and figurines are uncommon. Thus, they often have higher price tags. As for quirky collectibles, whiskey bottles and cigar tins are among the oddest, since Buster Brown has historically been most associated with children. As a result, they are often coveted by collectors. The cigar tins are historically sought after frequently simply because they are so rare, especially in excellent condition.
Final Considerations For Collecting Buster Brown
Like any comic strip figure that has stood the test of time, such as Snoopy or Garfield, Buster Brown is everywhere. This can work in your favor, but you also need to know the market. Since Buster Brown has been around for over a century, many items are not antique, and might be clearly modern. They might be reproductions passed off as antiques. It is always best to learn as much as you can about Buster Brown or anything else you wish to collect before making any purchases.