Comic Character Collectibles
By J.C. Vaughn
Each year on the first Saturday in May, participating comic book retailers across North America give away more than 6 million comics at participating locations in celebration of Free Comic Book Day. The offerings, more than 50 different issues, come from a variety of publishers (including Marvel, DC, Dark Horse, Image, IDW and many others) and range from all-ages material to complex, adult themes in a wide array of genres.
The first Free Comic Book Day (FCBD) was May 4, 2002, a date that was selected because it was the first Saturday after the release of Sony's original "Spider-Man" film and would coincide with the resultant PR frenzy the film would bring. After 2004's FCBD was held in July, the event moved back to May permanently, and since 2007 there's been a comic-related blockbuster film launched the same week.
For FCBD 2017, which falls on Saturday, May 6, Diamond Comic Distributors, which coordinates between the publishers and retailers and promotes the event, has added a new category, "educational material." This niche is designed to promote awareness of comic books, comic character collectibles, and the hobby.
I'm proud to say that "The Overstreet Guide To Collecting" will be part of this initial offering. We wanted to do something introductory and very encouraging for potential new readers who might discover or rediscover comic shops on Free Comic Book Day, and simultaneously we wanted to showcase our "How To" line of books about a wide area of collecting. "The Overstreet Guide To Collecting" is the answer to that.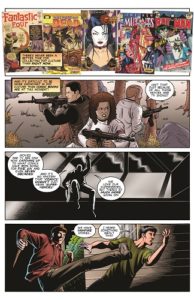 Originally conceived by Joe Field, the proprietor of Concord, California-based retail outlet Flying Colors Comics, this year will mark the event's 15th year. When the first one was held, no one knew for certain there would be a second.
"I used to write a monthly column for the comic industry's trade magazine. In one of my columns I proposed doing something similar to Baskin Robbins 'Free Scoop Night,'" Field said. From that small idea grew the notion that has seen millions of comics given away over the last decade and a half.
Different participating shops will often have policies about how many free comics each visitor may receive, but everyone who shows up while supplies last will receive at least one free comic (again, presuming you go to a participating location). Check with your retailer for their policies and plans for FCBD. Participating retailers in the U.S., Canada, and select international locations can be found by found at freecomicbookday.com.
A Comic About Collecting Comics
The difference between what we've done in the past and what we're doing this year is significant. As the home of "The Overstreet Comic Book Price Guide," which has for 47 years been the Bible of serious comic collectors and dealers, we've produced a number of annual FCBD issues of "Comic Book Marketplace," a mini-magazine packed with the kind of information frequently found in this column – top sales, movie and TV tie-ins, cool new stuff, collector insights, and so on.
This time, though, it's a different animal.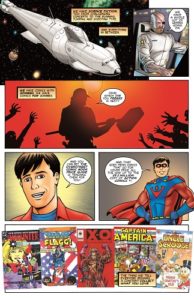 Comics are a fantastic storytelling medium, even when the story you want to tell is factual rather than fiction. In writing The Overstreet Guide, we used both the comic book form and other highly visual storytelling to get our message across in a way that – I sure hope – does not talk down to anyone, but rather shares our excitement about collecting comics and several other niches.
It's a comic book/ text hybrid that combines traditional comic book pages with great images of the collectibles on which we've focused. In addition to comic books, we touch on original comic art, vintage movie and concert posters, and even video games.
It's very visual and deliberately highly accessible to new readers. It's also a great refresher for more experienced fans, too. It's a fine line to walk, but we carry that same goal into all of our publications.
In addition to working as the Vice-President of Publishing for Gemstone Publishing and being involved with Geppi's Entertainment Museum since a year before it opened, I also write comic books as well. That came into play for this project.
For this special FCBD issue, I was able to team-up with my frequent collaborators, illustrators Brendon and Brian Fraim. I've worked with them on "Antiques: The Comic Strip," the comic book series "Vampire, PA," and a Three Stooges comic book story. Currently, we have a science fiction tale, "The Flight," being serialized in the digital anthology "Aces Weekly."
In addition to the Fraim brothers' comic book pages, we mixed in text and images about the books in our "how to" line. We also used art from two other frequent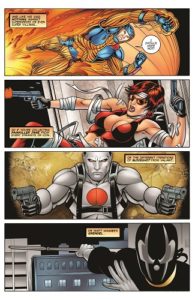 collaborators of mine, "Breathtaker" and "Mars" creator Mark Wheatley and regular Overstreet contributor Gene Gonzales.
Acclaimed artist Billy Tucci ("Sgt. Rock: The Lost Battalion") and color artist Brian Miller of Hi-Fi Design supplied the cover, which features Billy's character, Shi, and Beau Smith's character, Wynonna Earp.
One of the great things about being The Overstreet Guide people is that other publishers know us, know that we love comics, and know that we want to promote collecting to as many people as possible.
If we're successful, everyone wins. That's why our friends at Archie and Valiant and a number of great creators such as Jimmy Palmiotti ("Painkiller Jane"), Matt Wagner ("Grendel"), and John K. Snyder III ("Fashion in Action") joined Billy Tucci and Beau Smith in letting some of their characters pop up in our pages.
How will it go over? Well, that remains to be seen on Free Comic Book Day!
J.C. Vaughn is Vice-President of Publishing for Gemstone Publishing. Gemstone's Amanda Sheriff contributed to this column.