Free Comic Book Day is May 4
Comic Character Collectibles
By J.C. Vaughn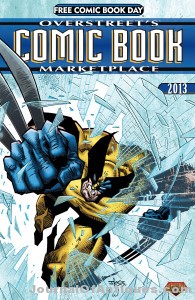 Each year, the first Saturday in May is Free Comic Book Day. Since 2002, the entire industry has seen Free Comic Book Day reach the point where dozens of publishers large and small take part in an effort to expand the reach of comics by helping participating retailers give away free samples – often comics specifically created for the event – to new and returning readers. This year's celebration is May 4, 2013.
Comic book retailer Joe Field, proprietor of Flying Colors Comics, has been a driving force behind many things in the industry, perhaps none of them bigger than Free Comic Book Day.
"I used to write a monthly column for the comic industry's trade magazine. In one of my columns I proposed doing something similar to Baskin Robbins 'Free Scoop Night' (these days, it's now 'Dollar Scoop Night'). I had the foresight to ask for comments from Diamond Comic Distributors since I was essentially asking them to serve as coordinators for the event. Their response was very positive, so things took off from there," he said.
In addition to kicking off Free Comic Book Day, Field is a recipient of the Will Eisner Spirit of Comics Award for Comics Specialty Retailing Excellence, former president of the comics retailer trade association ComicsPRO and a founder of WonderCon. He said he got a variety of reactions when he first started discussing it.
"Most of the reactions seemed to be along the lines of the forehead-slapping 'Why didn't we think of doing this sooner?' The minority reaction was from some retailers feeling they could just give away unsold older comics and get the same result. I believe that has since been proven faulty," Field said.
"After discussing it with Roger Fletcher, Diamond Comic Distributor's VP of Marketing, it was agreed that we should get some of the major players together to find a way to do it. Diamond had one of their Retailer Summits in Las Vegas in October 01 and that's where I sat down with Diamond's management team and the publishers of DC, Marvel, Image, Dark Horse and Maggie Thompson from Comics Buyers' Guide. All of them were enthusiastic and thought it was worth pursuing," he said.
The way I look at FCBD is the way cereal marketers advertise Corn Flakes — they are a part of healthy diet for breakfast, but there are other things needed to complete the balance. I know FCBD has been a healthy part of the comics biz, and it came along at a time when we weren't as steeped in comics culture as we are now. I strongly believe that the outpouring of media that pays attention to FCBD more than 10 years into it is a very positive thing that leads to sales," he said.
Originally the date moved around a bit. Jim Valentino, then publisher of Image Comics, suggested timing the event with the release of the first Spider-Man movie. After that it moved to a July 4 weekend, and then settled on the first Saturday in May, where is has been since 2005.
On a personal level, Field said at his store that FCBD is their biggest party of the year.
"Besides the thousands of comics we give away, we add to the party atmosphere with creator signings, refreshments, costumed characters, some special deals, and occasional exclusive items. In 2012, for instance, we had a video crew here to shoot a mini-documentary about the origins of Free Comic Book Day. That can be seen at FreeComicBookDay.com and on YouTube," he said.
On a national level, there are plenty examples of different things retailers are doing for outreach.
"Some retailers have really turned FCBD into major community events. I'm blown away that more than a thousand folks show up here, but there are FCBD events that draw in excess of 2000 or more! Some of my retailer colleagues make FCBD a full-on community event, with charity fund-raisers and a carnival atmosphere.  There are so many different ways to approach FCBD—and it shows the creativity and hard work of the best retailers to take FCBD to the next level every year," he said.
To find the participating comic shop nearest you, visit the Free Comic Book Day website at www.freecomicbookday.com. Geppi's Entertainment Museum, situated in Baltimore's historic Camden Yards sports complex, will be one of the locations joining in the celebration.
CGC 6.5 Detective Comics #27
Sells for $567,625
A CGC-certified 6.5 copy of Detective Comics #27, the 1939 issue that featured the first appearance of Batman, realized $567,625, topping Heritage Auctions February 21-22, 2013 event in New York City. Their million Vintage Comics & Comic Art Signature Auction and their inaugural Animation Art Signature Auction earned in excess of a combine $5.3.
Among the other noteworthy pieces in the auction, John Romita, Sr.'s original cover art for Amazing Spider-Man #121 sold for $286,800, Dave Gibbons' original artwork for the cover of Watchmen #1 realized $155,350, Bill Watterson's 11-3-86 daily Calvin and Hobbes original comic strip art realized $65,725, a CGC 3.5 Batman #1 sold for $50,788, and Brian Bolland's original comic art for Page 38 from Batman: The Killing Joke closed at $47,800.
CGC 8.5 Amazing Fantasy #15
Sells for $122,100
A CGC-certified 8.5 example of Amazing Fantasy #15, the first appearance of Spider-Man, sold in ComicLink's February Featured Auction for $120,100.
This is only the second time that this issue in 8.5 has reached the $120,000 mark.  The first occurred in 2008 when another copy sold for $122,000, also in a ComicLink auction, ComicLink President Josh Nathanson said.
"We knew that it was going to get strong bidding interest," he said. "Our bidders are always excited when they have an opportunity to purchase a high-grade Amazing Fantasy #15, and bid aggressively in order to obtain them."
A CGC-certified 9.0 copy of Amazing Spider-Man #1 in the same auction also hit a public sale record when it sold for $42,900.
J.C. Vaughn is the Executive Editor and Associate Publisher of Gemstone Publishing, Inc.