Comic Character Collectibles
By J.C. Vaughn
A Quick Comic Market Recap
A CGC-certified 5.5 copy of "Action Comics #1" probably became the most significant comic of the year when it sold for $956,000 at Heritage Auctions on August 4. The price set a new record for a copy in that grade and represents sustained upward movement on the issue, which of course features the first appearance of Superman. "Action Comics #1" was the first comic to hit the $1 million threshold and a 9.2 copy with white pages presently tops the all-time list at $3.2 million.
And while the first appearance of Superman commands the record books, "Amazing Fantasy #15," the first appearance of Spider-Man, is no slouch either. A CGC-certified 9.4 copy of the issue realized $454,100 at Heritage on February 18, and a CBCS-certified 9.0 copy closed at $237,000 on ComicConnect.com on March 28. Both were record prices for their respective grade grades.
High prices and spirited bidding weren't reserved for just Superman and Spider-Man. Metropolis Collectibles sold a CGC-certified 9.2 copy of "Incredible Hulk #1" for $375,000 less than two years after the same issue was acquired for $326,000, ComicLink.com reported that a CGC-certified 9.6 copy of "X-Men #1" sold on their Comic Book Exchange for $350,000 on February 19, 2016. Metropolis' ComicConnect.com unit confirmed the sale of a CGC-certified 9.4 copy of "Tales of Suspense #39," the first appearance of Iron Man, for $110,000 also in February.
Hake's Americana & Collectibles, which just had its best offering of comics in November, started the year with some interesting transactions as well. The nation's oldest pop culture auction house, long better known for all the comic character material aside from the comics themselves, saw a CGC-certified 9.8 copy of "Amazing Spider-Man #129" tally $8,855, a CGC 3.0 copy of "Fantastic Four #1" earned $4,048, and a CGC 6.0 copy of "Weird Comics #2" close at $3,162.
The prices above are just a small cross-section of the comic book market in 2016, and likewise the original comic art examples to follow are a similarly small sample. It was also a very interesting year for original comic book and comic strip art sales, though.
The January 24, 1937 Flash Gordon Sunday page by Alex Raymond, which depicts Flash and Dale fighting a Magnoped, sold for $60,375 at Philip Weiss Auctions on September 8.
"Fantastic Four #43" page 13, penciled by Jack Kirby and inked by Vince Colletta went for $18,400 at Pedigree Comics in October. The auction was the first from the
longtime comic book purveyor to feature original comic art.
A Steve Ditko-illustrated page from "Amazing Spider-Man #10" sold for $68,000 at ComicLink.com in their Summer Featured Auction, and a 1937 "Weird Tales" original pulp cover art from 1937 sold for $47,150 at Hake's Americana in March.
As we enter 2017, both markets are absolutely worth watching.
Wynonna Earp's Beau Smith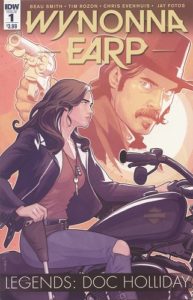 Beau Smith, the creator of the comic book series "Wynonna Earp," on which the hit SyFy TV series is based, was mesmerized at the age of five.
"I can't really describe it, but I still remember the first time I saw a comic book, 'Batman #143.' I couldn't read the words, yet I remember being so drawn in by the art, the characters and what I perceived as movement. The art of storytelling with words and pictures. I could hardly wait to go to school and learn to read. Much to my chagrin, I found out they don't teach you to read anything on the first day of school. That began my lifelong love for comic books," he said.
His parents told him that as long as he didn't leave them laying around his room, they wouldn't throw them away.
Smith's comic book career was decades away at that point, but the seed had most assuredly been planted. By third grade, he knew that he wanted to be a comic book writer, but he took a circuitous route to get to his desired destination.
He had started out in a sales and marketing career and had reached what he called a "now or never" spot when it came to achieving his dream. His path turned him into a letter writer. Fans in the day – at least those who read the letter columns in the comics – could frequently count on seeing Smith's distinct full name, Stephen Scott Beau Smith, on those pages.
He studied to learn what got other consistent letter writers published and pushed himself to do as well or better. He succeeded with more than 300 letters printed over the next few years, and this facilitated establishing relationships with editors and assistant editors. They were, of course, the people who hired comic book writers.
He broke into the industry professionally in Sales and Marketing with the indy publisher Eclipse Comics in the 1980s and hasn't slowed down much since then. Along the way he's written comics for many publishers and created a number of his own properties.
About 20 years ago, Smith created Wynonna Earp, a descendent of the legendary Wyatt Earp. Wynonna is a U.S. Marshal, one who works for a special, ultra-secret branch charged with tracking down paranormal threats. Smith blended action, horror and lots of humor (think trailer park vampires who obsessively love "The Andy Griffith Show"). Since then he's done a few series with the character, but nowhere near the volume of material he's doing now since the character became a hit cable TV series.
"This has brought a chance for the whole world to share and enjoy a character that means so very much to us all. On the comic book series, I have been blessed to be working with artists Chris Evenhuis and Lora Innes, as well as the rest of the creative team of Jay Fotos and Robbie Robinson. Dream come true time! It has also been an extra treat to co-write a few issues with cast members Melanie Scrofano and Tim Rozon (Doc Holliday) from the TV series. We are like kids at Christmas!" Smith said.
"Wynonna Earp's" 10-episode second season will debut on the SyFy network in 2017.
J.C. Vaughn is Vice-President of Publishing for Gemstone Publishing. Gemstone's Amanda Sheriff contributed to this piece.
A Look at 2016 and Wyatt Earp's Great-Great Granddaughter