Spider-Man Collection Sells, Zombies Return to GEM
By J.C. Vaughn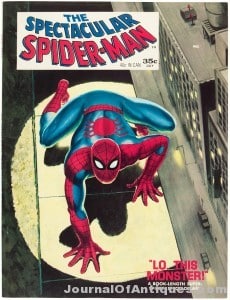 Amazing Spider-Man Collection Sells at Pedigree Comics
A CGC-certified Apparent 9.2 copy of Amazing Fantasy #15 featuring the origin and first appearance of Spider-Man, topped Pedigree Comics' January Grand Auction, the company's first ever character-centric auction, when it sold for $19,600. Company President and CEO Doug Schmell reports total sales of $207,795 and that almost all 428 CGC-certified issues were sold.
After the character first appeared in Amazing Fantasy #15 (August 1962), Marvel's original Amazing Spider-Man series ran from #1 (March 1963) through #441 (November 1998). It was replaced by a new Amazing Spider-Man series, which began with #1 (January 1999) and ran through #58 (November 2003).
Instead of #59, the series reverted the numbering of the original series, adding in the 58 subsequent issues, with Amazing Spider-Man #500. That series then ran through #700 (February 2013), when Marvel theoretically killed off Peter Parker. "Theoretically" because no one believed it, given that Amazing Spider-Man 2 is due in theaters May 2, 2014 with Andrew Garfield once again playing Peter Parker.
In between #700 and the eventual #701, there have been a number of issues such as Amazing Spider-Man #700.1, #700.2 (and if you think it's confusing here, try figuring out how to display this information in The Overstreet Comic Book Price Guide!).
Regardless of that confusion, in addition to the near-complete run of Amazing Spider-Man #1-400 that Pedigree offered, the slate included early copies of Amazing Spider-Man Annual, and the two issues of the 1960s Spectacular Spider-Man magazine, which were once perceived as very common and now can top $2,000 in high grade.
The top sellers in the auction included Amazing Spider-Man #14 9.6 ($17,500), #2 9.2 ($11,250), Amazing Spider-Man Annual #1 9.6 ($10,501), Amazing Spider-Man #10 9.6 ($8,750), #16 9.6 ($7,850), #9 9.4 ($7,000), #13 9.4 ($7,000), and #6 9.4 White Mountain ($5,800).
Garden State Comic Fest
While the weekend of February 2, 2014 got the attention as New Jersey hosted the Super Bowl, on many other weekends throughout the year the state can lay claim to just about as many comic book, comic art, and toy conventions as most of the other states in the union combined. Exactly why that is might make an interesting debate, but last weekend Jerseyites added another one.
The first ever Garden State Comic Fest (GSCF) was held Sunday, January 26, at The Quality Inn in Ledgewood, New Jersey.
"The show provided attendees with a taste of the big comic con scene in an intimate and welcoming environment. There was something for everyone, toys, clothing, accessories, artists, special guests, and of course, comic books," said long time comic book art collector Dave O'Hare, GSCF's promoter. He was assisted by Sal Zurzolo, a life-long superhero fan, who is also the big brother of Metropolis Collectibles and ComicConnect's Chief Operating Officer, Vincent Zurzolo.
Zombie Gras Returns to GEM
You could call it "staggering," because that's precisely what many of the attendees will be doing. Geppi's Entertainment Museum (GEM) will kick off its fourth annual Zombie Gras festivities on Saturday, March 29, 2014.
The event has turned into one of the – if not the – biggest days of the year at GEM, as make-up artists, vendors, cosplayers (those who come in costume) and pop culture enthusiasts of all ages fill the museum's halls and galleries. Zombie fans spanning the eras from George A. Romero's Night of the Living Dead to Robert Kirkman's The Walking Dead (and everything in between) will be on hand.
Zombie Gras starts at 10 AM as the living and the undead gather at GEM. From then until 6 PM participants 21 years old and over will be able to get wrist bands entitling them to specials at participating bars and restaurants for the now-traditional zombie pub crawl.
The level of participation continues to grow, as does the enthusiasm of the participants," said Melissa Bowersox, President of Geppi's Entertainment Museum. "From the excited kids (and adults) getting their faces painted as zombies, to the phenomenal cosplayers, to the everyday fans, we've seen an incredibly positive reaction to the first three years of Zombie Gras."
Zombies in costume will be welcomed to GEM free of charge, but the living must pay $10 for admission and to receive a wrist band. Establishments participating in the crawl include Pickles Pub, Sliders Bar & Grille, Frank & Nic's West End Grille, Pratt Street Ale House, Tir Na Nog, and Dick's Last Resort.
"We're so glad to see the strong participation of so many of Baltimore's most popular eateries," Bowersox said. "Zombie Gras keeps growing because it has clearly had the support of the surrounding community and businesses."
In addition to all the zombie-related activity, attendees will be able to take in the other exhibits at GEM, including the acclaimed Milestones: African Americans in Comics, Pop Culture and Beyond, which launched December 13, 2013 and is scheduled to run through April 2014.
All day metered parking will be available in the North Warehouse Lot of Camden Yards (right outside the museum), and there is also parking at the Hilton Hotel and other nearby facilities. GEM is accessible via MARC Train, Light Rail, MTA Buses and Charm City Circulator.
For additional information, please contact Nadja Martens by phone at (410) 625-7063 or by email at mnadja@geppismuseum.com.
Following that on the schedule at GEM (and many other participating locations) will be Free Comic Book Day on Saturday, May 3, 2014. Details on that next time!
J.C. Vaughn is the Vice-President of Publishing for Gemstone Publishing.