Lots of Activity at Geppi's Entertainment Museum
by J.C. Vaughn
GEM's Milestones Exhibit Wraps February 28
Originally slated to end April 30, 2014 and extended twice, Geppi's Entertainment Museum's (GEM) exhibit Milestones: African Americans in Comics, Pop Culture and Beyond will close on February 28, 2015, at the end of Black History month.
Milestones, which is curated by Milestone Media's Michael Davis and co-curated by Tatiana El-Khouri, offers patrons a full spectrum of Black historic contributions made throughout comic book and graphic novel history.
The exhibit kicked off with an invitation-only celebration at GEM on December 13, 2013 and then opened to the general public the following day. It had grown out of initial discussions between Bowersox and Davis three years earlier.
"Curating the Milestones show was a dream come true. The show being extended due to its incredible success is beyond even my wildest dreams," Davis said. "The overwhelming appeal of Milestones is the outstanding work of the artists represented. it's wonderful more people will get a chance to see the incredible art they produced."
"I've been very honored to work closely with Michael Davis and Geppi's Entertainment Museum over the last three years to make this exhibit come to life. I'm elated that the extension of the show will give more people the opportunity to celebrate the milestones and talent of the artists involved, as well as give us an opportunity to unveil a slate of programming, panels, and screenings over the year," El-Khouri said.
"We are so pleased with the reactions to this exhibit that I can barely put it into words. We are reaching so many people in Baltimore and the surrounding area, from classes coming on field trips to civic leaders and everyone in between," said Melissa Bowersox, President of Geppi's Entertainment Museum.
Not only have a steady procession of visitors come to see Milestone, it is having an impact on those who see it: "Representing a true cross-section of popular culture, the pieces on display spanned decades and demonstrated the vastness and diversity of African American artistic expression," said Keith Chow of TheNerdsOfColor.org.
"This astounding new exhibit features the work of both mainstream and lesser known Black creators as well as some who avoid the spotlight all of whom have made substantial contributions to pop culture," said Ulysses E. Campbell, Executive Producer, Fantastic Forum.
"It's really too awesome for words," said comic artist Micheline Hess. "Personally the exhibit was a dream come true. As a continued fan of Milestone Media and the universe that they created, this exhibit spoke to the impact that many of these creators have had on my life … and on many of those around me," said Elden Hawkes, Editor-in-Chief of Webster Style Magazine.
GEM'S FIRST COSPLAY MASQUERADE
As noted in a recent column, showing up in costume, or cosplay is an increasingly vital component of many pop culture events, including conventions. GEM is gearing up for their first ever Cosplay Masquerade on February 7, 2015 from 7 PM to 11 PM, and the staff can't mask their excitement, if you'll pardon the pun. Along with admittance to the museum, the Cosplay Masquerade will host costume contests for attendees.
GEM recently announced that the categories for the contest are best couple, best group, best single female, and best single male, providing plenty of opportunities for cosplayers to get involved in the contests. The judges for the contest will include current staff members, past staff members, and a guest judge. GEM will also provide light food and drinks at the masquerade.
This will be the first event at the museum specifically dedicated to the cosplay hobby. It follows in the footsteps of other costumed-events like Zombie Gras and Pirates and Princesses Tea. GEM is hoping that this will become an annual event for cosplayers.
ZOMBIE GRAS 5 SET FOR MARCH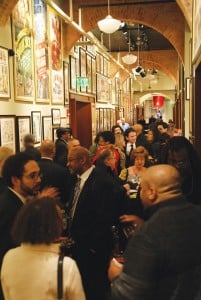 Aimless zombies in the Baltimore area now have a sign to shamble towards for their spring entertainment. Scheduled for March 28, 2015, GEM is in the planning stages for their fifth Zombie Gras.
The event kicks off at 10 AM and runs through 6 PM, including vendors at the museum and a pub crawl throughout Baltimore. While the details are coming soon, one can bet on zombies is costume, face painting, vendors, and more, all capped off by the now traditional pub crawl. This years Zombie Gras logo was designed by Nadja Martens, GEMís own Sales Manager.
ARTIST SPOTLIGHT NOW OPEN
Kelley Jones has been called the definitive Batman artist of the 1990s. While he might be best known for the graphic novel Batman & Dracula: Red Rain and its two sequels, Batman: Bloodstorm and Batman: Crimson Mist, his work on on the regular, ongoing Batman is every bit as vibrant. In fact, it may have even gained a step or two with the passage of time.
If you haven't already heard, in addition to featuring a fantastic collection of wonderful Batman art, this book has great timing as well. Geppi's Entertainment Museum (GEM) kicked off a celebration of Jones' work with the first-ever gallery showing of his original comic art and the museums first-ever Artist's Spotlight exhibit. The exhibit debuted on November 19, 2014 in the Comic Library at GEM.
Additionally, Jones is also the subject of a new collection of his work that showcases his craft. Batman: Kelley Jones Gallery Edition, released by DC Comics and produced by Bob Chapman and his team at Graphitti Designs, retails for $125 and reproduces Jones' black and white artwork at its original size.
GEM is located in the historic Camden Yards sports complex at 301 West Camden Street, Baltimore, MD 21201, directly across the street from the Baltimore Convention Center and immediately next door to Oriole Park. It's open Tuesday through Sunday from 10 AM to 6 PM.
Visit www.geppismuseum.com or call (410) 625-7060 for additional information.