Artist Shawn Martinbrough to Appear at Geppi's Entertainment Museum
By J.C. Vaughn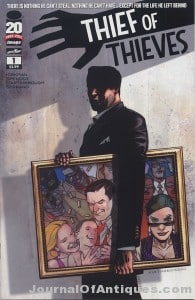 As part of the widely lauded exhibit Milestones: African Americans in Comics, Pop Culture and Beyond, which runs through December 31, 2014, Geppi's Entertainment Museum (GEM) will present artist Shawn Martinbrough on Saturday, August 16, 2014, in two sessions from 1 p.m. to 4 p.m.
Among other work, Martinbrough is known for his acclaimed two-year run illustrating Batman in Detective Comics with writer Greg Rucka and his current best selling work on Thief of Thieves with Robert Kirkman, creator of The Walking Dead.
From 1 p.m. to 3 p.m., he will give a talk about how he developed his craft and discuss his career in the comics industry. That session will conclude with a question-and-answer period. Then from 3 p.m. to 4 p.m. he will be signing in the museum's gift shop, Geppi's Comic World. Admission for the talk is free with paid admission for non-museum members and free for museum members, however, reservations are recommended as seating is limited. Admission for the signing in the store is free to all.
Martinbrough's work, as well as that of many other creators, is currently on display at GEM as part of Milestones: African Americans in Comics, Pop Culture and Beyond exhibit, which opened December 13, 2013. GEM has hosted multiple events in conjunction with it.
Milestones, which is curated by Milestone Media's Michael Davis and co-curated by Tatiana El-Khouri, offers patrons a full spectrum of Black historic contributions made throughout comic book and graphic novel history.
Among numerous projects, Martinbrough has garnered praise for his Detective Comics work with Rucka, during which he co-created characters that were featured in the Batman: Gotham Knights animated DVD as a companion to director Christopher Nolan's trilogy of Batman films.
"We are extremely pleased to welcome Shawn Martinbrough back to GEM and to offer our community the chance to get to know this exciting creator in such an intimate setting," said Melissa Bowersox, President of Geppi's Entertainment Museum.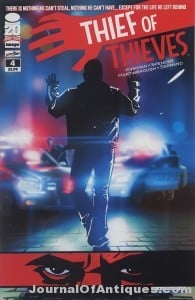 Martinbrough's other recent comic book work includes Luke Cage Noir and Black Panther: The Most Dangerous Man Alive for Marvel Comics. He also illustrated Captain America: The First Avenger, a promotional comic book created exclusively for the U.S. Army & Air Force Exchange Service, which runs the on-base stores on military posts. It had a million copy print run and was released in conjunction with the feature film of the same name.
For more than the last two years, Martinbrough has served as artist on the Image Comics series Thief of Thieves. Produced by Robert Kirkman, the creator of both the comic book and the hit AMC television series The Walking Dead, Thief of Thieves is in development as a television series as well. Martinbrough is also the co-creator and co-author of The REN, an upcoming 200-page graphic novel set during the Harlem Renaissance. It will be published by First Second Books. His art instruction book, How To Draw Noir Comics: The Art and Technique of Visual Storytelling, is published by Random House and has been reprinted in several languages.
His work has been covered by The Hollywood Reporter, The New York Daily News, Entertainment Weekly, USA Today, AOL, AintItCoolNews.com, Architecture Magazine, Publisher's Weekly, The Washington Times, National Public Radio, SIRIUS/XM Radio, Ebony, Essence, Vibe, The Source and others, and he has lectured at the Fiorello H. LaGuardia High School of Music & Art, The University of Michigan, The Savannah College of Art and Design, Prince George's Community College, BEA/Book Expo of America and The 100 Black Men of America Conference.
There are 80 seats available for the talk. As noted, admission is free with paid admission for non-museum members and free for museum members, however, reservations are recommended. To reserve your spot, contact Laura Bevans via email at blaura@geppismuseum.com or call (410) 625-7068.
GEM is located at 301 W. Camden Street, Baltimore, MD 21201, in the historic Camden Yards sports complex. It is situated immediately next door to Oriole Park and just across the street from the Baltimore Convention Center. For general museum information, call (410) 625-7060 or visit www.geppismuseum.com. Admission: Adults are admitted for $10, Seniors (55 and older) for $9, Students (5-18) for $7, and children under 4 are free.
J.C. Vaughn is Vice-President of Publishing for Gemstone Publishing, the sister company of Geppi's Entertainment Museum.