Batman at 75, Other Characters Celebrating Anniversaries, Too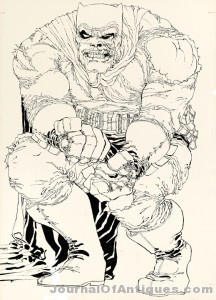 Comic Book Collectibles
By J.C. Vaughn
Geppi's Entertainment Museum is, of course, dedicated to the celebration of popular culture, and this is a particularly big year for comic characters. Not only have we seen the release of Captain America: The Winter Soldier, Amazing Spider-Man 2, and X-Men: Days of Future Past, but there's also a slate of upcoming comic book movies including Guardians of the Galaxy, Sin City: A Dame to Kill For, and Snowpiercer (while not as well known in the U.S., the one's based on a French graphic novel) and a full roster of character anniversaries this year.
Batman
The biggest of the birthday celebrations will be for DC Comics' Batman. It was 75 years ago that the Caped Crusader first appeared in the pages of Detective Comics #27 – the title from which DC got its name – and fought his way into the public consciousness.
After decades in the shadow of Superman, Batman emerged in a big way in 1966 with the launch of the Batman TV show. While anathema to many who prefer the more serious take on the character, the series inspired a brief wave of "Batmania" that lasted long enough to put down roots in some fans.
During those years and particular the period that followed, the comic book incarnation of the character took a distinctly serious turn and some of the most popular stories were created. Their influence can be seen first in the films that started with Tim Burton's Batman (and three sequels) and then Christopher Nolan's very successful Dark Knight triology (Batman Begins, The Dark Knight, and The Dark Knight Rises).
In February 2010, Heritage Auctions sold a CGC-certified 8.0 copy of Detective Comics #27 for $1,075,500, which was the second time a comic ever broke the $1 million plateau. In August 2013, Heritage sold the Frank Miller's original cover art for Batman: The Dark Knight Returns #2 for $478,000 (all prices quoted include Heritage's 19.5% buyer's premium).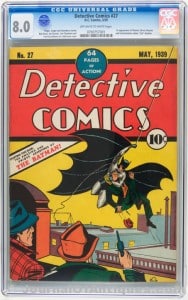 Other Character Anniversaries
Bruce Wayne's alter ego isn't alone in celebrating a character anniversary in 2014. Among the notables, the Fighting American turns 60, Vampirella turns 45, and the Teenage Mutant Ninja Turtles turn 30.
The Fighting American, the later offspring of Captain America creators Joe Simon and Jack Kirby, never enjoyed the success of the earlier model, but still holds a soft spot in the hearts of many comic collectors.
Vampirella, the scantily clad (though no one seems to notice) vampire from the planet Drakulon, was originally published for many year by Warren Publishing (Frank Frazetta did the cover for Vampirella #1). She had a stint at Harris Publications and now resides with Dynamite Entertainment.
The first issue of Teenage Mutant Ninja Turtles, created by Kevin Eastman and Peter Laird as a send-up of Frank Miler's Ronin and other successful comics of the period, had a print of about 3,000 copies. Now the joke's on collectors who passed on it: A CGC-certified 9.6 copy of TMNT #1 will set you back four figures and a 9.8 will cost you five. And the Turtles are a virtual industry unto themselves with movies, cartoons, toys, apparel, and comics.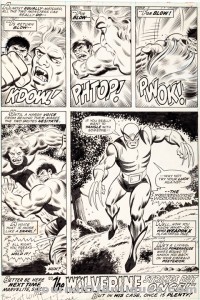 Wolverine
Celebrating his 40th anniversary this year is the diminutive, feisty and almost feral Canadian mutant known as Wolverine. Created by writer Len Wein and artist Herb Trimpe, the character who went on to gain fame as a member of Marvel's X-Men, first appeared on the final page of Incredible Hulk #180 in 1974.
And just in time for his anniversary, Wolverine made a big splash on May 16, 2014 at Heritage Auctions.
Herb Trimpe and inker Jack Abel's original art from that first appearance in Incredible Hulk #180 sold for $657,250 when it was purchased by collector Thomas Fish, a sports card dealer based on the east coast.
"We knew when this artwork surfaced that is was, without doubt, one of the most significant pieces of original comic art ever drawn," said Todd Hignite, Vice President of Heritage Auctions. "It has now brought a final price realized commensurate with that status."
The final price realized ties the record price set by Heritage in July of 2012 for Todd McFarlane's original cover art for 1990's Amazing Spider-Man #328 and sets a new benchmark for interior pages.
J.C. Vaughn is the Vice-President of Publishing for Gemstone Publishing. These character anniversaries and more are featured in his latest project, The Overstreet Comic Book Price Guide #44, due out July 23, 2014