by Sunseria Morgan, Jewelry Curator, rubylane.com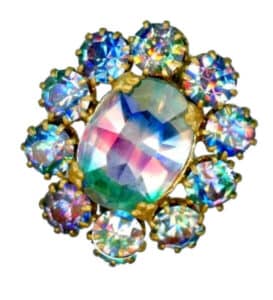 Czech Glass Jewelry
The art of Czech glass production dates back centuries and is deeply rooted in the country's cultural traditions. The land in and around the Czech Republic provides an abundance of natural resources and raw materials needed to make exceptional quality glass. Glass produced in the region is well known for its strength, artistry, and innovative designs. What began as a small cottage industry has become a global exporter of some of the world's finest glass. Czech glass products can be found in just about everything, from a simple button to an extravagant chandelier and so much more! Glass jewelry and glass beads have a special and important place in Czech glass history.
Iris Glass was made during the early 1900s by adding three colored sections to crystal clear glass. Iris Glass was designed to mimic the internal spectral colors sometimes seen in natural clear quartz when white light is dispersed by a fracture or plain within the crystal structure. Antique Iris Glass colors are usually soft pale pastel tones of green, red, and blue. Vintage Iris Glass typically shows stronger and bolder stripes of color. It's like a tiny rainbow in each stone!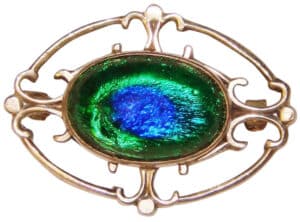 Resembling the feathers of a peacock, Peacock Eye Glass is commonly found in beaded jewelry and cabochon cuts in various shapes and sizes. The handmade lampwork beads are carefully crafted by wrapping molten glass around a metal rod over the flame of a torch. The glass artisans used vibrant green glass layered over foil, with a cobalt blue dot in the center that creates the look of a shimmering iridescent peacock feather.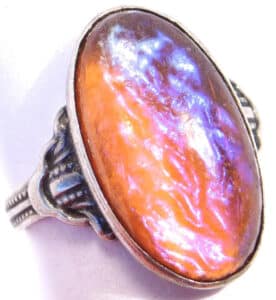 Dragon's Breath, or Dragon's Breath Opal as it is sometimes called, is not an opal at all and is another marvel of Czech glass ingenuity. First manufactured in the early 1900s, dragon's breath was made by adding metal to molten glass. From some angles, the glass looks similar to amber. However, when viewed from the right direction or when the glass is moved back and forth it comes alive! Electric blue and purple flashes appear inside the glass, like lightning striking across an orange summer sunset. Or like blue flames passing over the glowing embers of a dying fire. The glass certainly has a magical quality that is exciting to see and wear and will be sure to catch the eye of everyone in the room.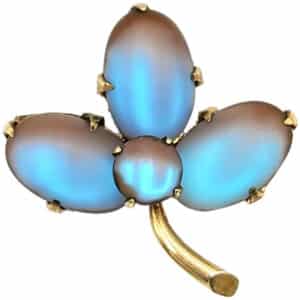 My personal favorite, Saphiret Glass, was produced by blending melted gold into sapphire-colored glass. The process results in a remarkable effect similar to the lustrous sheen of a fine natural moonstone. The glass appears pale reddish brown on the surface with an inner blue glow that rolls and moves across the top of the glass. The glass almost seems to be lit from within, and even shines brightly in dim candlelight or under the stars on a full moon night.
Saphiret glass is often seen in a dome or cabochon cut and beads with a frosted or matte finish that I believe best displays the glowing color-changing quality. You will also find Saphiret Glass in gorgeous faceted cuts, typically oval or round.
Attempting to recreate the beauty of nature is never easy. It's hard to imagine the experimentation involved, and the trial and error the glass artists endured to achieve these beautiful and consistent results, but we are glad they did!
While the skilled Czech craftspeople may have originally sought to imitate some natural gems, the art glass they manufactured is undeniably a treasured gem in its own right. The exact recipes and techniques for some of these Czech glass creations are sadly now lost to time. While there are modern imitations, the glass has never quite been duplicated.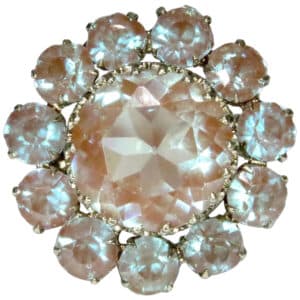 Czech glass is often not set in gold or platinum – you typically find it in sterling silver settings or in costume jewelry, making it fairly affordable for any collector to obtain.
The spectacular effects of these exceptional glass stones can be difficult to capture in an image, and one must see it in person to truly appreciate its beauty!
There are so many more types of Czech glass to explore. The journey does not end here!
View more vintage and antique Czech glass jewelry on RubyLane.com