by Charles Snider, Ruby Lane Customer Service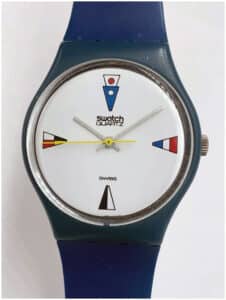 I had the privilege of being at one of the closing parties at the famous luxury jewelry Henri Bendel boutiques on New York's famous 5th Avenue before they shuttered their doors. They were hosting a party commemorating the famous Timex digital watch from the 1970s. When I had the opportunity to purchase these official Timex reissues of their famous watch, I was not the only person who ran up and lined up with our credit cards to say, "Just charge it." So, I am the owner of a very fine-looking Timex watch that I bought from the maker, and I have the receipts.
Buyer Beware
What should you consider when acquiring a fine watch? Unfortunately, the watch market is polluted with fakes and replicas of high-end luxury names like Rolex, Patek Philippe, Omega, and Cartier. We learned recently from a friend who works at Swatch, that this company is also battling a market of fakes and repros in their lower-priced market.
The best way to protect yourself is to buy from a reputable online retailer or online market with a reputation you can trust, who will also stand by their products and who also vet their watches and offerings in advance. Please note that when you buy a Rolex, Cartier, or Swatch that is pre-owned, from a reputable online market, the makers may offer complimentary or discounted service, repair, and support.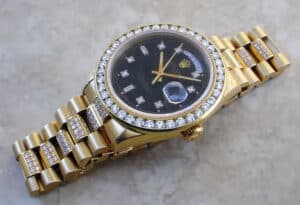 You must check directly with the manufacturer for valuable support and service options with your pre-owned watch. For instance, Swatch shops in New York offer free battery replacement in their shops, for all Swatches. Another advantage of buying a pre-owned luxury or fine watch is that it retains and keeps its value. Fine watches are like investments and some watches can actually increase in value over time.
Rolex for instance releases new styles to the market and then they cease making the older styles. If there is a style of Rolex you prefer, for the color of the face, number of jewels in the design, or type of metal (gold, silver, platinum), then you can only look on the pre-owned market to find the right one.
Swatch is famous for releasing new models and designs each season, with many editions and styles limited editions. To find a Swatch with a transparent face and exposed workings, for instance, one must turn to the pre-owned secondary market. So, buying a fine luxury watch, or a more affordable watch by a maker or designer like Swatch, is an acquisition you can also sell, if ever needed, in a robust secondary market.
Height is Everything

Did you know that the standing clocks you commonly hear referred to as Grandfather clocks, may actually be a Grandmother clock? Although the time has passed since every home had a Grandfather or Grandmother clock, they remain impressive and useful additions to a room, foyer, lobby, or office decorated with a traditional style. While the rule is not 100% universal, the Grandfather clock is at least 6 feet tall, and the Grandmother clock is under 6 feet.
If you are in the market for a standing clock, you will find that prices are more affordable relative to what families paid for them in the 1950s, 60s, 70s, or 80s. A fine vintage or antique clock however will retain its value if kept in good working condition, which includes treating the wood with a fine polish and keeping the workings free from excessive dust.
Like many hand-carved vintage and antique furniture, the value of the clock is determined by the craftsmanship and artistic decor of the clock. The more elaborately carved the case (the main body of the clock) and the hood (the top part of the clock with the face and the ornamental decorative top), the more valuable and desirable is the clock.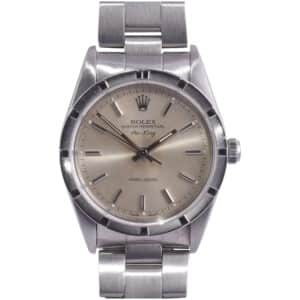 Keep in mind that many clocks also have chimes every hour. Make sure you are aware of the regular musical chime each hour when considering the placement of the clock. Whether the clock has been modernized with an electric motor that keeps it running, or if you need to regularly wind its cranks, try not to power it off and then on, or let it rest for too long.
One of the best ways to keep your Grandfather clock or Grandmother clock in good working condition is to keep it running. Whenever I think of antique clocks, I think of all the timeless puns and jokes that were inspired by clocks such as "What do you call a tense clock?" "All wound up."
So, remember when buying a vintage fine luxury or designer watch to buy from a reputable dealer and marketplace who will stand behind their watches, and if you are designing the decor for a home or office if a Grandfather clock is too big for the space, consider a Grandmother clock.