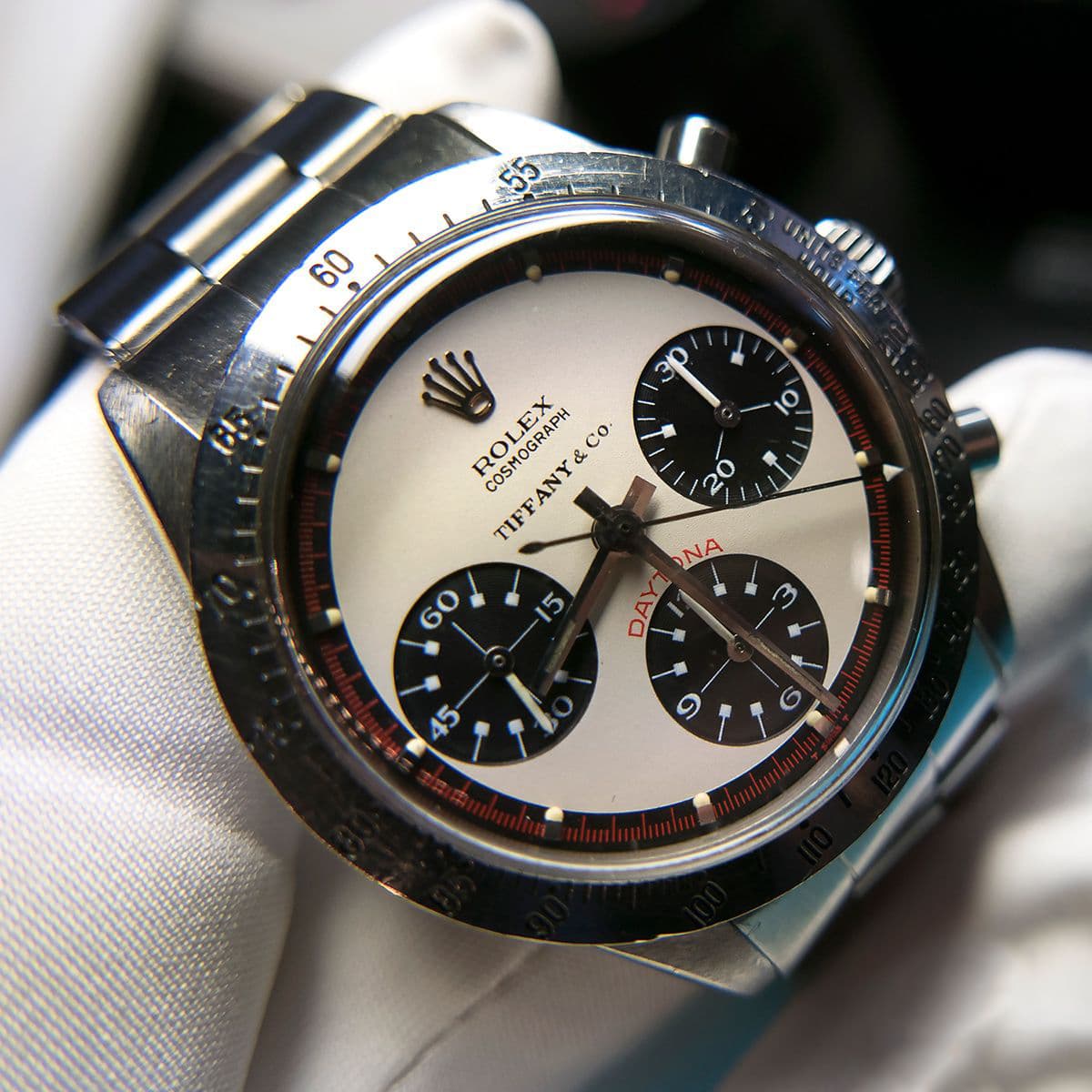 Paul Newman's own "Paul Newman" Rolex Daytona
Sounded the World Record alarm when it sold to an anonymous bidder for $17,752,200 in 2017

It took twelve minutes for Paul Newman's personal Rolex Daytona to rewrite horological history in October of 2017, hammering down at a record-shattering $15.5 million ($17.75 million after buyer premium). In the spring of 2018, a Rolex Daytona Ref. 6265, known as "The Unicorn," which formerly belonged to the well-known watch collector John Goldberger, sold for $5.9 million at the Phillips Daytona Ultimatum sale in Geneva, the second-highest price ever paid for a Rolex, second only to the Paul Newman Rolex Daytona.
A coveted Rolex Oyster Cosmograph, known as an Oyster Mk 1 Panda, went for more than $750,000 at a Phillips auction in Geneva in spring 2019, a figure that shocked one of its past owners who bought the stainless steel chronograph wristwatch in the $200,000 range and sold it in the threes thinking he was the "smartest man in the room. How could a steel Daytona break $400,000?"
This past November, a Patek Philippe yellow gold tonneau-shaped minute repeating wristwatch from 1927, made for famed watch collector Henry Graves, Jr., sold for over $4.5 million!
These are just a few of the record-shattering numbers over the past few years for what is essentially a secondary watch market. To date, none have broken the record for the most expensive watch/pocket watch ever sold at auction, a Patek Philippe Henry Graves Supercomplication, fetching $23.98 million in 2014.
Vintage watches, defined as being around 50 years old, are both a hot new investment trend and the latest fashion statement, especially among younger buyers, hipsters, and wealthy collectors.
Dominating the vintage watch market at auction is Christie's, Sotheby's, and Phillips, in association with Bacs & Russo. Specialty vintage watch auctions collectively realized an estimated $300 million in 2018, according to the Robb Report. Leading in value are watches made by Rolex, Patek Philippe (having seven of the "Top 10" vintage watches ever sold at auction as of December 2018), and Omega.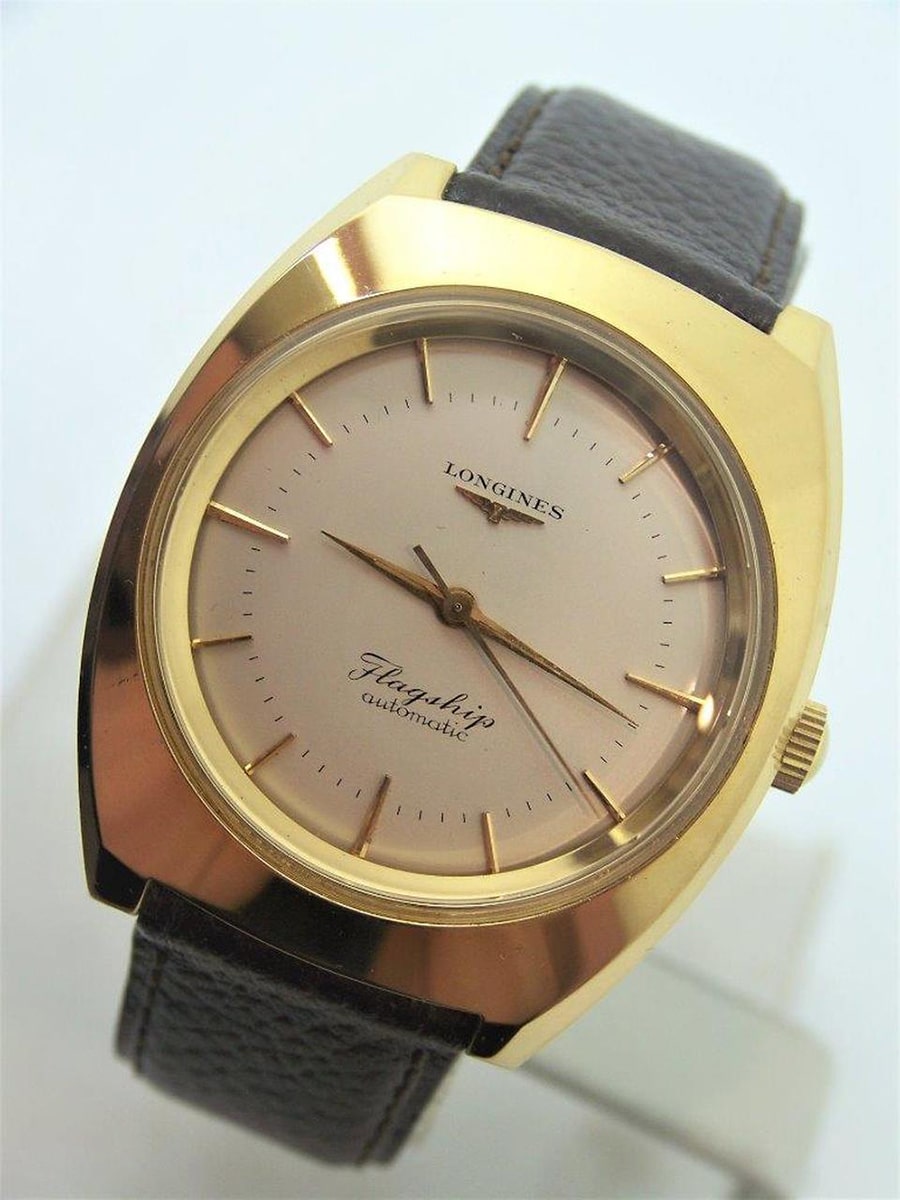 Vintage 18kt GP Longines Automatic Watch
In mint condition and has been serviced, selling for $649 at fashionacedesigns.com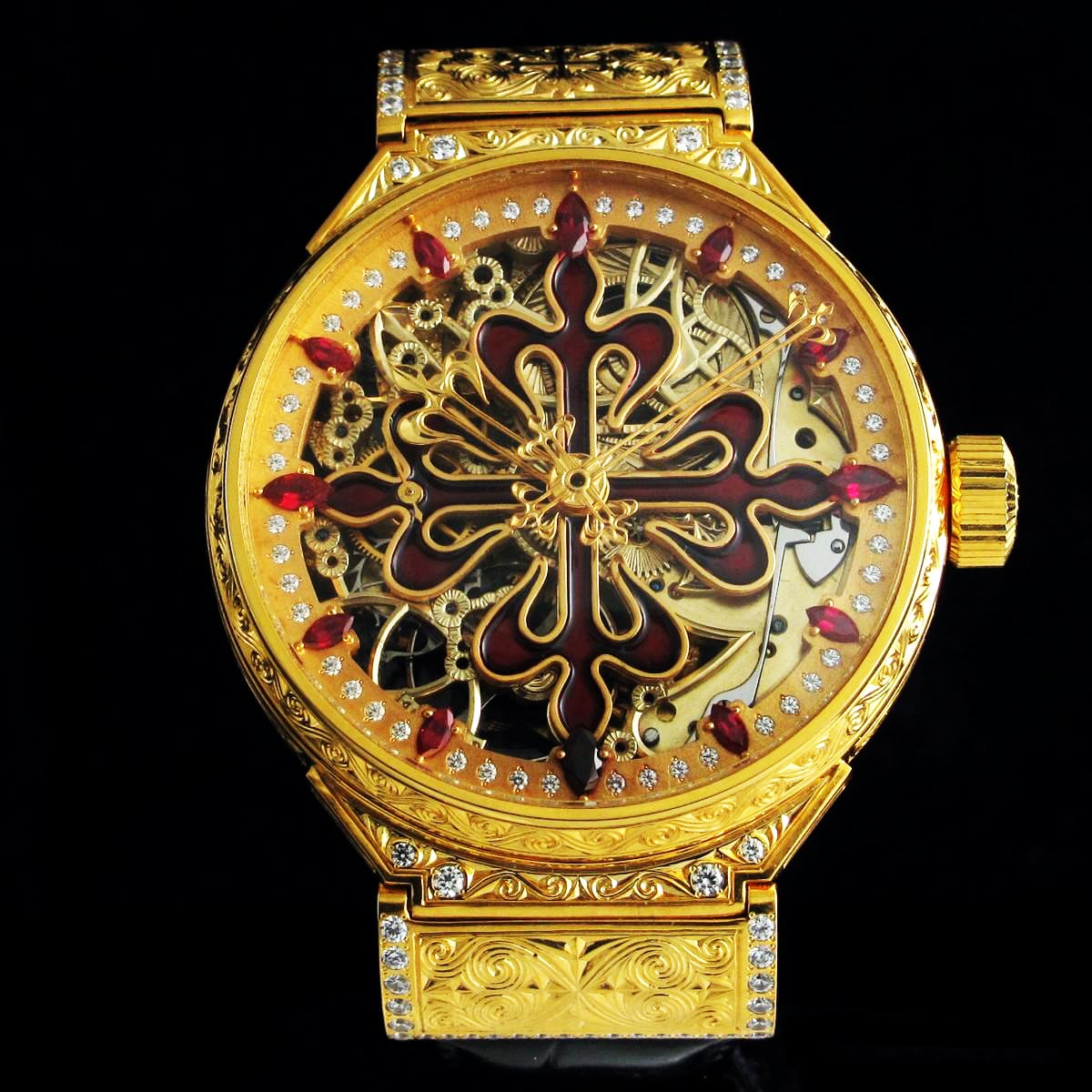 A VintagePatek Philippe Men's Wristwatch
Calatrava Gold Skeleton ca. 1900-1920 selling for $10,500 at wandolec.com

While these high-end vintage and antique specialty watch auctions are enjoying immense popularity and setting world records, not everyone who appreciates vintage watches can afford to be a collector or buyer at this level. The upside to that is that collections can still be affordably built with some research into some of the lesser-known brands, coveted for their style, technology, and maker.
Wearing the vintage aesthetic
One of the most interesting evolutions in vintage watch collecting has been the desire to move away from watches that have been restored and polished to look "like new" in favor of watches in original condition with honest patina. Nicks, scratches, and fading that may have developed over decades of wear can enhance a watch's desirability. The materials used in old watch dials react differently to varying levels of sunlight and moisture over time. Cases and bracelets will take on differing degrees of wear from the passage of years depending on who has owned them and how often and where they were worn. Yet collectors say that's exactly what they find appealing, even though new watches by the same manufacturers are more technologically superior.
As one new, younger vintage watch collector explained,
If I wanted something that looked new, I would just go into a boutique and buy it. But I wanted something different; a watch that has been made unique by the aging process.
One issue surrounding this desire to collect vintage watches with honest patina is that it is extremely difficult. Well-known watches such as the Rolex Submariner and the Omega Speedmaster are rarely found in original condition because of their famous affiliations over the years.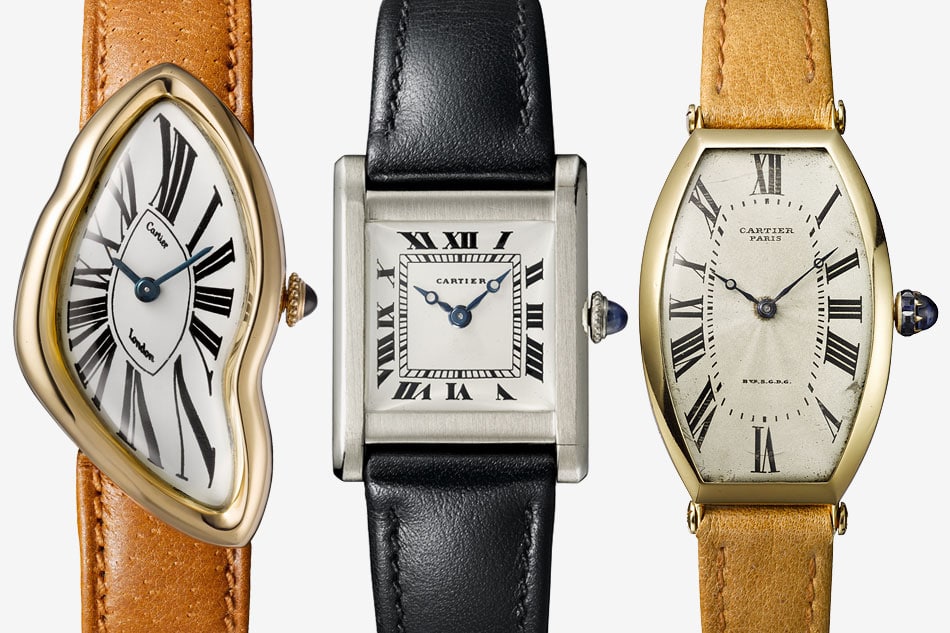 (l-r) Cartier's Crash wristwatch, 1967; a rare Tank wristwatch from 1920; the Cartier Tonneau circa 1915, once owned by King Constantine I of Greece

Those who owned one were likely to wear it and have it serviced over the years, when parts were frequently replaced (such as bezel inserts and crowns), and perhaps the luminous material on the dial or hands was refreshed for better night visibility – all with the goal of making the watch a more effective tool, and with no mind towards future value to collectors. Moreover, the cases were polished to remove scratches and make them look like new. The result is highly collectible watches that were continually pristinely restored are today worth a fraction of their untouched counterparts.
Vintage style and condition is one element of value; style and maker, another. Provenance and association also add to the allure and value of a specific vintage watch or brand. Rolex's mid-century Submariner watches are forever associated with Sean Connery's James Bond. The Patek Philippe Nautilus, a triumph of 1970s mod design, conjures images of Concorde flights and fondue parties. It took twelve minutes for Paul Newman's Rolex Daytona to make history, but it was the watch's unique history and association that made it worth millions.
The high-end watch market is a strong investment vehicle for wealthy people, according to the 2019 New York Times article
Watches Are Yet Another Easy Way Rich People Make Their Money Into More Money,
which dished on some known celebrity vintage watch collectors:
John Mayer's watch collection is nearly as famous as his guitar work. His bank vault contains a vast array of collectibles, including sapphire-encrusted gold Rolexes and Luftwaffe watches from World War II that he has said is valued in the 'tens of millions.'
Silicon Valley heavyweights like Kevin Rose, the Digg founder, and Matt Jacobson – Facebook's employee No. 8, have museum-worthy Rolexes and Patek Philippes, helping to establish a head-turning timepiece as a tech-world style flourish to rival the hoodie.
Ellen DeGeneres wore a holy-grail Paul Newman-model Rolex Daytona from the 1960s, now worth perhaps $250,000 while bantering with Jerry Seinfeld in an episode of Comedians in Cars Getting Coffee last year. (Adam Levine and Ed Sheeran have been spotted wearing Paul Newmans as well. One also made a cameo on the wrist of Pierre Png's character in Crazy Rich Asians.)
In professional sports, high-end timepieces have long seemed as indispensable as a shoe contract for stars with seven- and eight-figure incomes. Top athletes including Rafael Nadal, Dwyane Wade, and LeBron James have served as celebrity ambassadors for brands like Richard Mille, Hublot, and Audemars Piguet.
Star athletes who have been traded have been known to trade a Rolex to a player on their new team to secure their old jersey number. And in recent years, several have morphed into certifiable watch snobs. Howie Kendrick of the Washington Nationals, for
example, counts understated heirlooms—like a 1959 LeCoultre Deep Sea Alarm and a 1960s Breitling Superocean—as key elements of his off-field uniform.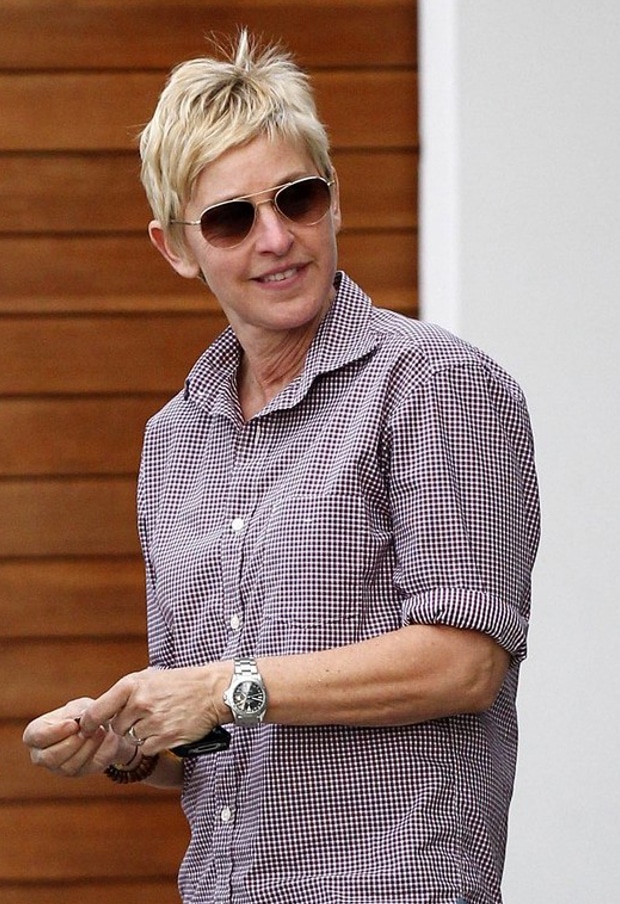 Ellen Degeneres wearing her vintage Rolex 1655 Explorer II
photo: Fame Pictures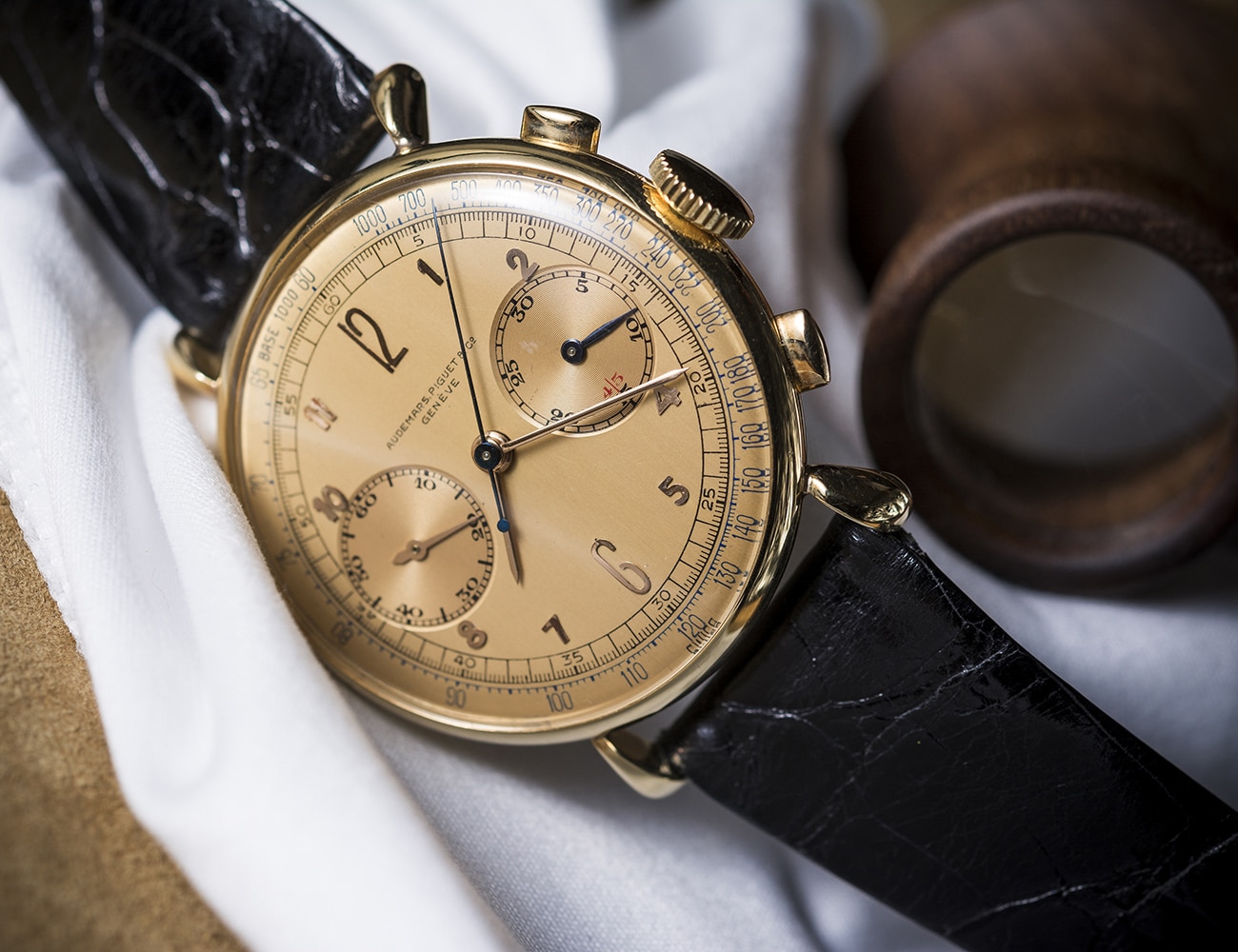 1942 18kt Yellow Gold Audemars Piquet
Is part of a private collection, Ticking away inside this vintage AP chronograph is the Valjoux 13 VZA. When produced, Audemars Piquet only made 395 pices of this particular chronograph.
photo: Bexsonn.com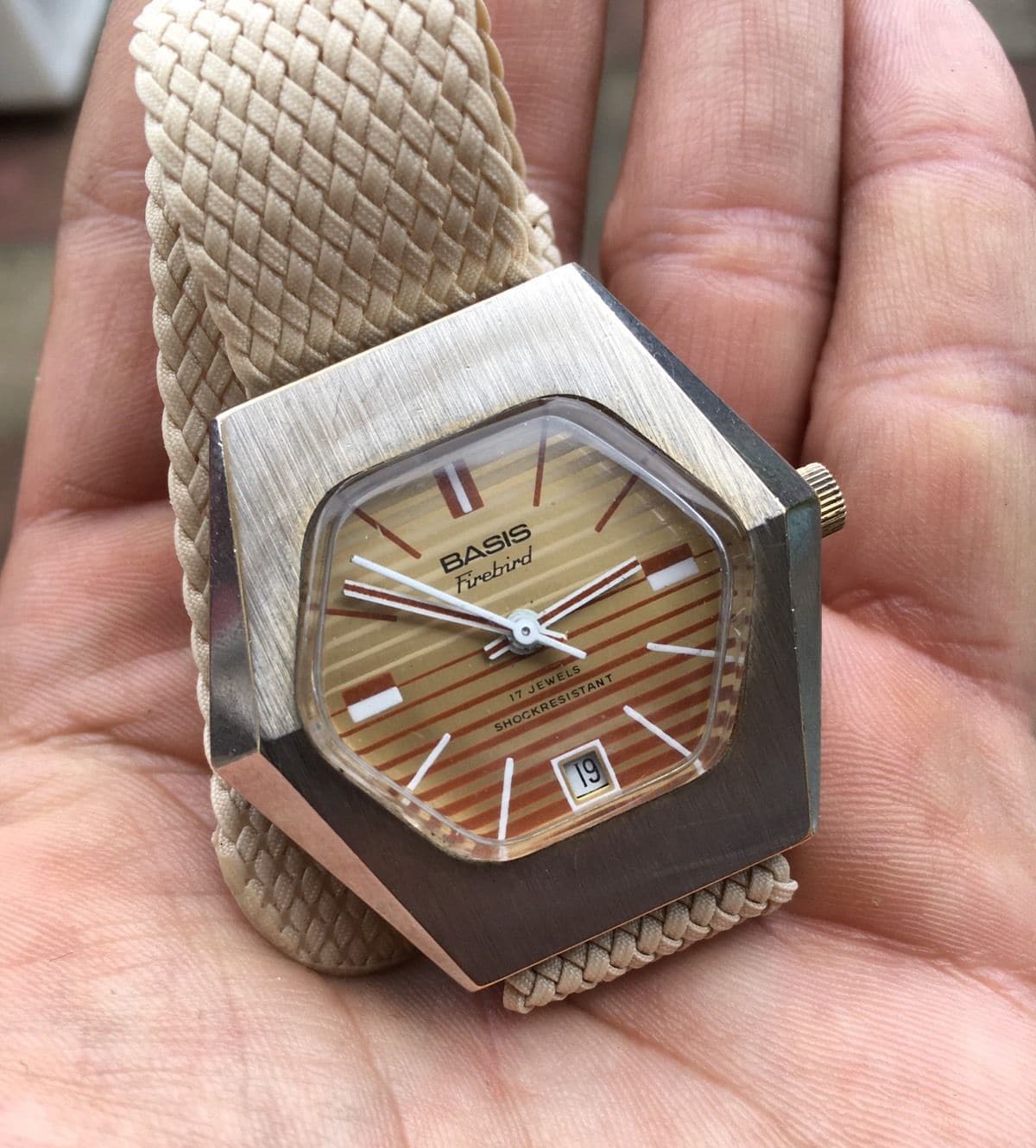 1970's unusual Case Basis Firebird Very Funky
online, this watch is currently selling for $495 at justintoscooters.com

Clues to Determining Value
What you see may not always be what you have in the vintage watch market. Sometimes, the value can be found beneath the surface – and starts with the name of the watchmaker.
Most watches found in the vintage marketplace will have a name on the dial identifying the maker; however, that is not always the case. Here is where you have to take a closer look and do some research.
Some vintage watches might just say "Swiss" on the face. In those cases, opening the back of the watch may provide more clues to determine who made the movement, although the maker of the movement doesn't always indicate the brand of the timepiece. Another place to look for the watch's brand name is on the inside of the case.
In some instances, the name on the face is that of a store or other business entity. Tiffany & Co. is an example in this instance. Many companies commissioned branded timepieces from Tiffany's to give as gifts. So, when you open the back, the movement will have a different name than that on the dial.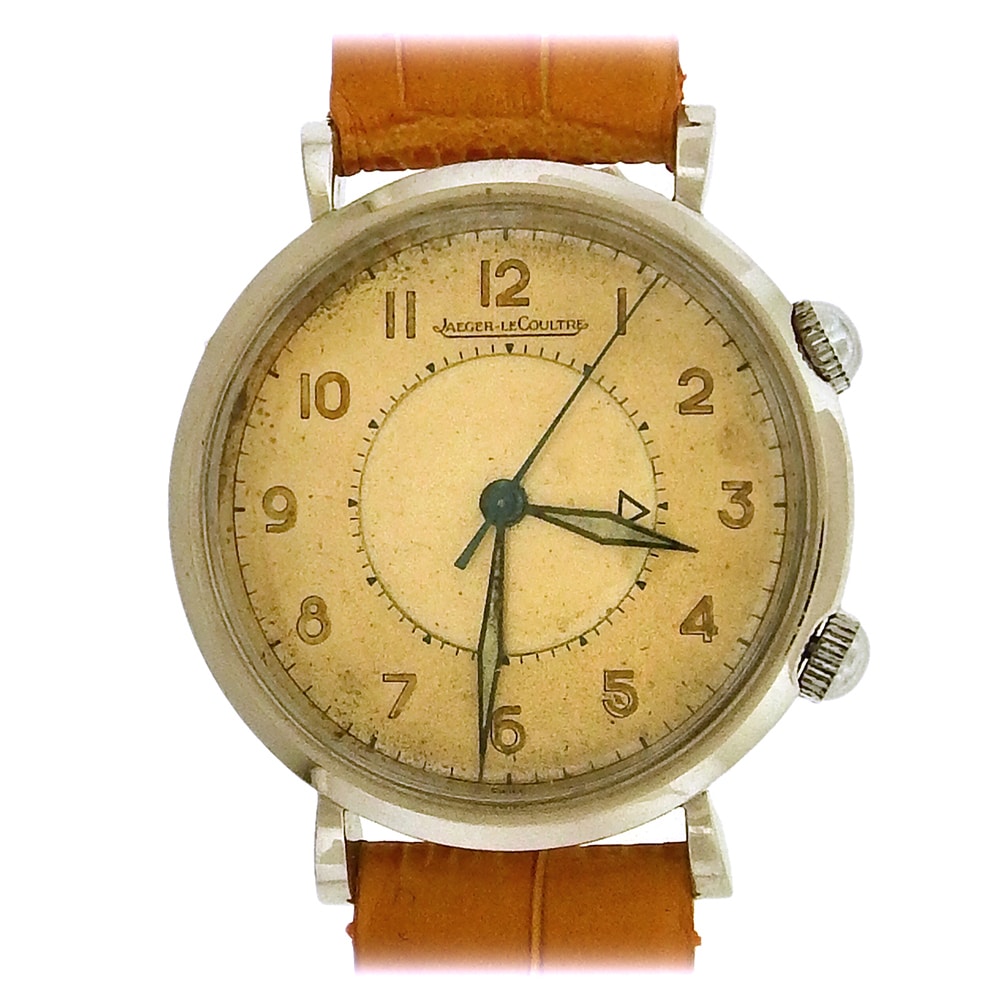 Stainless Steel ca. late 1930s Jaeger LeCoultre Memovox
Is selling online for $3,350 at aaronfaber.com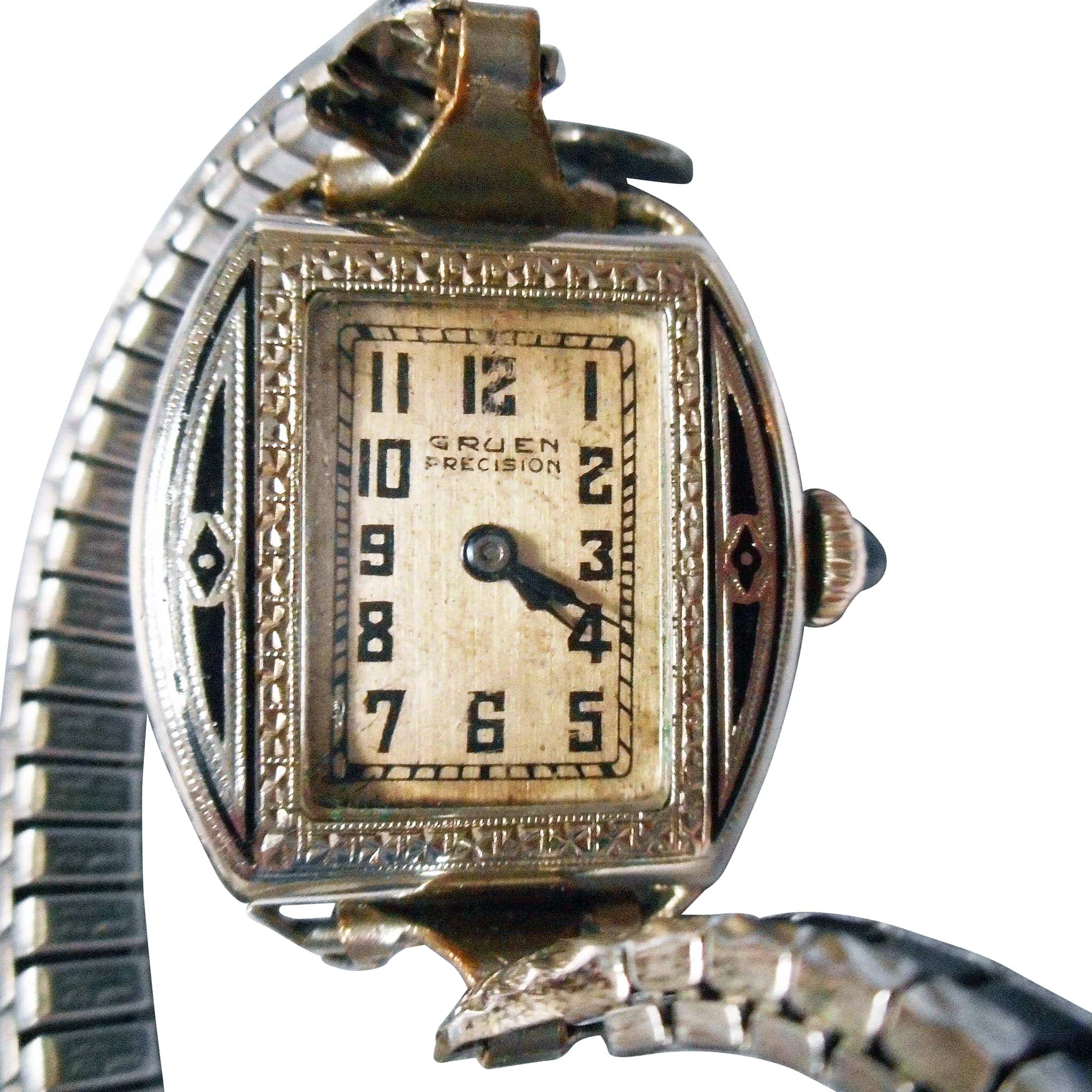 Ladies' Vintage Gruen Wristwatch
sold at Ruby Lane. Gruen was one of the first US watch companies to offer basic movements produced in Switzerland, in a wide variety of cases and prices, but adjusted, dialed, and cased in the United States.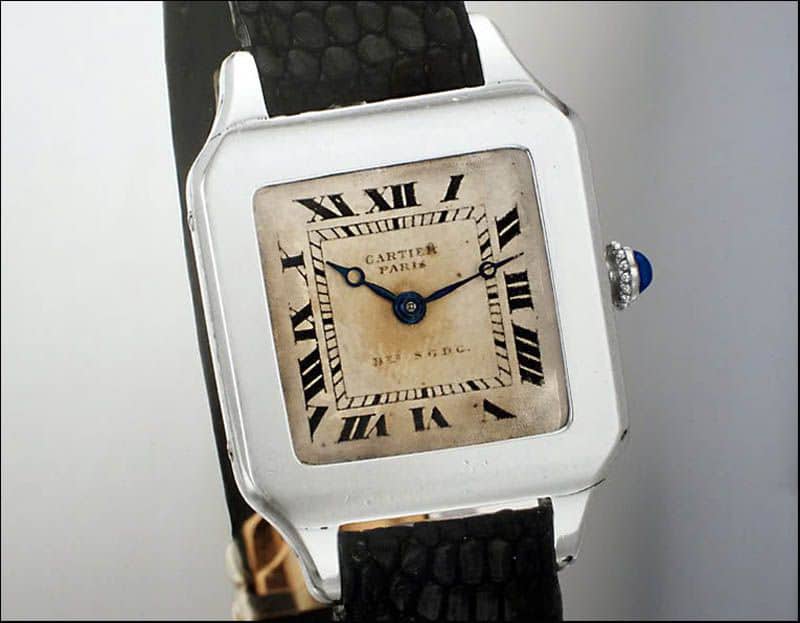 Cartier Santos Dumont ca. 1910
Louis Cartier made a watch for his friend Alberto Santos-Dumont, who wore it every time he flew. Alberto was a celbrity throughout Europe, and with his flamboyant personality, his Cartier watch became equally famous. Looking at pictures of Alberto in newspapers, the public asked, "What is that strapped to his wrist?" The answer was a watch. Instead of a cumbersome pocket watch, Alberto wore a wristwatch affixed by a comfortable leather strap and secured with a small buckle. Though Patek Phillip invented the wristwatch, women mainly wore it until Santos made the wristwatch a man's watch, achieving another first.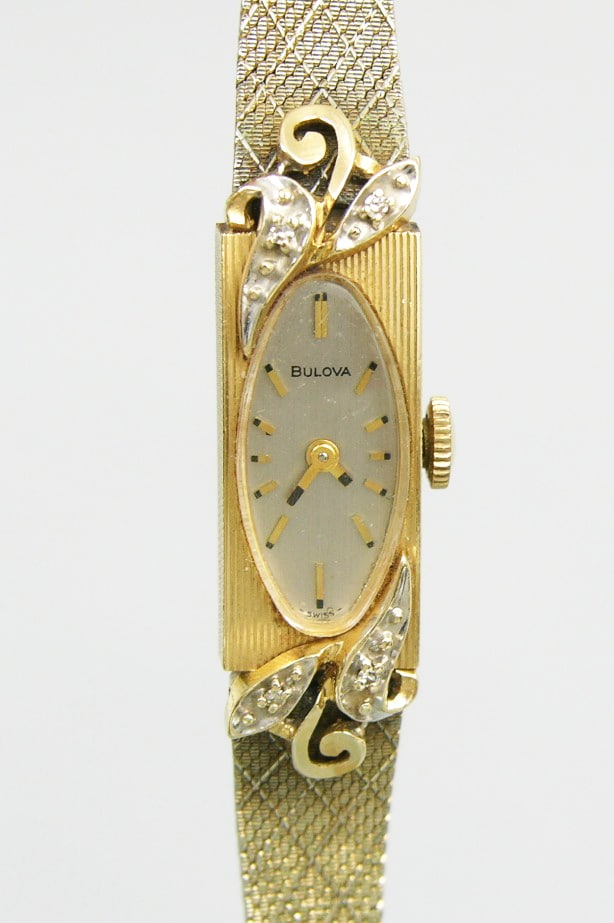 Vintage Ladies Bulova 13k Yellow Gold Watch
sold for $189.95 at Aspire Auctions in 2009

Some makers made lines under different brand names. Rolex is a well-known luxury watch brand. But did you know, they also marketed lines of watches under other brand names like Tudor, Unicorn, Marconi, Rolco, and Genex?
Rarity is also an asset that can only be learned through research. Was the watch sold in mass quantities when it was new, or something a bit more special like a limited edition, a small run or custom-made?
It is also important to make sure you're not dealing with a replica watch. Many fake watches look very similar to the real deal, especially when it comes to Rolex replicas. Have a qualified appraiser assess the watch you're evaluating if you're not sure that it was originally purchased from an authorized dealer.
While the current auction market for vintage watches would seem to suggest it is just for the wealthy, the fact is that the vintage watch market offers something for collectors and enthusiasts at every end of the spectrum. But, caution veteran collectors, not every old watch has value, and past performance, as they say in the brokerage world, is no guarantee of future results to those collectors looking to invest in what they hope will be a retirement fund. If you plan to be a serious collector of old watches, as with any investment in a collectible item, do your homework! Anyone who scoops up a cheap boxful of half-working Bulovas from the 1950s at a flea market is likely to end up with a cheap boxful of half-working Bulovas from the 1950s. But if its style and fashion you seek, then buy what you love and can afford, regardless of what it may be worth in the future.
Hiconsumption, an online modern-day men's lifestyle publication, identifies "The 10 Best Vintage Watches Under $500" for collectors to consider. More than offering just affordable suggestions, this list presents the collector those watches that have both character and history, and are a great foundation for start-up collectors and those that appreciate the vintage aesthetic:
Bulova A17A Mil-Spec
Longines Flagship
Rado Starliner
Tissot Visodate
Girard Perregaux Gyromatic
Hamilton Brock
Bulova Oceanographer Snorkel 666
Grand Seiko Hi-Beat
Omega Seamaster
Jaeger Lecoultre Memovox
Whether you wear what you collect or collect as an investment, buy what you love and know what you buy. Either way, you will be making a timeless investment.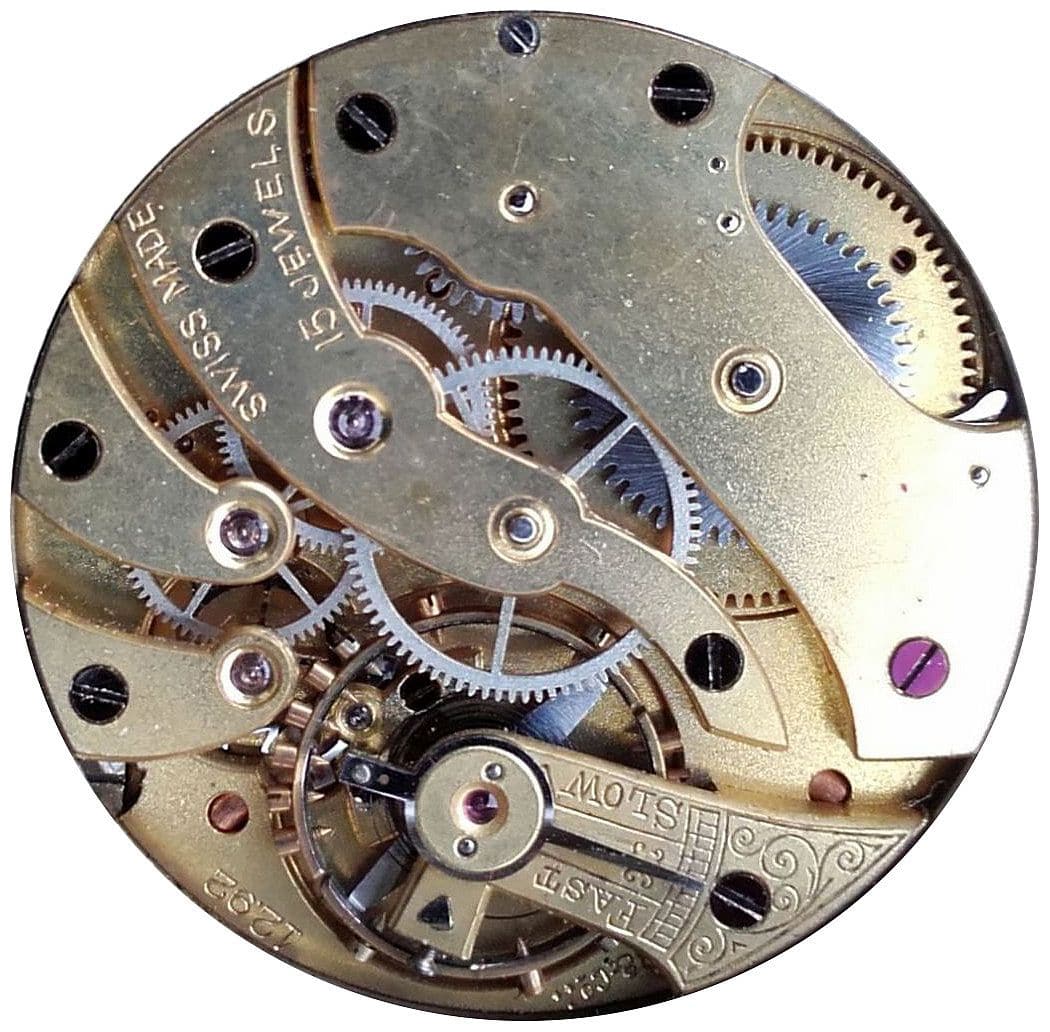 Longines 12.92 movement
was first made in 1903,. It is a 12.25 lignes savonnette measuring 27.80mm x 4.10mm. The savonnette layout was used in hunter cased pocket watches, and for wristwatches. Often movements imported in Britain before the mid to late 1920s do not carry the name manufacturer's name visibly, this was not allowed by British Retailers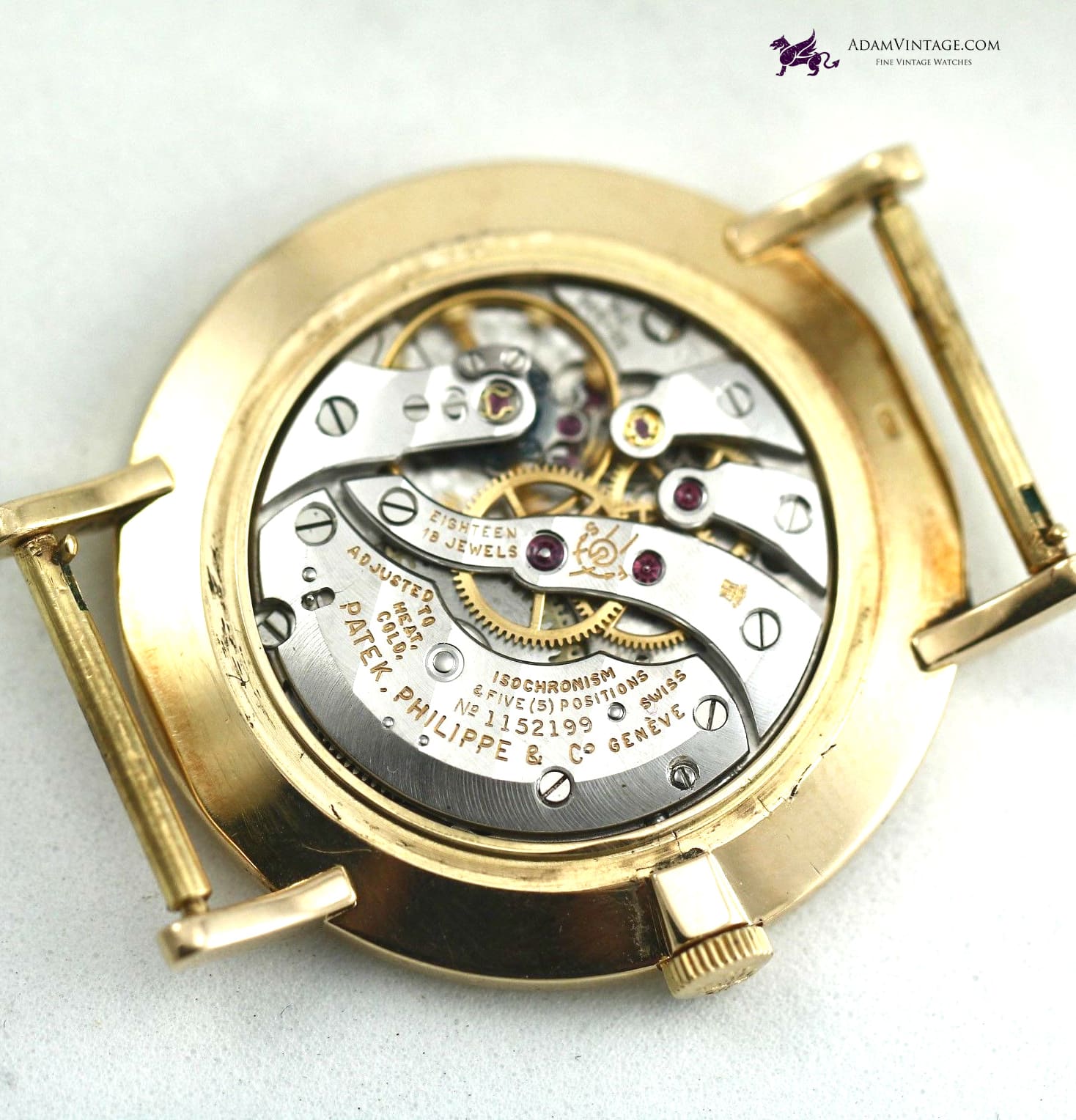 Inner Workings of a Perfectly Balanced Patek Calatrava wristwatch from the 1970s
The movement is the manual winding Patek Philippe Caliber 23-300 PM with 18 jewels; adjusted to heat, cold, isochronism and in 5 positions; and double-stamped with the Geneve Seal.
Selling for $6,200 at adamvintage.com