Who doesn't appreciate the unique and "time machine" feel that can be conveyed in a room surrounded by a vintage wallpaper pattern? It's hard to imagine an area rug, a piece of furniture or any other item in a room carrying quite as much decorative effect.
As interest in the restoration of houses of a more recent vintage has grown, the company moved forward into the Arts and Crafts, Art Deco and Mid-Century Modern eras, and have actively expanded their lines to include several new collections that focus on these periods.
Bradbury & Bradbury: Preservationists
When Bruce Bradbury started the company back in 1979, those who wanted to recreate the fanciful interiors from the last quarter of the 19th century had little, if any, choice. In response, Bruce created the now-legendary line of room sets that has set the standard for Victorian interiors, simultaneously inspiring the rebirth of the art wallpaper industry and helping to make color and pattern fashionable once again.
Research is the foundation of the growing design collection. The company draws inspiration and pulls authentic patterns from museums, libraries, factory records, old wallpaper books, private homes, and period literature. They conduct ongoing searches for the best historic patterns from the Americas, Europe, and Australia to preserve them and keep them authentic. But very often people seeking to save their old wallpaper bring samples in to be re-created and carefully handcrafted for use. An example of the handwork involved – a complex pattern for an average size Victorian room can require over 1,000 individual impressions.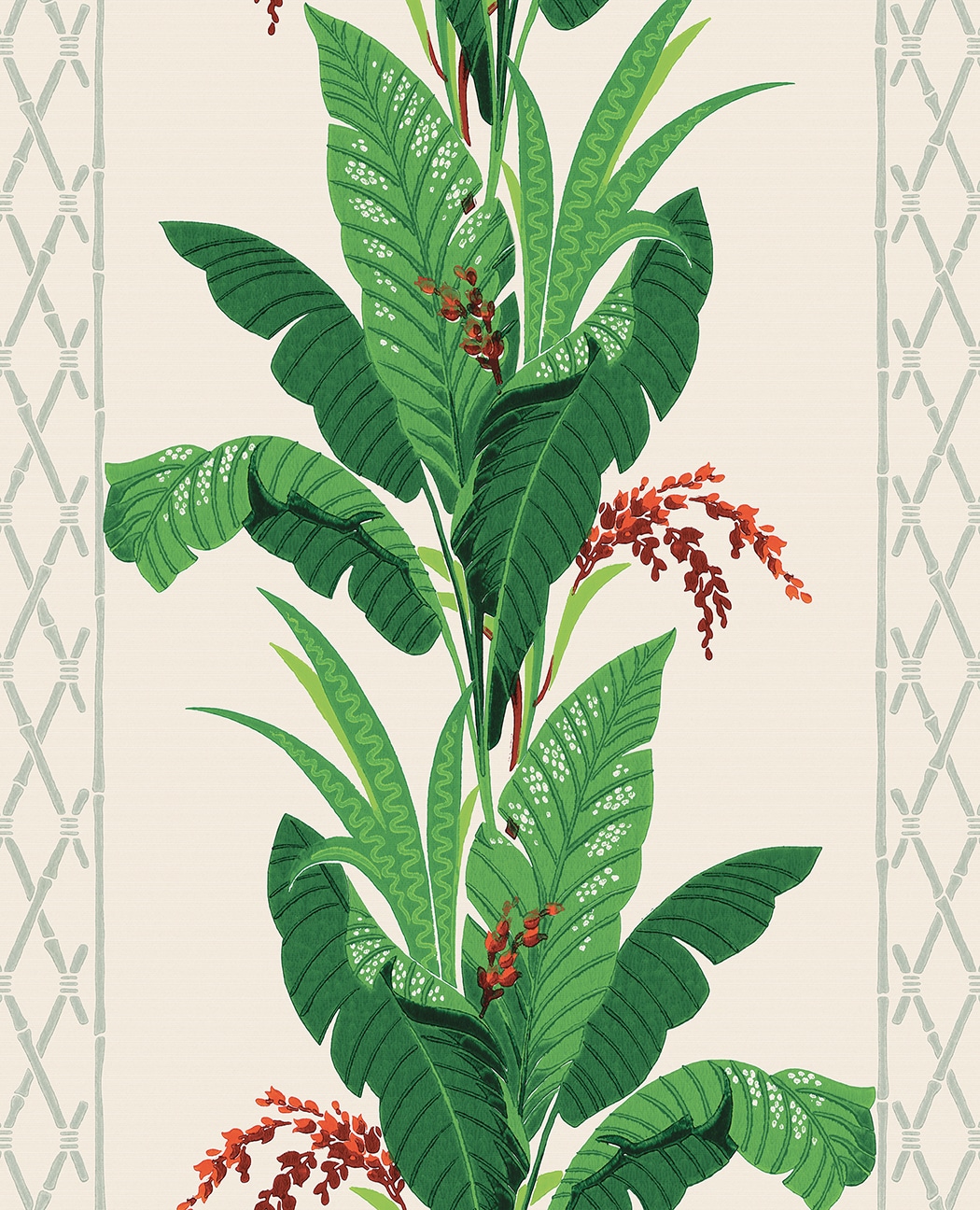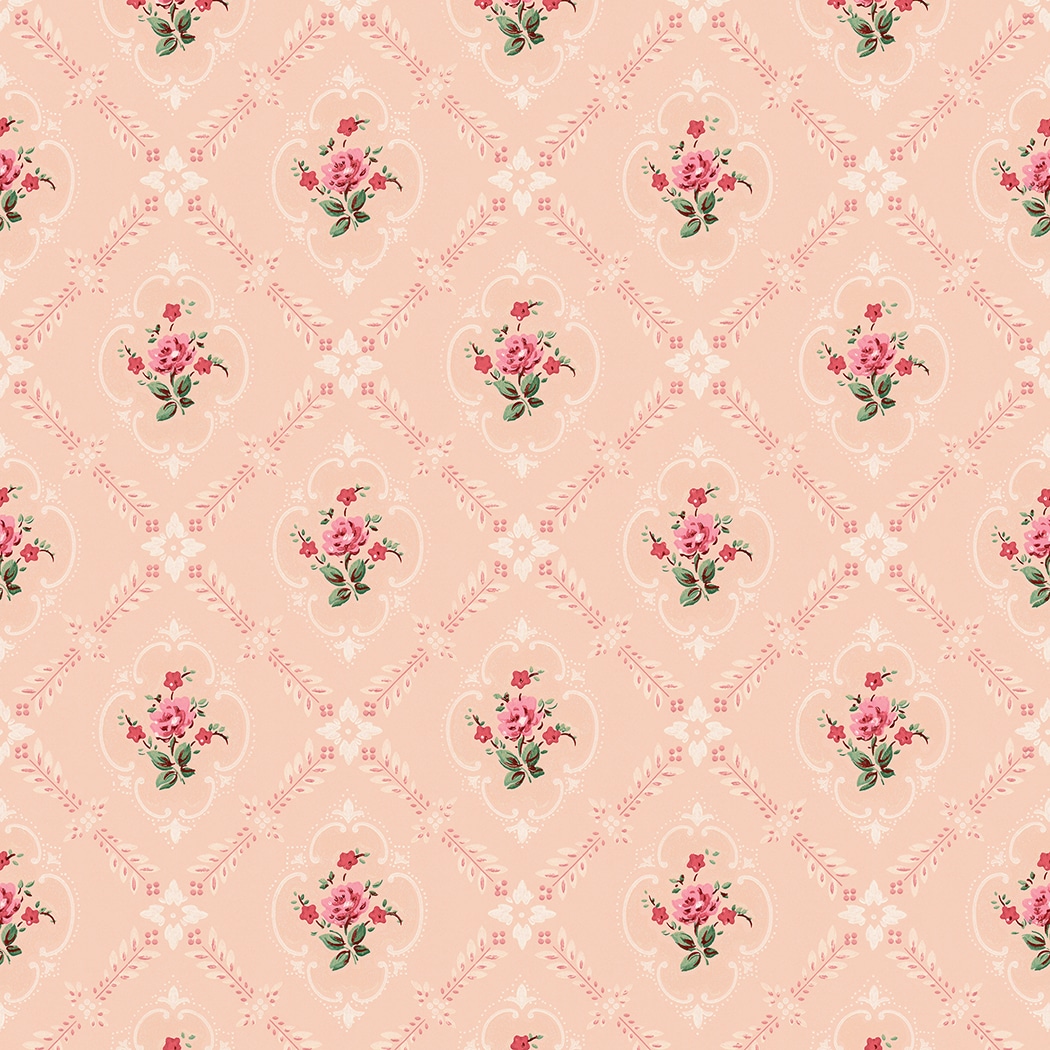 This collection of 1940s designs offers faithful reproductions of the dozens of vintage wallpapers that have been collected over the years. Cheerful florals, stripes, and whimsical kitchen wallpapers are trademarks of the period.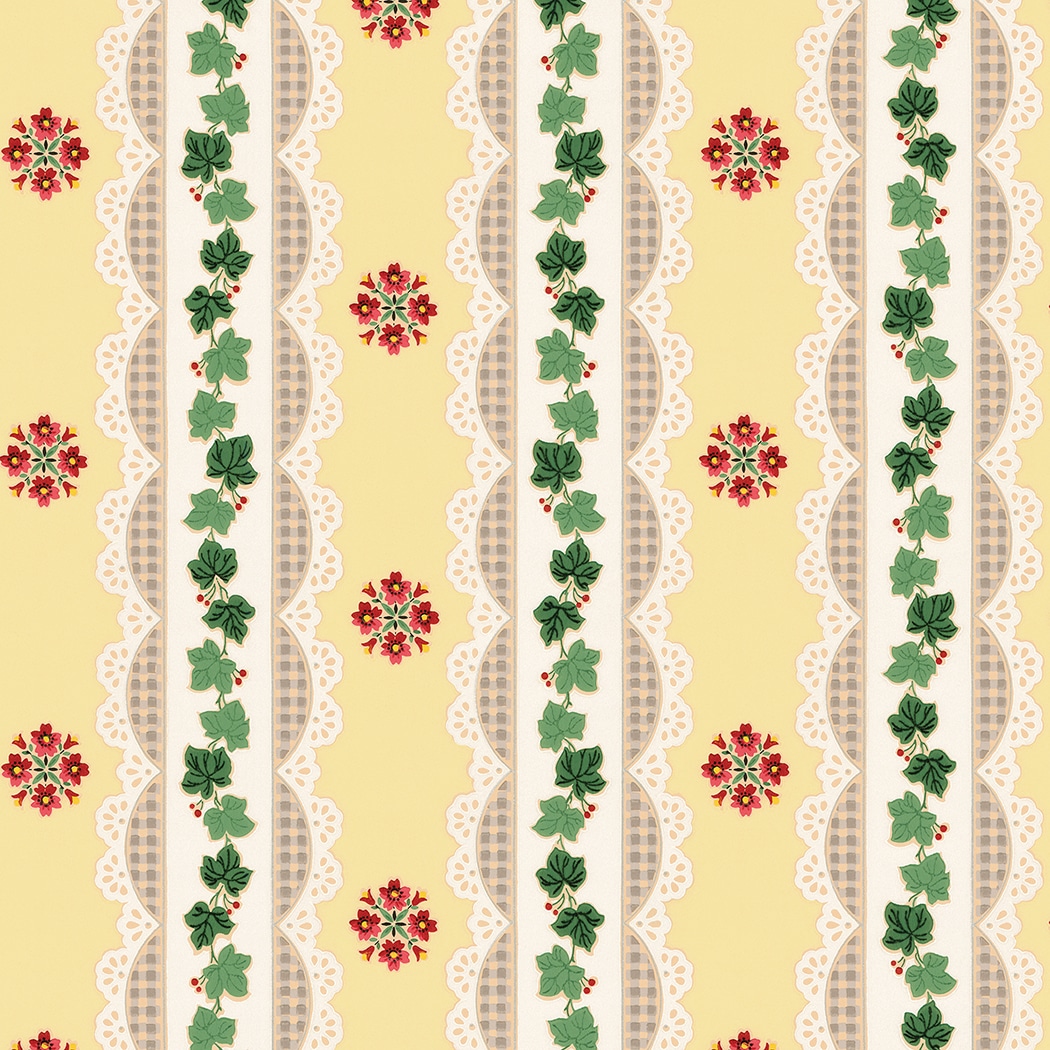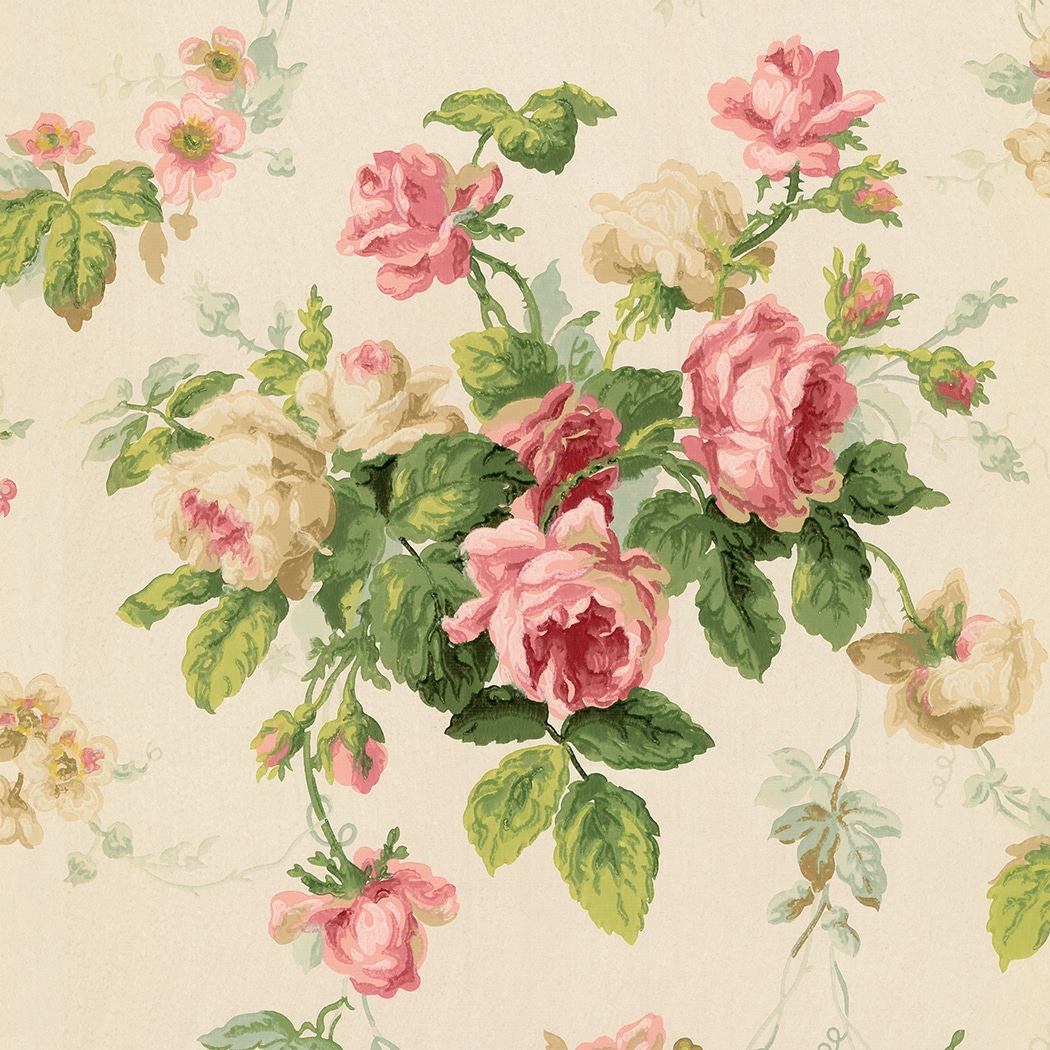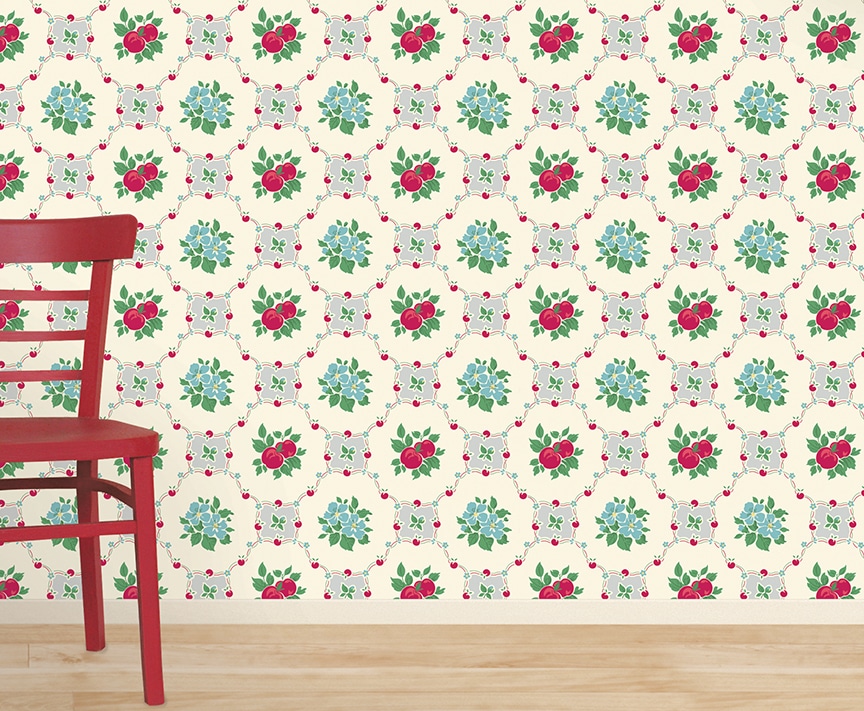 Post-War Apple Betty
Charming and colorful papers like these made for a cheery atmosphere all over America when they were made in the latter half of the 1940s. The Post-War Era wallpapers are also available on fabric through Bradbury's partnership with Spoonflower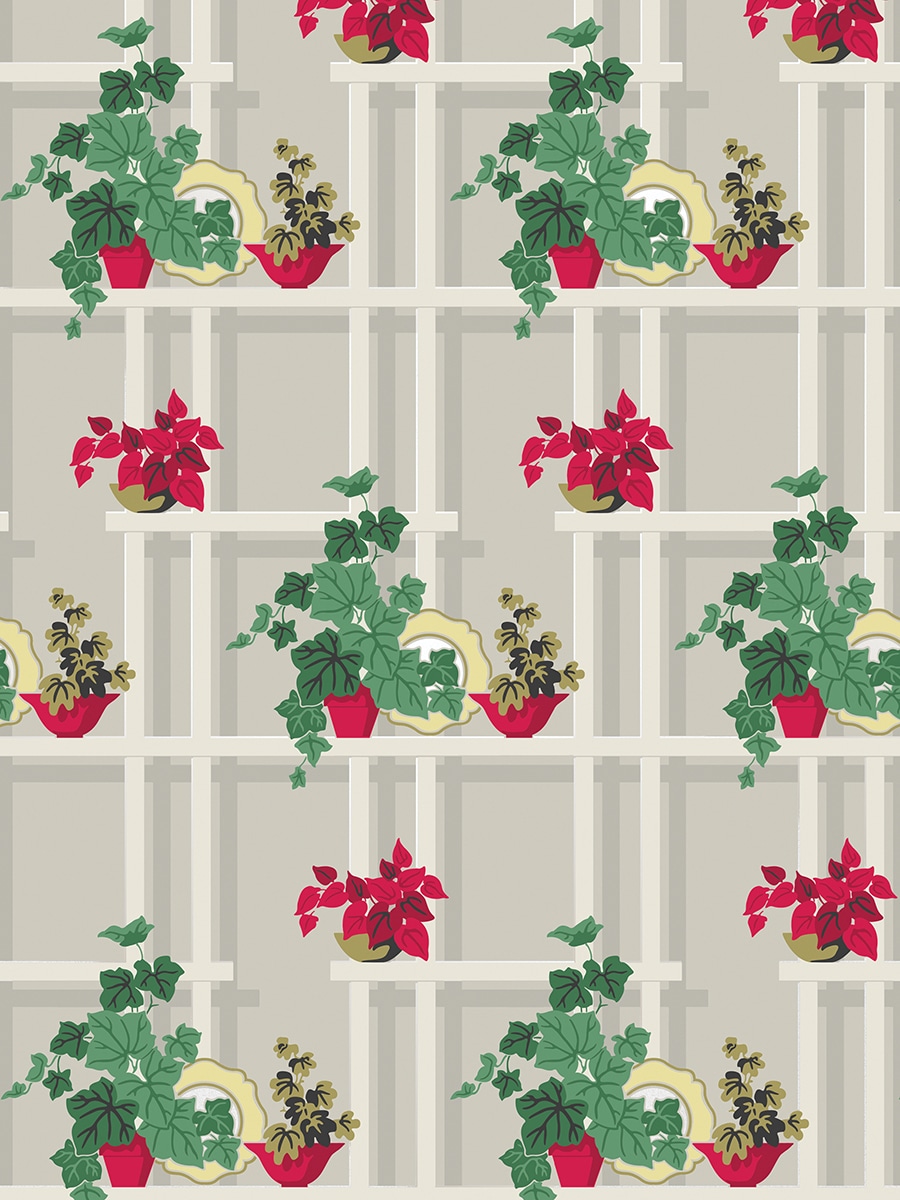 Bradbury & Bradbury has always admired wallpapers from the early to mid-20th century, but it wasn't until homes from that period started to be "rediscovered" and restored that they started looking for a way to add some of the more modern looks to their overall collection.
There are, of course, several companies out there already who sell old original rolls of "vintage" wallpaper from that period. That's certainly a great way to go if you can find what you're looking for and it's a good fit for your historic home.
The challenges posed by old rolls of paper can be many. One, for example, is the finite quantity that may be available. For instance, a retailer may have 10 old rolls in stock of the same pattern, but the customer may need 12. Those few rolls may also be from different runs, so even if the quantity is there, the colors may not truly match when hung edge to edge.
Another problem can arise with old stock is the condition of the available rolls. Sometimes due to age, or excess exposure to heat, humidity and/or ultraviolet light, the roll stock will degrade or become brittle, making just the act of unrolling it difficult, resulting in tears or kinks in the roll.
Lastly, the pigments used can make working with the paper difficult. For instance, some old inks were not waterfast, so they will smear if soaked at all while hanging. They may also be prone to fade or specific colors may become fugitive, fading faster than others in the pattern, discoloring it.
Even with all the possible problems, if you can find what you want and it's in great shape, use it. But this innovative line of vintage wallpapers came about in response to the company's interest in preserving patterns and remaining authentic, to providing vintage wallpaper to customers who wanted the period look and feel of original vintage wallpapers.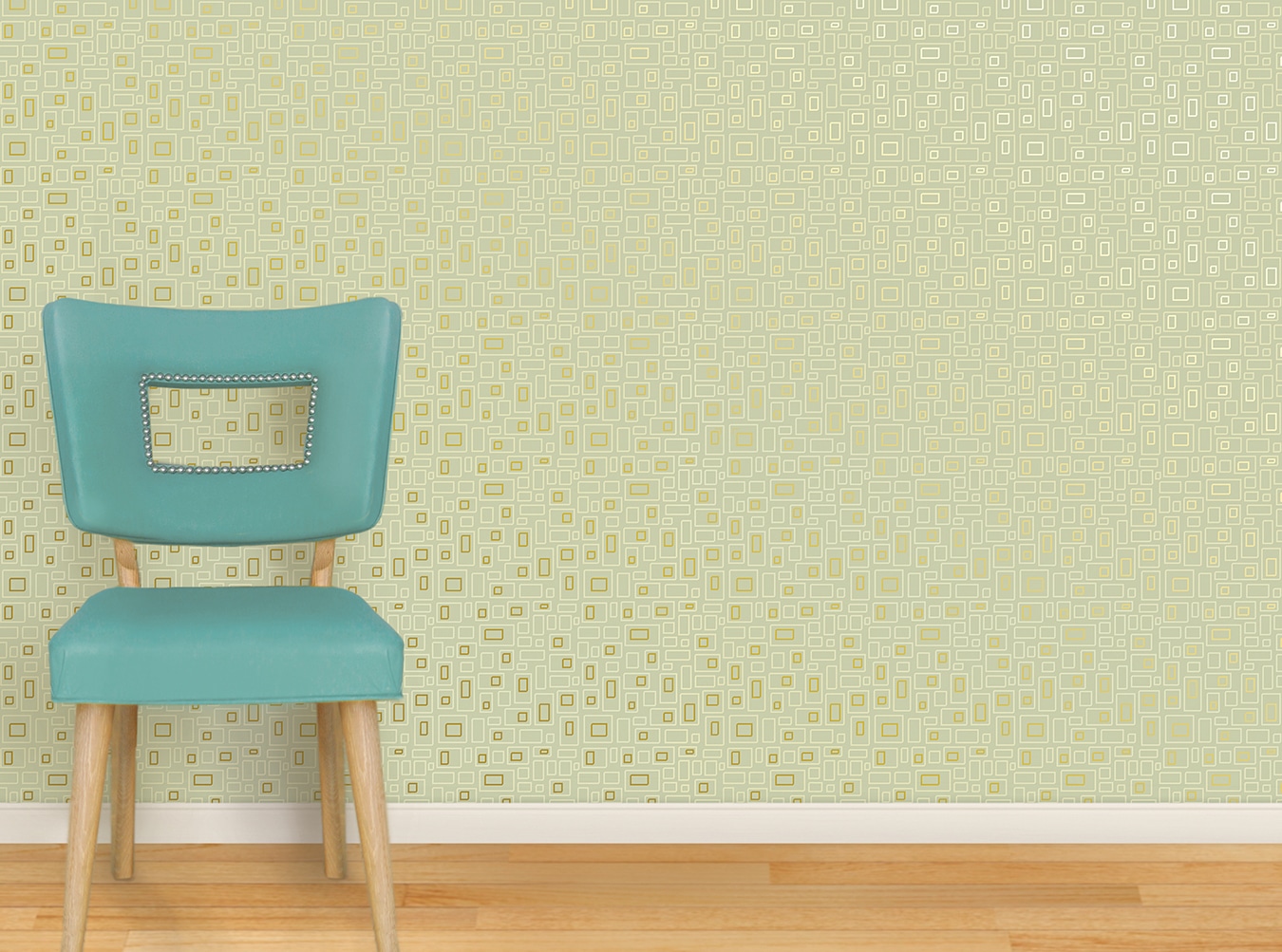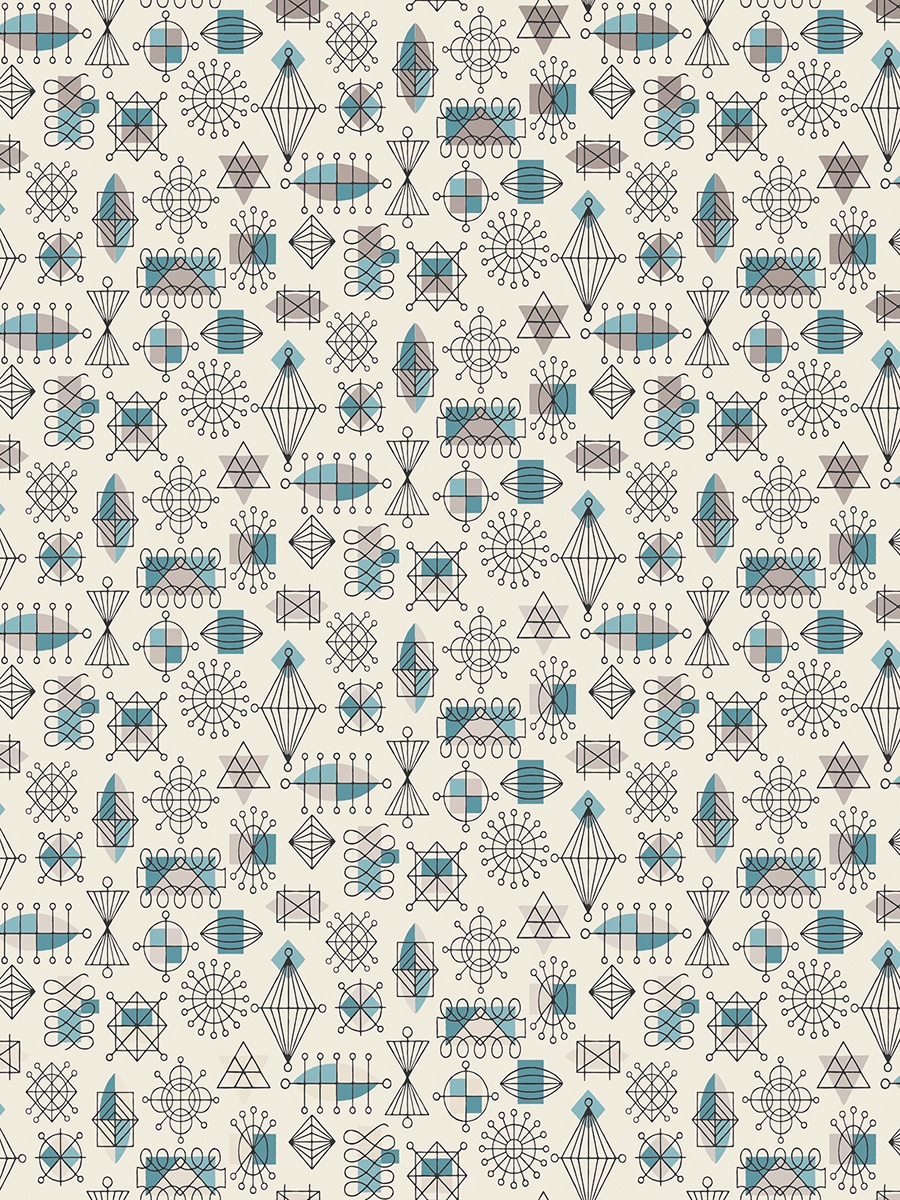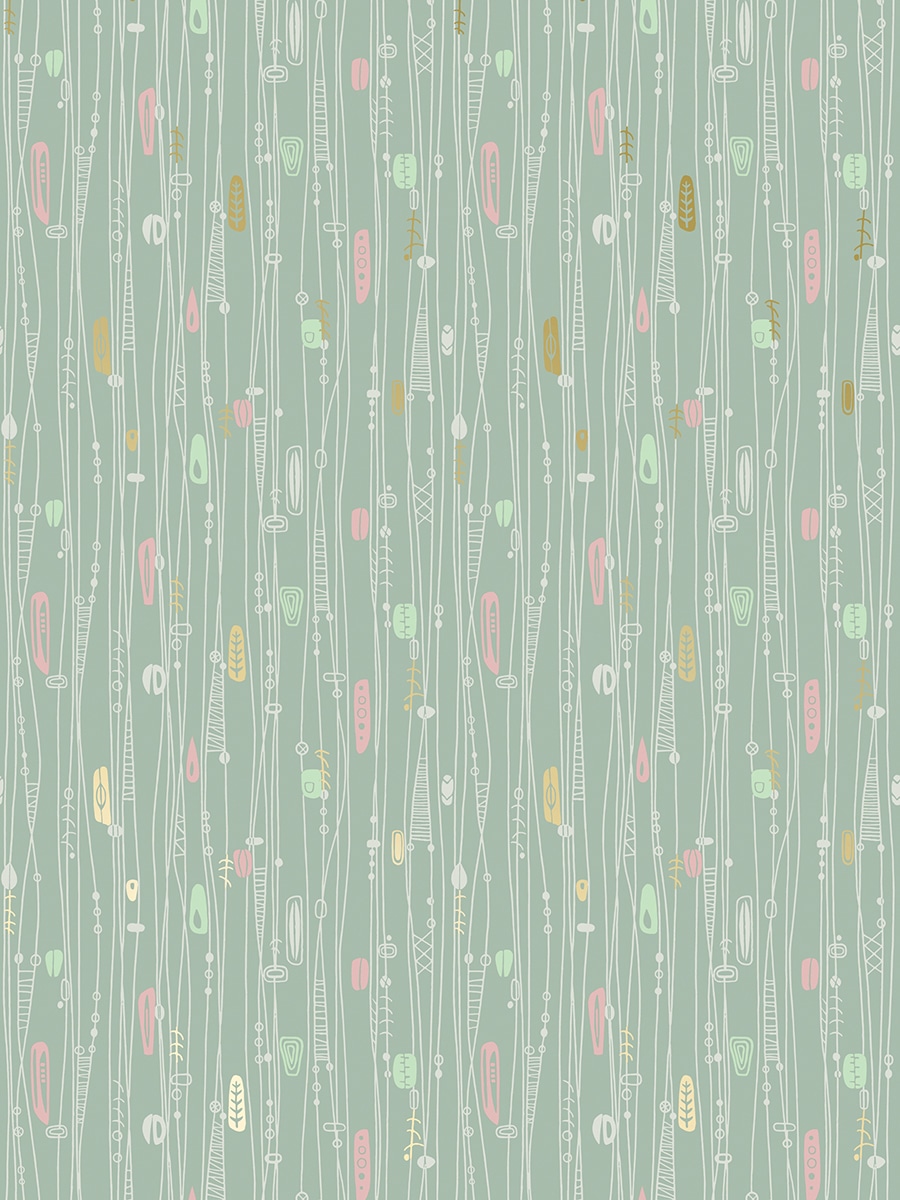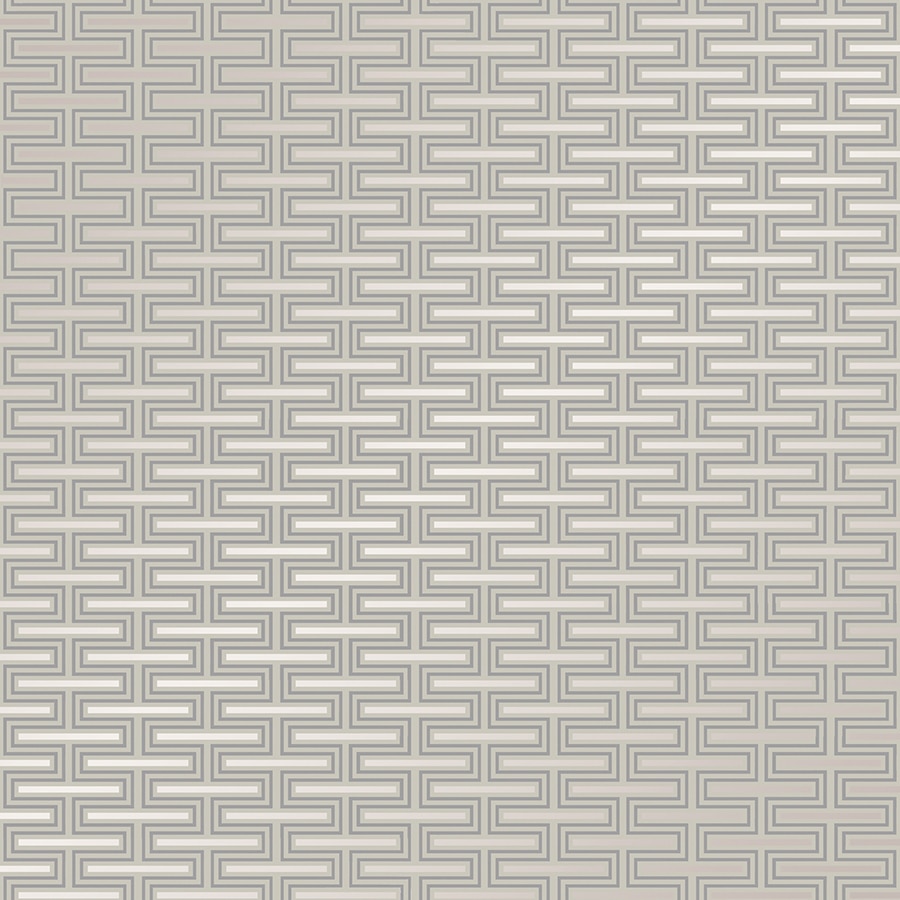 Whether the effect you're after is Mid-Century Modern or Sputnik there's a pattern that will set the right tone for your favorite 50s room.
By introducing this new collection, Bradbury hopes to provide customers with a solution to searching for accuracy in the designing of their space. These new "vintage" wallpapers are reproduced faithfully from many of the old patterns kept in the historic archives, so they are true to the era. They look just like the originals.
The process of reproduction is simple really. After one of these original patterns are scanned, any damage or undesirable imperfections in the prints are carefully "repaired" and colors restored if necessary so that the "best parts" version of the pattern is used for any final print. Also, since the paper used to print on is new paper stock, it's pliable and, when wet, slightly flexible, making it easier to hang than a paper that has aged for decades. The pigments are also bright and long-lasting, and the papers can be wiped with a damp cloth without any fear of smudges or damage.
Also, since so many good retro interiors include retro fabrics as well as wallpapers, Bradbury & Bradbury has partnered with Spoonflower, a fabric printing company out of Durham, North Carolina, to have some of the vintage patterns available on a variety of different fabrics suitable for everything from upholstery to curtains and tablecloths.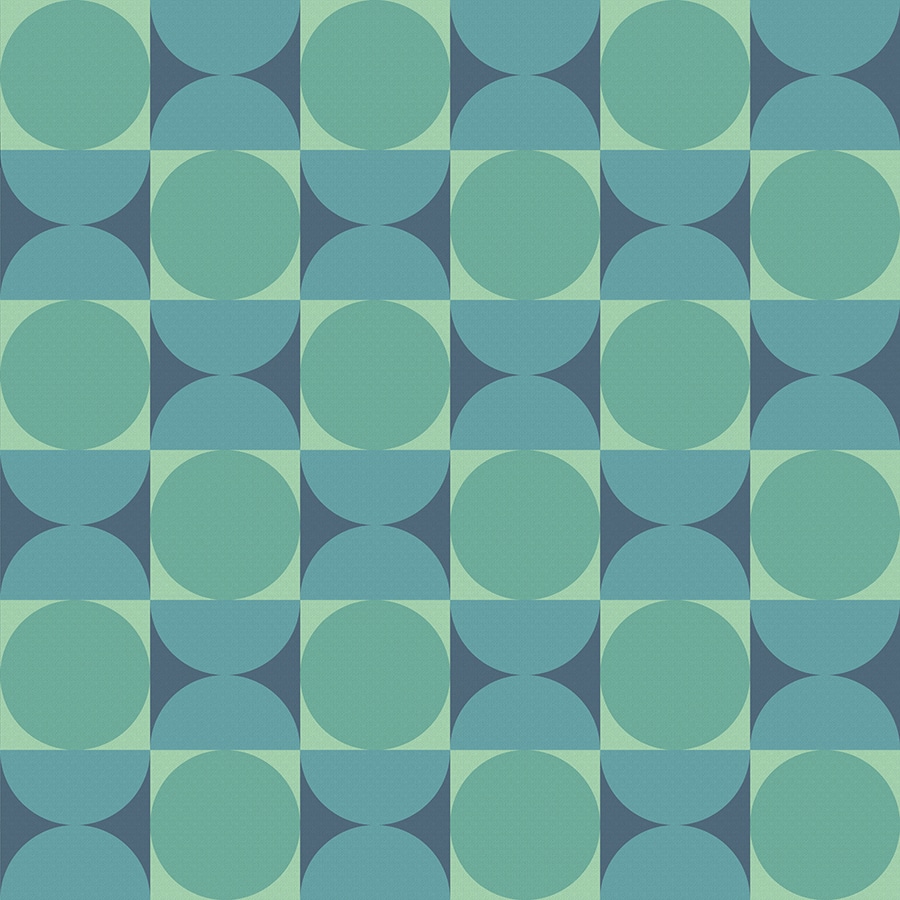 1960s Reverb in Moody Blue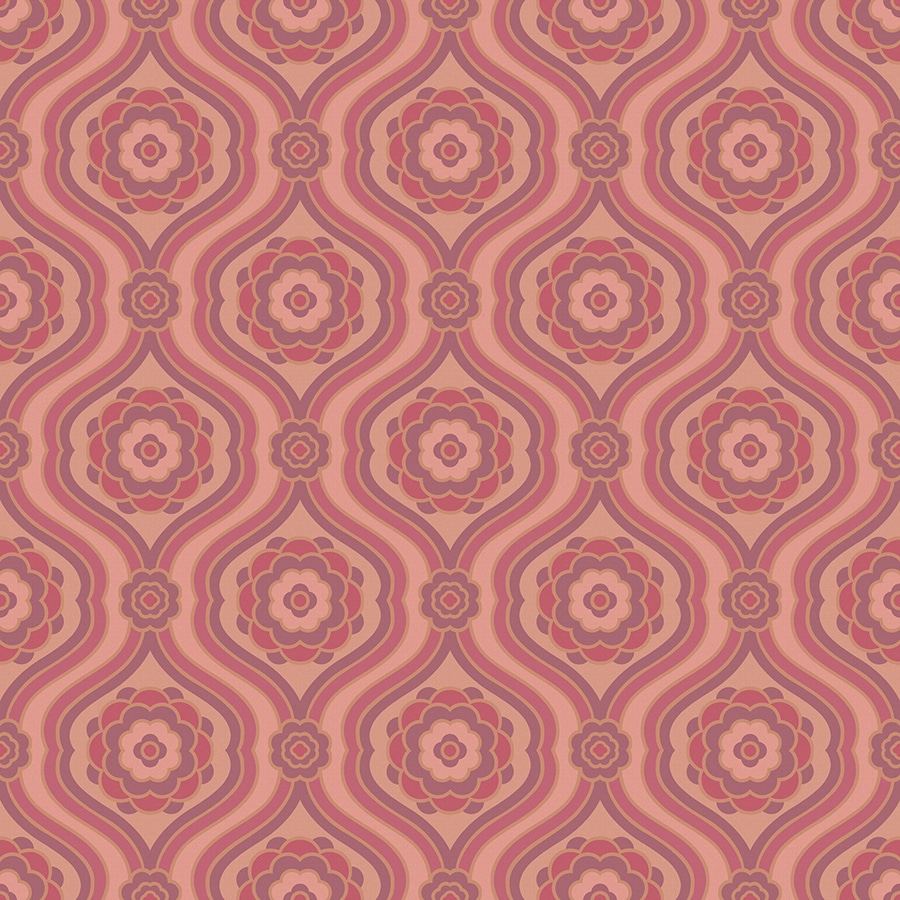 1960s Now What? in Purple Haze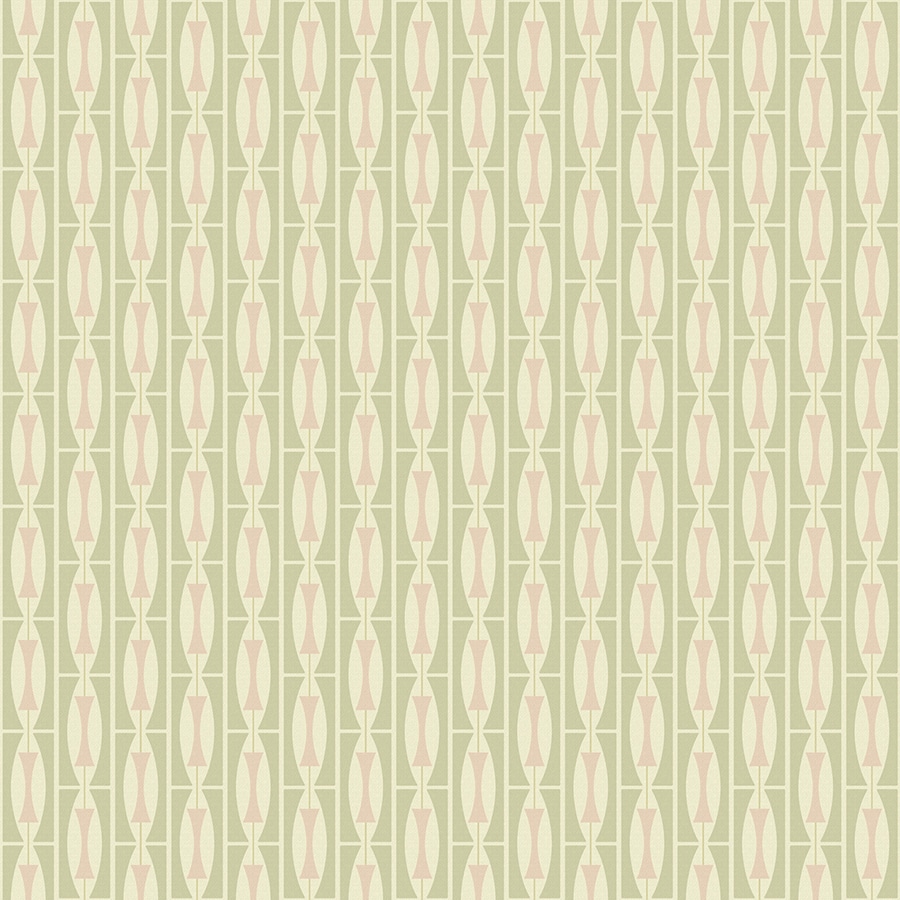 1960s Grete in Earth Green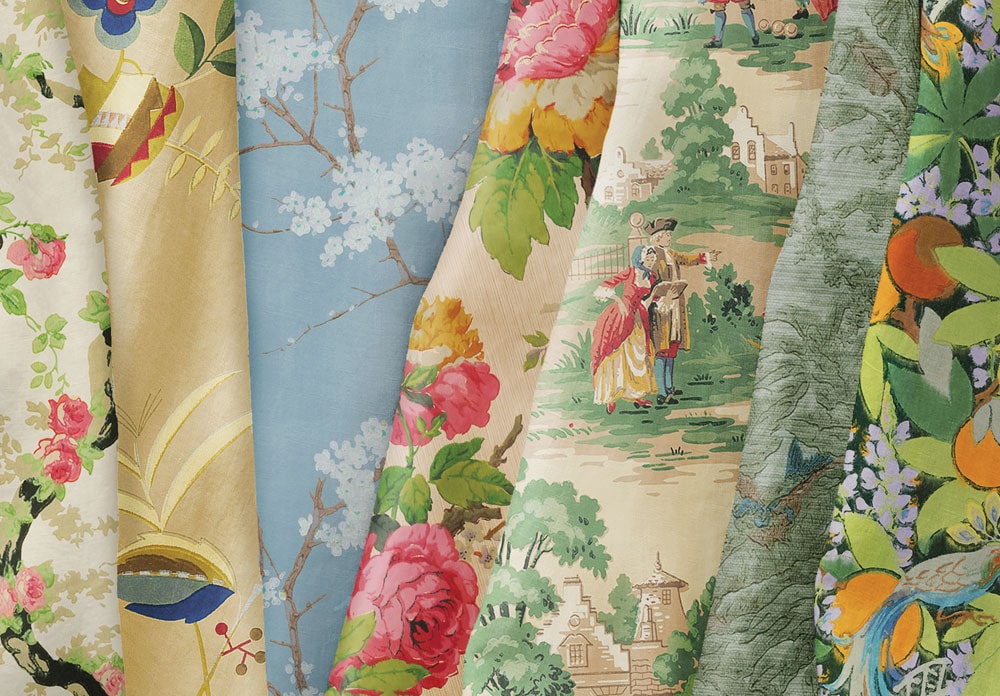 Vintage patterns on a variety of different fabrics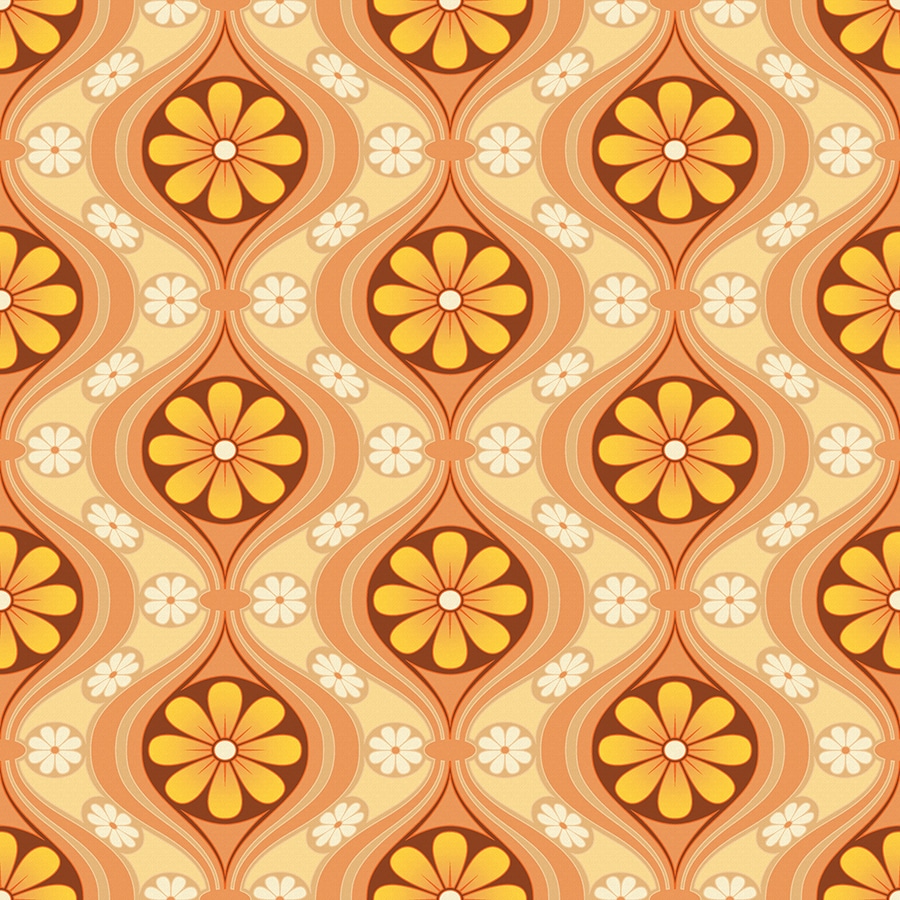 Vintage style wallpaper is not just for residential use. It is sought-after by professional designers, project managers, and architects when they need beautiful, authentic wall coverings for their larger-scale projects. Often, they will adorn countless hotels, restaurants, as presentation backgrounds for museum installations, and even used on film sets. You may never look at the background of television shows or movies set in the 20th century the same again.
But the market is markedly stronger in the direct-to-homeowner sales – much to the surprise of the company. The papers really seem to resonate with them in terms of fitting the period and style of their homes without a "modern" or "contemporary" take. They also strike a nostalgic chord with many who recall similar patterns in the homes of parents and grandparents growing up.
The focus of Bradbury & Bradbury has always been to bring back from the past some of the great pattern designs that might have been in danger of disappearing otherwise. It's gratifying to see the humble medium of wallpaper elevated to the level of art, and preserving designs that had been lost to the past is just one way of doing that. It's wonderful to see rooms that existed long ago recreated, and thoroughly enjoyed by someone, all over again. That's always been the mission.