by Maxine Carter-Lome, publisher
"You've got to be honest with the public. And you've got to work. Of course, good luck won't hurt."
– W. "Sylvester" Stuckey, Sr.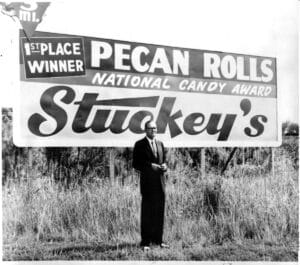 With a vision, strong work ethic, sweet offerings, and an understanding of human behavior, Williamson Sylvester Stuckey, Sr. (1909-1977) turned a roadside pecan stand he opened in 1937 into an empire that became an integral part of the American road trip experience during the Golden Age of Automotive Travel.
At its peak in the 1960s, Stuckey's, considered "the forerunner of the modern convenience store," boasted 368 roadside stores in over 30 states, each offering kitschy souvenirs, clean restrooms, sweet pecan treats, and Texaco gas. Throughout the 1960s and 70s. It was where families on road trips looked to stop and shop, as much a destination as it was a convenience. Billboards across the interstate highways only added to the anticipation of what was coming just a few miles down the road!
Eighty-five years later, Stuckey's is still fondly remembered by generations for its teal blue sloped roof, as recognizable on the horizon back then as the golden arches are today, and of course for its famous pecan candies and log rolls. They are a brand worth remembering, which is what the Stuckey family is counting on as Stuckey's granddaughter takes the helm and looks to build back the family business and brand through nostalgia and the basics that made it such a success.
Stuckey Hits the Road
"Stuckey," as he was called by his friends, was born on March 26, 1909, in Wilkinson County, Georgia, to William and Sally Stuckey. William was a farmer, and soon after Stuckey was born, the family moved to the small rural farm town of Eastman, Georgia, where Williamson was raised and went to school.
After graduating high school, Stuckey went on to study law at the University of Georgia-Athens. By his third year, the Depression had come to rural Georgia, and he was forced to drop out and help support his struggling family. So, as the story goes, he hit the road in a Model A Ford he borrowed from a friend and drove around the Middle Georgia countryside with John King, an African American man who worked on the family farm, buying pecans from local farmers to sell to local pecan processors. This new business enterprise was bankrolled with a $35 loan from his grandmother. Stuckey and King worked so hard and so late that they often slept on top of the pecan bags.
Eventually, the business did well enough for Stuckey to open a small roadside stand along Highway 23 in Eastman, GA in 1937, selling pecans along with sugar cane juice, syrup, souvenirs, honey, and "all you can drink for five cents" cherry cider. Business picked up after Stuckey's wife Ethel began adding her delicious homemade candies – southern delicacies such as pralines, divinities, and Stuckey's iconic pecan log rolls.
The Sweet Taste of Success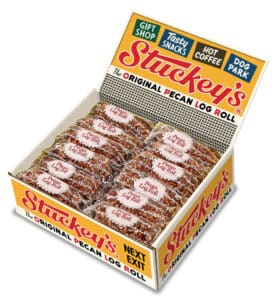 After Ethel tried out a recipe for pecan log rolls and added her own secret ingredient (maraschino cherries) to the mix, business took off. Customers loved her unique spin on southern pecan candies (good for enjoying in the car and bringing back home as souvenirs) and soon Stuckey's stand became a recognized roadside destination. Business was so good that the following year, Stuckey was able to turn his roadside stand in Eastman into a brick-and-mortar store. The year after that, he opened another store in Unadilla, Georgia, and then in Hilliard, Florida with each Stuckey's making its own candy on-site, making them popular roadside attractions along interstate highways. John King, Stuckey's faithful companion on the road, was also able to own his own Stuckey's store, which was not very common in the segregated South. When integration in the South was still years away, black tourists planned their travels so they could use restrooms at Stuckey stores.
Expansion was the plan, as Stuckey saw the opportunities in automotive tourism travel but World War II forced him to put those plans aside and, in fact, shutter most of his stores opened during this early expansion. Stuckey managed to stay afloat during the war by buying a candy-making factory in Jacksonville, Florida, and securing government contracts to make candy for the troops.
After the war, automotive tourism travel exploded with new interstate highways and an economic movement to get Americans into a car and out on the road to see and experience their country. With these long-distance road trips came the need for more roadside stops and attractions along the way. To meet that need, Stuckey's began a rapid expansion, adding new franchises along major highways, often paired with Texaco gas stations. By 1964, Stuckey's had over 160 stores in operation, mostly in the south, with hundreds more planned for the decade.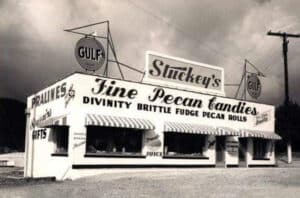 Easily identified on the open road by its trademark sloped teal blue roof and store filled with candy, novelty toys, kitschy souvenirs, cold drinks, and hot snacks, Stuckey's soon became a popular destination for the entire family and an integral part of the post-WWII automotive travel experience.
Marketing by Observation
Stuckey was a self-taught, hard-working observer, according to his granddaughter, Stephanie Stuckey, the company's current CEO. "He laid out his stores to make sure that people were shopping and spending money on candy and souvenirs. He deliberately had limited seating in his stores and had a snack bar type of set-up to encourage people to walk around and buy more things."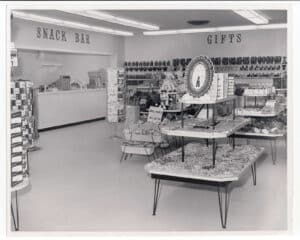 According to an interview on the "Build Your Success" podcast with Stephanie Stuckey, who has been everywhere on social media since buying back the family business, her grandfather had made two basic observations about human nature that he applied to his business: "people would always walk in off the street to use the restroom and they would be enticed by what they saw and so they might very well make a purchase." As a result, he designed his stores with a wall full of candy leading to the restrooms.
"He would also plan where to put his next store simply by having some coffee and then driving until he felt like he needed to pull over to use the facilities. This was a simple but scientific method."
Stuckey's vision for his company also extended to what is today known as vertical integration to keep his costs in check. He owned his own trucking company, sign painting company, distribution center, and candy plant – assets that allowed him better financial and operational control over his business, products, and branding.
Stuckey's Souvenirs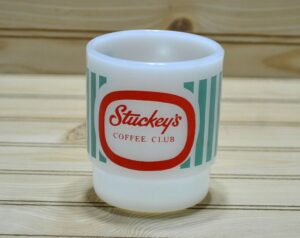 Stuckey's roadside popularity naturally lent itself to Stuckey's branded souvenir items for sale, an opportunity not wasted on Stuckey, whose stores were stocked with kitschy souvenirs and novelty gifts. Stuckey's branded items, from postcards—showing the numerous Stuckey's locations that lined the highways of America from coast to coast—to matchbook covers, candy tins, ashtrays, candy displays, coloring books, etc. have since found their way into the collections of Stuckey's fans everywhere.
However, there is one Stuckey's souvenir that seems to be loved and wanted by everyone from hardcore Stuckey's fans to vintage roadside enthusiasts and collectors of mid-century modern kitsch – the Anchor Hocking Fire-King Stuckey's Coffee Club mug. The Holy Grail, if you will, of Stuckey's collectibles, it can fetch up to $200 on eBay.
With the exception of the Anchor Hocking Fire-King Stuckey's Coffee Club mug, which has a back story all its own, most of the Stuckey's memorabilia you find online holds more sentimental than monetary value. Vintage location postcards, fun to look at and collect, can be purchased online for the most part for between $15 and $50. Most other Stuckey's branded vintage items from the company's history are pretty much in this same price range.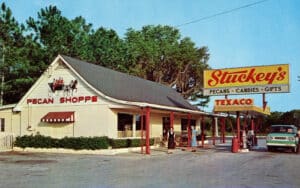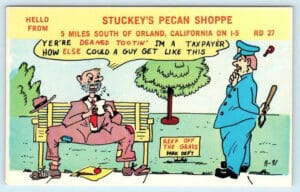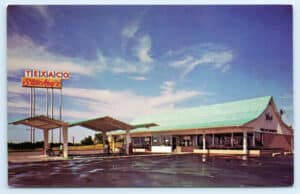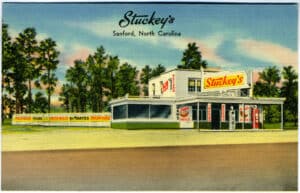 The Downside of Growth
Stuckey's was growing under Stuckey's vision and his understanding of the human behaviors that drove his success, but the company was growing too big for just one man. Stuckey could see that. In 1964, Stuckey's merged with Pet Milk Co., a St. Louis-based company best known for its evaporated milk. Pet Milk brought much-needed capital to continue Stuckey's growth and franchise expansion. W.S. Stuckey, Sr. remained in charge of the Stuckey's Division as a Vice President of Pet Milk until his retirement in 1970.
Stuckey died in 1977, the same year that Illinois Central Industries, a Chicago railroad conglomerate, bought the then-parent company Pet Milk Co. But any hope for the continued growth and expansion of the brand and adding new locations were undermined by the 1970s gas shortages during the OPEC crisis that curtailed America's driving habits. By the end of the decade, Stuckey's was a brand and a business in decline and Stuckey's stores across the country were being shuttered.
Taking Back the Family Brand
Stuckey's disappeared as a landmark along interstate highways and fell into a decline until 1984 when W.S. "Billy" Stuckey, Jr., son of the founder and a five-term Congressman from the 8th District of Georgia, acquired Stuckey's and began to turn the company around. Under Billy's guidance, the Stuckey's Express concept—or a Stuckey's within a store—was launched, offering Stuckey's pecan confections through such companies as 7-11 and Dairy Queen, and even at truck stops and hardware stores. The goal was to keep the Stuckey's brand and core product line of pecan candies alive and visible on store shelves once again. Today, Stuckey's pecan candies and rolls are available at over 165 licensed stores in 17 states, thanks to Billy Stuckey's efforts.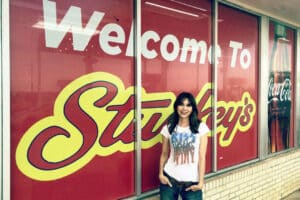 In November 2019, Ethel "Stephanie" Stuckey, Billy's daughter, took over as CEO of Stuckey's with a mission to bring Stuckey's into the 21st century based on its origins and brand nostalgia.
Since taking the helm, Stephanie has acquired several pecan-related companies including Atwell Pecan Company, Thames Pecan Company, and The Orchards Gourmet, which allows the Stucky's brand to own and operate its pecan/ candy plant for the first time since its founder, W.S. Stuckey, Sr, sold Stuckey's to Pet Dairy Corporation in 1964.
Stephanie also bought other businesses to diversify Stuckey's pecan product line, broaden consumer appeal for pecan candies, and add candy-making, pecan processing, and fundraising businesses back into the company's portfolio. She is also focused on developing a retro line of candy that will revive some of the company's early products, along with vintage package designs.
Stephanie is looking to return Stuckey's to its roots as a roadside oasis by expanding the number of Stuckey's roadside stores. Today, Stuckey's has 65 licensed locations, and its products can be found online and at some 200 retailers nationwide. You can also follow
the brand on Facebook, Instagram, and Tik Tok, where the company has over 15,000 followers, most undoubtedly born well past the
company's heyday.
Now that's a rise, fall, and sweet recovery of a brand!