By Donald-Brian Johnson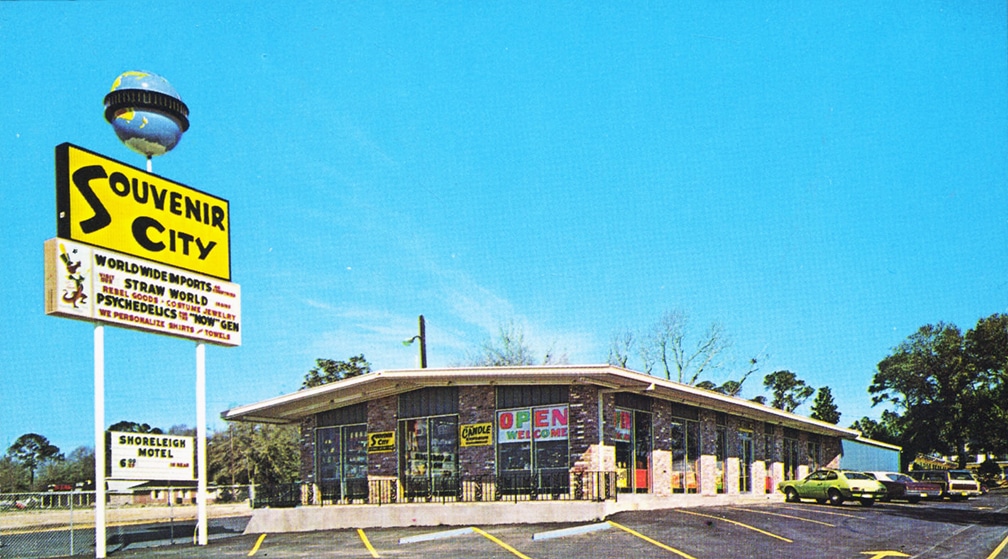 A lady of my acquaintance collects souvenirs with a vengeance. If she's seen it, visited it, or done it, she has the refrigerator magnet (or T-shirt, or coffee mug, or snow globe, or … well, you get the idea), to show for it. Sometimes those souvenirs are (presumably) free for the taking: hotel room soaps marked with the hotel name, restaurant placemats, bar matchbooks (yes, in some places they're still available). Sometimes they're items she buys, like those magnets and mugs. Sometimes the line is murkier.
We met on an island cruise. Leaving the breakfast room one morning, my acquaintance stopped by a display of
tropical fruit and proceeded to fill her oversize handbag with bananas, guavas, and even a pineapple.
I had to ask: "You know those are plastic, right?"
"Sure!" she responded. "What great souvenirs!"
Proof Positive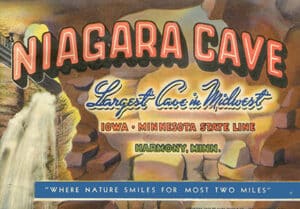 Souvenirs. Since the first caveman trudged home from hunting, with an unusual-looking rock he'd stumbled over, souvenir collecting has been ingrained in the human psyche. Whatever the experience was, we want evidence we can hold on to. Yes, we were actually there. Yes, we actually did that. A postcard showing the exterior of Hogwarts Castle at Universal Florida's Harry Potter attraction is one thing. A "you-are-there" framed photo, taken while the gang is shrieking its way down the roller coaster inside the castle is quite another. That personalized souvenir brings those memories back to heart-pounding life. The underlying narrative validates the thrills.
Finders/Keepers
The simplest souvenirs fall into the same category as that caveman's unusual-looking rock: "found objects." You stroll the beach at Waikiki for the very first time and pick up pretty shells. On an autumn jaunt to Canada, you search through multi-colored piles of leaves, looking for just the right ones to take home and press. Found object souvenirs like these remain popular with today's travelers. They rekindle pleasant memories and don't cost you a thing (well, besides travel expenses).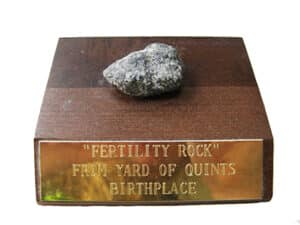 Canny operators can, at times, turn found objects into money-making ventures. Take Papa Dionne, for instance. The father of the famed Dionne Quintuplets noted that visitors to the family's Canadian homestead, while waiting to catch a glimpse of the Quints, often picked up souvenir stones from the surrounding farmland. Sensing a business opportunity, Papa D. gathered up baskets of them, set up a roadside stand across from his home, and sold "fertility rocks." He soon found himself in need of more.
For the duly diligent, found object souvenirs can also serve as a day-by-day (sometimes minute- by-minute) documentation of an adventure. Several years back, I ran across a scrapbook put together by Mildred Anderson, a young Chicago secretary lucky enough to attend the 1939 New York World's Fair. In addition to a detailed typed summary of her journey (after all, she was a secretary), Mildred filled her scrapbook with memorabilia of the Fair, and all the stops her train made along the way. As there were plenty of stops—Niagara Falls, Manhattan, Philadelphia, Atlantic City, Washington, D.C., Mount Vernon, and the Cumberland Mountains—Miriam accumulated plenty of mementos. Among them: ticket stubs, flyers, programs, napkins, matchbooks, placemats, salt-and-pepper and sugar packets, hotel soap wrappers, stationery, maps, menus, coasters, bottle labels, pencils, and even the occasional dried leaf. Each item was brightly emblazoned with a logo trumpeting its origin.
Now, some might call this junk. For Miriam, these were souvenirs to be treasured, tangible reminders of a personal Grand Tour. Like old friends, they could always be called upon in the future to help recapture happy visions of the past. (Incidentally, Miriam's "All-Expense-Paid Eight-Day Deluxe Powers Tour" only set her back $49 total. Yes, you read that right.)
Some found souvenirs are actually unpaid adjuncts to paid activities. Let say you shared a romantic meal in the shadow of the Eiffel Tower. You kept the empty wine bottle. Or the candle stub. Or the candle stub in the empty wine bottle. Even better: you saw the Beatles in concert (say, you've been at this for a while!), and saved the ticket stub. You probably paid plenty for that Parisian dinner. And you certainly paid plenty for that Beatles concert. But the wine bottle and the ticket stub were free. They were just along for the ride. And boy, what stories they could tell.
One Of A Kind?
Handcrafted items, created in actual locales visited, are among the most unique souvenirs. Hand-woven baskets, hand-carved figurines, and hand-spun garments summon up memories of both their countries of origin and of their originators. Visitors to Niagara Falls in the early 1900s, for instance, rarely came home without an example of Iroquois beadwork. These pincushions, purses, needle cases, and the like were painstakingly hand-beaded by the Native Americans who first settled the area, and later turned their creative talents into a full-time venture. In the same way, early tourists visiting Mexico were entranced by the gleam of silver jewelry, and their purchases put a gleam in the eye of Mexican silversmiths. Soon every jewelry vendor made sure that items of "genuine Mexican silver" were prominently displayed.
Tour organizers added to the onslaught of handcrafted souvenirs, marketing "behind the scenes" excursions to a wealth of exotic sites. Each site was stocked, naturally enough, with a wealth of site-specific take-home items. Fascinated by the ruins of Tulum? How about a limestone cat figurine, hand-carved by descendants of the original Mayans? Visiting a Puerto Rican rum factory? Well, after imbibing enough free samples, why not invest in a complete set of "Don Q" barware, with Don Quixote's mug engraved on the mugs? Such purchases buoyed the local economy, while only slightly depleting your own.
As the market for handcrafted souvenirs grew, so did mass production. The byword became "buyer beware." A bus trip along the Mexican Riviera comes to mind. The itinerary promised a "visit to a local beachside village—items available for sale—handmade!" The visit was indeed to a local village. There was even a tiny beach, populated by a squad of hungry-looking dogs. And, there were items available for sale. Only their provenance was questionable. A quick look at the base of a shrink-wrapped basket of shells revealed a "made in Japan" sticker. Yes, the baskets may have been handmade. Just at some distance from the Mexican Riviera.
Remembrances Of Things Past
Found souvenirs and handcrafted ones, however, were no match for the abundance of commercially-produced souvenirs which blossomed as leisure travel came within reach of almost every pocketbook. By the mid-20th century, folks could travel practically anywhere, and they wanted concrete proof that they had. Manufacturers obliged, with every type of keepsake imaginable. Were you at Wall Drug? The House on the Rock? Somewhere along what remains of Route 66? Well then, you'd at least want a scenic postcard to remember it by. Or a paperweight … or a key chain … or salt-and-pepper shakers. Or an embossed token, an egg timer, a tea towel, or your choice of chinaware. Yes, you really visited West Virginia … and here's the souvenir snowglobe to prove it, with mica flakes drifting down on a moving plank, a woodsman and a bear.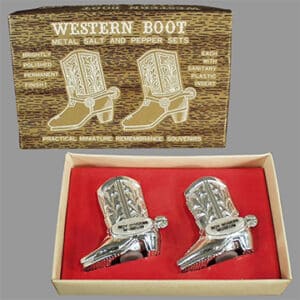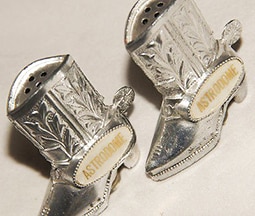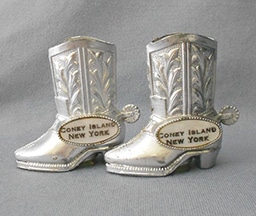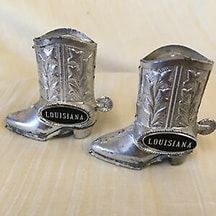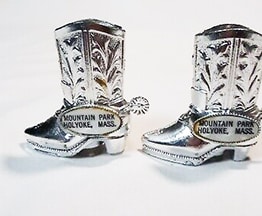 In many cases, exactly the same commercial souvenir was on sale in different locales. Tourists weren't seeing double when they discovered that duplicate items promoted different parts of the country. All it took was a different label or backstamp … a different painting or decal. … and that "Souvenir Of" keepsake underwent a geographical change – the knotty pine toothpick holder you picked up in northern Minnesota may be an identical twin to the one you pounced on in the Great Smoky Mountains.
Sometimes, of course, that's the object. Collecting miniature metal cowboy boots from every place you've ever visited, for example, can turn into a lifelong obsession. Even places with nary a cowpoke in sight, like New York's Coney Island, carries them.
Commercially produced souvenirs may seem like kitsch to the outside observer. To the person who collects them, however, they are symbolic talismans of times well spent: "and then we went here" … "and then we did this" … "and that's where I lost my passport." The relationship is what's important. So, if you bring home souvenirs as gifts for friends and relatives, you'd also better provide an interesting backstory. Otherwise, they might find that package of "genuine hand-pulled saltwater taffy," which you bought because you saw them hand-pulling it on the Boardwalk in Atlantic City, as just a mass of empty calories (and awfully chewy ones, at that).
When it comes to commercial souvenir purchases, artistic merit often doesn't enter into it. You want that miniature birchbark canoe because you want it. It might not be a new idea. But it's new to you, and that's what's important.
On The House?
Barware Burglars … Menu Marauders … Ashtray Absconders … Bathrobe Bandits.
Restaurants, lounges, and motels all have their own terms for customers who (perhaps inadvertently) mistake standard furnishings and accouterments for take-home trinkets. Some sharp-eyed headwaiters and desk clerks simply add the price of a missing initialed shrimp fork or fluffy robe to the final bill. Faces saved, and no questions asked.
Back to that breakfast buffet on the island cruise and my acquaintance with the plastic fruit-filled handbag. The time seemed right for a cautionary tale about over-zealous souvenir-hunters.
"Each year," I told her, "the Higgins Glass Studio in Chicago holds a Holiday Open House. Even folks who aren't actively searching for Christmas gifts usually buy an inexpensive item—maybe an ornament—as a souvenir of their journey to this glass Mecca.
"Frances Higgins once told me that, back when smoking was still in vogue, she'd always place a large (and pricey) Higgins glass ashtray in the Studio restroom. 'Good advertising,' said Fran. Plus, cigarettes would be properly extinguished.
"One year, a lady emerged from the restroom, her handbag ominously bulging, and quickly vanished. Later, when Fran checked, the Higgins ashtray had disappeared.
"The next year, the same lady came to the open house and made a beeline for the restroom. She quickly emerged, red-faced and fuming, and nearly ran out the front door, ignoring Fran's friendly 'Bye now!'
"I asked Fran what happened. 'Oh,' she said, 'this time I was prepared. I glued that ashtray down.'
"There," I told my acquaintance. "See what can happen to a souvenir hunter?"
"I certainly do," she replied, popping another plastic guava into her handbag. "Good thing I'm not into ashtrays."
Souvenir Hunting
For the travel-weary (or wary), souvenir-hunting is as close as the nearest family attic or basement. Wooden napkin holders stamped "Souvenir of the Black Hills" and Opryland sun visors were long ago consigned to a box of yesterday's memories. Now, they await rediscovery.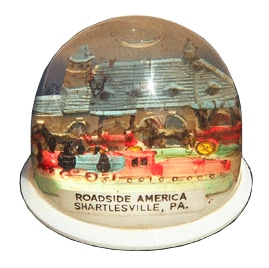 Collectability of a vintage souvenir depends on what you're willing to accept. A much-played-with plush Mickey Mouse may be worth keeping, thanks to happy days at Disneyland. A Golden Gate snow globe, half-filled with murky fluid, may be best left in the box. The rule of thumb: "Collect what you enjoy!"
Once you're done digging through the boxes at your place (or at Mom and Dad's), the next stops are estate or garage sales, flea markets, antique co-ops, and thrift shops. Chances are, you'll find something—maybe a Mt. Rushmore fridge magnet, or a Knott's Berry Farm jelly jar—at a minimal price. These are the sort of things people didn't have the heart to throw away – the memories still lingered. Instead they were stored safely, waiting to catch the eye of a future souvenir collector – like you!
---
Donald-Brian Johnson is the co-author of numerous Schiffer books on design and collectibles, including Postwar Pop, a collection of his columns. Please address inquiries to donaldbrian@msn.com Photo Associate: Hank Kuhlmann