by Megan Mahn Miller
If the art auction market is a civilized dinner party, where beautiful works of art trade hands, the rock and roll memorabilia auction market is a stadium rock show, complete with raucous fans, huge contracts and auction prices sky rocking like pyrotechnics.
Last year saw a number of new auction sale records. Why? Why is it that this market continues to grow?
In 1981, Sotheby's held its first dedicated rock and roll memorabilia auction. But the compulsion to collect began years before. While there wasn't a dedicated memorabilia auction market in the early sixties, young fans were smart enough to have The Beatles sign a photograph, album, or whatever was at hand. Even years earlier, Frank Sinatra, Enrico Caruso, and Elvis Presley fans were ignited by the music, appearance or personality and wanted a souvenir to take with them. Collectors have always collected. Now, however, there is a market for it.
At auction in 1984 a Beatles drumhead could be had for $6,550. In 1994 the drumhead seen when The Beatles appeared on the Ed Sullivan show sold at Sotheby's for $44,000. Fast-forward to November 2015, that same Ed Sullivan drumhead sold for $2,050,000 at Julien's. A tidy $2 million profit. Prior to that, the drumhead used on the cover of The Beatles Sgt. Pepper album held the record for a drumhead sold at auction when it sold in 2008 for $1,071,133 at Christie's. What we are witnessing is exponential market growth.
What about an entire drum kit? In December 2015 when Julien's offered Ringo Starr's #1 Ludwig drum kit it sold for $2,110,000. In 2004, five pieces of Keith Moon's 10-piece Silver Premier drum kit sold at Christie's for $252,487 – breaking the record for a drum kit at that time.
Also in November 2015, Julien's auctioned John Lennon's Gibson J-160E. The guitar is remarkable because of the winding story of how it came to market as well as being one of the few Lennon guitars ever to appear at auction. The guitar broke the public auction sale record at $2,410,000. The prior public auction sales record was held by Bob Dylan's Newport Folk Festival electric guitar, which sold at Christie's for $965,000. Eric Clapton's sale of Blackie, also at Christie's, was the previous record holder at $959,500.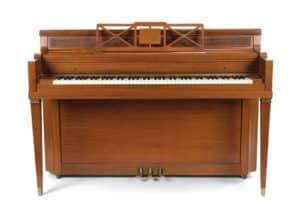 One last sales record that was broken last year was for the sale of an album. Ringo Starr's White Album no. 0000001 sold at Starr's memorabilia auction in December 2015 for $790,000. It was suspected that this sales record would be broken by the Omega Auctions recent sale of the earliest known Beatles acetate. The selling price did not even come close to touching this record when the acetate sold for $110,000 on March 22, 2016.
Breaking auction records is all well and good but it doesn't explain itself. Why is the market doing so well? The answer is simple and as clear as mud ñ no one knows specifically why the market is growing. There is not one single trend that can be pointed to that explains this market. There are some logical conclusions I can offer, but the answer seems to lie in something less concrete; something more like nostalgia and sentimentality.
Here is my analysis of the logical reasons why the market is growing:
Globalization – More on this from my colleagues in a moment, but suffice it to say, the market now has buyers from all over the world.
A diverse buying audience – The rock and roll market doesn't rely on a single type of buyer. There are three general types of rock memorabilia buyers: the collector, the fan and the investor. These are distinct types of buyers but what they share is an insatiable desire to purchase a specific item. If two of these types of buyers are interested in an item, the price will rise. Included in this group of buyers are the businesses and institutions that are buying rock and roll memorabilia – Hard Rock Cafe, The Experience Music Project, and The Rock and Roll Hall of Fame.
Reality TV – Antiques Roadshow has helped educate the public in a variety of collecting areas. There are a number of other collecting-based reality television programs that not only make memorabilia buying and collecting appear accessible, these programs make the market appear profitable.
Now for the less logical, more emotional reasons for a growing rock and roll market:
Nostalgia – As auction records show The Beatles have most consistently been at the top of the auction buying market. If you were 10 in 1964, you are now a 62-year old who perhaps still loves rock and roll and perhaps has worked to get to a certain financial position. You are able to invest in memories.
Touching fame – Rock and roll memorabilia is less like collecting art than it is like collecting religious relics. One brings you closer to God – the other, closer to a Rock God. If you play a Jimi Hendrix guitar, will you sound like him? Will you feel like him? What would you pay to experience that if you had the means?
I have exceptional colleagues in the memorabilia auction industry and I sought out several to get their opinions on why the market is doing so well. They also cited a mix of globalization and nostalgia as the driving forces behind this market.
Laura Woolley, appraiser and owner of The Collector's Lab said, "I think people with a certain amount of wealth are harkening back to their childhoods." She also pointed out that the market is just under 40 years old. "In the beginning people were buying because they liked the property not because they were thinking it would go up in value. Enough people have put money into the market to pave the way for memorabilia to now be perceived as less of a risk."
When I called Margaret Barrett, Director, Entertainment and Music Memorabilia, she laughed and said, "The market keeps getting bigger and stronger but no one knows why, exactly." She agrees with Woolley about buyer's nostalgia. "I think people are sentimental about the rock stars they loved. We recently sold a card from a regular deck of playing cards that was signed by Jim Morrison for $11,000. Our buyers are looking for a tangible connection to the stars. There are people who buy for an investment, but at Heritage we see more passionate collectors who want to display these items in their personal collections."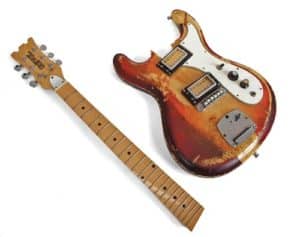 Prior to the Sotheby's 1981 sale, large auction houses sold memorabilia items within manuscript or document sales. Dr. Catherine Williamson, director of the Fine Books and Manuscripts and Entertainment Memorabilia at Bonhams, Los Angeles, echoed this when I spoke to her, saying that 20 or 30 years ago a collector would have to be in-the-know about where to find rock and roll memorabilia. Now through globalization and the prevalence of the Internet there is access. Williamson notes this is helping to boost sales in many markets – not just rock and roll. As for the state of the current market Williamson said, "Collecting is more personal now than it was 50 years ago. Collectors aren't on a prescribed scavenger hunt. They are looking for items with personal meaning from their youth."
Darren Julien, president and CEO of Julien's Auctions was less sentimental in his emailed response to my question: "The rock and roll market is on a rise due to many factors. First the global interest in western pop culture especially from markets like Russia and Asia. The internet has also made awareness of items for sale to countries such as China who normally would not have been able to participate or understand how to participate in an auction in the U.S. or U.K. The biggest reason that this market has exploded is due to the hedge funds and financial institutions who are looking at rock and roll historical artifacts as a blue chip investments and a way to diversify their portfolios."
Collecting fads come and go in waves. Currently the Beatles are on top, a couple of years ago Michael Jackson or Elvis Presley were a sure bet at auction. So what are auction houses offering this year? At Julien's upcoming Music Icons auction on May 21 at the Hard Rock Cafe in Times Square, items from more contemporary musical celebrities are hitting the auction block. Offered at this auction are: Lady Gaga's first piano; Stevie Ray Vaughan's first professional guitar; David Bowie's response to his first American fan letter; and pieces of a guitar Kurt Cobain broke on stage.
Will Gen X-ers and Millennials who are purchasing at auction now reap the same benefits as their Baby Boomer parents? Will Gen X-ers and Millennials maintain the same passion for music, propensity toward nostalgia and desire to collect as their parents have collected? For the sake of the market – let's hope so. May the loud rocking concert performance that is the rock and roll memorabilia market continue its world tour for years to come.
Megan Mahn Miller is the owner and president of Mahn Miller Collective Inc., an appraisal company specializing in Hollywood and Rock & Roll Memorabilia. Mahn Miller is also a property specialist with Julien's Auctions. She can be reached at www.mahnmiller.com.
The State of the Rock and Roll Memorabilia Market