Coca-Cola Collectibles: It's The Real Thing
Dan Deane of San Bernadino, California is more than a Coca-Cola fan – he leads their fan club as president of the National Coca-Cola Collectors Club.
A retired police officer, Dan has been collecting Coke memorabilia for over 35-years, his interest and passion having more to do with the appeal of the company's highly-recognized graphic artwork than an affinity for the company or preference for the beverage. "My collection says Coke is fun – it's at picnics, gatherings, at Christmastime defining the image of what Santa looks like through their advertising…" So perhaps it was fate that as a young man he would go to work for a Coke bottling plant.
"A fellow employee told me about a collectors club for Coke memorabilia so I looked into it. I was a casual collector at that time – had a few items. I joined a local chapter and was a member of the local and national club while working there."
"Like most collectors I started out trying to collect everything but that's an unattainable goal so I decided to specialize in clocks, calendars, serving trays, almost everything that is Christmas related, plus other things not in these main categories. I collect both vintage and new items."
Unlike other collectors that preserve and display the items in their collections, Dan lives with his. They are a part of his decor and make up his everyday household items, from tablecloths and silverware to the artwork and items that decorate the walls of his house.  "It's my personal reference of what I like. I like being around the product logo and I like when people come over and are amazed by what I have but I have friends that can put my collection to shame."
At Christmas time Dan really puts his collection on display. "I have 1500 Coke ornaments alone – I buy every ornament put out every year – and have collected enough to completely cover five full Christmas trees although I only put up two trees a year."
So what's the 'crowning jewel' in Dan's collection of over 3,000 pieces? "I'd have to say it's a 1930s Coke Bottle radio shaped like a coke bottle and made out of Bakelite with a built-in AM radio. It's relatively rare – it cost $20 in the 1930s so not many produced and not many have survived."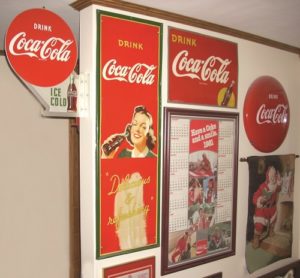 These days Dan is more selective about what he adds to his collection. "I'm running out of wish list items and things I can afford. I have a big home but very little space left on my walls and in my display cases. But I am trying to collect a full glass bottle from every country that bottles the product; I'm nine countries short of getting everything I need."
From his position as long-standing member and current president of the National Coca-Cola Collectors Club, Dan sees Coke collecting as one of those things that seem to be generational. "Our membership has declined to half what it was during our peak. We do have young collectors but they are the minority rather than the majority. We have 40-some chapters in the US and 10 others worldwide. Coke collecting attracts a younger audience outside the US, especially in Asia. Vintage items are hard for these Asian companies to find so companies in Asia have been turning out beautiful bottles and current advertising for this collector market."
Dan cautions collectors that Coke memorabilia is not a market to collect for value. "I would never tell anyone to buy Coke collectibles as a hedge against inflation or to fund your retirement. I buy because it's something I want and want to display. This is not my retirement account. The market is also very subjective. I have seen some things going for what I think are astronomical prices. But what's of value to me may not be the same for another collector."
Dan Deane is president of the National Coca-Cola Collectors Club (cocacolacollectors.club). The Club holds its annual national convention July 5-9 in Reston, VA where collectors and enthusiasts can come to buy, sell and learn, and add the annual Coke commemorative bottle to their collection.
Collector's Showcase: August 2016