Comic Character Collectibles
by J. C. Vaughn
Shout! Studios has secured the rights to Feast of the Seven Fishes, the comedy-drama written and directed by Robert Tinnell, based on his Eisner-nominated graphic novel and Italian holiday cookbook, profiled during its filming in my March 2018 column.
The movie is set days before Christmas in 1983 as the Oliverio family readies their traditional Italian Feast of the Seven Fishes. During the festivities, young Tony Oliverio falls for an Ivy Leaguer, but things don't go well as the family and his and her exes disapprove of the union.
It will begin a theatrical day-and-date run in November 2019.
"Robert Tinnell's funny and heartwarming film will be a perennial Christmas classic. You don't need to be Italian to recognize your own family in this offbeat, endearing and nostalgic trip back to the 1980s," Jordan Fields, Vice President of Acquisitions at Shout! Studios, said.
Shout! Factory secured the rights for theatrical, video on demand, and other formats in the US and Canada. The movie is set for release in November 2019. The movie was executive produced by Joseph E. LoConti, Sean Thomas O'Brien, and Erick Factor, along with producers John Michaels, Jeffrey Tinnell, and Robert Scott Witty.
Feast of the Seven Fishes stars Skyler Gisondo (Booksmart), Madison Iseman (Annabelle Coming Home), Josh Helman (X-Men: Days of Future Past), Addison Timlin (Startup), Ray Abruzzo (The Sopranos), Andrew Schulz (Sneaky Pete), David Kallaway (Logan), and Lynn Cohen (Catching Fire), with Joe Pantoliano (Sense8), and Paul Ben-Victor (The Irishman).


The online comic strip's journey to the screen was not uncomplicated.
Before launching the comic strip version of Feast online on Labor Day, 2004, Tinnell had produced, written and directed features as well as almost countless music videos in their heyday. He turned his attention to graphic novels, experiencing critical acclaim with The Black Forest, The Wicked West, their respective sequels, and others. The comic strip was made available free online.
Artist Alex Saviuk, a comic book industry veteran often lauded for his run on Web of Spider-Man for Marvel Comics, illustrated the second half of Feast of the Seven Fishes. Having spent the better part of a career drawing heroes in capes and spandex, he said he was immediately drawn—no pun intended—to the humanity of the characters. He said just from the character descriptions Tinnell provided he knew it was going to be an interesting assignment.
"The strip was a lot of fun to do. People reacted well to it at the time, and it's exciting that Bob's finally reached his dream of it being a movie," Saviuk said.
From the outset, Tinnell said he knew what he wanted to do with the property. That hasn't changed now that the movie has been completed.
"Regardless of how the film is received, I don't need anyone to tell me that it's kind of unique in a number of ways, at least in the current climate. It's definitely not a Hallmark Christmas movie. Also, people have these stereotypical notions of what West Virginia is like and they don't realize the rich Italian culture there," he said.
With its rough edges, flawed characters, and dysfunctional family dynamics, Feast of the Seven Fishes is a very human story of ins and outs of relationships and family during the holidays. At its core, though, it is a Christmas tale rooted in Tinnell's Italian heritage, something he said deeply colored his upbringing in West Virginia.
The comic strip concluded its story after 120 days, and the collected edition hardcover, which was also half cookbook, debuted in 2005. The ups and downs of the ensuing 14 years did nothing to dissuade him that there was a great movie in his story.
In 2006, Tinnell and his wife, Shannon, who authored the cookbook portion of the hardcover collection, staged the Feast of the Seven Fishes festival in Fairmont, WV. From fairly modest beginnings, it has turned into an acclaimed annual event with thousands in attendance and chefs from many different venues around the nation.
The film project started finally coming together in late 2017.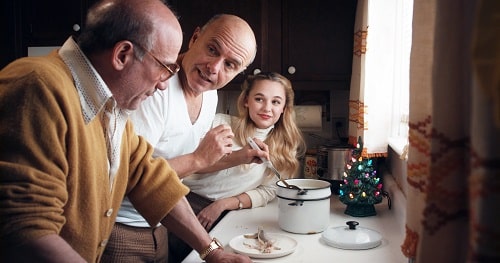 "Anyone who has worked in the industry—particularly as a writer/director—for any meaningful length of time knows that it can take a really, really long time to get a project made. People often mention Platoon, which was around forever and rejected by all the studios and mini-majors for years. But also, for me, this was such a personal story and one that I was really compelled to tell. Every year I cook this meal on Christmas Eve and build new memories with my family, so it's never really receded into the past for me," Tinnell said.
"More than anything, I know it was because I wouldn't give up on directing the film. People thought we needed an established comedy director, as opposed to me, a veteran director telling a personal story. Weird but there you have it," he said.
Feast of the Seven Fishes Movie Slated for November Release