Collecting with Jeff
By Jeff Figler
There is an old saying that you can bring a horse to water but you can't make it drink. That expression has been used to describe many situations, but I'm not sure if it has even been applied to a fishing pole.
Fishermen would love to be able to just stick their poles in the water and have fish continually bite. Wishful thinking. However, it can't be denied that fishing poles have come a long way. A very long way.


The earliest record of anything even remotely resembling a fishing pole is from written Chinese records in about 2000 B.C. There were mentions of "rods," which were actually pointed sticks or bones about an inch long. They were referred to as gorges, which were used to fish from boats. A line was attached with a short appendage, and the first recorded bait was, you guessed it, rice. After all, these were the Chinese.
Longer poles were later devised from tree branches, therefore allowing for fishing from a shore. It was also believed that Egyptians also started fishing, possibly around 1000 B.C., and used bamboo poles. Around the time of Plato, 400 B.C., there were writings that indicated that fishing had evolved to the point where there were now barbed hooks used, as well as rods and lines. However, the rods needed to be sturdy and also flexible, especially to catch large fish. Mediterranean fishermen devised a solution for the pole by using a plant known as ferula. The line was made of horsehair or woven flax, and the top of a bronze hook was put over the line to protect it from breaking.
Fishermen were quick to learn that fish would rise to the surface of the water to eat new hatches of various flies. Soon, the first fly fishing of bait was devised, which was most likely a piece of red wool with rooster feathers attached. Therefore, the dual purpose of simulating a fly, as well as keeping the lure afloat, was achieved. However, no reels had been invented, so fishermen had to pull the line by either using the stick, or fishing pole, or their hands to set the hook. They would then need to pull in the line with their hands.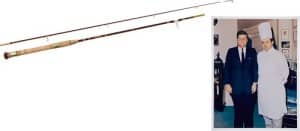 The fishing pole would not be significantly improved for more than a thousand years. A book was written in 1496 in England by a nun Dame Juliana Berners, titled Treatyse of Fysshynge with an Angle. This book described artificial flies, as well as discussed the extending of fishing poles to as long as 18 to 22 feet. Woven horsehair became the most popular form of fishing line until the advent of the filament line centuries later.
It was in the 1600s that the reel was added to the rod. The first reels were wooden spools with a metal ring which fitted over the fisherman's thumb. But through the late 1700s reels were common which were made with such heavy European woods as lance-wood or greenheart. By the 1900s, fishing poles made of bamboo were being manufactured, and silk was replacing horsehair. Bamboo rods would give way to fiberglass or carbon fiber, and nylon replaced the silk. Soon, plastics were used to mold lures to replicate natural fish food.
Nowadays, poles have become very lightweight, which enables a fisherman to feel the slightest tug. Lines are now designed to prevent breakage, or fish with teeth from biting through it. Lines come in all sizes and shapes. Most poles are made of carbon fiber, and reels have been developed for every type of fishing imaginable, including fly fishing and deep sea fishing.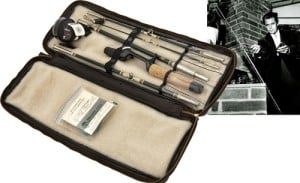 Certainly, fishing pole collectors have not been disappointed. Try these sales.
President John F. Kennedy's monogrammed fly fishing rod which he presented to White House chef Rene Verdon, sold for nearly $1800 at auction. Bing Crosby's three fishing rods went for nearly $600 at auction, and Glenn Ford's fishing rod and travel case went for almost $500.
However, a historic J.C. Conroy and Company antique fly rod sold for $8250 at a Lang's auction in November 2007, while a rare early Norris antique rod sold for $16,000.
The rod belonged to John Moores, former owner of the San Diego Padres baseball team, and fly fishing companion of former President Jimmy Carter.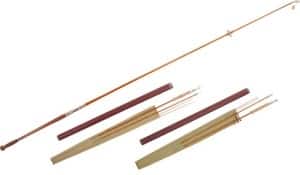 Jeff Figler has authored more than 600 published articles about collecting. He is one of the world's leading experts on collectibles and is a former sports columnist for the St. Louis Post-Dispatch/STL Today, and San Diego Union Tribune. Jeff's most recent book is Picker's Pocket Guide to Baseball Memorabilia published by Krause Publications. You can learn more about Jeff by visiting his website www.collectingwithjeff.com. He can also be reached via email at info@jefffigler.com.