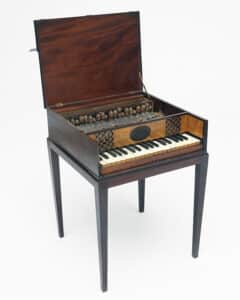 The Yale Collection of Musical Instruments was established in 1900, when Morris Steinert, an entrepreneurial figure who played an important role in shaping New Haven's music scene, gave his private musical instrument collection to Yale, consisting primarily of keyboard instruments, seeding the Collection.
The acquisition of the Belle Skinner Collection (1960) and the Emil Herrmann Collection (1962) established the Yale Collection of Musical Instruments as one of the world's most important such repositories. It was once called a "collection of superlatives" by an enthusiastic admirer of the Skinner Collection.
In 1961, the Collection was moved from its original location under the dome of Woolsey Hall to its present location in a Richardsonian Romanesque building at 15 Hillhouse Avenue, New Haven, CT.
The Growth of the Collection
Since 1970, the Collection has nearly tripled in size after acquiring the Robyna Neilson Ketchum Collection of bells (1972) and the Andrew F. Petryn Collection of string instruments and bows (2013).
Today, the Collection is comprised of nearly 1,000 instruments and focuses on western European and North American art-music traditions, yet its holdings from musical cultures all over the world, including Asia, Africa, and Latin America, are continually growing. Many of the instruments in the Collection have been restored and are maintained in playing condition, allowing for their use in performances, demonstrations, and lectures, and on tour.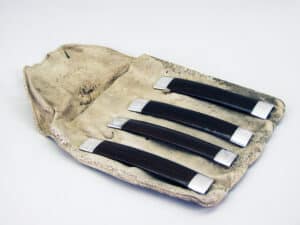 Stringed Instruments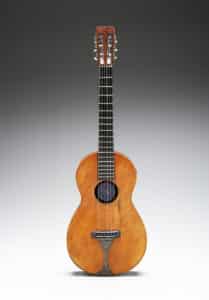 The art of the luthier is showcased in the Collection's selection of string instruments from the Italian, German, French, and English schools of the 17th, 18th, and 19th centuries. Many of the violin family instruments in the Collection are in playing condition, as are some of the viols and plucked-string instruments. Some highlights of the string instrument collection include violins by Nicolò Amati, Andrea Guarneri, Antonio Stradivari, and Jakob Steiner, a viola by Lorenzo Storioni, a viola d'amore by Joseph Gagliano, viols by Pietro Guarneri of Mantua and Richard Meares, a lute by Sebastian Schelle, and guitars by Joachim Tielke and Antonio de Torres.
Wind Instruments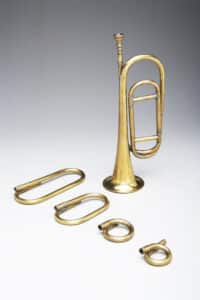 The Collection's holdings also include many 19th-century American wind instruments, in addition to a core collection of instruments built by important 18th and 19th-century European makers. Highlights include a Deutsche schalmei by Richard Haka, oboes by Jacob Denner, Johann Ferdinand Floth, and Guillaume Triébert, cors anglais by Henri Brod and Guillaume Triébert, flageolets by William Bainbridge, and Firth, Pond & Co., flutes by Thomas Cahusac, Sr., Thomas Stanesby, Jr., and Asa Hopkins, clarinets by Martin Frères and Johann Tobias Uhlmann, bassoons by William Milhouse, and Martin Lempp, a natural trumpet by Michael Sauerle, Sr., a circular cornet by Graves & Co., and a serpent by D'Almaine & Co.
Percussion Instruments
In the percussion section, the Collection features more than 180 bells, gongs, clappers, temple blocks, and rattles from around the world. The Collection is also home to late-18th century military drums from France and the United States, a West African kalangu (a double-headed hourglass drum), a Chinese hua gu ("flower drum"), a set of mid-19th century American minstrel bones, and an English town crier's bell.
The Collection also includes instruments from the indigenous cultures of Asia, Africa, and Latin America, and aims to increase its holdings by acquiring more instruments from various cultures.
When You Go
Gallery tours and class presentations are offered to University and non-University groups interested in the history, design, construction, and preservation of musical instruments, although the Museum is currently closed due to CIVID-19.
A typical tour visits the museum's three galleries and focuses on select instruments. Staff members place the instruments in a historical context and discuss their roles in the cultural life of the period. Specialized tours that focus on distinct groups or families of instruments may be arranged.
To learn more about the collection, upcoming programs, and to schedule a tour visit https://music.yale.edu.