Four Centuries of Musical Instruments on Display at "Art of Sound" – The Journal of Antiques and Collectibles – August 2012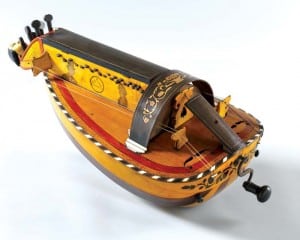 As the world sets its eyes and ears on Cincinnati, Ohio for the World Choir Games, the Cincinnati Art Museum gives you another reason to celebrate world music. The Art of Sound: Four Centuries of Musical Instruments, will showcase musical instruments from across the globe selected from the Cincinnati Art Museum's collection. The exhibition will be on display through September 2.
Spanning four continents and four centuries, this exhibition will celebrate the impeccable craftsmanship of musical instruments. Adorned with elaborate inlay work, painted with striking designs, and carved with intricate detail, these works of art are as beautiful to look at as the sounds they were created to make. The Art Museum's musical instrument collection includes over 800 pieces from around the world, making it one of the largest and most comprehensive in the country. "The collection represents over 30 musical cultures," notes curator Amy Miller Dehan. "It represents how vital the arts, visual and performing, are to the strength and traditions of communities across the world."
Musical Instruments included:
The Art of Sound will include 115 musical instruments from the Cincinnati Art Museum's permanent collection. Some of the instruments have not been displayed in more than two decades. They will be grouped by geographic region/culture: Africa; Native America; Japan; China; Southeast Asia; Western Asia and North Africa; India; and Europe and America.
The Cincinnati Art Museum began collecting musical instruments in 1888, one year before the Metropolitan Museum of Art acquired any instruments. Many of the antique instruments in the Art Museum's collection were donated by William Howard Doane (1832–1915), a Cincinnati industrialist and composer whose personal and professional travels took him to remote locations across the globe.
Charles Rudig, the former head of the Musical Instruments Department at Sotheby's, has helped survey and assess the collections over the last year. According to Rudig, "The Cincinnati Art Museum possesses one of the best world instrument collections in the United States, possibly even in the world."
Visitors will not only be able to see the pieces, but also to hear and see some of them in use by using an interactive sound and video component especially designed for the exhibition. Exceptional works drawn from across the Art Museum's collection, ranging from paintings and ceramics to prints and photographs, will also serve to illustrate similar instruments in use and place them in historical and geographical context.
Musical instrument exhibit highlights:
Highlights of the exhibition include a suite of Japanese instruments with elaborate lacquer decoration depicting flowers, butterflies, and animals; a Burmese Saung (harp) whose boat-shaped, wooden body is decorated with scenes from the life of Buddha in black and gold lacquerwork; a Native American flute of smooth, glossy black slate with sculptural, carved depictions of a beaver, horned toad, and a fantastic mask with head dress and gills; a 1619 viola crafted by the Amati Brothers, one of the most important and influential families in the history of violin making; and a 19th-century guitar by the French luthier George Chanot, believed to have belonged to Napoleon's Empress Eugenie, with a fingerboard inlaid with mother-of-pearl scenes of Paris.
"These instruments make sound come alive, but they also are objects worthy of our attention and enjoyment in and of themselves," comments Art Museum Director Aaron Betsky. "Like so many objects in our collection of over 60,000 works of art, they transform use into beauty."
The Art of Sound: Four Centuries of Musical Instruments is presented by PNC Bank, with additional support from Mr. Thomas P. Lee. Conservation support came from The National Endowment for the Humanities and The Stockman Family Foundation.
About the Cincinnati Art Museum
Hours of operation are Tuesday through Sunday, 11 a.m. to 5 p.m. The Art Museum is closed on Mondays. The Art Museum is free, every day. The Art Museum is located at 953 Eden Park Drive, Cincinnati, OH 45202. For general information, call (513) 639-2995 or visit www.cincinnatiartmuseum.org.
The Cincinnati Art Museum is supported by the generosity of individuals and businesses that give annually to the Arts Wave. The Ohio Arts Council helped fund the Cincinnati Art Museum with state tax dollars to encourage economic growth, educational excellence and cultural enrichment for all Ohioans. The Cincinnati Art Museum gratefully acknowledges operating support from the City of Cincinnati, as well as our members.
Have you ever been to any exhibits featuring musical instruments?