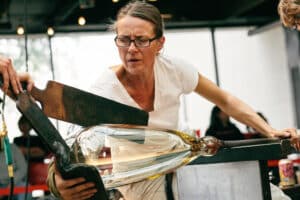 Meet Katherine Gray. Her expertise in glass design is something to observe – it is at once infinite, moving, gracious, colorful, and an exploration of color, balance, and textural. Her work can be seen at the Heller Gallery in New York City, found in the collections of the Corning Museum of Glass, the Toledo Museum of Art, the Asheville Museum of Art, and the Museum of Glass in Tacoma, WA, among others. She is a teacher, mentor, and seems to have observation skills when looking at others' work that takes in all consideration – from design and use of color to the interior of the piece's overall messages expressed by the artist. Her sense of humor and joy is always welcome and reflects her sense of creativity.
So, what does she collect?
Two areas of collecting are musical glass liquor decanters and ceramic Venetian gondolas (as a nod to the home of modern glass). Let's explore her two growing collections.
Musical Liquor Decanters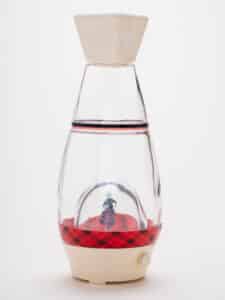 These collectibles are not something everyone has heard of by any means. Looking up information on them can lead a person to a trend that might be thought of as a gimmick, but what a gimmick!
How did you discover the musical liquor bottles? And when did you buy your first one? Or, was it a gift?
Katherine Gray: My first one was a gift from another glass artist, Stephen Paul Day, in 1992. I became kind of captivated by it and then sought them out whenever I was thrifting. Of course, now you can search online pretty easily to find them for sale. There are a lot of variations, especially in ceramic, but not as many in glass.
Did you establish a list of criteria a bottle had to meet in order for you to add it to your collection? What were/are they?
No, not really, but I didn't want any duplicates and I prefer ones that have something else going on besides just the music box. Some of these spin when they're activated or there's a dancing figure inside.
Are there any "sub-categories" you have for your collection, such as songs played or country the bottle was from?
Not intentionally but there is a grouping that has similar styling with metal embellishments and gold lustre squiggles on the glass. Most of them play How Dry I Am.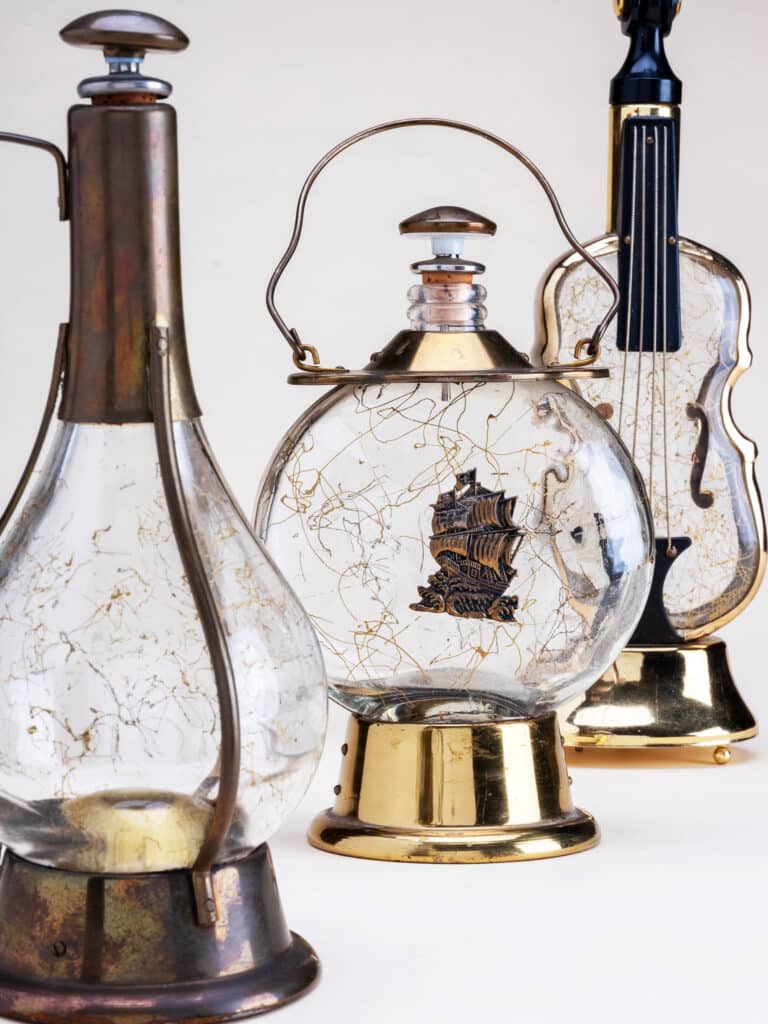 Do you have any "add-on" collectibles for this category such as ephemera or music boxes that were not intended for a bottle?
Not really. I do have one still in its original box. Other than that, just a couple of extra music boxes.
What is the oldest one in your collection? And your latest purchase?
I don't remember which one is my most recent purchase but I think the one with the three horse heads might be the oldest. A quick google search shows it's from 1965.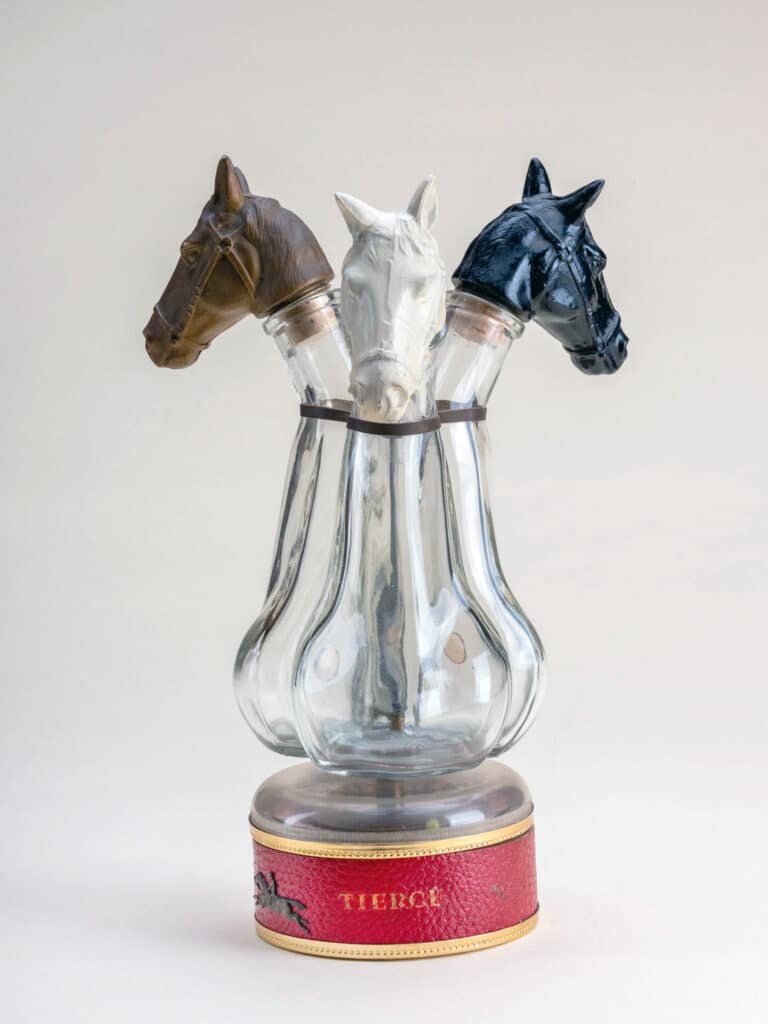 Did you ever come across one you didn't buy and wish you had picked it up?
No. I'm pretty impulsive. If I see one and I like it, I buy it.
Do you have a favorite?
Yes, the one with the three horse heads. It also has a roulette wheel.
What price range have you spent on the bottles in this collection?
Katherine Gray: Oh gosh. I doubt nothing was over $30.
Given your profession and artistry, have you ever tried to make one on your own? If so, how did it go?
I did make one, but I actually hired a scientific glassblower to make the bottle for me.
Do you connect with others who collect these? Is there a club?
No and I don't know. I did reach out to the Rakow Library at Corning one time for information on them and they had never heard of them.
Ceramic Gondolas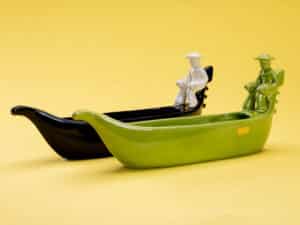 With a nod to the city of glass, Katherine collects ceramic Venetian gondolas that are planters or serving dishes. For her collections, it is not about their dollar values but about enjoying what they represent. Mostly from the mid-1900s, these beauties decorate her home with a touch of the Italian spirit.
How did you come about collecting gondola planters? Were you looking for something to signify your profession's connection to Venice, or did you see them and think it would be fun to collect?
Bingo! I started collecting these because of the connection to Venice, absolutely. I am obsessed with anything vintage that depicts or references Venice.
When did you make your first purchase of one? Or, was it a gift?
I don't remember honestly. My first one wasn't a gift but I don't remember where or when I got it or even which one was first.
Do you have any glass examples, or just pottery?
I did have a glass gondola ashtray for a while but it got broken. Otherwise, they're all pottery.
Who are your favorite makers of these planters?
One company, Haeger, or sometimes Royal Haeger, made several of them, but I'm not sure of the makers for the rest.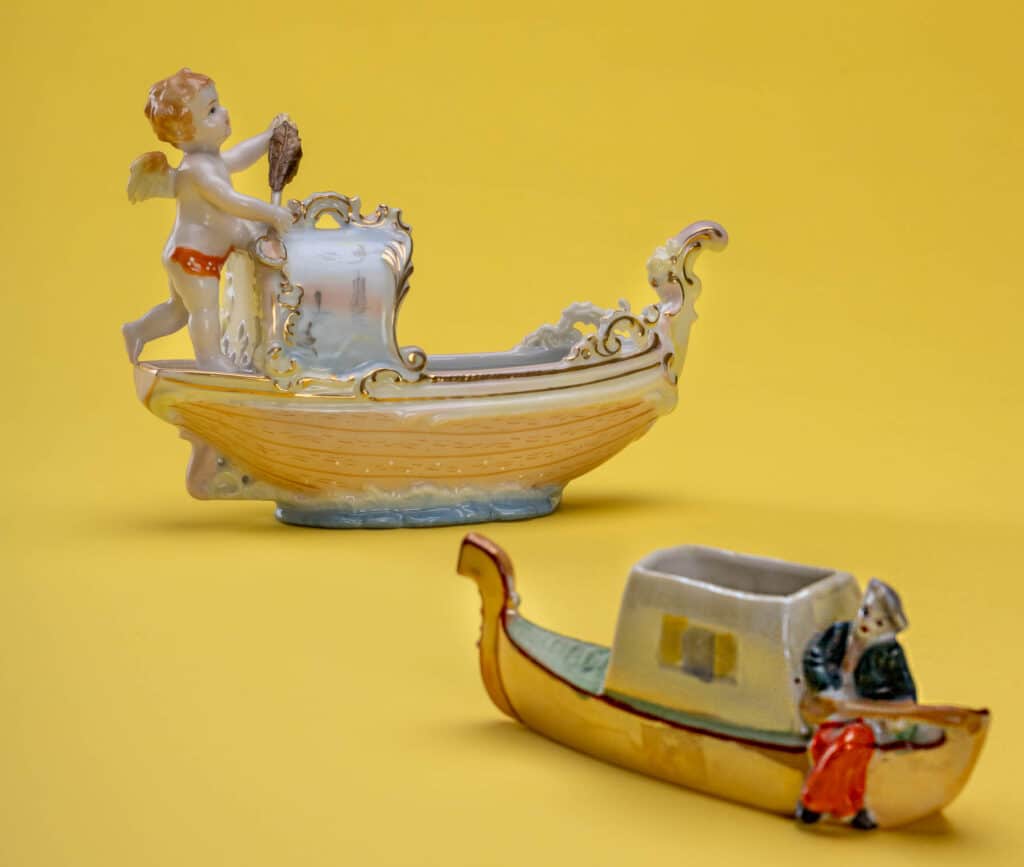 Do you use them for plants or decoration or other uses?
Katherine Gray: I've thought about using them for plants but never have committed yet. Sometimes I just arrange them on our sideboard so it looks like a regatta streaming down the Grand Canal.
Do you have any from Venice or Bohemia?
No – I wish!
Do you have duplicates? Or multiples of one in an array of colors?
A couple of duplicates in different colorways.
Do you have mostly mid-Century modern? Do you have any old, antique gondolas?
Most are mid-century, from the 1950s. I don't think any of them would be much older than that.
Which one is your favorite?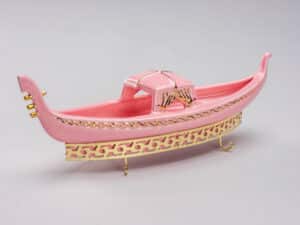 I kind of like the really small one and then also the really big pink one.
Have you sold any pieces from your collections? Or given any as a gift? What was the occasion?
No, I haven't. I've thought about trying to include them in an art exhibition, or as part of an artwork, but haven't quite figured that out yet.
Is there one you are searching for?
I wish had the missing oars for the gondoliers that are on a couple of them, but there is also one that has little separate serving dishes that sit inside the boat. I'd love one of those.
Any advice for other collectors?
I'm on to you!!!!
Any last words?
I wish had a couple of homes for no other reason than I would have enough space to have these out, along with all of the other things I collect!